I consider myself a hobbyist game developer, someone that enjoys creating simple video games, with no pressure, expectation or desire to achieve a financial return.
Although I would love to master advanced 3D game engines such as the Unreal Engine or Unity, the time and effort required would be significant. Therefore, I focus on 2D game engines such as GameMaker Studio 2.
Over the years, I have shared some of my personal projects, alongside general observations covering gaming related topics:
Although I do not personally use 3D game engines, the topic still interests me and I am eager to learn the concepts, even if I do not get time to apply them personally.
As a result, I follow a range of game developers, including "Triple-A" studios such as Valve, Naughty Dog, Santa Monica Studio, Kojima Productions, Rockstar Games, Crytek, CD Projekt Red, etc.
I also enjoy content from small independent developers such as Dennaton Games, Derek Yu, The Cherno and Vimlark, DevDuck, AdamCYounis, and Thomas Brush, that deliver more relatable content for hobbyists.
This leads me to the recent controversy regarding the highly anticipated release of Cyberpunk 2077 from CD Projekt Red, which resulted in Sony pulling the game from the PlayStation Store and offering a refund to all customers.
Cyberpunk 2077
Cyberpunk 2077 was announced in May 2012, with a teaser trailer in 2013, which both pre-dated the launch of the PlayStation 4. Although I suspect development did not ramp-up until after the launch of the Witcher 3 in 2015, it is fair to state that CD Projekt Red has been "planning" this game for over eight years.
With over 500 people working on the REDengine 4, Cyberpunk 2077 is a serious "Triple-A" game that took every opportunity to market the anticipated advancements in graphics, story-telling and artificial intelligence, delivering what many hoped would be the most immersive game ever created.
The marketing included a ridiculous number of product partnerships, ranging from Cyberpunk 2077 branded snacks, furniture, clothes, smartphones, gaming peripherals, and a lot more.
The team also capitalised on their star, Keanu Reeves, who plays the character Johnny Silverhand, delivering a wall-to-wall advertising campaign across television, online and the high-street.
Recognising the technical ambition and marketing hype, the team at CD Projekt Red were no doubt under extreme pressure to deliver and I suspect underestimated the time it would take to deliver a product across multiple platforms and generations (e.g. PlayStation 4/4 Pro/5, Xbox One/One X/S/X and PC). This became evident with continuous delays, that resulted in the team missing their original release window by eight-months.
Unfortunately, even with the additional development/testing time, the launch of Cyberpunk 2077 was a public relations disaster, with a product that was essentially unplayable on the "base" consoles (e.g. PlayStation 4 and Xbox One).
As highlighted by the Digital Foundry analysis (video below), the PlayStation 4 and Xbox One versions of the game run below 720p (variable resolution) and dip to 15fps. These are performance numbers that have not been seen in several generations and certainly not what consumers have come to expect from the era of high-definition, etc.
Alongside the horrendous performance, the game also suffers from countless bugs, including hitching, missing textures, crashes and even half-finished sections of the game. In one hilarious moment, as seen in the Digital Foundry analysis, the game "stalls" for over a minute before resuming (essentially one frame per minute).
The PlayStation 5 and Xbox Series X do run the game better, leveraging their raw horsepower to deliver a passable experience, but even they cannot protect against the countless bugs.
It is not uncommon for games to launch with bugs, especially open-world games, but this is clearly unacceptable and therefore it is not a surprise that Sony felt the need to intervene.
Cyberpunk 2077 PC Version
On a positive note, the PC version of the game demonstrates the potential of Cyberpunk 2077. It is far from perfect, but certainly not the unplayable mess found on the consoles. This highlights that the PC version was likely the lead platform for development, with the team hoping to be able to scale back the game to run on consoles.
The PC version is also a showcase for Ray Tracing, arguably delivering the most ambitious implementation of this demanding technology since Control.
I have been playing Cyberpunk 2077 on the PC and can confirm, when everything is working as designed, Night City is something special. The density and vertical scale, combined with the advantages of Ray Tracing, delivers a truly immersive experience.
Unsurprisingly, the PC requirements are very high (especially with Ray Tracing enabled), therefore, I thought I would share my specification and configuration.
I have been playing Cyberpunk 2077 on the following system.
Asus Maximus VIII Hero Alpha (Intel Z170)
Intel Core i7-6700K 4.0GHz @ 4.6GHz (4C/8T)
32GB Corsair Vengeance LPX DDR4 PC4-24000C15 (15-17-17-35)
1TB Samsung PM981 M.2 PCI-e NVMe SSD
PNY GeForce RTX 2080 Ti 11GB XLR8 Gaming Overclocked Edition
Samsung C49RG90 49-inch (5120x1440 @ 120Hz)
It is worth noting that I use a Super Ultra-Wide Monitor, specifically the Samsung C49RG90, which is a 49-inch monitor running at a 5120x1440 resolution, alongside a high refresh rate (120Hz) and support for AMD FreeSync 2.
With this specification in mind, I have configured the following settings to achieve a stable frame-rate above 30FPS with all Ray Tracing features enabled.
Resolution: 5120x1440
Field of View: 80
Film Grain: Off
Chromatic Aberration: Off
Depth of Field: On
Lens Flare: On
Motion Blur: Low
Contrast Shadows: On
Improved Facial Lighting Geometry: On
Anisotropy: 16
Local Shadow Mesh Quality: High
Local Shadow Quality: High
Cascaded Shadows Range: High
Cascaded Shadows Resolution: Medium
Distant Shadows Resolution: High
Volumetric Fog Resolution: High
Volumetric Cloud Quality: Medium
Max Dynamic Decals: Ultra
Screen Space Reflections Quality: High
Subsurface Scattering Quality: High
Ambient Occlusion: Low
Color Precision: Medium
Mirror Quality: High
Level of Detail (LOD): High
Ray-Tracing: On
Ray-Tracing Reflections: On
Ray-Tracing Shadows: On
Ray-Tracing Lighting: Psycho
DLSS: Performance
Dynamic FidelityFX CAS: Off
Static FidelityFX CAS: Off
Overall, depending on the demand of the scene, I see a frame-rate between 30FPS and 50FPS, which thanks to RPG-style of the game (slower pace) and Low Framerate Compensation (LFC) via FreeSync 2, delivers what I consider to be an acceptable experience.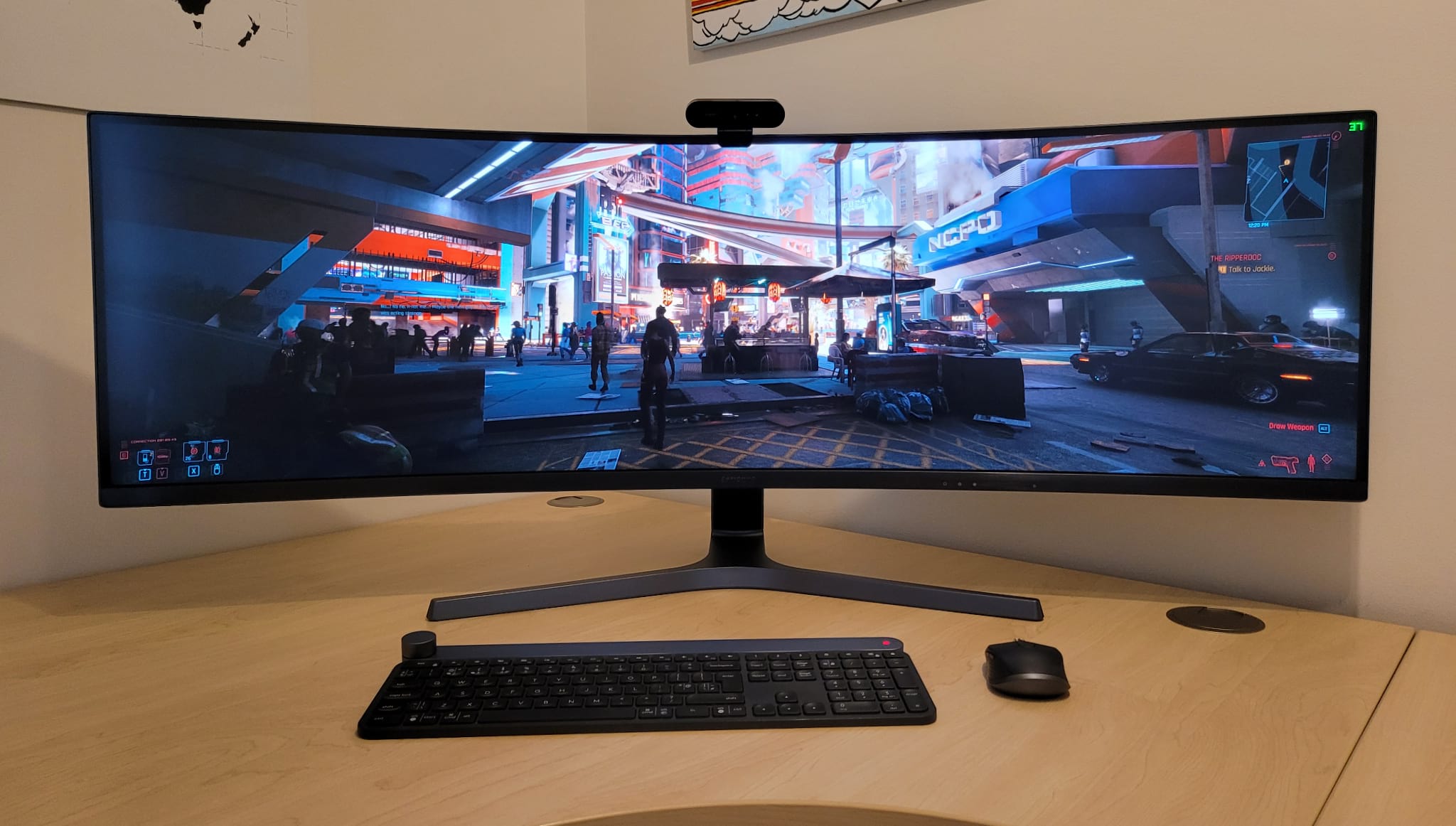 I use the same settings (1920x1080 resolution) on my Razer Blade 15 Advanced, which thanks to the Nvidia GeForce 2080 Max-Q graphics card and Samsung 970 Pro SSD performs well. It does not achieve the same consistent frame-rate as my main PC but remains surprisingly playable.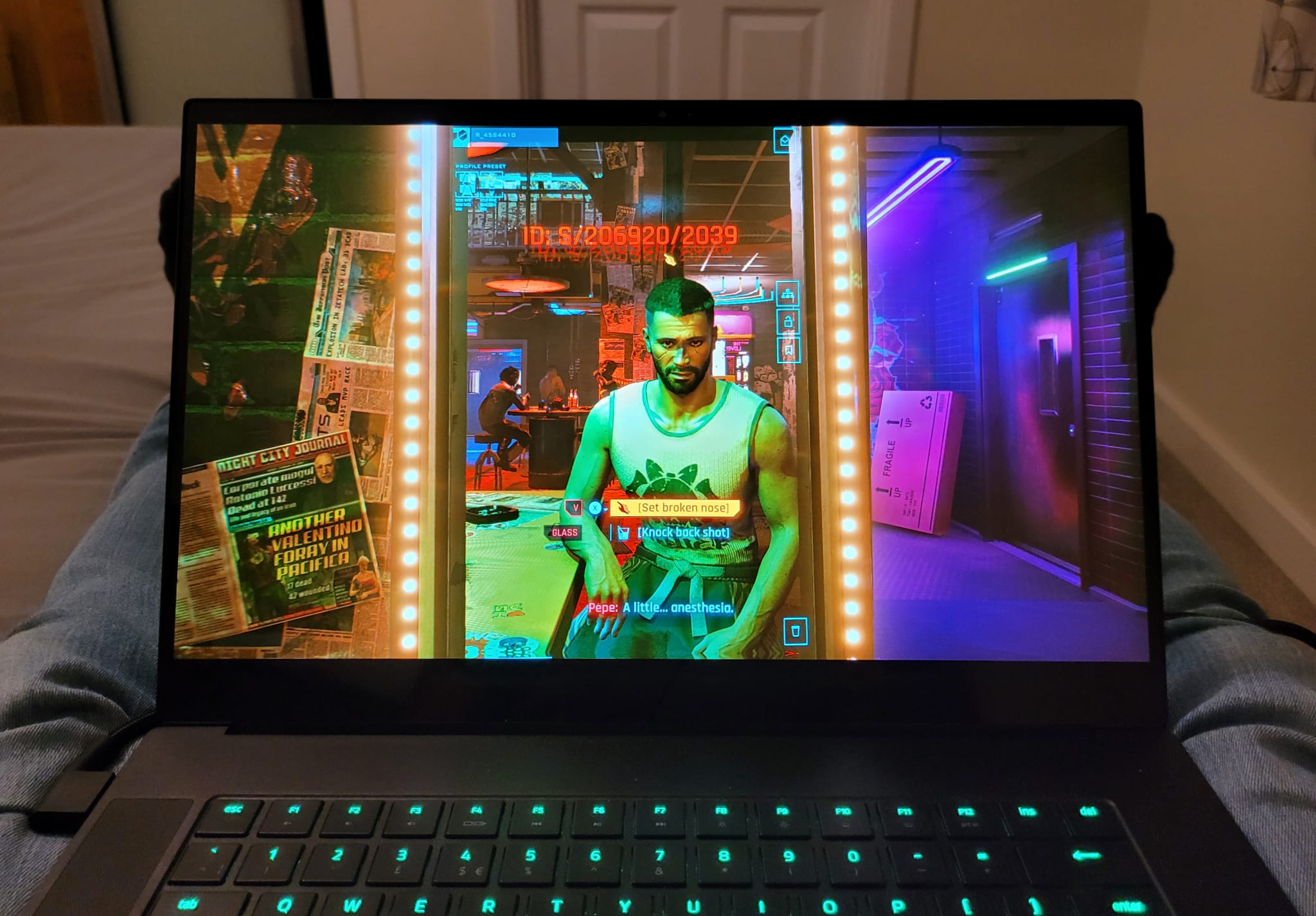 At this time I am not far enough through the game to comment on the story, but it is clear that the non-playable character artificial intelligence is not the "game-changer" I had hoped it would be. The city feels alive, but the inhabitants of the city feel disjointed, with scripted reactions that do not always match the situation. I had hoped for better, although (again) this likely due to unrealistic expectations, following the hype surrounding the game.
In short, Cyberpunk 2077 on the PC looks great, plays well and certainly demonstrates promise (I am enjoying the game). It is far from perfect, but certainly not the disaster experienced on the consoles.
Conclusion
I suspect many factors contributed to the dismal launch of Cyberpunk 2077, likely compounded by the current economic situation with COVID-19, etc.
With this in mind, I feel the CD Projekt Red senior leadership must take accountability, as I assume they would have ultimately sanctioned the release. I suspect the decision was driven by the mounting commercial pressure associated with the extensive marketing campaign and many co-promotional agreements, which likely included financial penalties for an additional delay.
Therefore, I empathise with the designers, developers and testers, who must have known (and I assume communicated) the game was not ready for release and therefore have had their talent and hard work questioned by factors outside of their control.
Looking forward, I hope CD Project Red endeavour to improve the situation through free updates, patches, etc. In my opinion, they should postpone any new features (e.g. expansions) until the foundations of the game reach an acceptable level.
Unfortunately, based on the current state of the game, this will not be a simple task. Through my analysis, I question if the base consoles (PlayStation 4 and Xbox One) can ever deliver an acceptable experience. For example, the AMD Jaguar architecture (launched in 2013), alongside the use of mechanical hard drives (80MB/s to 100MB/s) are physical architectural bottlenecks that even the most skilled developer would struggle to overcome.
In conclusion, I feel the launch of Cyberpunk 2077 must become a case study (and warning) for all future games releases. The key learning would be to ensure the marketing and hype does not get ahead of the product itself, which ultimately forced a release that disrespected the CD Projekt Red team, disappointed customers, and resulted in considerable brand damage that may take years to recover.
---