In February 2019, I temporarily switched from a MacBook Pro to a Lenovo ThinkPad X1 Extreme as my daily driver.
Although partly driven by work, I was also growing increasingly frustrated by Apple and the direction they were taking the Mac and macOS. As stated in my previous article, I liked the ThinkPad X1 Extreme, especially the performance and keyboard. Unfortunately, the poor trackpad and subsequent release of the 16-inch MacBook Pro enticed me back to the Mac.
Although the result of this experiment could be considered a failure, there was a lot to like about the Windows ecosystem, therefore I continued to hunt for a laptop that would better meet my expectations (which I appreciate are higher than most).
This led me to Razer Blade 15 Advanced.
It is fair to say that the Razer Blade is heavily inspired by the MacBook Pro, with a full unibody aluminium chassis, minimalist styling and large trackpad. However, arguably Razer has improved upon the design, delivering a 4K OLED touch display, a wider selection of ports (USB-A, Thunderbolt 3, HDMI, Mini-Display Port), upgradable components (Memory, SSD and Wireless), as well as NVIDIA graphics options (GeForce GTX 1660 Ti to Quadro RTX 5000).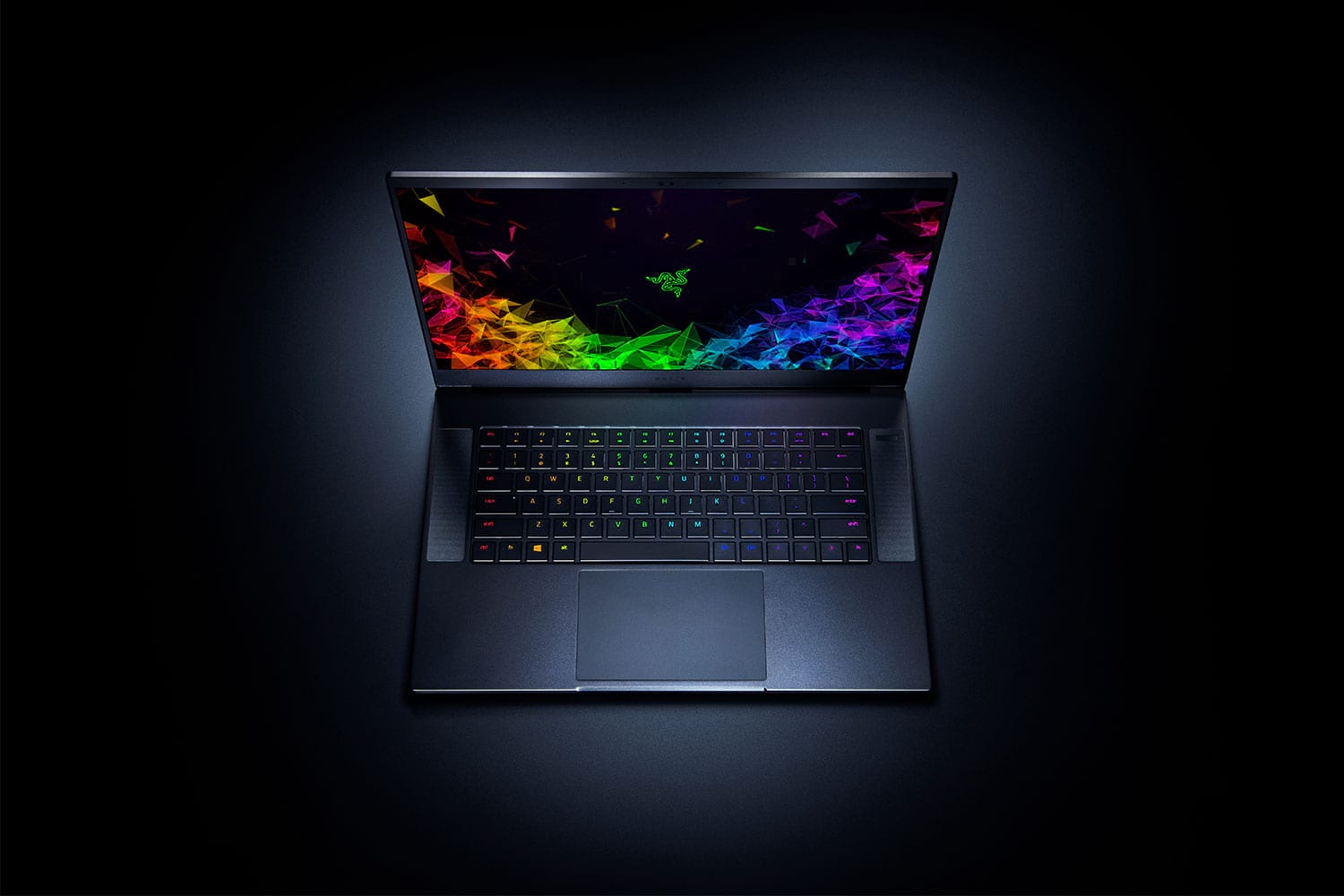 These improvements would all count for nothing if the build quality was poor. Thankfully, this is not the case, as the Razer Blade delivers comparable build quality to Apple, with a ridged, dense construction and refined edges.
Building on Razer's heritage as a gaming company, the Razer Blade is still a "gaming" laptop at its core, but thankfully far better balanced than the competition, with a focus on subtle design, size, weight and battery life. I am not aware of any other gaming laptop on the market that I would consider viable for my workload.
Specification
The Razer Blade series includes multiple models, with customisable options primarily focused on graphics, storage and display. I selected the RTX 2080 Max-Q, 512GB SSD and 4K OLED model. This premium selection commands a high retail price (£3149.99), however, following a few days of research, I was able to purchase one for £2249.00 (still expensive, but more in-line with my expectations).
Although the factory-built Razer Blade specification is good, I took the opportunity to upgrade the memory and storage, selecting 64GB Corsair Vengeance Series 2666MHz RAM (£289.99) and a 1TB Samsung 970 EVO Plus PCIe NVMe SSD (£191.73).

The installation of memory and storage was very simple, through the removal of ten Torx T5 screws, the bottom panel provides clear access to the components.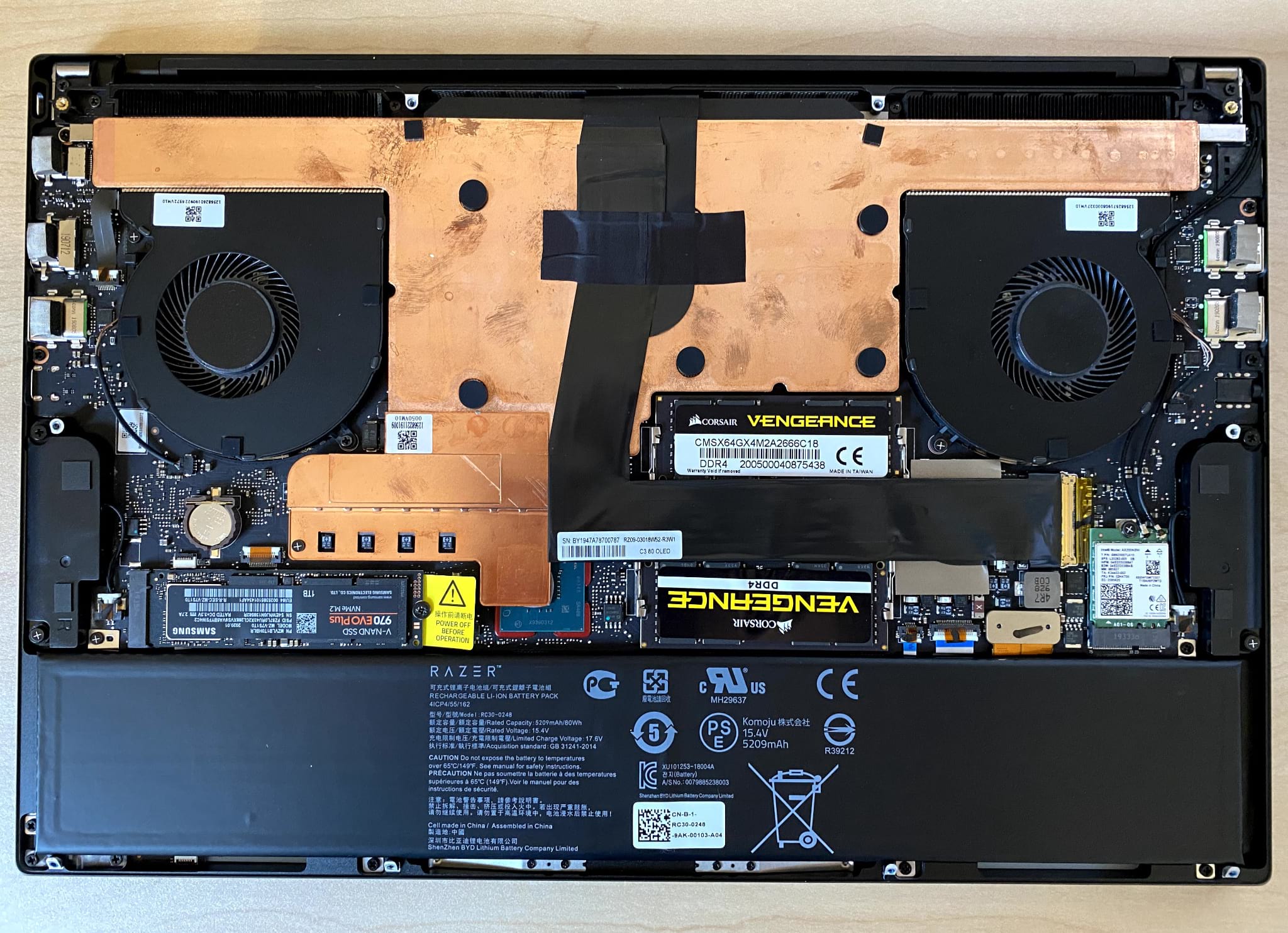 The full specification of my Razer Blade can be found below.
Razer Blade 15 Advanced (Late-2019)
2.6GHz 6-Core Intel i7-9750H (Turbo up to 4.5GHz)
64GB Corsair Vengeance Series 2666MHz DDR4 RAM
1TB Samsung 970 EVO Plus PCIe NVMe SSD
Intel UHD Graphics 630
NVIDIA GeForce RTX 2080 Max-Q 8GB GDDR6
15.6-inch 4K OLED Touch DCI-P3 HDR400 Display (3840x2160)
3x USB 3.2 Gen 2 (USB-A), 1x Thunderbolt 3 (USB-C)
1x HDMI, 1x Mini- Display Port
Intel Wireless-AX200 (802.11 a/b/g/n/ac/ax)
Bluetooth 5
The full price of the laptop (after the upgrades) was £2730.72, which is still cheaper than the retail price from Razer for this model. It is also favourable when compared against an equivalent Lenovo ThinkPad X1 Extreme (£2700.00) and 16-inch MacBook Pro (£3600.00).
Build Quality
As previously stated, the Razer Blade is very well built, certainly the best I have seen in the Windows ecosystem.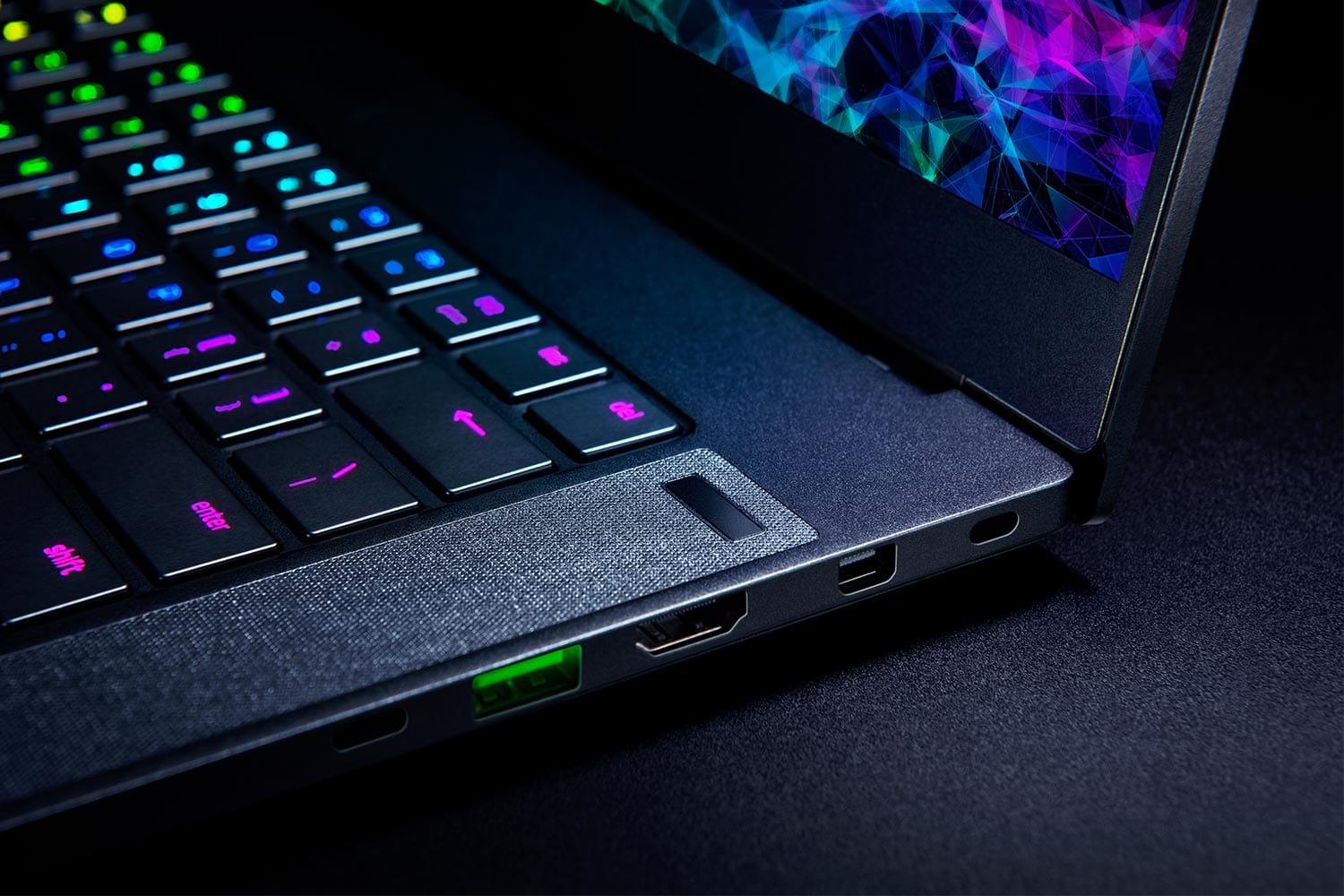 Thanks to the use of OLED technology, the display is something special! It is bright, with the iconic OLED deep blacks and "colour pop". It is also factory calibrated and colour accurate, but the accuracy can be impacted by changes in peak brightness (which is disappointing).
The keyboard is good (similar to the new 16-inch MacBook Pro) and the trackpad uses Windows precision drivers. Knowing that the trackpad was my main point of contention with the ThinkPad X1 Extreme, I am pleased to report that (in my opinion) the Razer Blade is much better. Not only is the trackpad bigger (similar to a 13-inch MacBook Pro), but also more responsive (although palm rejection is not perfect). Unfortunately, it still falls a long way short of an Apple trackpad, which remains the gold standard.
Performance
Unsurprisingly, the Razer Blade performs very well, offering more than enough power to support any workload (including modern games with Ray Tracing). I have included a few benchmarks below:
PCMark 10: 4279
3DMark Time Spy: 7627
ATTO Disk Benchmark: Average 2700MB Read / 2500MB Write
It should be noted that these scores are real-world numbers, with no overclocking and all of my default software loaded. The laptop is also BitLocker enabled, therefore the PCMark and ATTO scores include a 10% penalty due to the software-based full drive encryption.
Alongside the raw performance, battery life is respectable. When under heavy load (e.g. virtual machines, video editing, gaming), the battery life is obviously impacted (only achieving a few hours). However, I am pleased to report that when focused on productivity tasks and coding, I was able to use the device for the duration of an Atlantic flight (around seven hours). It is certainly no match for my 16-inch MacBook Pro, but the other benefits help to balance the equation.
Connected to the battery, it is worth mentioning the charger, which is quite large (230W) and includes a braided lead which can be difficult to keep tidy. The charger also leverages a proprietary connector and the laptop cannot be charged via USB-C, which is both disappointing and restrictive. Therefore, although travelling with the laptop is easy, managing the charger can be cumbersome, making me miss the (aeroplane compatible) 96W 16-inch MacBook Pro USB-C charger.
Conclusion
I have been incredibly impressed with the Razer Blade. I would have never imagined I would purchase a "gaming" laptop as my daily driver.
However, I believe Razer has achieved the impossible, delivering a laptop that includes a subtle, sophisticated design, portable, powerful and upgradable. I cannot state how great it felt to physically upgrade the laptop post-purchase, something that is rarely an option with modern technology (especially within the Apple ecosystem).
In short, I would highly recommend the Razer Blade!
---