As a technology enthusiast, I tend to upgrade my PC fairly often. Usually a major upgrade every few years, with minor upgrades along the way.
Last year I added RAID 0 to my Ivy Bridge system, which delivered some fairly impressive I/O performance (helping to reduce the bottleneck of SATA).
My current PC system specification is outlined below:
MSI Z77A-GD65 (Intel Z77 Chipset)
Intel Core i5 3570K @ 4.3GHz
Noctua NH-D14
16GB DDR3 Samsung Green (PC3-12800C11, 30nm)
Sapphire Radeon HD 7950 OC 3072MB GDDR5 @ 1.1GHz
Creative Sound Blaster Recon3D PCI-E
2x SanDisk Extreme SSD - RAID 0 (480GB)
Samsung SH-B123L/BSBP Blu-Ray
OCZ ModXStream Pro 700w Modular PSU
Lian Li V1000 Case
During my last upgrade I also chose to consolidate to a single monitor, thinking that it would help create a clean, minimal setup. This resulted in the purchase of the beautiful Samsung S27A950D 27" 120Hz display, which thanks to its unique design, looked great as a centre piece on my desk.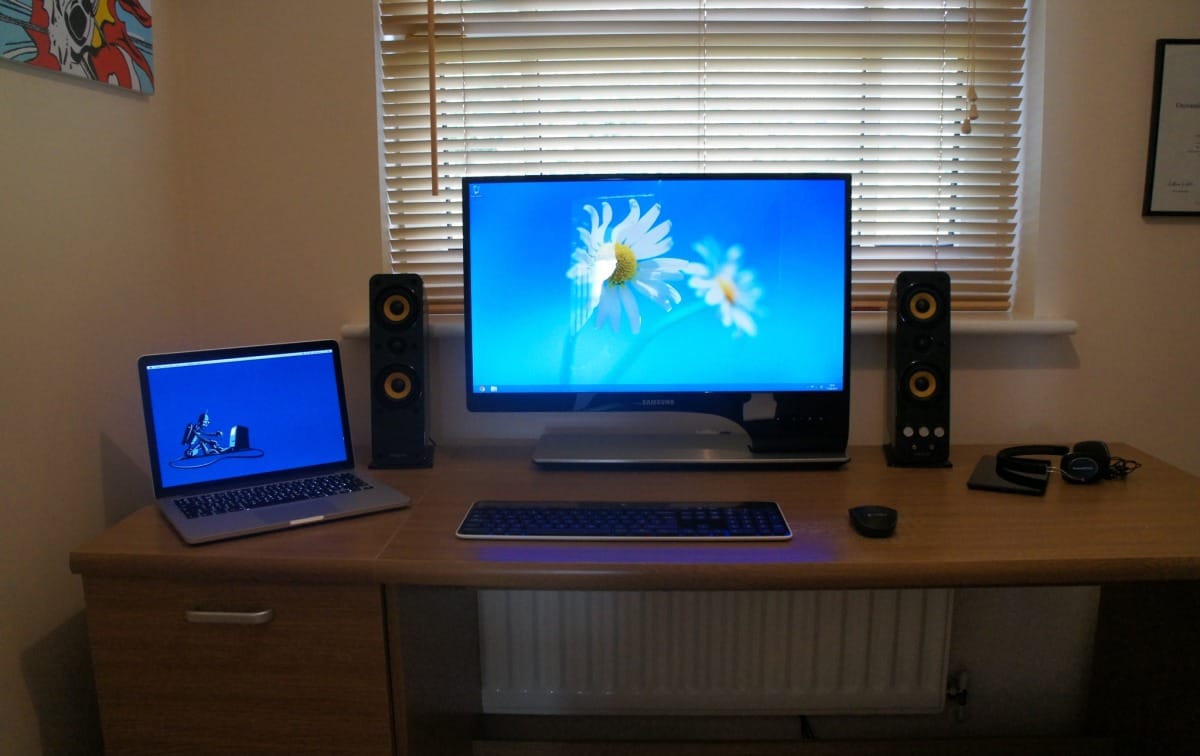 This setup worked amazingly well and I ended up having my PC, Mac and PS3 connected to the Samsung, which thanks to the 120Hz panel, provided a great 2D and 3D experience.
Unfortunately there are some negatives to having only one display, specifically screen real estate for coding and video/photo editing. I started to regret not having higher than 1920x1080 resolution (missing my old Apple Cinema Display) and the ability to have multiple full screen applications open side by side.
As a result, I started investigating multi-monitor options and thanks to the aggressive price reductions over recent months, I discovered a triple monitor setup was now a viable option. This type of setup delivers massive screen real estate (going from one extreme to the other), but also provides the perfect opportunity to test AMD Eyefinity.
For those who don't know, Eyefinity is the ability to group multiple monitors into a single large surface (SLS), treated by the OS as a single monitor with a very high resolution. In my case, I was aiming for three 24" 1920x1080 monitors, resulting in an impressive 5760x1080 Eyefinity resolution.
After a few weeks of research and bargain hunting I purchased three Asus VN247H 24" monitors from Overclockers UK. The full specification can be found below:
Model: Asus VN247H
Panel Size: 23.6" - 16:9
Resolution: 1920x1080
Response Time: 1ms
Contrast Ratio: 80000000:1
Display Colors: 16.7M
Input: 2x HDMI & 1x D-Sub
The impressive 1ms response time and 7mm super narrow bezel were the main selling points for an Eyefinity setup.
To ensure that Eyefinity would work correctly with my Radeon HD 7950, I also needed to purchase an Active DisplayPort adaptor. This is critical to enable three monitors with AMD graphics cards, as they require one monitor to be natively connected via DisplayPort. This was an issue for the Asus VN247H 24" which only has HDMI and D-Sub inputs. However, an Active DisplayPort adaptor immediately fixes the issue by converting the input from HDMI to native DisplayPort (for more information head over to the AMD support website).
Once connected, the Eyefinity setup was ready to go!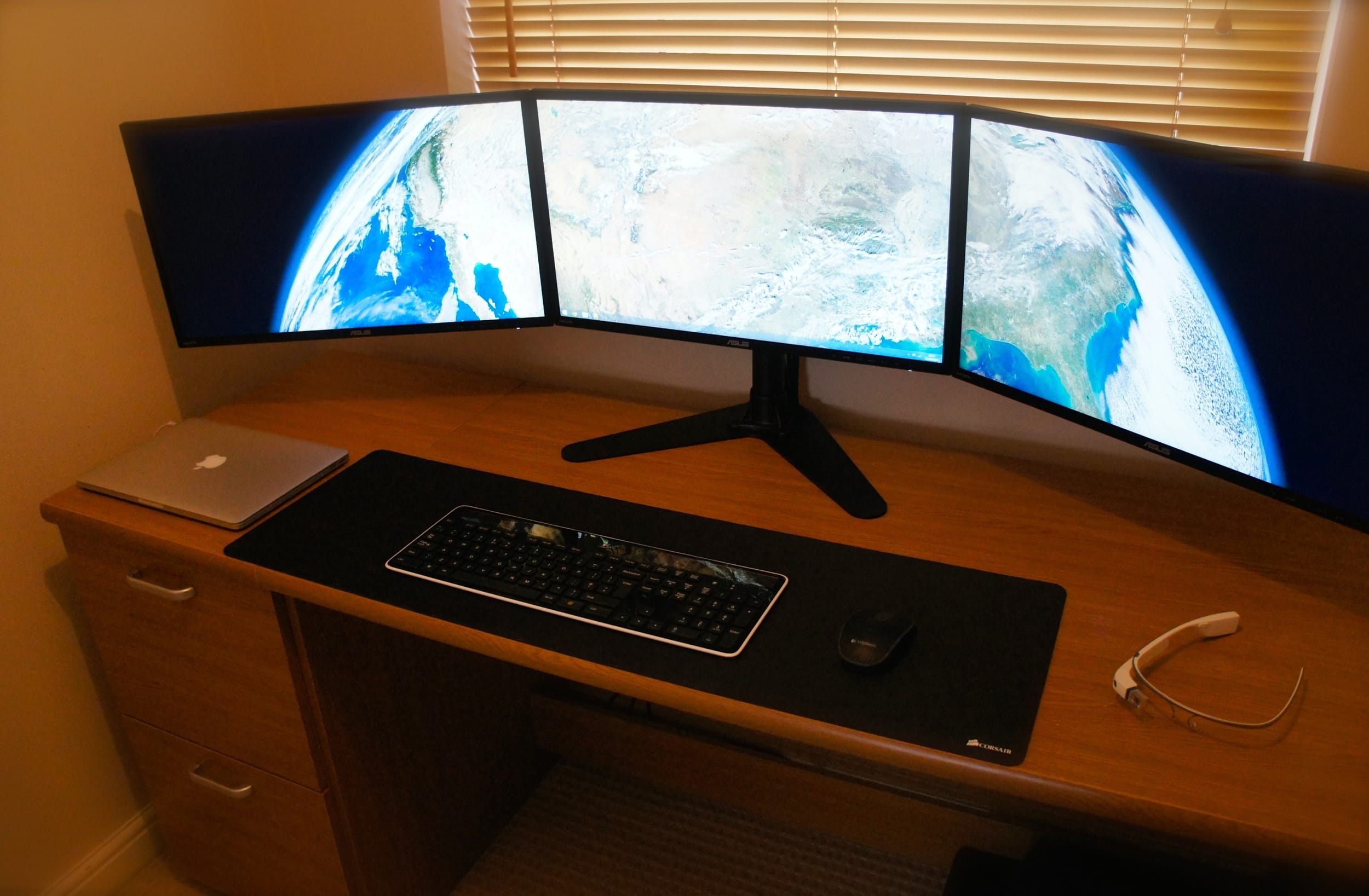 As you can see from the image, I decided to VESA mount my monitors instead of using the supplied stands. This provides more desk space, as well as enables you to increase the hight of the setup.
In conclusion, I've decided you can never have enough monitors! Triple display has changed the way I use my system, offering a huge amount of real estate when using applications, as well dramatically improving the Windows 8.1 experience. For example, I can now always have the Start Screen on one display, showing live updates and acting as an application launch pad, while the other two displays are still available for "actual work". This was never possible with the previous setup and therefore resulted in a lot of application switching.
Finally, it's worth mentioning games. Although the Eyefinity driver setup is a little basic, it works surprisingly well. Racing games (e.g. F1 2013 and Dirt 3) are definitely a highlight, with the increased width offering a more impressive sense of speed, as well as providing a better perspective when overtaking and defending. The same can be said for first person shooters (e.g. Bioshock Infinite), which deliver a truly immersive experience by offering peripheral vision. The only watch-out in FPS games is the field of vision (FoV), which sometimes needs to be adjusted to cater for the ultra widescreen.
I was also pleasantly surprised by the number of games that natively support Eyefinity (most modern games in my Steam collection). However, any game that doesn't have native support, can generally be enabled via a simple patch. I recommend heading over to the Wide Screen Gaming Forum (WSGF) for more details and some great videos!
Expect more Eyefinity analysis in the future!
---