My first experience of Virtual Reality was in the early-90's, when I stumbled upon a demonstration of a Virtuality 1000CS. The setup looked like something out of TRON, with its bulky Head Mounted Display (AKA Headset) and graphics powered by a Commodore Amiga 3000. By today's standards, the Virtuality 1000CS would be easy to ridicule, but it provided a very early glimpse at the potential of Virtual Reality.
In 2014, I started testing the Oculus Rift Developer Kit 2 (DK2), which was not much more than two displays and an Inertial Measurement Unit (IMU) glued into a pair of ski goggles. Although rudimentary, DK2 demonstrated how the concepts first showcased with the Virtuality 1000CS were now viable for consumer use.
In 2016, with the release of the Oculus Rift Consumer Version (CV), Virtual Reality entered the mainstream, with a far more refined product, combined with additional support from hardware peripheral providers and software developers.
It was at this point that I started to take Virtual Reality seriously, exploring different opportunities for home and work. However, with a limited user-base, the software ecosystem continued to mature at a gradual pace, restricted by limited financial opportunities.
In March 2020, everything changed, with the release of Half-Life: Alyx. Valve, who has always been a strong advocate of Virtual Reality, delivered the first "Triple-A" game designed and developed exclusively for Virtual Reality.
I vividly remember playing the original Half-Life in 1998 and consider the series among my favourite games. Although Half-Life: Alyx is not officially Half-Life 3, it continues the story and (like previous Half-Life games), aims to redefine the gaming experience through the use of innovative technology (in this case, Virtual Reality).
As a result, I felt it was time to re-enter the world of Virtual Reality, looking to understand how the ecosystem has progressed.
I consider all Virtual Reality headsets currently available "first generation", with the Oculus Quest being the pinnacle. This is not because the Oculus Quest is the most advanced (this title is held by the Valve Index), but because it offers the most approachable, versatile and cost-effective way to start enjoying Virtual Reality. For example.
For these reasons, I selected the Oculus Quest (64GB) as an upgrade from the Oculus Rift Consumer Version (CV). Additionally, I purchased a 3m Anker PowerLine USB-C to USB 3.0 cable to enable PC connectivity via Oculus Link.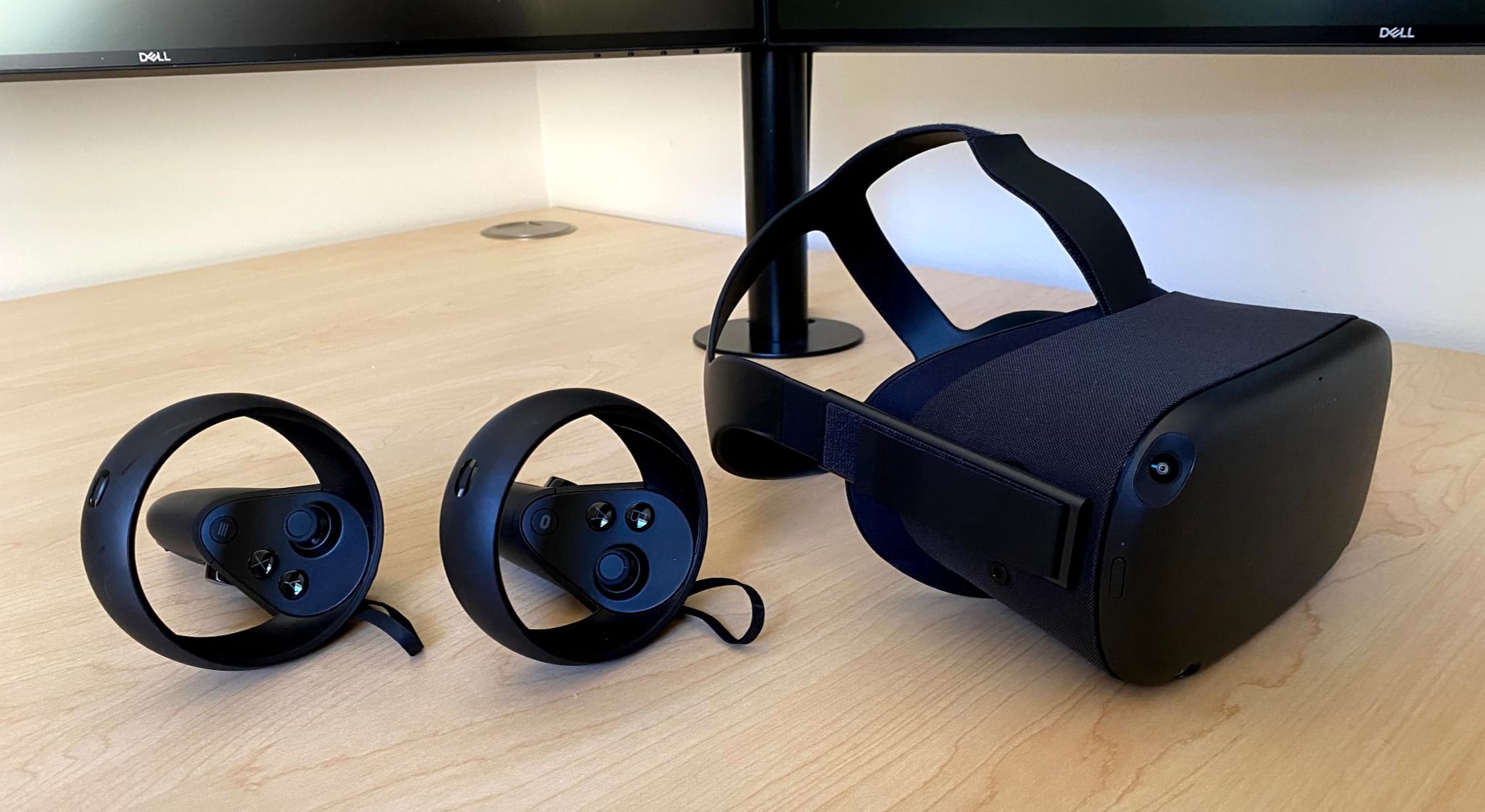 Since the release of the Oculus Quest in MAY-2019, Oculus (owned by Facebook) has evolved through continuous software updates, adding advanced features such as hand tracking (no Oculus Touch controllers required), as well as the previously described PC support via Oculus Link. These updates have made the Oculus Quest a "fan favourite", leaving the Oculus Rift S strangely positioned at its price point.
These new features make the Oculus Quest incredibly versatile, with access to four different Virtual Reality ecosystems.
Although the "official" method to access PC content (Oculus Rift and SteamVR software) is via the Oculus Link (USB 3.0 cable), there are also a few "unofficial" wireless options, specifically Virtual Desktop and ALVR, which can both be sideloaded. Recognising these are "unofficial" methods, the results are not guaranteed, but in my experience, when combined with a quality wireless network, they work fairly well (even playing Half-Life: Alyx).
Overall, I have been incredibly impressed with the Oculus Quest. The hardware (considering the price) is very well built and a step forward from the Oculus Rift Consumer Version (CV). The experience using the headset is fast and intuitive, with interactive tutorials that help ensure you are getting the best possible experience (Oculus Guardian, Passthrough, etc.)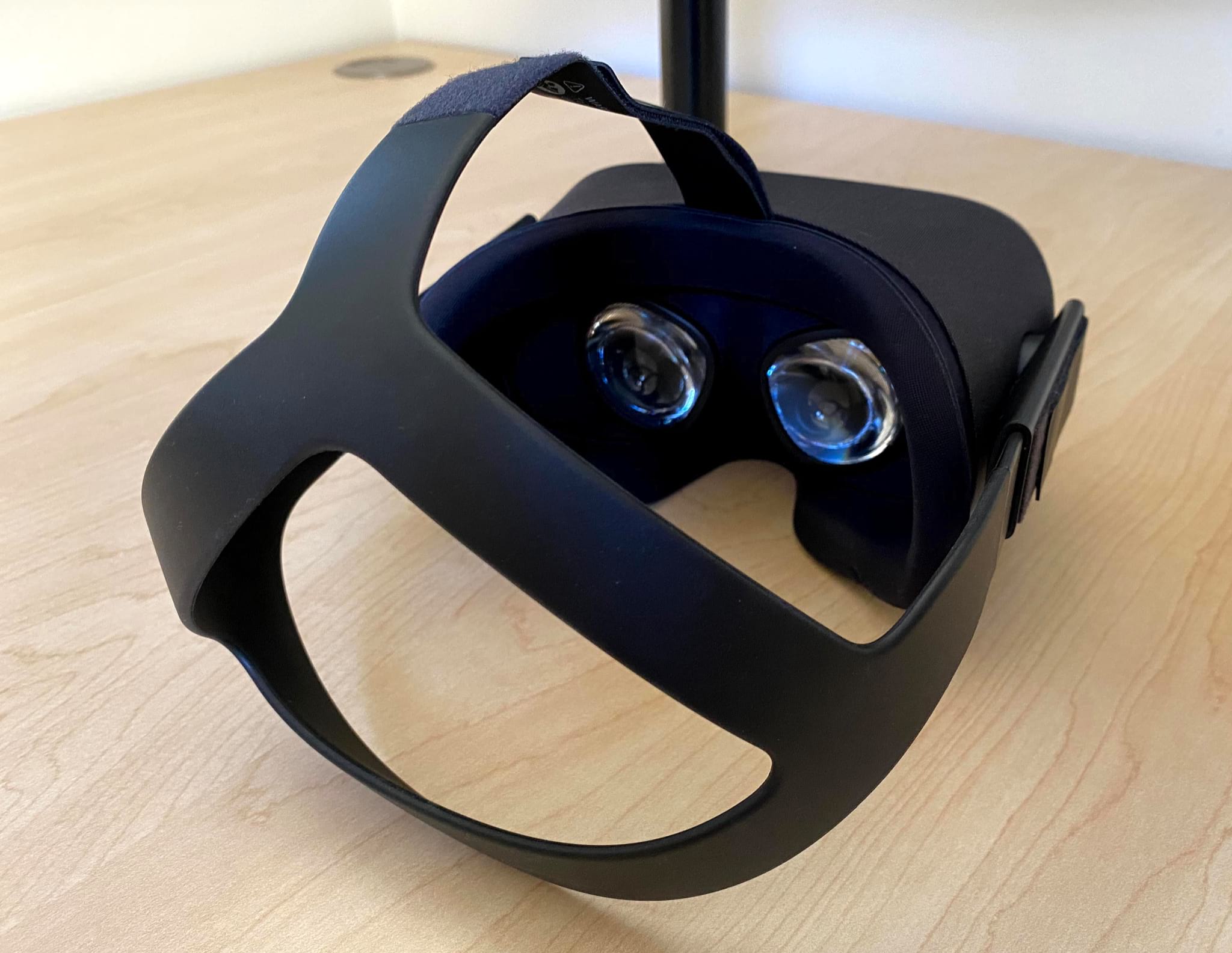 The Oculus Touch controllers are also excellent. The only thing to consider is the placement of the cameras, which are used for the inside-out tracking. As these cameras are forward-facing, the Oculus Touch controllers can not be tracked effectively when behind your body. Thankfully, in my experience, this rarely causes an issue and therefore an acceptable compromise for not having to mount and configure external sensors and/or base stations.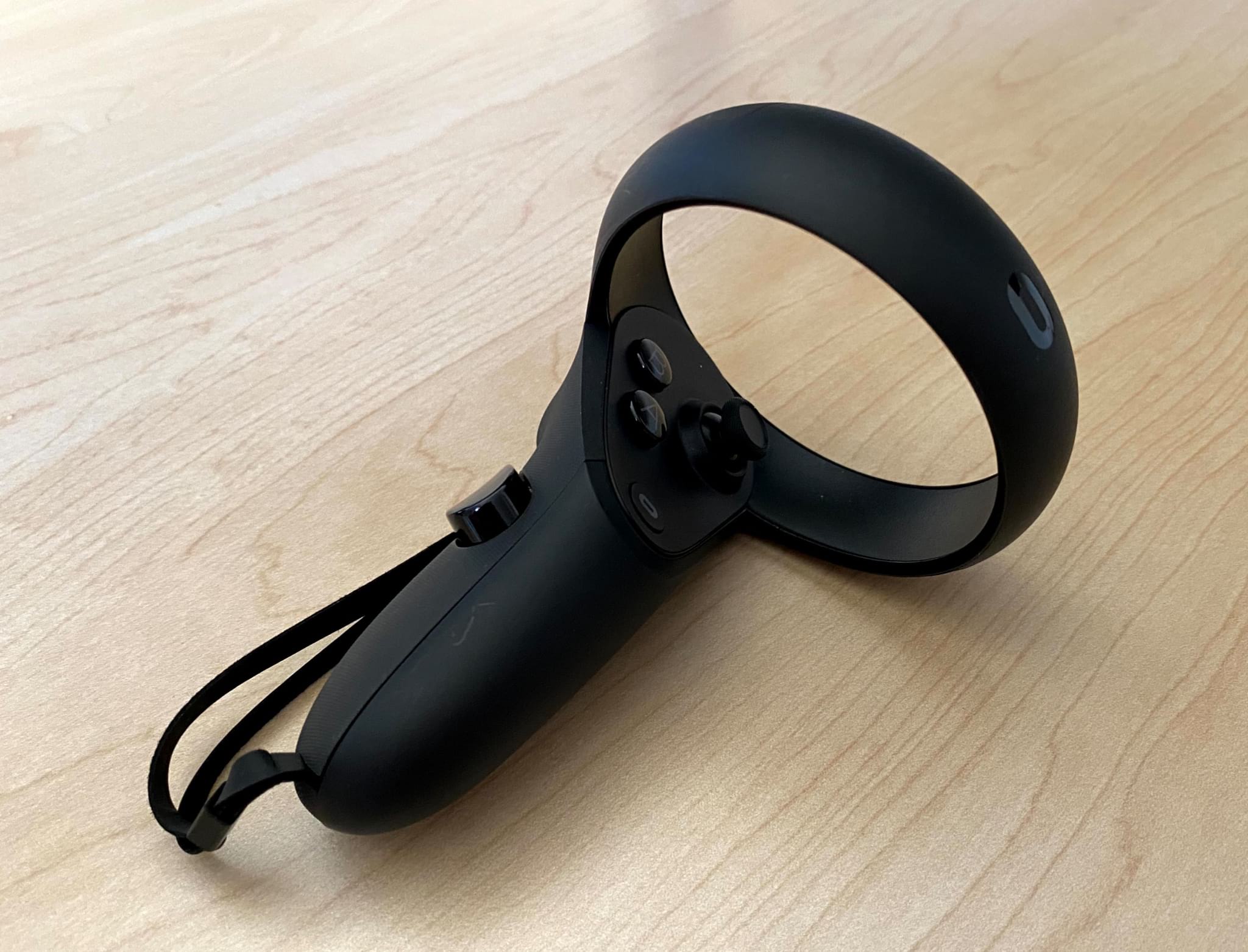 As previously stated, the ability to run Virtual Reality experiences from multiple ecosystems is a great selling point of the Oculus Quest. However, it can also create a slightly disjointed, confusing, user experience. For example, each ecosystem has its own unique Virtual Reality user interface, which must be entered to access the content.
In my opinion, the native Oculus Quest user interface (screenshot below) is the best, delivering a clear, concise and well-organised user experience that is easy to navigate.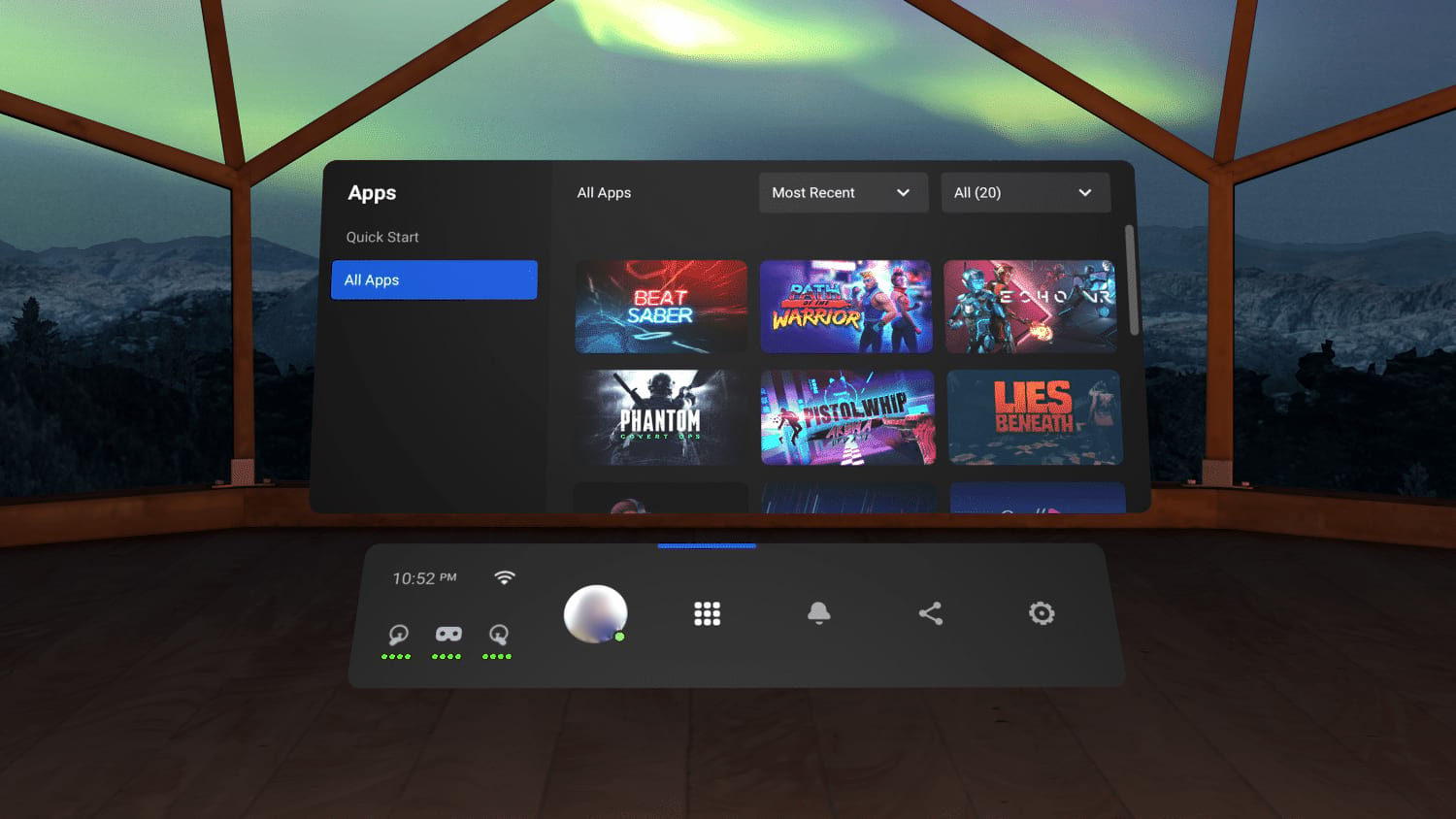 When accessing Oculus Rift software via Oculus Link, the user interface switches (screenshot below). Although similar to the Oculus Quest, in my opinion, the extended "Dash" is less intuitive and a little more cumbersome to interact with via the Oculus Touch controllers.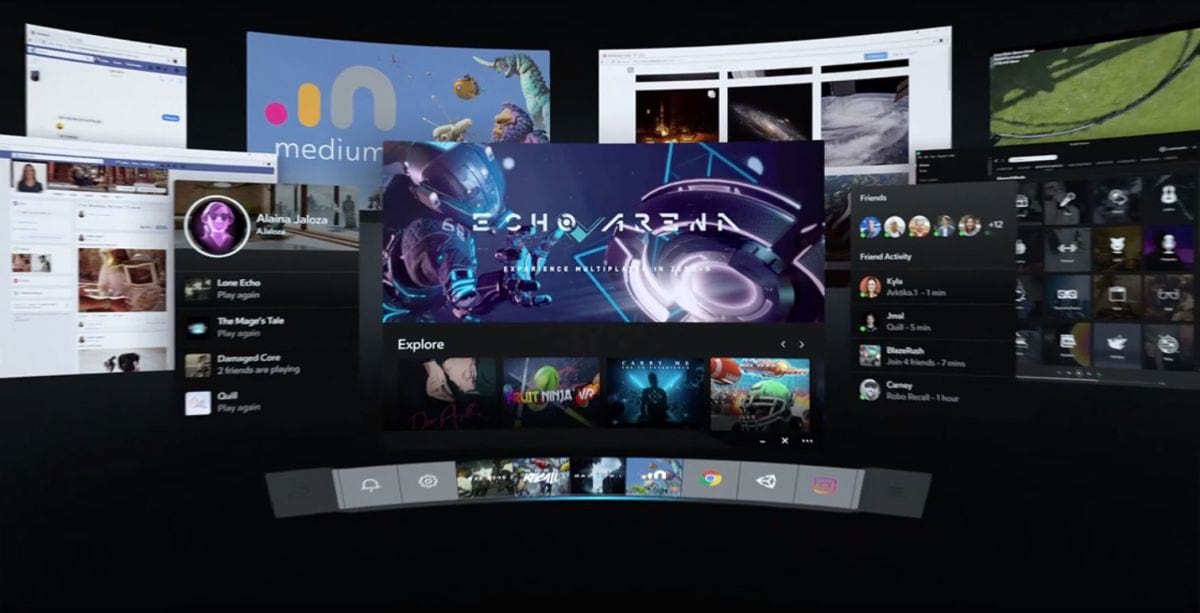 Finally, when accessing SteamVR software, the user interface switches again (screenshot below). I would describe SteamVR as "functional", unsurprisingly prioritising the Steam software library and store.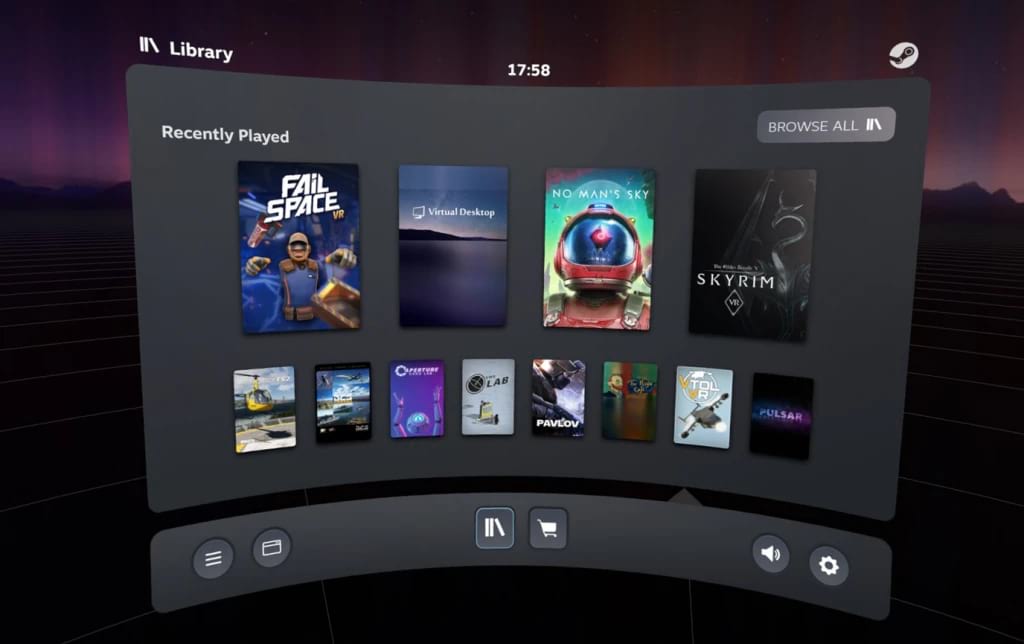 Alongside the different user interfaces, the different ecosystems can also create confusion when purchasing Virtual Reality experiences. For example, some Virtual Reality experiences are available from multiple sources, while others are exclusive. There is also the concept of "Oculus Cross-Buy", where a single purchase supports both the Oculus Quest (Standalone) and Oculus Rift (PC Connected).
As to which version of the experience you should buy depends on multiple factors, specifically, cost, graphics, performance, room-scale requirements, etc. For example, the popular game SUPERHOT VR is available everywhere (Oculus Quest, Oculus Rift, SteamVR), but is likely "best" on the Oculus Quest, as the graphics are relatively simple (meaning good performance on the Snapdragon 835), whilst gaining the benefits of standalone gameplay (no PC required). To help navigate this confusion, I have listed some of my favourite Virtual Reality experiences below, including the recommend ecosystem.
Oculus Quest (Quest Only)
Oculus Quest/Rift (Cross-Buy)
SteamVR
SideQuest
NOTE: Virtual Desktop is shown twice (Oculus Quest and SideQuest), as the SideQuest version enables wireless Oculus Rift and SteamVR, but requires the Oculus Quest version to be purchased first.
Finally, regarding Half-Life: Alyx, the IGN review (video embedded below) summarises my thoughts perfectly.
I concur that this game is a "masterpiece" and without question the best Virtual Reality experience available today. The "Triple-A" graphics, gameplay, pacing, immersive world and attention to detail is simply breathtaking. As a Half-Life fan, the story is also compelling and surprising, leaving you eager for more (hopefully we won't have to wait another decade).
In conclusion, with the Oculus Quest and software like Half-Life: Alyx, Virtual Reality feels like it has finally reached the potential first seen nearly two decades ago with the Virtuality 1000CS.
The Oculus Quest is an excellent product at a reasonable price point, which benefits from being the only headset with access to Virtual Reality experiences from multiple ecosystems. I would have no hesitation recommending the Oculus Quest, with my only caution being the anticipated release of "second generation" Virtual Reality headsets in early 2021. Therefore, depending on your situation, it might be worth waiting for the inevitable Oculus Quest successor.
Finally, even with the release of Half-Life: Alyx and a handful of other excellent Virtual Reality experiences, the software ecosystem remains immature. Although I expect the release of Half-Life: Alyx will result in a sales spike, it would still take a brave developer to prioritise Virtual Reality, especially with next-generation consoles (PlayStation 5 and Xbox Series X) on the horizon.
With that said, I believe Value have successfully demonstrated the potential of Virtual Reality, which I hope will inspire the community.
---