Over the years I have experimented with different monitor setups. I have tested almost every viable combination positioned for consumers, including:
Apple Cinema Display (High Resolution, Single Cable)
3D Compatible Monitor (3D Content)
Triple 24-inch Monitors (AMD Eyefinity for Gaming)
High Resolution (5K+) Monitor (Productivity)
High Refresh Rate (144Hz+) Monitor (Gaming)
Dual 27-inch 4K HDR Monitors (Massive 8K Resolution)
Every monitor setup had its relative strengths and weaknesses. For example:
High refresh rate monitors are great for gaming, but often trade-off colour accuracy and high dynamic range.

High-resolution monitors (4K+) provide great image quality, but are commonly locked at a 60Hz refresh rate, have a lower response time and require software DPI scaling.

Dual or triple monitor setups deliver an immersive experience as well as an amazing amount of screen real-estate but include cumbersome monitor bezels, as well as the need to connect multiple cables.
Over the past year, a new "type" of monitor has hit the market, known as the "Super Ultrawide". These monitors include a massive 49-inch panel with a 32:9 aspect ratio, which is the equivalent of dual 27-inch monitors.
Interestingly, Super Ultrawide monitors have the potential to deliver the perfect balance between productivity and gaming, achieved through the following characteristics:
High Resolution: Up to 5120x1440, which is approximately one million pixels less than 4K (arguably the best resolution for Windows DPI scaling and game performance).

High Refresh Rate: 120Hz+ with Variable Refresh Rate (FreeSync, G-Sync, etc.)

Low Response Time: Maximum 4ms (GTG)

Colour Accuracy: 95%+ of DCI-P3 and HDR1000 (Peak Brightness 1000cd/m2).

Screen Real Estate: The equivalent of dual 27-inch QHD monitors.
As a result, I decided to replace my existing three monitors (details below), with a single Super Ultrawide.
2x Dell U2718Q IPS HDR 4K (3840x2160 / 60Hz / 5ms / HDR10)
1x Dell S2716DG TN G-Sync (2560x1440 / 144Hz / VRR / 1ms)
I have selected the Samsung C49RG90, which can be purchased for around £1000 and includes the following specification:
Model: Samsung C49RG90
Panel Size: 49-inch
Panel Type: VA
Panel Curvature: 1800R
Aspect Ratio: 32:9
Resolution: 5120x1440
Refresh Rate: 120Hz
Variable Refresh Rate: AMD FreeSync 2 (48-120Hz Range)
Response Time: 4ms (GTG)
Colour Accuracy: 125% sRGB, 92% Adobe RGB, 95% DCI-P3
High Dynamic Range: HDR1000
Brightness: 600cd/m2 (Typical), 1000cd/m2 (Peak)
The Samsung C49RG90 delivers in one monitor, the capabilities that I was previously achieving with three. Specifically, a 5120x1440 resolution, which is the equivalent of dual 27-inch QHD monitors, alongside a high refresh rate (120Hz) and support for AMD FreeSync 2 (which also is compatible with Nvidia graphics).
I did explore the new Samsung Odyssey G9, which includes a higher refresh rate (240Hz), alongside a 1000R curvature. However, there have been widespread reports on Reddit of inconsistent build quality (light leaking) and a "display flickering" issue. Therefore, considering I am not a competitive gamer, I decided to save some money (approximately £300) and select the "tried and tested" Samsung C49RG90.
Setup
Unsurprisingly the Samsung C49RG90 is a monster, something that is immediately apparent based on the size of the box. I had initially planned to leverage my existing monitor arm, however, the 11.6kg weight was simply to heavy for the single arm.
Therefore, I switched to the integrated stand, which consumes more desk space, but is certainly more robust. On a positive note, the stand does include an integrated cable tidy and handy headphone stand.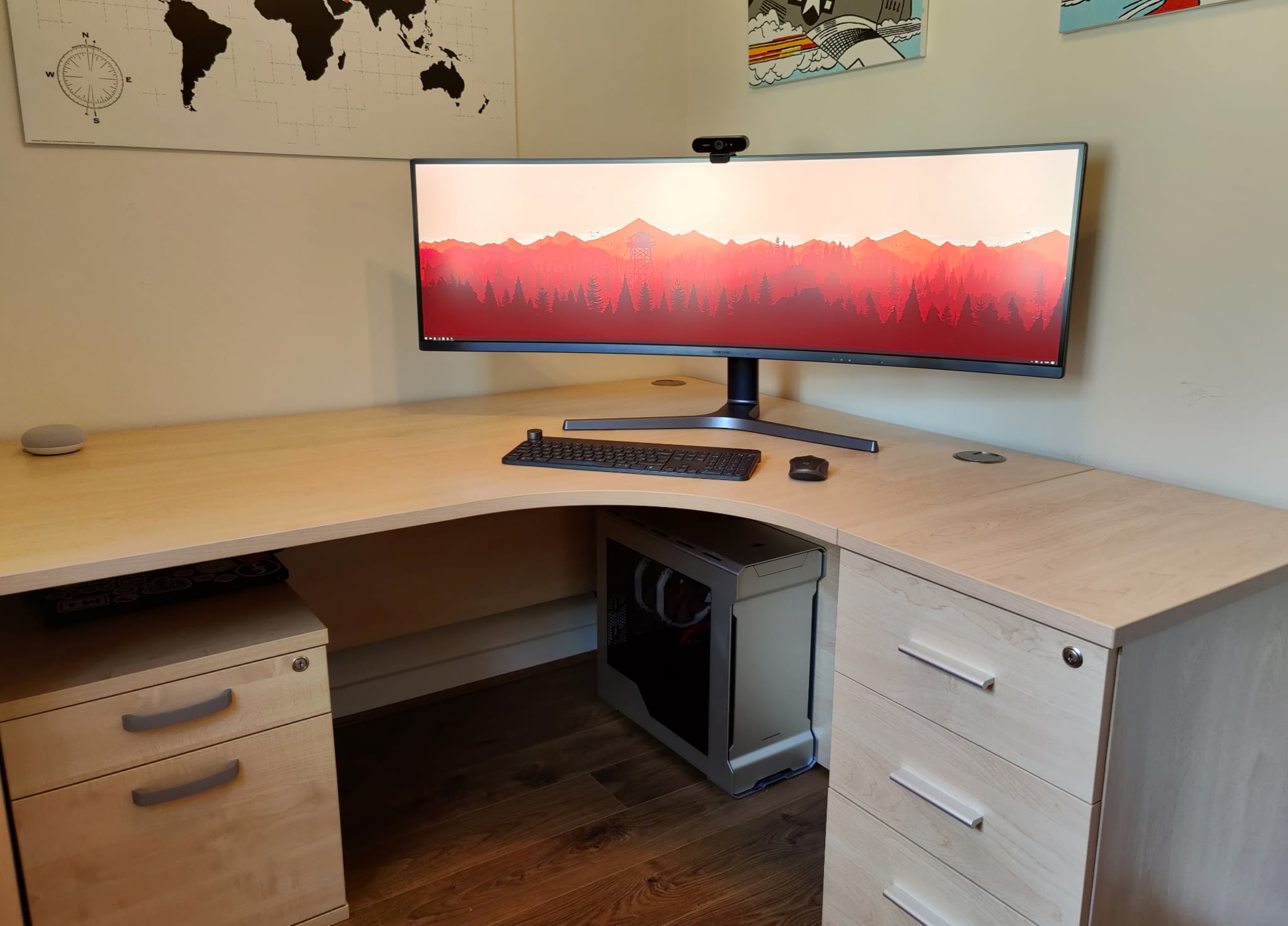 Setting up the monitor was very simple, my default settings can be found below:
Resolution: 5120x1440
Refresh Rate: 120Hz
Colour: 8-bit
FreeSync: Ultimate Engine (48-120Hz Range)
Brightness: 50 to 100
Contrast: 75
Sharpness: 56
Low Input Lag: On
Response Time: Fastest
Local Dimming: Auto
When viewing HDR content, I switch the Colour to 10-bit (Nvidia Control Panel) and Brightness to 100, which automatically lowers the Refresh Rate to 100Hz. I do not personally leave HDR on by default, recognising the current HDR limitations in Windows 10.
The Samsung C49RG90 supports FreeSync 2, which adds three important features to the FreeSync specification, specifically support for High Dynamic Range (HDR), Low Input Latency and Low Framerate Compensation (LFC).
In my opinion, Low Framerate Compensation (LFC) is the most important feature, as it essentially removes the minimum refresh rate threshold by automatically multiplying frames to ensure they exceed the minimum (e.g. 48Hz).
Although FreeSync is AMD technology, it works fine with Nvidia graphics. However, the setting "Enable settings for the selected display model" must be enabled in the "Set up G-Sync" tab of the Nvidia Control Panel.
Usage
The 32:9 aspect ratio is simply phenomenal, delivering a truly immersive experience regardless of the task. The 1800R curvature works great for productivity (minimal distortion), but I could see the benefits of a 1000R curvature, especially when playing games.
Unlike having dual displays, application windows running on the Super Ultrawide can be positioned in the centre of the display, something that would have been previously blocked by the monitor bezels.
This subtle change makes a big difference, especially for focused tasks such as coding, writing and/or reviewing documents. Where previously I would have my primary application window on the left display, I now position centrally, with any "secondary" application windows positioned either side.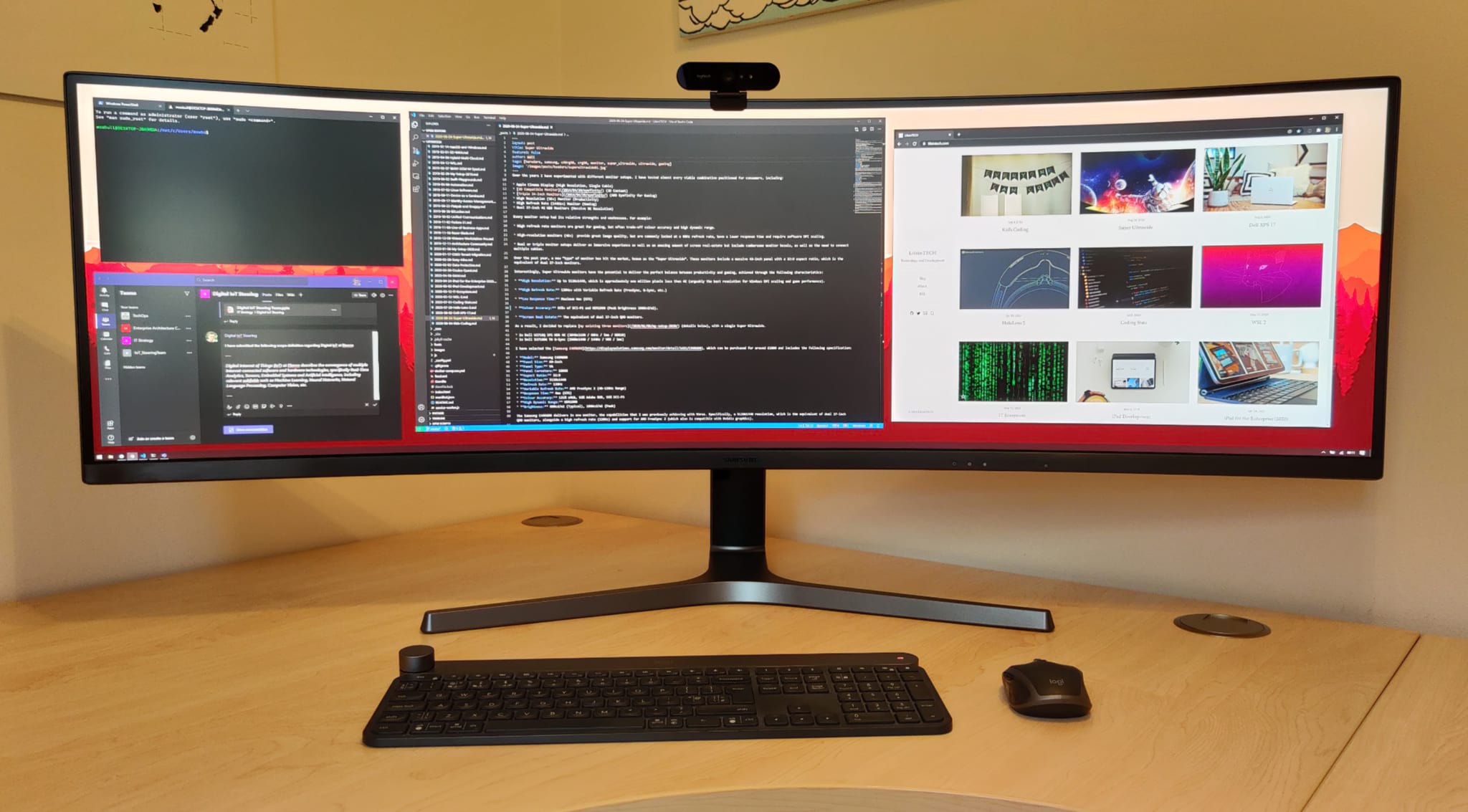 Another key advantage of a single monitor is that applications can leverage the full screen by default. Although not appropriate for all use cases (a single browser window across 32:9 aspect ratio looks ridiculous), applications such as Zoom deliver an experience that could only be achieved on this setup.
My only negative feedback would be related to text clarity, which is a common complaint with monitors that use a VA panel. The issue is most noticeable when compared against a high-resolution IPS panel, but is not something that bothers me in general use. It is worth noting that text clarity can be tuned in Windows 10 using the ClearType settings.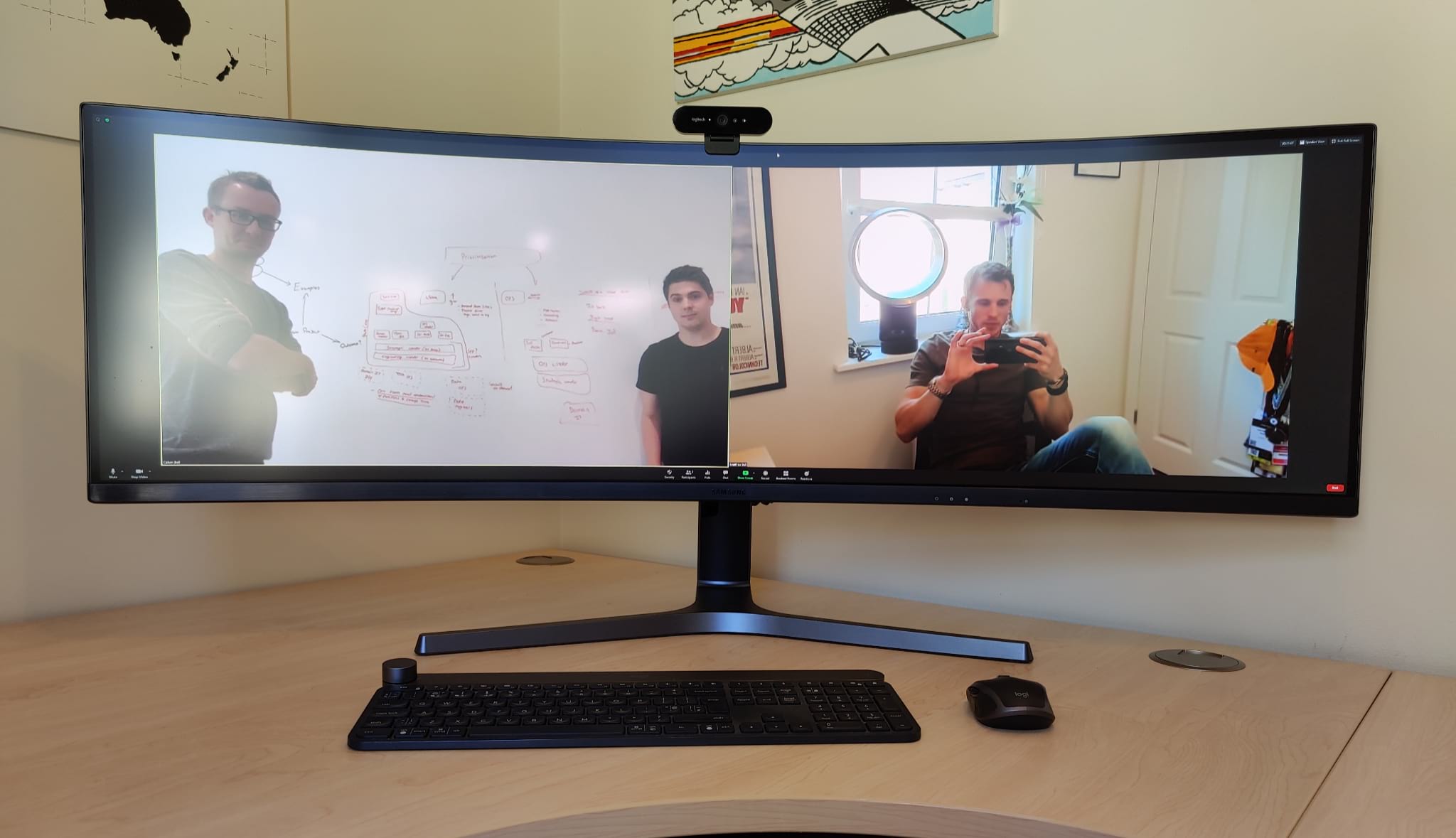 This immersive video conferencing experience has been particularly useful in 2020, where due to COVID-19, I have spent a lot of time and home.
Gaming is another highlight of the Samsung C49RG90, with the 120Hz refresh rate and FreeSync 2 delivering a responsive, consistent, visual experience.
With that said, not every game natively supports the 32:9 aspect ratio, therefore it is worth checking before any purchase. I would recommend starting with the "Steam Ultrawide Master Race" group, which includes a curated list of supported games.
Assuming support, the Super Ultrawide experience is breathtaking! I have included a few photos below, which hopefully highlight the immersion.
Red Dead Redemption 2 is a first and third-person perspective open-world game developed by Rockstar Games. The open landscapes look stunning when running at a 32:9 aspect ratio. When playing first or third-person games on a Super Ultrawide, the Field of View (FoV) might require adjustment, something that can usually be done from within the game options.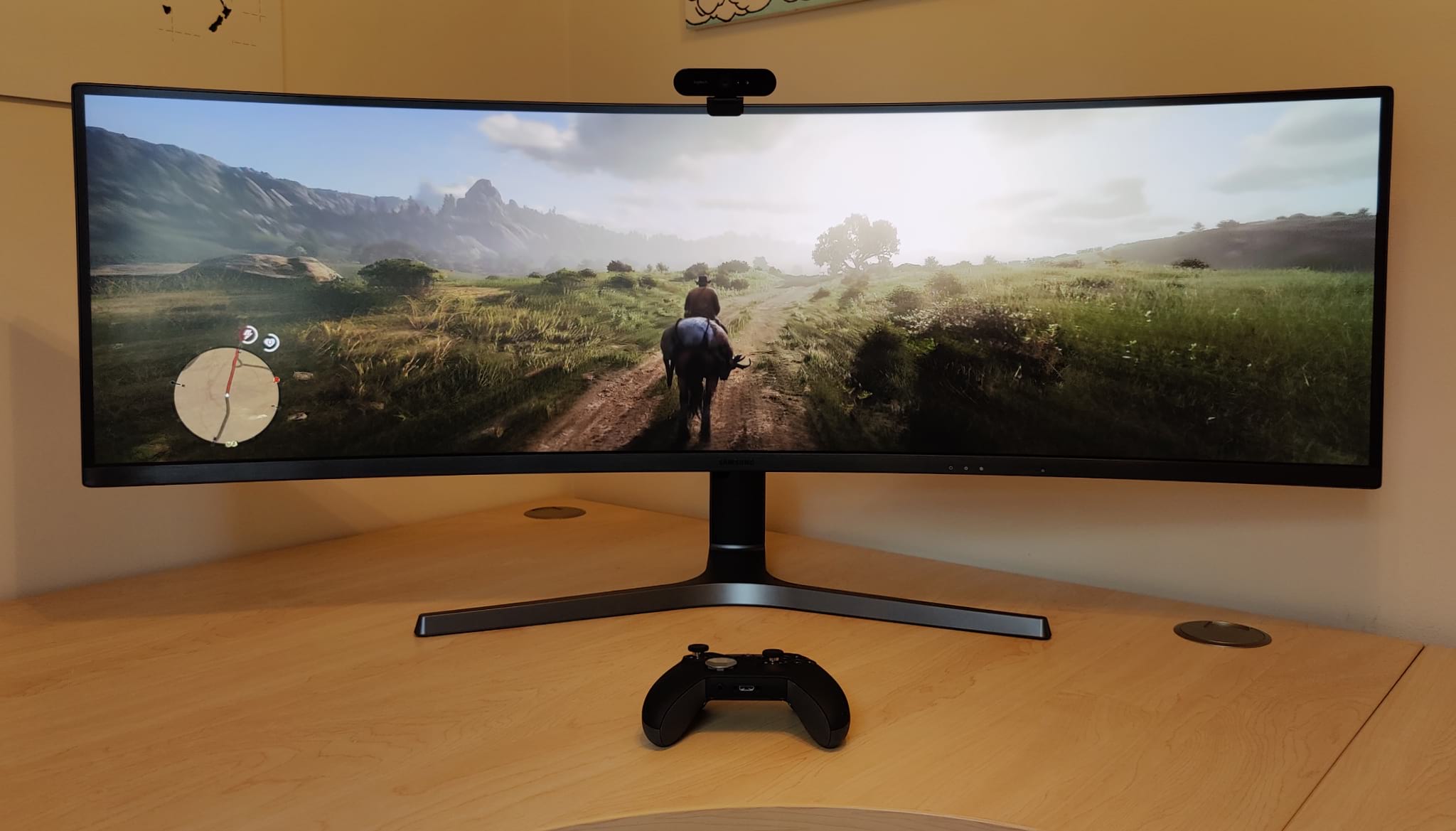 Another recent release is Flight Simulator from Microsoft, which includes native support for the 32:9 aspect ratio. Flight Simulator is a very demanding game, therefore does require impressive hardware to run at the native 5120x1440 resolution (although this resolution is still less demanding than 4K).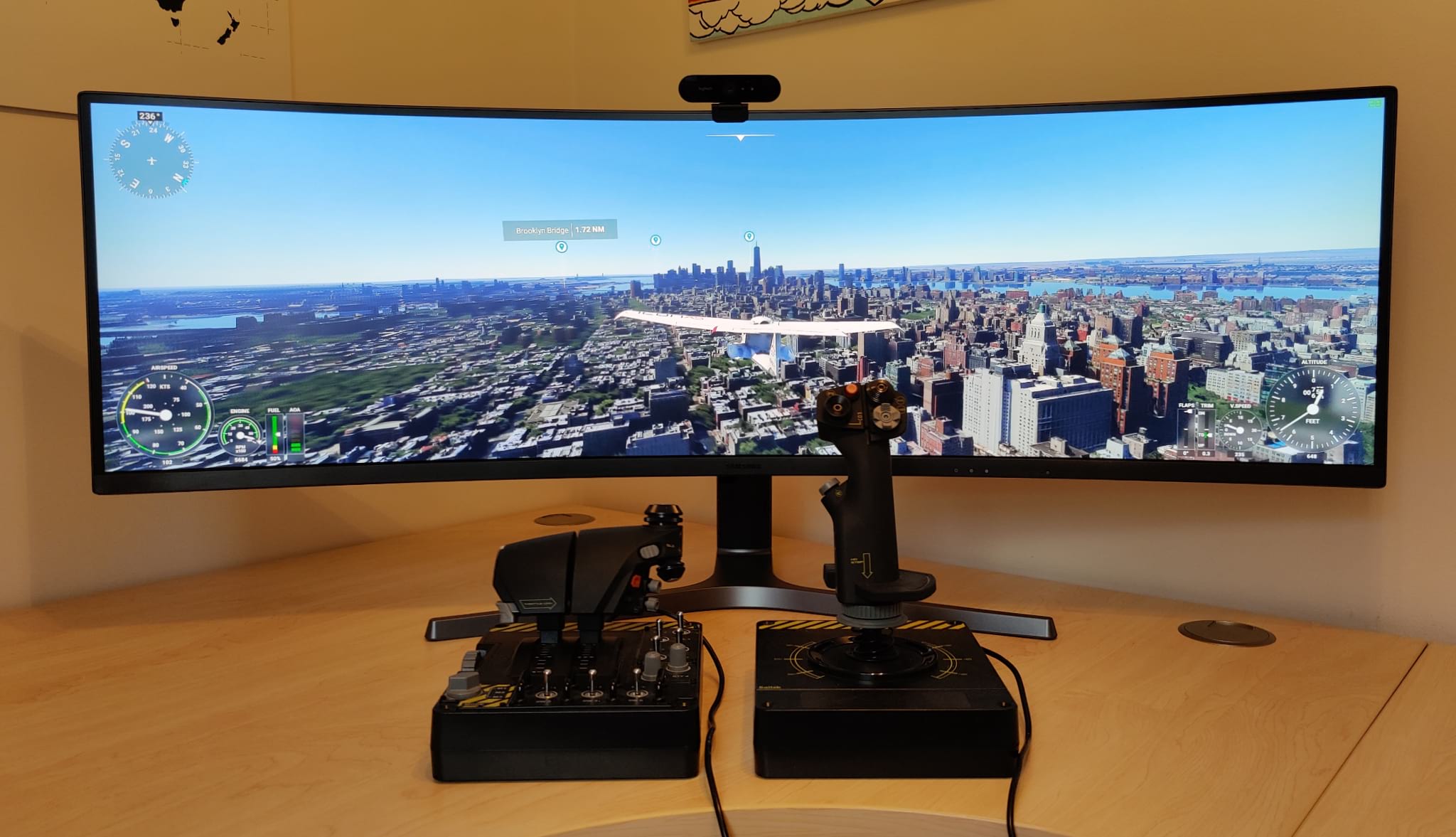 Finally, I am a fan of racing games (specifically the F1 Series from Codemasters), which I have always enjoyed playing with ultrawide setups (specifically AMD Eyefinity, as highlighted in the photo below).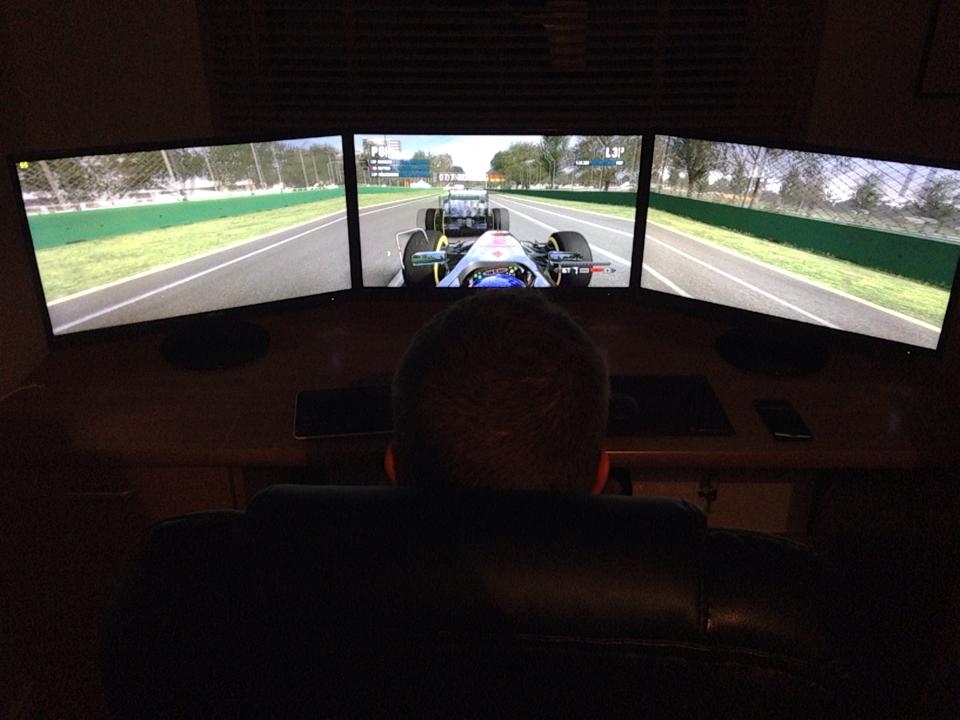 As highlighted in the photo below, the impact of Super Ultrawide monitor is immediately evident, simplifying the setup and removing the bezels.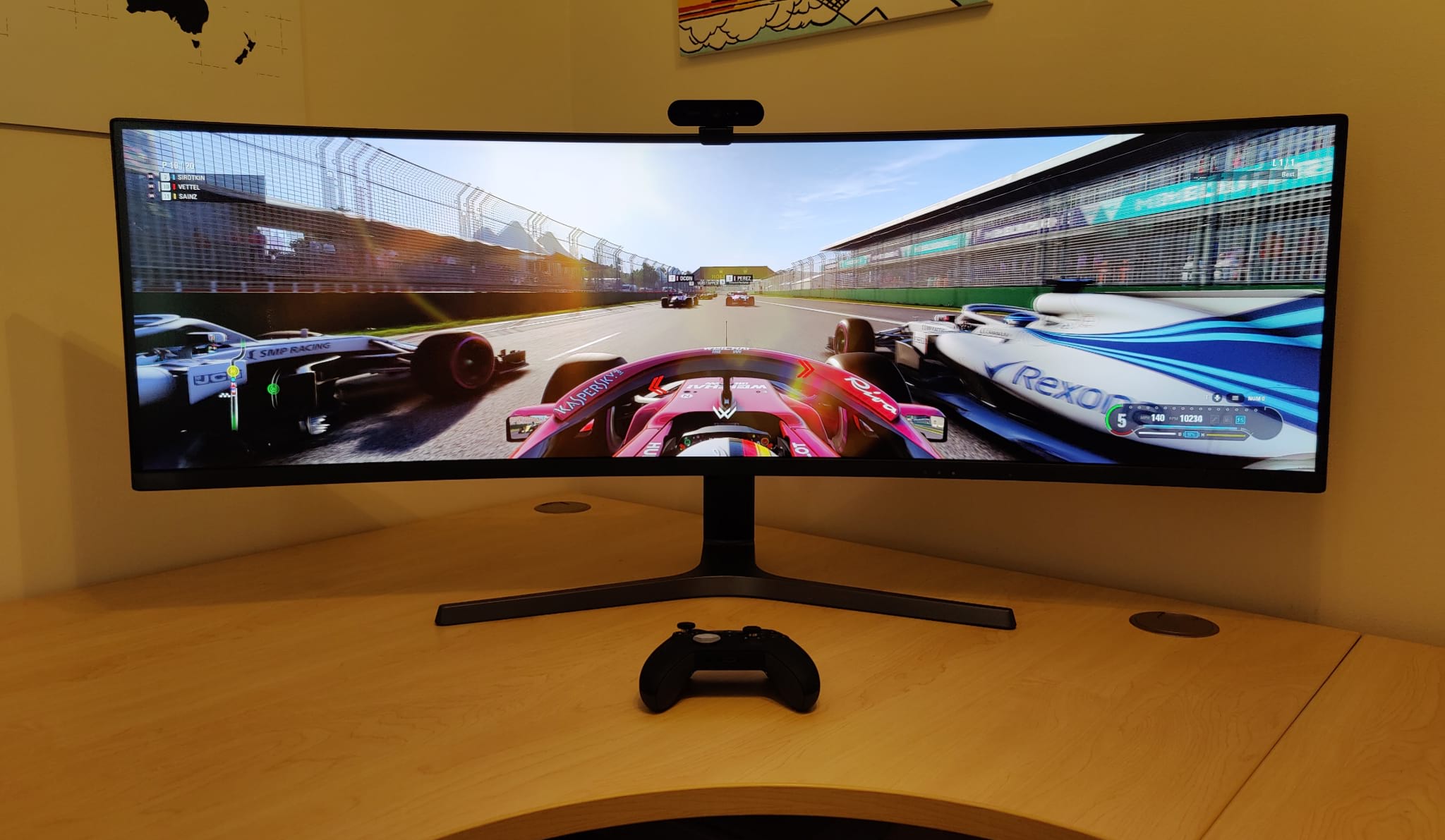 Although not perfect for every gaming experience, I enjoy the Super Ultrawide gaming experience. However, this assumes a PC that can push a 5120x1440 resolution at a respectable framerate.
Conclusion
In short, I believe am pleased with my switch to Super Ultrawide. The Samsung C49RG90 delivers upon the promise of high resolution, high refresh rate, with minimal compromise.
---