The world produces more than 50 million tons of e-waste per year. On average, that is 6kg per person, per year. This e-waste has a direct impact on the well-being of animals, people and the planet, contributing towards global issues such as climate change.
If we hope to improve this situation, everyone must take accountability, proactively contributing towards a better, more sustainable future. This includes enterprise businesses, which due to their scale and centralised governance, are well-positioned to lead from the front!
For example, my company (a relatively small enterprise) owns/manages approximately 20,000 end-user devices, covering laptops, desktops, smartphones, tablets, etc.
Over the past decade, thanks to companies such as Apple, end-user devices have been trending towards "appliance-like" design and manufacturing, reducing or removing any ability to repair and/or upgrade.
Therefore, anytime a device is "broken", the entire device must be replaced. Hopefully, the broken device is recycled appropriately, but the waste (and cost to the business) is still significant.
Ironically, the device itself is rarely broken beyond repair, usually it is a single component that has failed. In the context of a laptop, the most common issues are related to the display, keyboard, trackpad or battery. Each of these components, with the right design, manufacturing and support processes, could be easily replaced.
The same logic could be applied to upgrades, with most enterprise businesses having a life cycle management process that occurs on a three to five year cadence. Does every user need a new laptop every three to five years? I suspect the majority of devices are still perfectly viable, assuming "worn" components (e.g., keyboard, trackpad or battery) could be replaced, combined with some software housekeeping (factory reset, etc.)
Hopefully, the environmental benefits alone are enough to incentivise change. However, I believe there is also a compelling business case. Assume the average cost for each device is $1,300. That is a total of $26M for 20,000 devices, which could easily grow to $50M+ over a decade. Therefore, even if compared against device leasing options, which can flatten the spending curve, the ability to repair and/or upgrade devices could drive dramatic cost savings, improving the return on investment.
At my company, we prioritise our "Healthy Purpose", which is the platform through which we engage with our employees, communities and industry leaders across more than 90 countries, to provide global, sustainable solutions to make an impact.
As CTO/CISO, I look to ensure IT is acting as a thought leader, exploring new ways to minimise our environmental footprint, and prioritising partnerships that unlock innovation to advance our sustainability efforts.
Over the past year, I have been personally following the work being led by Framework, a company producing laptops that respect the consumer's right to repair and upgrade.
Late last year, we started working with Framework to formally establish the required capabilities and processes to support enterprise businesses, covering topics such as global distribution, scale, enrollment, supportability, security, etc.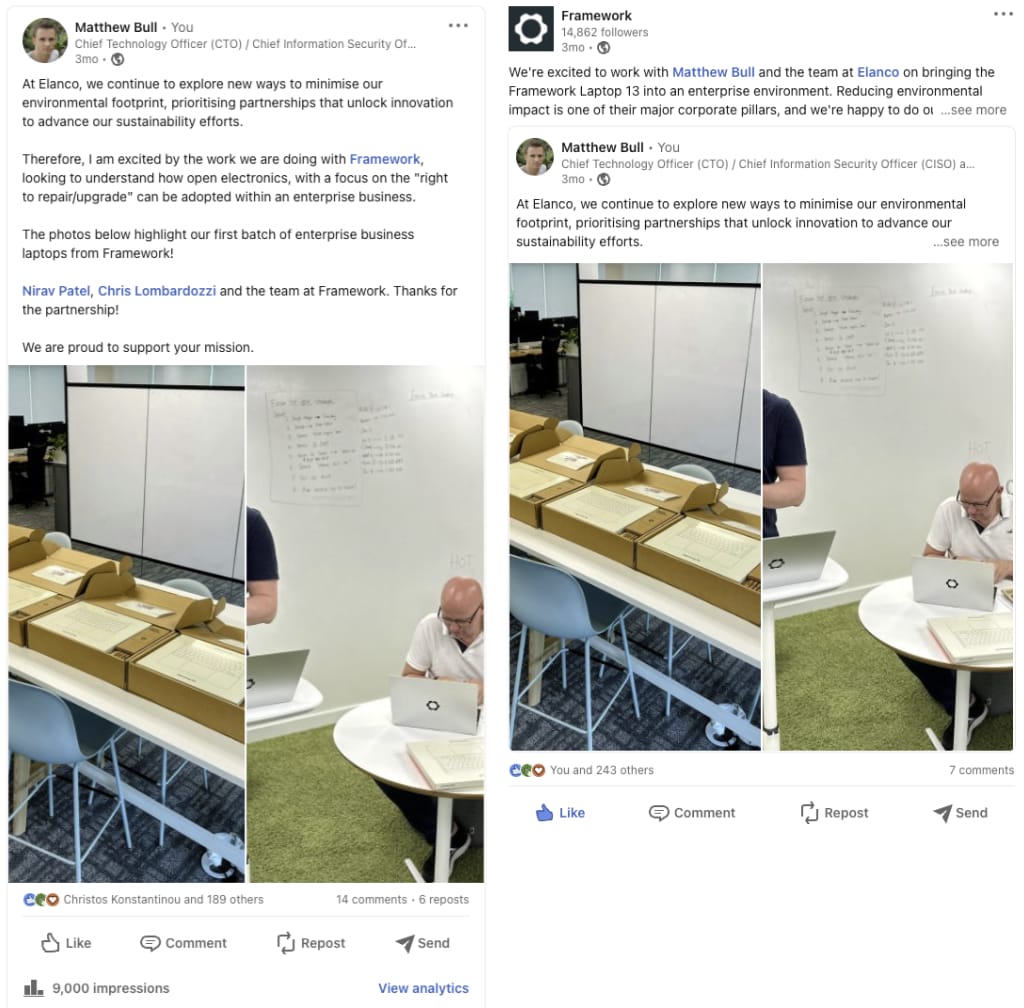 Specifically, enterprise businesses have unique requirements regarding how devices are managed. For example, we leverage Windows AutoPilot, which offers many advantages when deploying, managing, and retiring Windows devices at scale. However, Windows AutoPilot is dependent on a device hardware hash, which can add complexity when replacing individual components (e.g., repairs and upgrades)
As a result, we have initiated a production pilot (real users, real work), with the first batch of laptops landing in the office yesterday!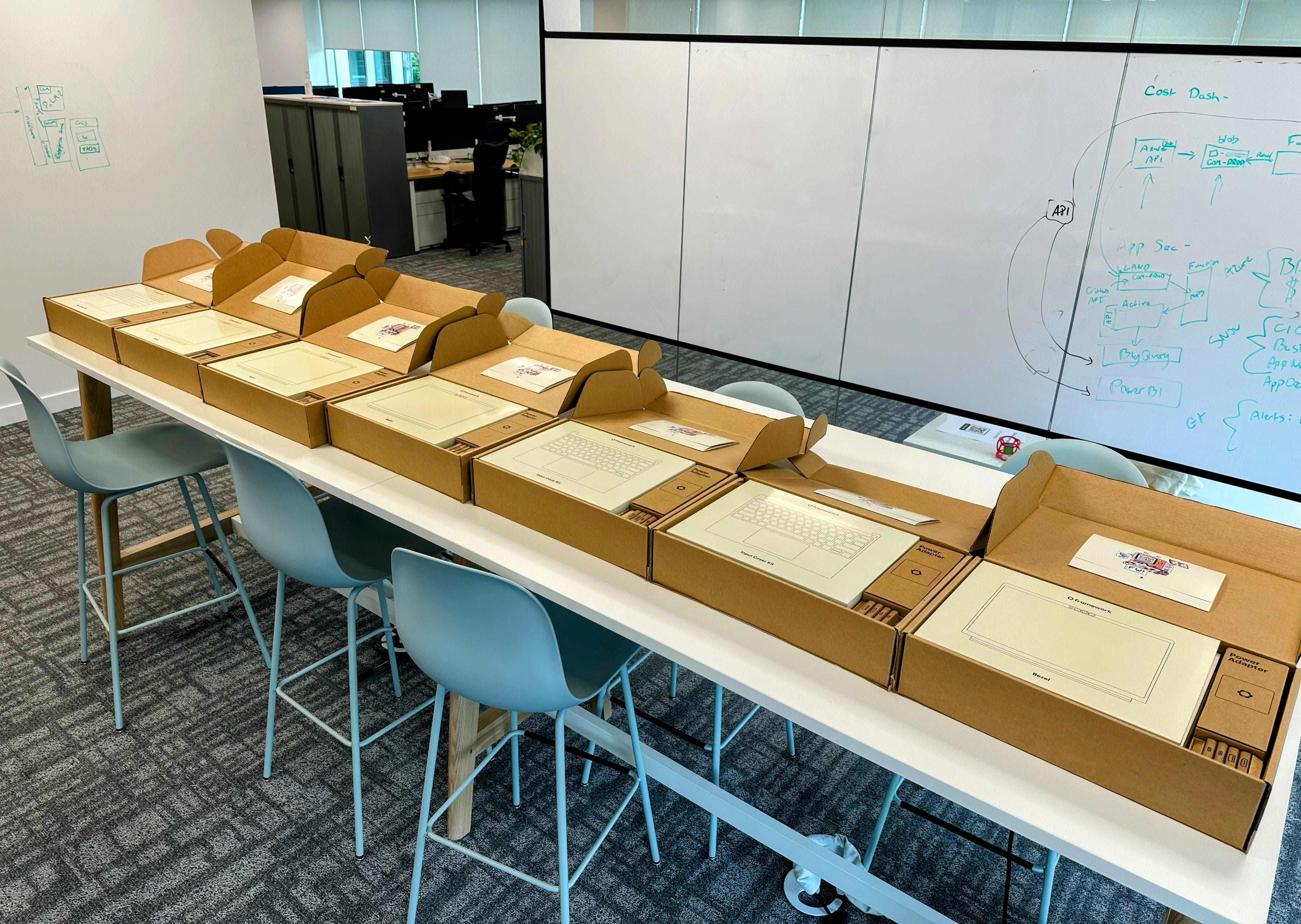 We have initially targeted a specific user persona that we know will require minimal support (e.g., analysts, engineers, etc.) This will allow us to design/test our processes, before wider adoption. As a bit of fun, we also got our early adopters to build their laptops, using the "DIY Edition" and excellent guides provided by Framework.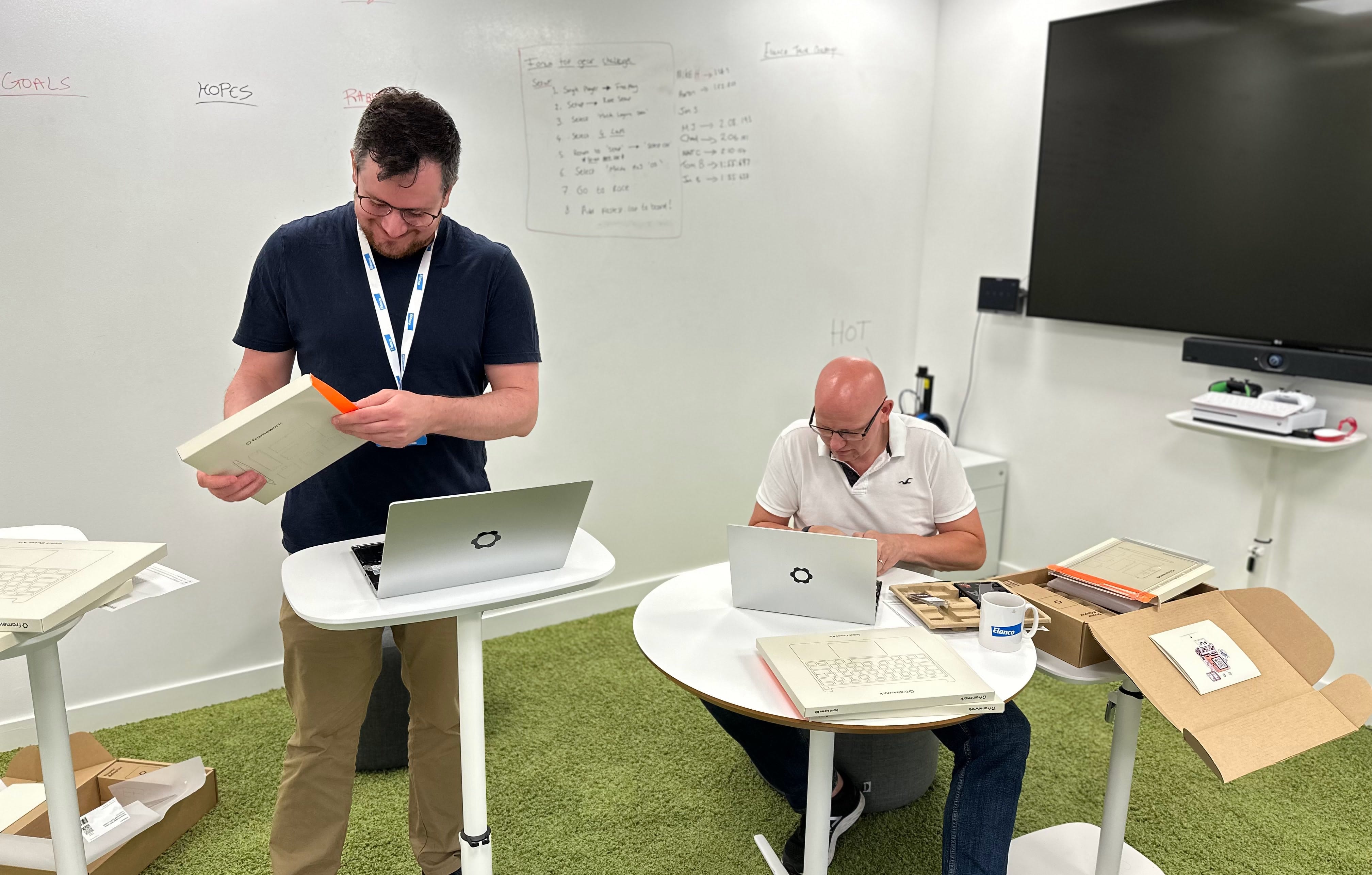 I am incredibly excited by the work we are doing with Framework! I see a tremendous opportunity to contribute towards a better, more sustainable future.
A huge thanks to Nirav Patel, Chris Lombardozzi and the team at Framework for the continued partnership!
---