Over the past month, I have been testing the Framework Laptop, from Framework Computer (which for brevity, I will simply reference as Framework).
I shared my initial impressions and setup process in the following two articles.
As a brief reminder, Framework set out to deliver a laptop that encourages home servicing and incremental upgrades.
As highlighted in my last article, I selected Fedora 36 as my operating system.
The Framework Laptop is fully Windows 10/11 compatible, however, I am a Linux user and the "open" philosophy of Framework felt like a perfect match.
In this article I plan to share my experience using the laptop over the past month, covering performance, reliability and usability.
It should be noted that as I am running Linux, my impressions may not reflect the Windows experience, which has different performance and power consumption characteristics.
With that said, I am pleased to report that Framework has published handy guides that cover the installation process for popular Linux distributions.
With Fedora 36, everything works out of the box, including common "pain-points" such as the audio, webcam and fingerprint reader.
It is, however, important to ensure you are running the latest BIOS, which at the time of writing is version 3.07.
At this time, the BIOS update cannot be triggered from within Linux. However, Framework is actively working to implement LVFS (Linux Vendor Firmware Service).
As a result, the BIOS must be updated manually, by downloading the relevant files from the Framework Help Center.
Once downloaded, updating is a simple three-step process:
Extract contents of ".zip" to a FAT32 formatted USB drive.
Disable Secure Boot in BIOS (F2 > Security > Secure Boot).
Boot the system while tapping F12, and select the USB drive.
The remainder of this article assumes BIOS version 3.07.
Performance
The specification of my Framework Laptop can be found below.
Framework Laptop DIY Edition
Intel i7-1185G7 4.80GHz (4C/8T)
64GB Crucial DDR4 PC4-25600C22 3200MHz RAM
1TB Western Digital Black SN850 NVMe (7GB/s Read)
Intel Iris Xe Graphics
13.5-inch LCD Display (2256x1504 @ 60Hz)
2x USB4 (USB-C), 1x USB 3.2 G2 (USB-A), 1x HDMI 2.0b
Knowing that the Framework Laptop is a standard x86-64 architecture, running an Intel 11th Generation processor, the performance is highly predictable.
For example, any generic benchmark and/or review of the Intel i7-1185G7 will provide a good insight into the performance.
The main differentiator would be any limitation regarding thermal throttling, which I am pleased to report is not something I have experienced with the Framework Laptop.
To provide some numbers, the Geekbench 5 score was 1727/6134.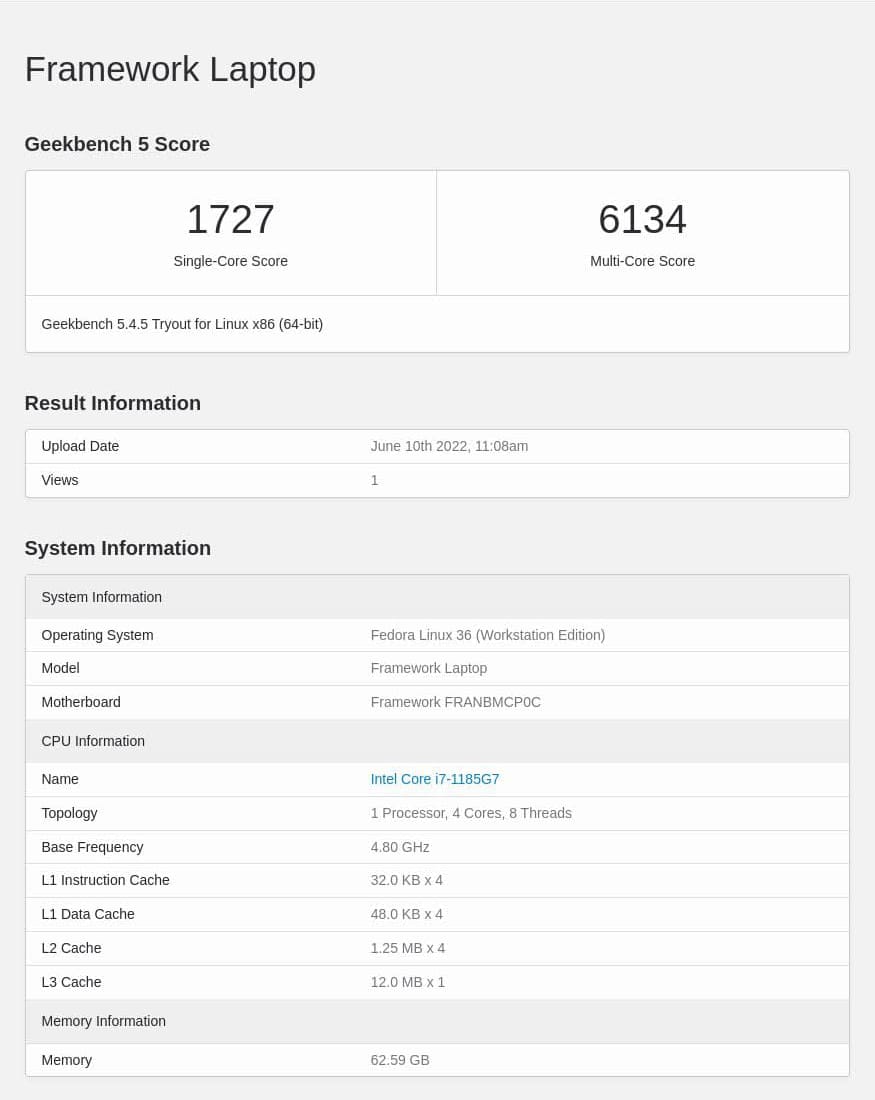 I also tested Docker, leveraging the build process outlined in my article "Docker and Apple Silicon".
The build was completed in 54 seconds, which interestingly outperformed the Dell XPS 17 and Ryzen 3950X custom-built PC (although this was running Windows and WSL2).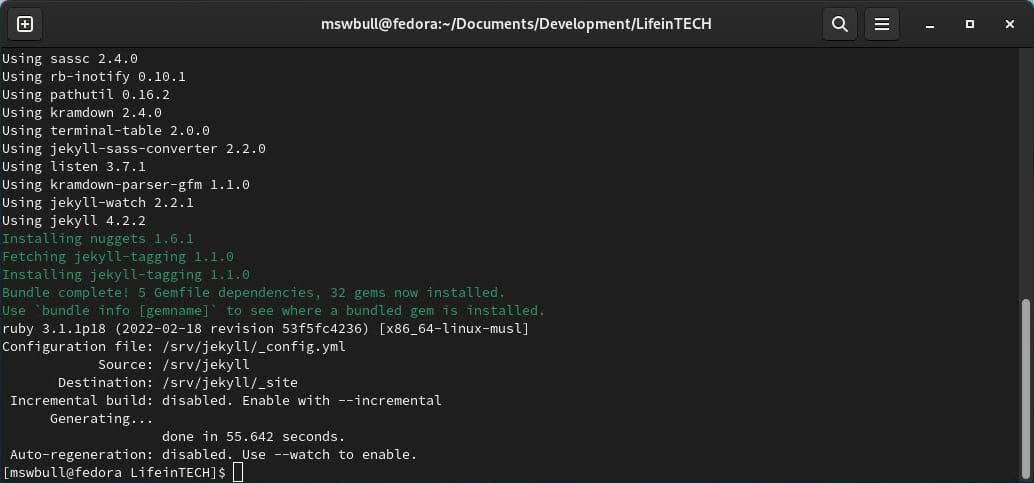 Overall, the performance of the Framework Laptop is very good. Not groundbreaking, but consistent with other laptops with an equivalent specification.
Finally, it is worth mentioning that Framework recently announced a series of Intel 12th Generation mainboards, which can be installed as an upgrade.
With the combined benefits of the newer 12th Generation architecture and higher core count, I would expect to see a decent performance improvement over the current 11th Generation options.
Reliability
So far, I have been impressed with the reliability of the Framework Laptop running Fedora 36.
I have not experienced any errors or unforeseen issues caused by hardware or software. Although this should be a baseline expectation, there has been a worrying trend of poor quality control with consumer electronics, even from "big brands" such as Dell.
Knowing that Framework is a new company, combined with the additional complexity of designing a modular laptop that can be serviced at home, I would have accepted a few "issues". Therefore, it is great to see this level of quality in their first consumer product.
The only area I would highlight relates to the display hinge, which (in my opinion) is not rigid enough, which can result in a minor wobble when typing.
Interestingly, it would appear this was a common view and Framework recently released a new hinge kit, which includes a more rigid (4.0kg up from 3.3kg) mechanism.
This is a great example of listening to your customers and the unique advantage of a modular design, where individual parts can be replaced.
Finally, it is important to highlight the battery life, which I would describe as "ok".
In theory, the laptop can achieve 10 hours of usage. However, I do not believe I have ever achieved this outcome. In my experience, I would guess between 6 and 8 hours.
However, when using Linux, it is "sleep" mode that causes the biggest concern. By default, using Fedora 36, the Framework Laptop battery can drain as much as 15% per hour while in sleep.
This is far from ideal, likely caused by the fact that Fedora 36 (at this time) cannot take advantage of the full sleep state of the Intel processor.
To mitigate this issue, I switched the default sleep state from "s2idle" to "deep", using the commands highlighted in my previous article. This change reduces the battery drain to approximately 3% per hour, which is not perfect, but manageable.
As a result, I do not believe I could rely on the Framework Laptop as an "all-day battery" laptop, which is a shame, as I have been spoilt by the latest Apple MacBook Pro running Apple Silicon.
Usability
Overall, the Framework Laptop has been a pleasure to use, either used as a standalone laptop or connected to my Samsung C49RG90 49-inch Super Ultra-Wide monitor.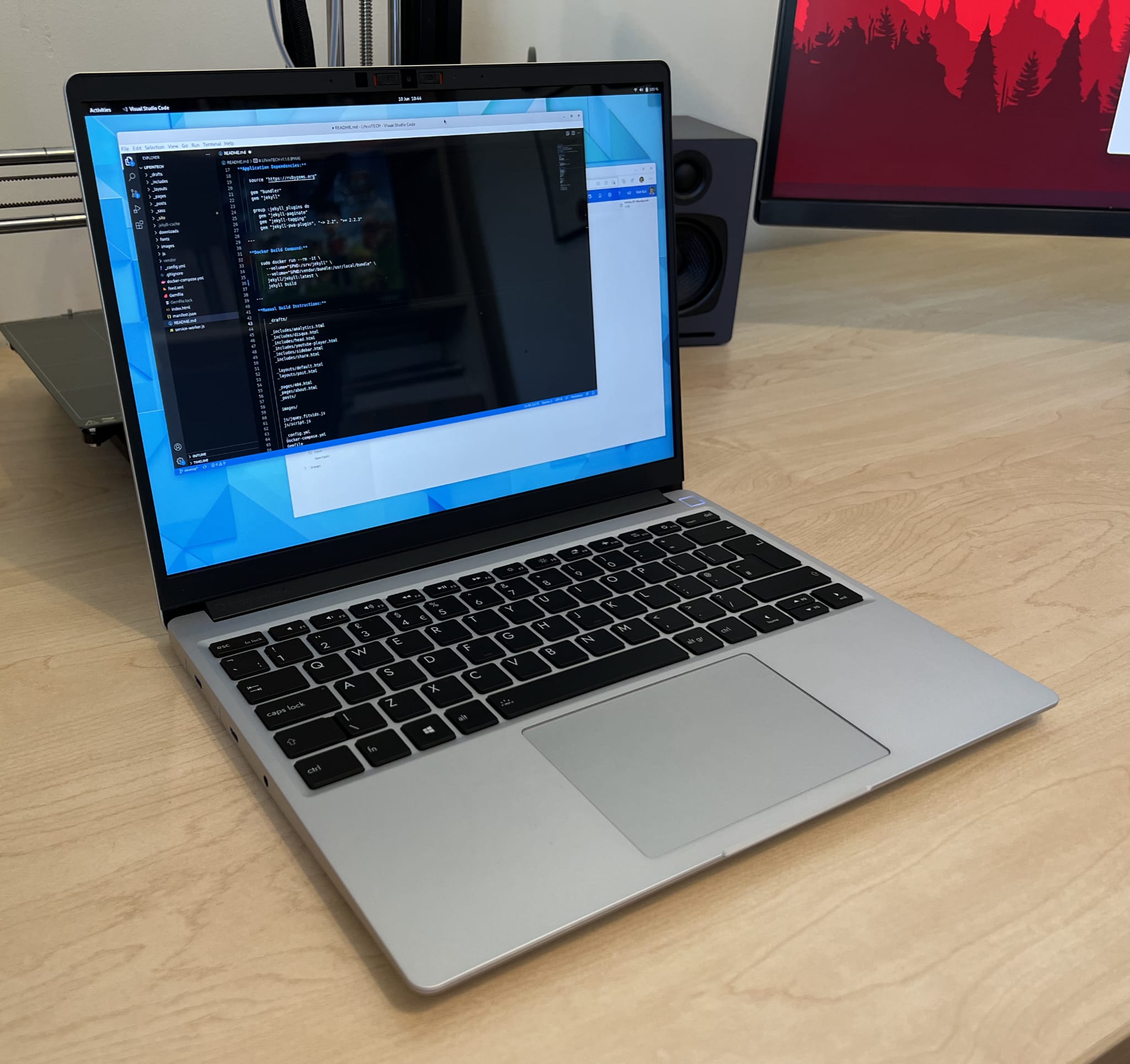 The keyboard, modular expansion cards, 3:2 aspect ratio, and display flexibility are particular highlights.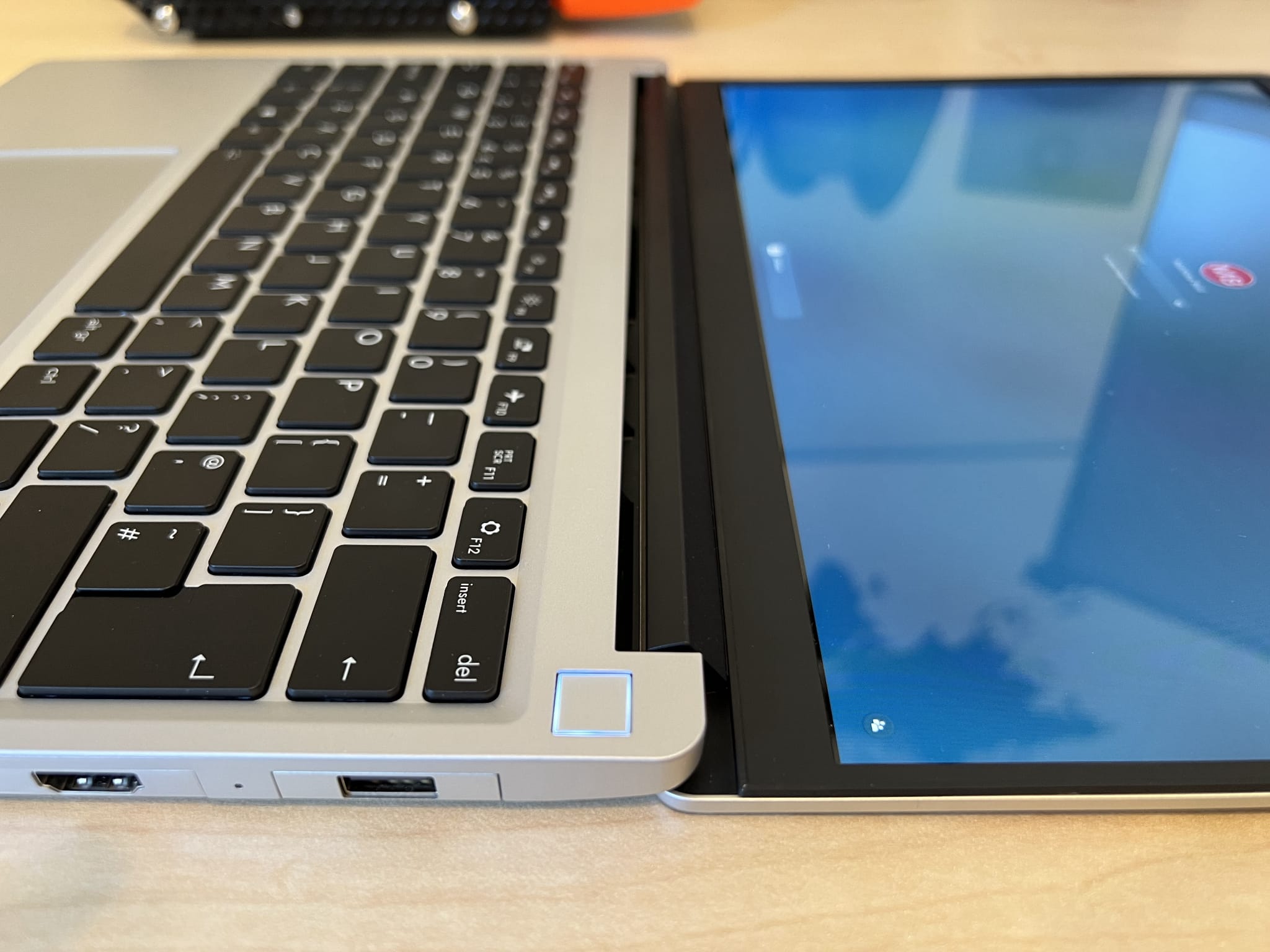 The touchpad, speakers, webcam and microphone are all good, certainly not the best I have used, but perfectly viable for daily use. I do like the physical buttons to disconnect the webcam and microphone, providing additional reassurance for privacy-conscious users.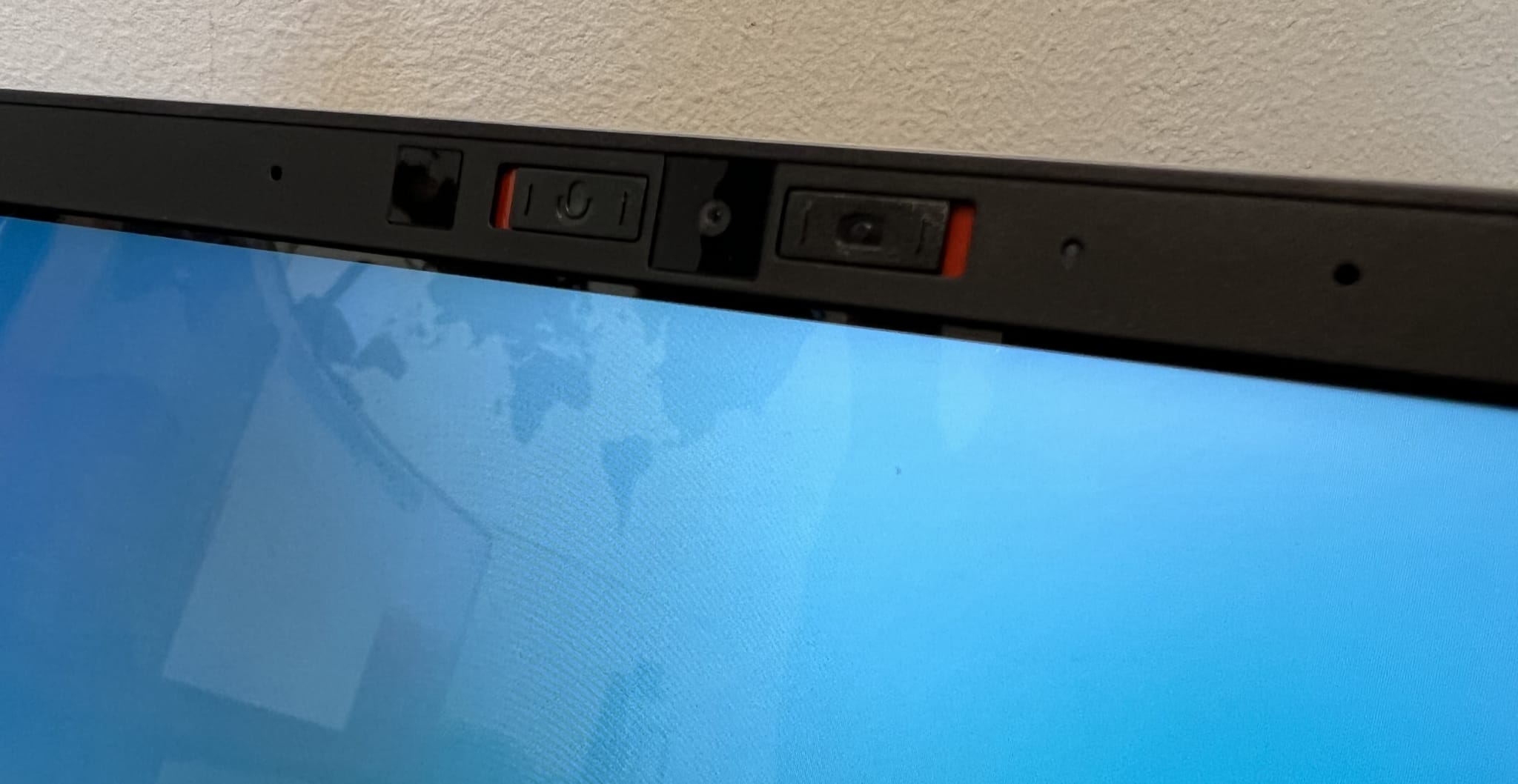 The display itself and fingerprint reader are my only frustrations. The display aspect ratio (3:2) and resolution (2,256 x 1,504) are great. However, it is highly reflective.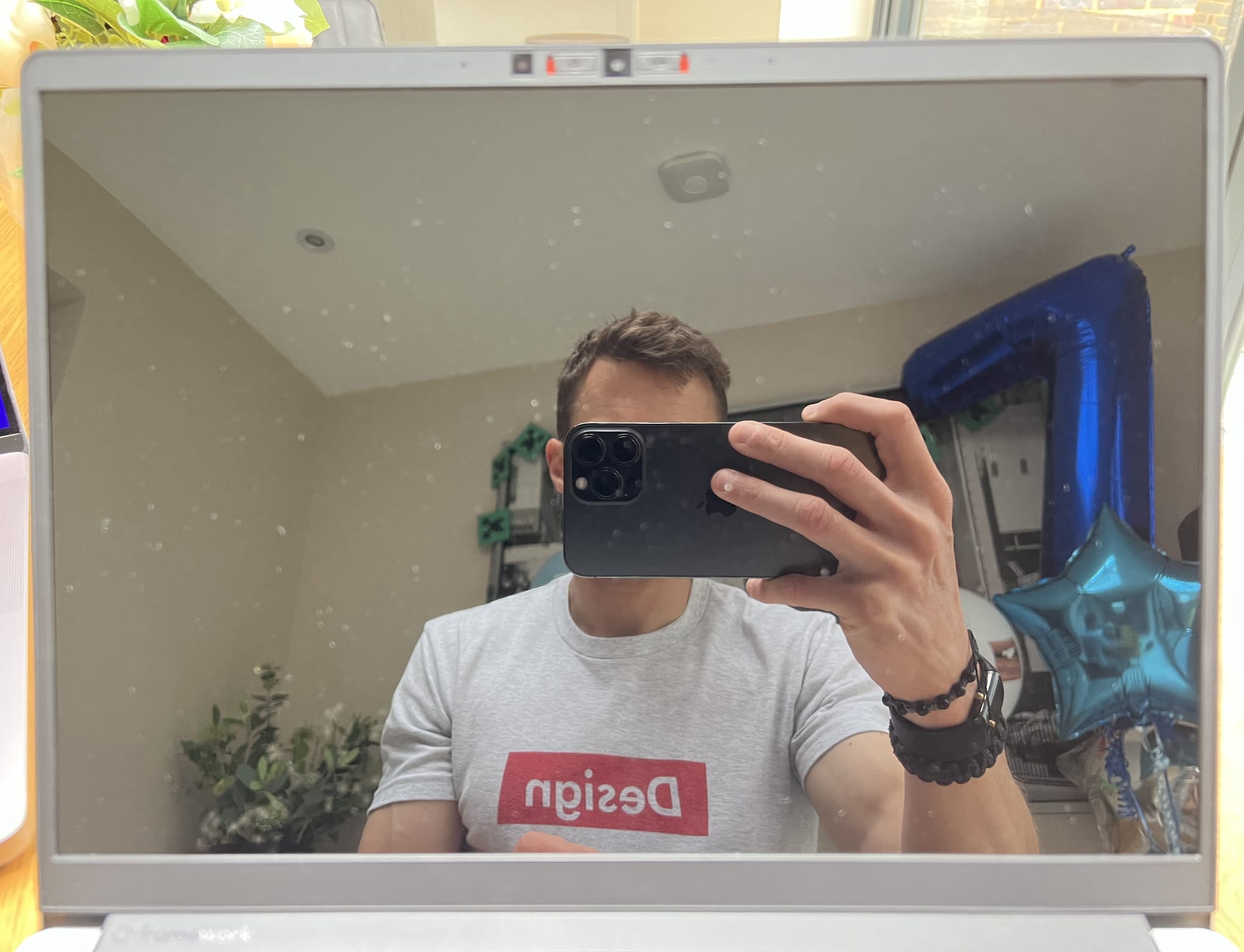 The fingerprint is ok, but (in my experience) unreliable when compared to Apple TouchID. This might be due to the Linux driver vs. the hardware, which I have not been able to test with Windows.
Finally, it is worth reiterating the primary selling point of the Framework Laptop. In the event of a hardware issue, I can simply swap the individual component.
Conclusion
In conclusion, I can't help but love the Framework Laptop.
Is it perfect? No.
Is it the best laptop I own? No (Apple MacBook Pro M1 Max).
Do I still love it? Yes.
The vision and ambition of Framework as a company is infectious and they have done an amazing job delivering a product that redefines how we think about a laptop, with a focus on the user and sustainability.
I am eager to support their cause and excited to see what the future holds!
---