I purchased my first Apple notebook in 2005, the legendary Aluminium PowerBook G4. This was not my first Mac, but all previous interactions were via second-hand desktops that I collected due to my obsession with technology (not because I had a specific use case).
The PowerBook G4 changed everything! It was my first significant laptop purchase and marked the point I switched from Windows to OS X as my primary operating system.
I still used Windows and Linux regularly (including a year as a Windows/Linux/Unix administrator), but OS X took me through university, including the delivery of my dissertation and associated software development project (which can be found on GitHub).
The (blurry) photo below is from my flat in 2008, proudly featuring the PowerBook G4, Airport Extreme and even the original iPhone (imported from the US).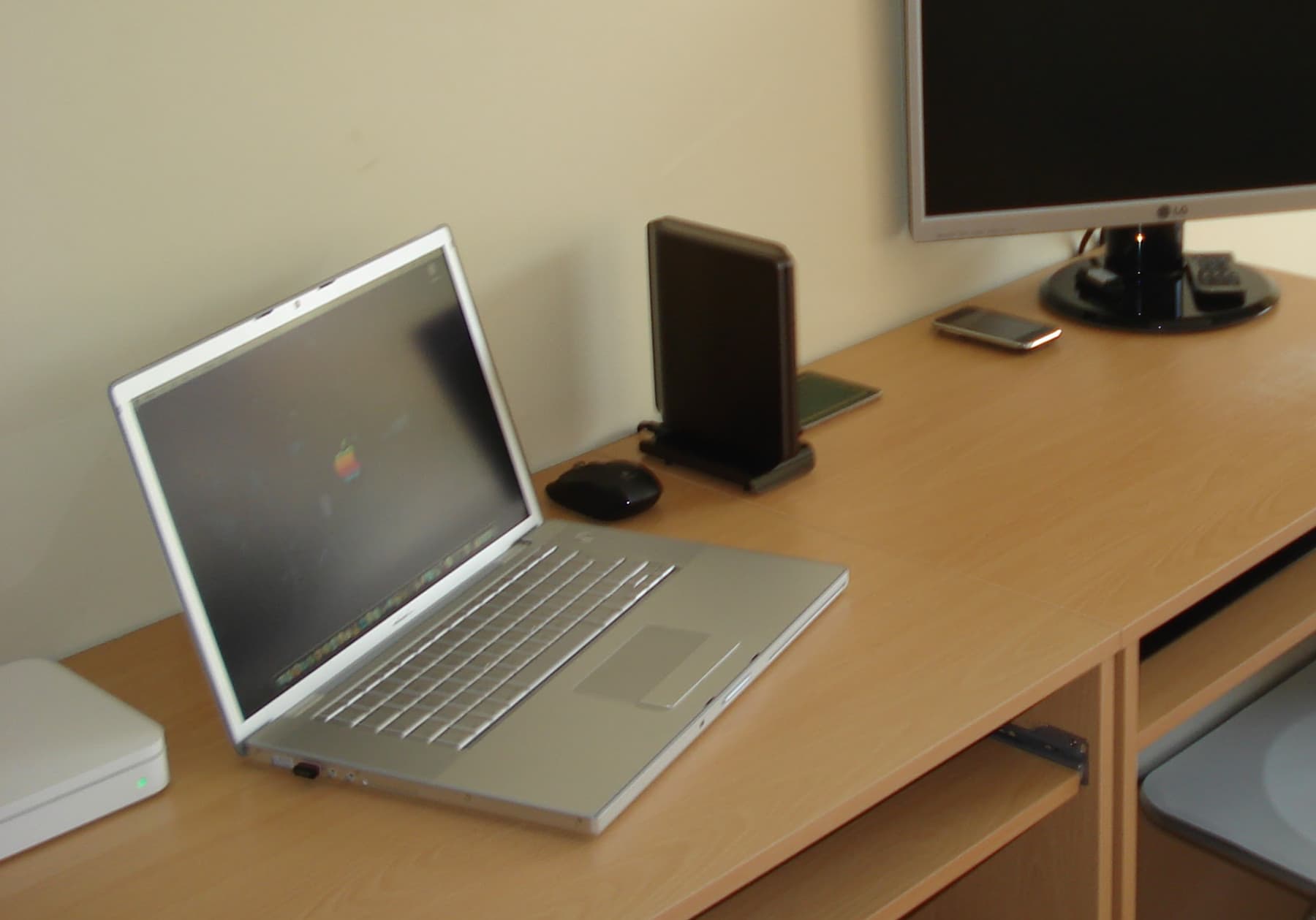 The specification of the PowerBook G4 was modest by today's standards, but included many "pro" features not found on Windows laptops at the time (high definition display, FireWire, etc.)
PowerBook G4 Rev E (PowerBook5,8)
PowerPC 7447a (G4) 1.67GHz (1C/1T)
512MB DDR SDRAM (PC2-4200)
80GB 5400RPM HDD
ATi Radeon 9700 128MB DDR SDRAM (4x AGP)
2x USB 2.0, FireWire 400, FireWire 800
Analog/Optical Digital Audio
15-inch TFT Display (1440x960)
The PowerBook G4 served me well for over four years, at which point the Apple transition from PowerPC to Intel was well underway, prompting me to purchase a MacBook Pro.
For fifteen years, the 15/16-inch MacBook Pro was my notebook model of choice, acting as my daily driver at home and for work. Due to my love of technology, I also had Windows and Linux systems, but the MacBook Pro went everywhere with me.
In 2016, Apple released a major redesign of the MacBook Pro, removing many features used by the professional community. Instead, Apple prioritised aesthetics with a slimline design that felt more like an oversized ultrabook.
Although the notebook itself was still among the "best" available, with Apple's market-leading build quality, the shift towards a design-first philosophy, frustrated the professional community, myself included.
As a result, like many in the community, I decided to switch from the MacBook Pro to Windows/Linux laptop as my daily driver. It took me a while to find the right fit, working my way through three devices (which were all very good).
For the past year, I have used a combination of the Razer Blade 15 Advanced (Windows 10/11) and Dell XPS 17 (Linux - Fedora and Pop!_OS. Both of these laptops deliver exceptional performance, with unique features targetting the professional community, specifically:
High-Performance CPU with Vapor Chamber Cooling
High-Performance GPU with Vapor Chamber Cooling
High-Performance Memory (up to 64GB)
High-Performance Storage (NVMe SSD up to 8TB)
Ports (Thunderbolt, USB-C, USB-A, SD-Card Reader, HDMI, DisplayPort)
High-Performance Power Delivery (140W+)
High Resolution, High Refresh Rate, Touch Display
Professional Orientated Keyboard
Biometric Security (Fingerprint Reader and/or Face Recognition)
In short, the Razer Blade 15 Advanced and Dell XPS 17 consistently outperformed the equivalent MacBook Pro, usually at a significantly lower cost (greater than £1000).
Although these laptops have served me well over the past few years, I found myself imagining a future where Apple returned to the "glory days" of the PowerBook, with a product that prioritised professional workloads.
On the 18th of October, Apple announced the new 2021 MacBook Pro, running Apple Silicon (M1 Pro and M1 Max).
I can honestly state it is the most excited I have been about an Apple event in years and as soon as Apple revealed the design and specification of the 2021 MacBook Pro, I knew my fate was sealed.
Yesterday, my new 16-inch MacBook Pro arrived!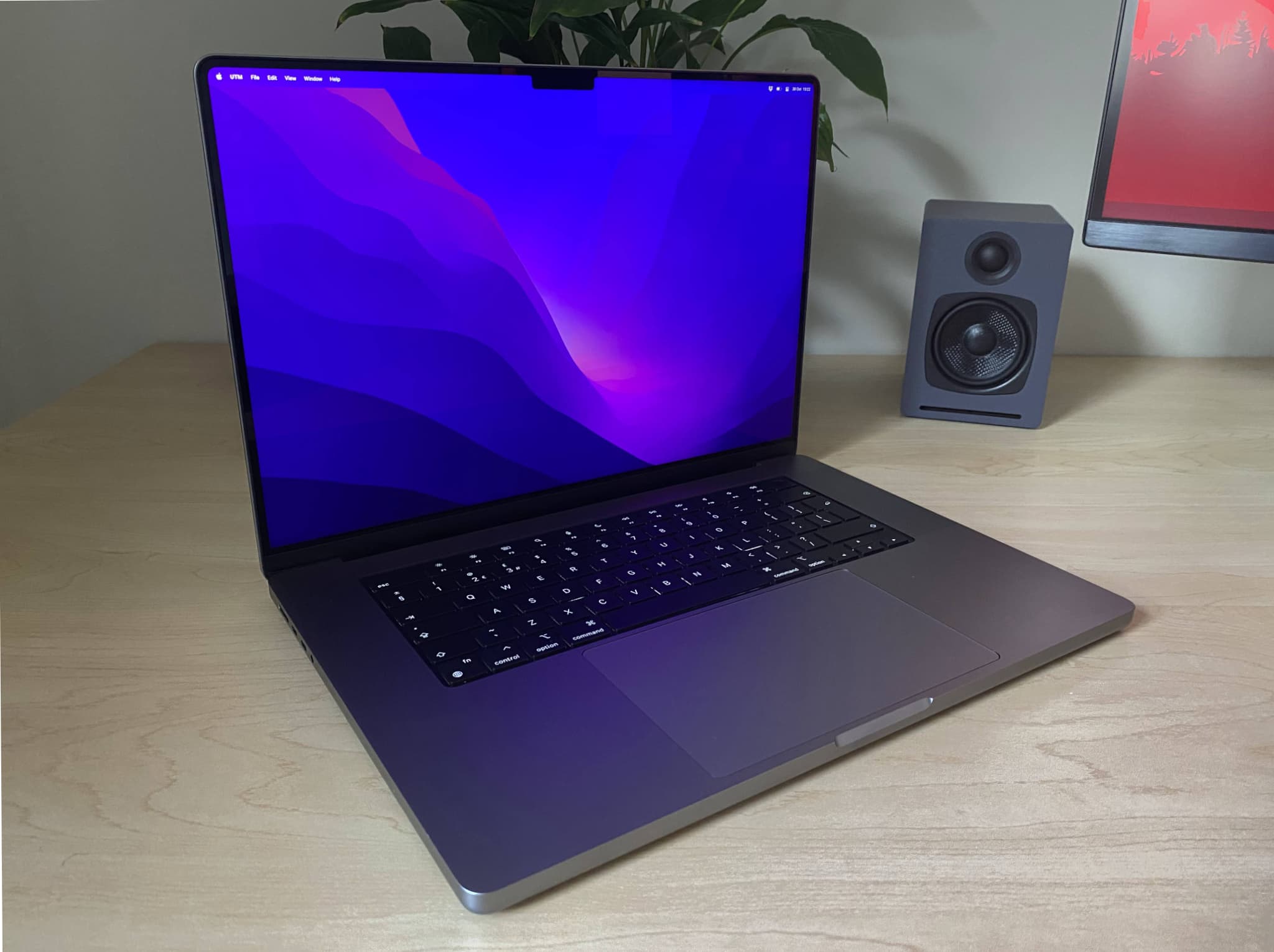 I selected the 16-inch SKU, equipped with the M1 Max System on a Chip (SoC). The full specification can be found below.
16-inch MacBook Pro
Apple M1 Max CPU (10-core - 8 Performance / 2 Efficiency)
32-core GPU (10.4 Teraflops)
16-core Neural Engine
32GB Unified Memory (400GB/s Memory Bandwidth)
1TB SSD (7.4GB/s Read)
3x Thunderbolt 4, HDMI, 3.5mm Headphone, SDXC Card Reader, MagSafe 3
16.2-inch Liquid Retina XDR Display (3456x2234 @ 120Hz, 1600nits)
Considering my workloads, I configured the highest performance CPU/GPU option. I did not upgrade the memory or storage, which I felt were not worth the additional cost for my usage.
To validate this thinking, I launched the following applications simultaneously, which would represent an extreme scenario (for me).
Microsoft Teams (Video Conference)
Microsoft Word
Microsoft PowerPoint
UTM (Ubuntu Server - 4 Core / 8GB)
Docker Desktop for Mac (8 Cores / 2GB)
GameMaker Studio 2 Game Engine and YoYo Runner (2D Game)
Godot Game Engine (3D Game)
Visual Studio Code
Google Chrome (Seven Tabs)
Terminal
Finder Preview (PDF)
Activity Monitor
It is worth re-emphasising that this test included a Linux Virtual Machine (Ubuntu Server) and two game engines (GameMaker Studio 2 and Godot), both running compiled games.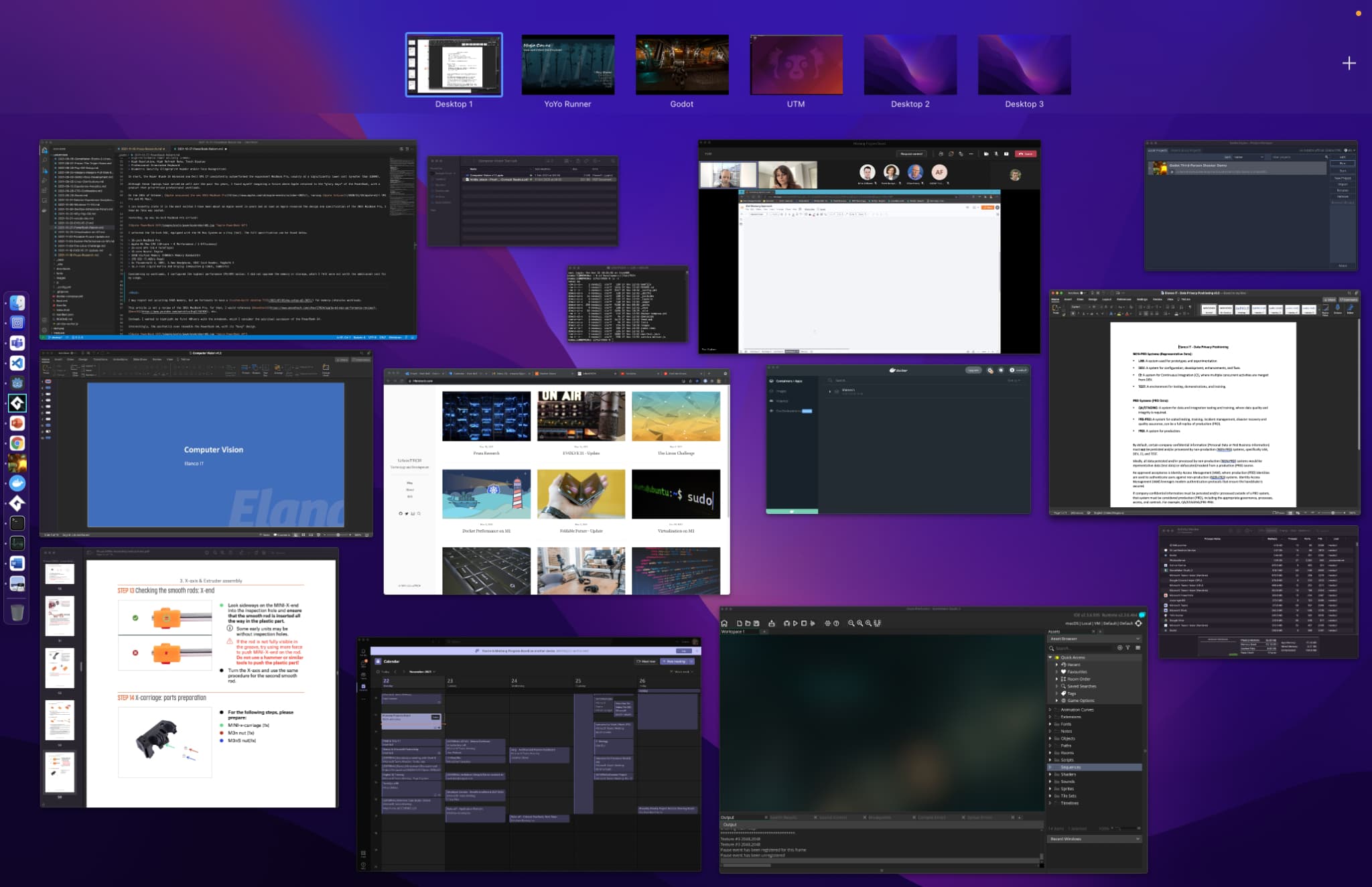 I am pleased to report that the Mac remained responsive throughout the test, consuming an average of 23.09GB physical memory and 0GB swap. At peak, I have seen up to 26GB of physical memory used.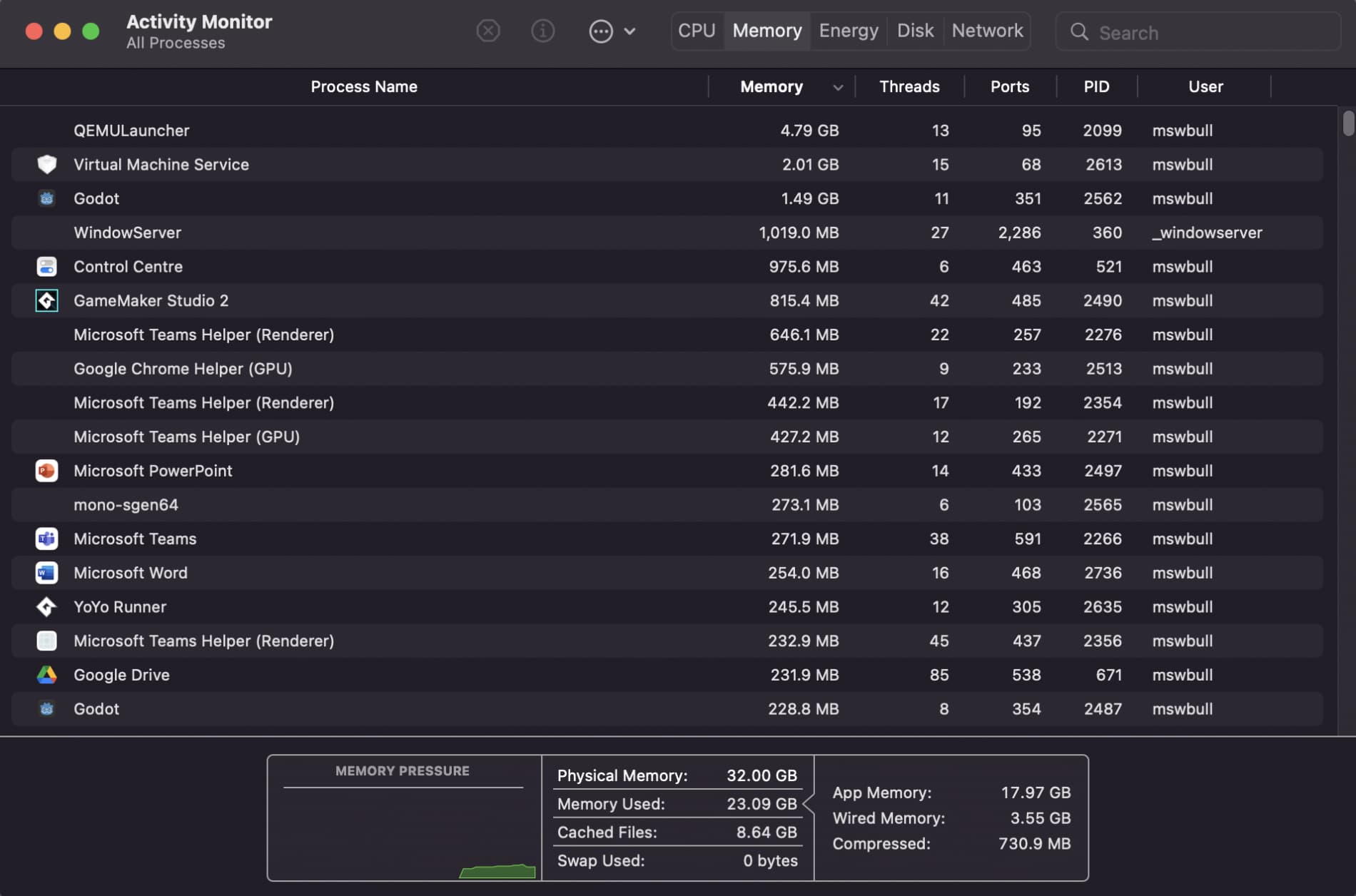 Some workloads will apply more memory pressure, for example, 3D modelling, video editing, video effects, etc. However, I am fortunate to have a custom-built desktop PC with 64GB memory to support these memory-intensive workloads.
This article is not a review of the 2021 MacBook Pro, for that, I would reference Anandtech, Dave2D, etc.
Instead, I wanted to highlight my first 48hours with the notebook, which I consider the spiritual successor of the PowerBook G4.
Interestingly, the aesthetics even resemble the PowerBook G4, with its "boxy" design.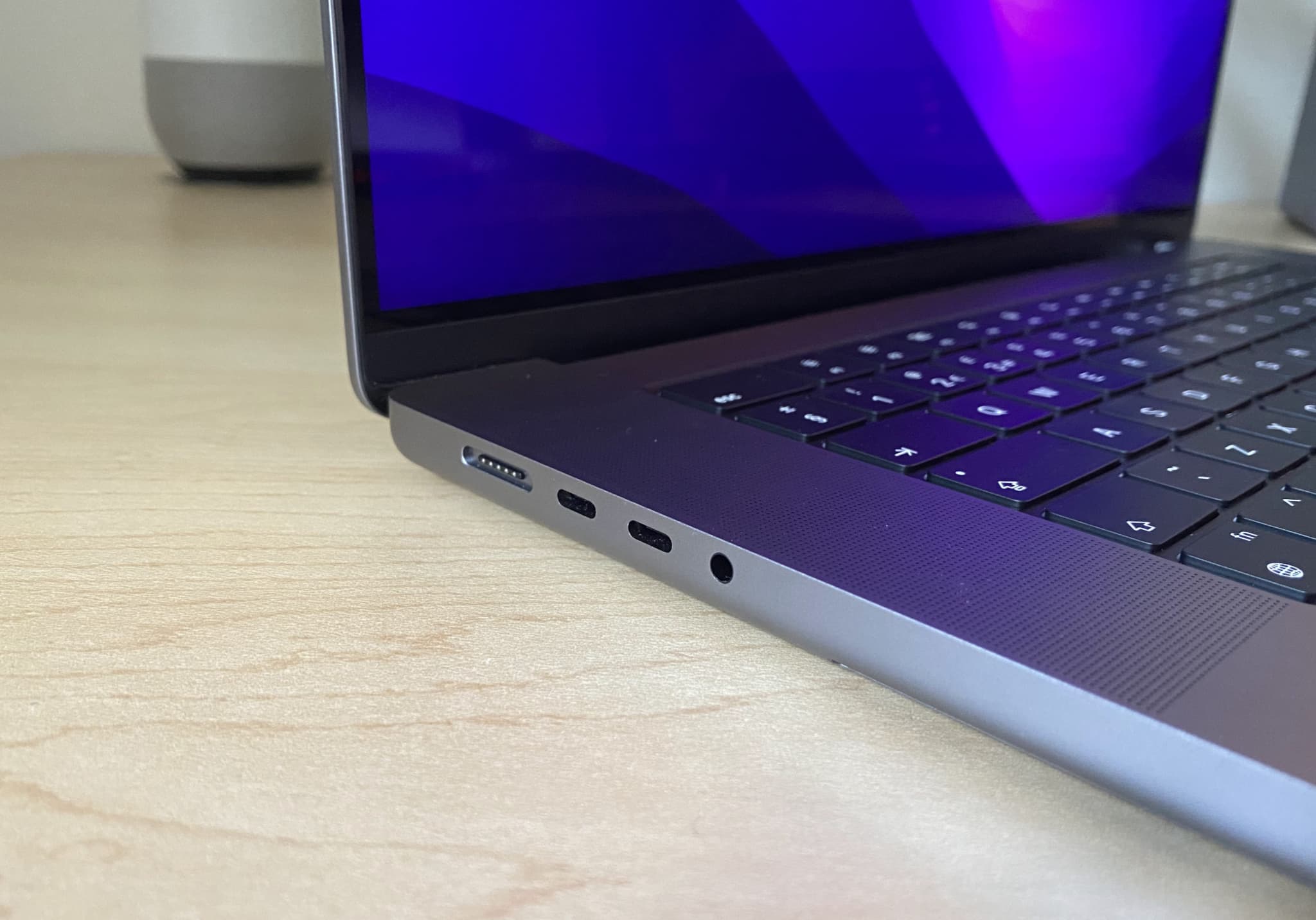 It goes without saying, similar to the Apple M1 SoC, the Apple M1 Max SoC delivers ridiculous performance and is a serious warning shot to Intel/AMD/NVIDIA, with a "power to performance" ratio that is not only market-leading but arguably a generational leap over the competition.
As a single reference point, the Apple M1 Max SoC achieved a GeekBench score of 1772 (single-core) and 12688 (multi-core), which destroys my 2019 16-inch MacBook Pro (Intel i9-9980HK), which scored 1032 (single-core) and 6583 (multi-core).
Thanks to the power efficiency of the SoC, this performance is also sustained even when operating on battery, which is not the case with high-performance Windows laptops, often resulting in a 75% performance reduction.
Combined with the advertised 21 hours battery life (realistically 10 hours for mixed workloads), the MacBook Pro is a productivity monster.
Regarding the design itself, I consider the 2021 MacBook Pro close to perfect. Apple has essentially walked back every controversial decision they made in 2016, specifically:
Removal of the Touch Bar, replaced with full-height function keys.
MagSafe 3 delivering 140W of power, charging to 50% in 30mins.
HDMI and SD Card Reader.
This is the MacBook Pro design we should have received in 2016, especially considering this chassis also delivers a larger thermal envelope, which would have suited the thermally inefficient Intel processor. The image below is a stacked 2016, 2019 and 2021 MacBook Pro.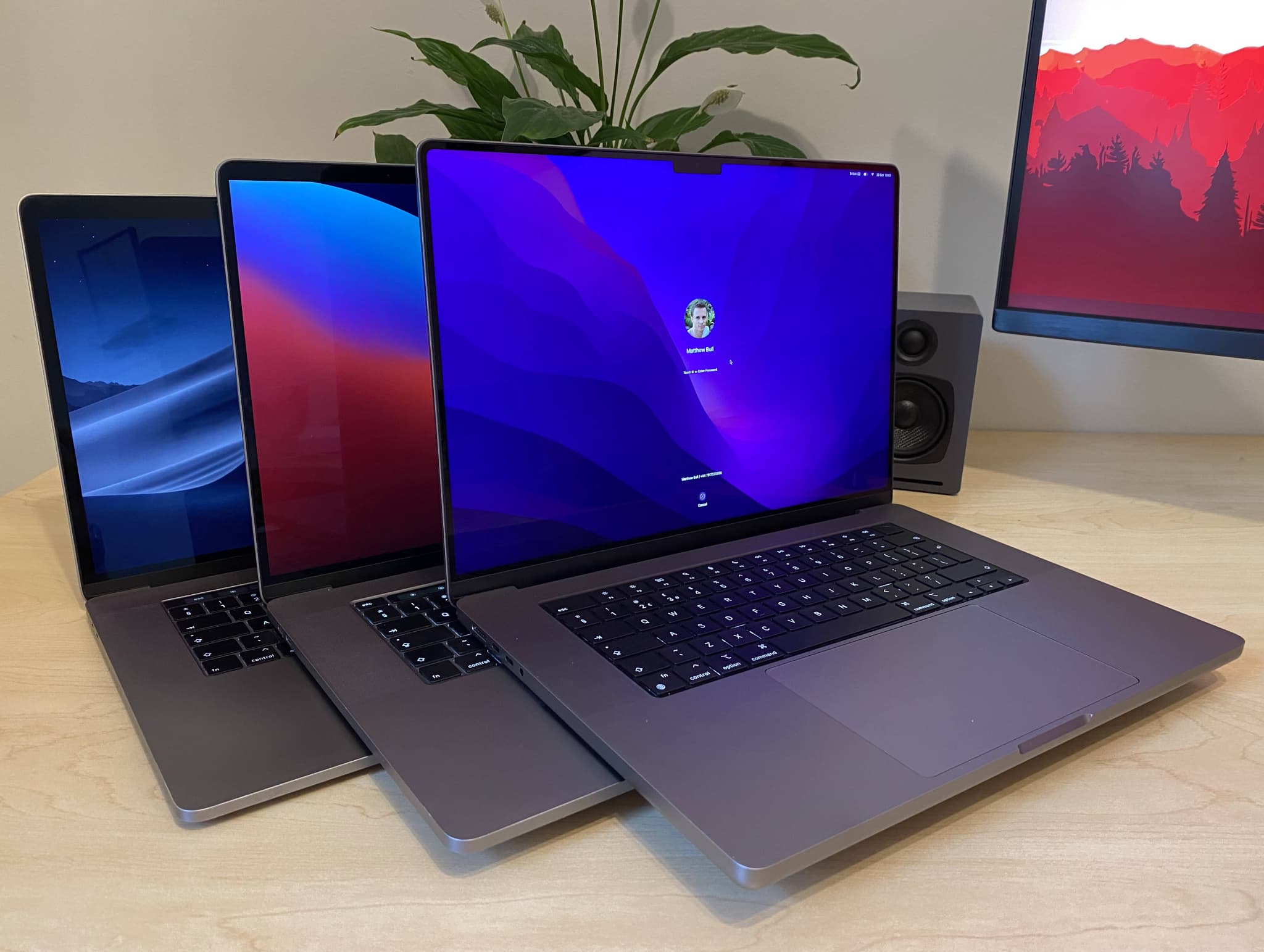 Thankfully, Apple has also retained (and even improved) the keyboard, which has clicky, tactile, responsive keys. This is a long way from the disastrous "butterfly switch" keyboard introduced in 2016.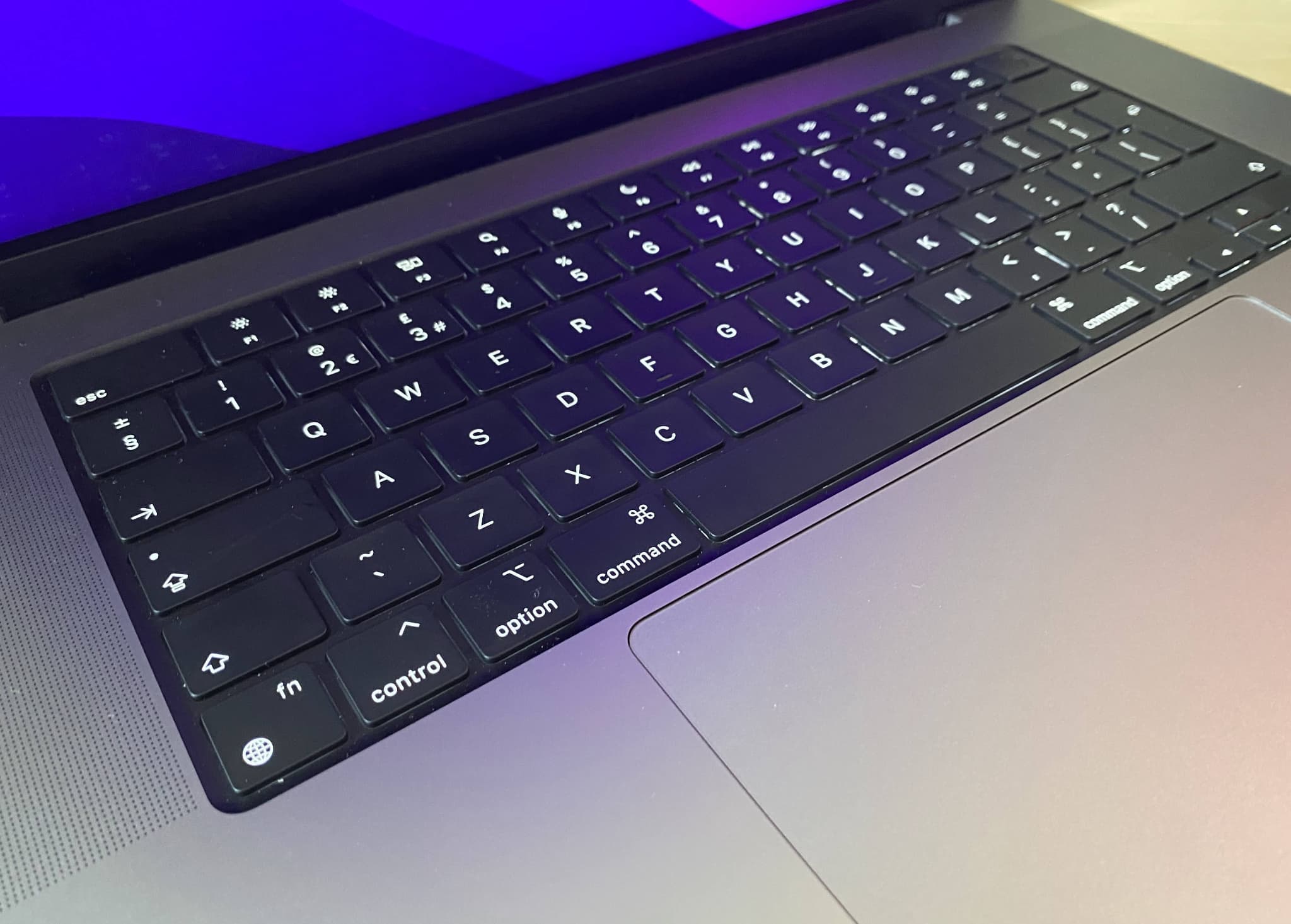 If that is not enough, the 2021 MacBook Pro also includes a high resolution (3456x2234), high refresh rate (120Hz) display, high-performance storage (7.4GB/s Read) and a thermal system that is so efficient it rarely engages the fans.
In conclusion, I am pleased to reinstate the 16-inch MacBook Pro as my primary notebook! Apple has finally listened to their customers and delivered a product that thoroughly deserves the designation of "Pro".
---