In June, Dell released the new Dell XPS 17 laptop, which included a refreshed design aesthetic and an impressive 17-inch display.
Over the years, I have experimented with different display sizes, looking to find the right balance between performance and portability. This continuous search has always led me back to 15-inch laptops, which tend to be the entry point for high-performance processors and graphics.
Traditionally, I have used a 15-inch MacBook Pro, but I am currently using a Razer Blade 15 Advanced as my daily driver.
Considering the form factor, the Razer Blade 15 Advanced offers excellent performance, packing a full NVIDIA GeForce RTX 2080 with Max-Q, whilst still competing with the Apple MacBook Pro for size and aesthetics.
However, the design of the 15.6-inch display included on the Razer Blade 15 Advanced is starting to look dated, likely due to the 16:9 aspect ratio, which results in a large bezel at the bottom (often described as the chin).
This is where the new Dell XPS 17 shines! Dell has successfully included a 17-inch display, with a 16:10 aspect ratio, delivered in a laptop that is only fractionally larger than most 15-inch counterparts.
Dell has achieved this feat by reducing the display bezels to only a few millimetres (known as InfinityEdge), achieving an impressive 93.7% screen-to-body ratio.
The result is so striking that it immediately makes other laptops look dated, including the recently refreshed Apple MacBook Pro, which attempted the same trick with a 16-inch display (84% screen-to-body ratio).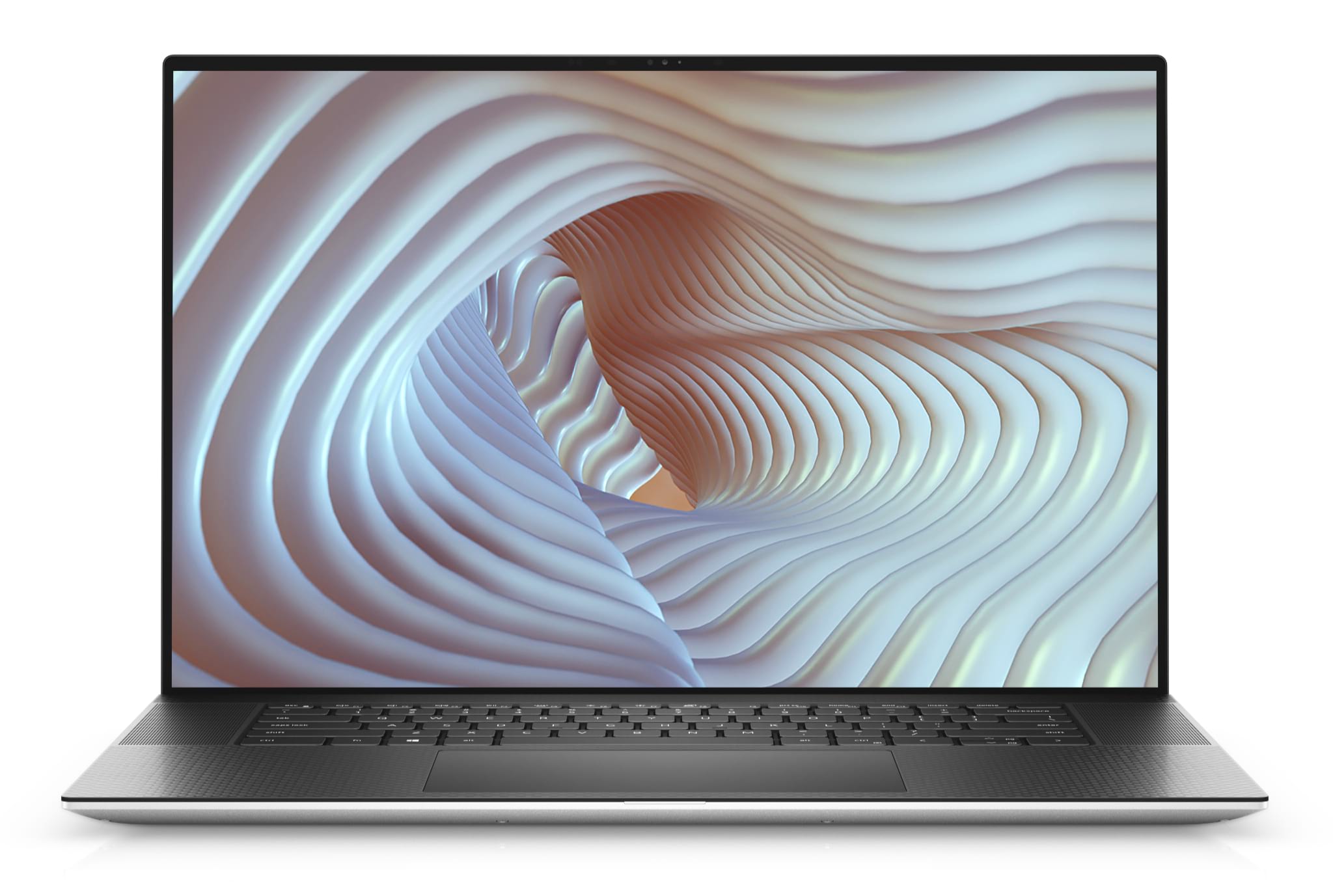 As a result, I could not resist testing the new Dell XPS 17.
This article is not a review (there are many online), simply a summary of my experience using the laptop, specifically compared against my Razer Blade 15 Advanced and Apple MacBook Pro.
Design
I would ordinarily start with the laptop specification, however, the real star of this show is the display and new design aesthetic.
The photo below highlights the sheer scale of the display (you can just about see the Windows "Start" button for reference).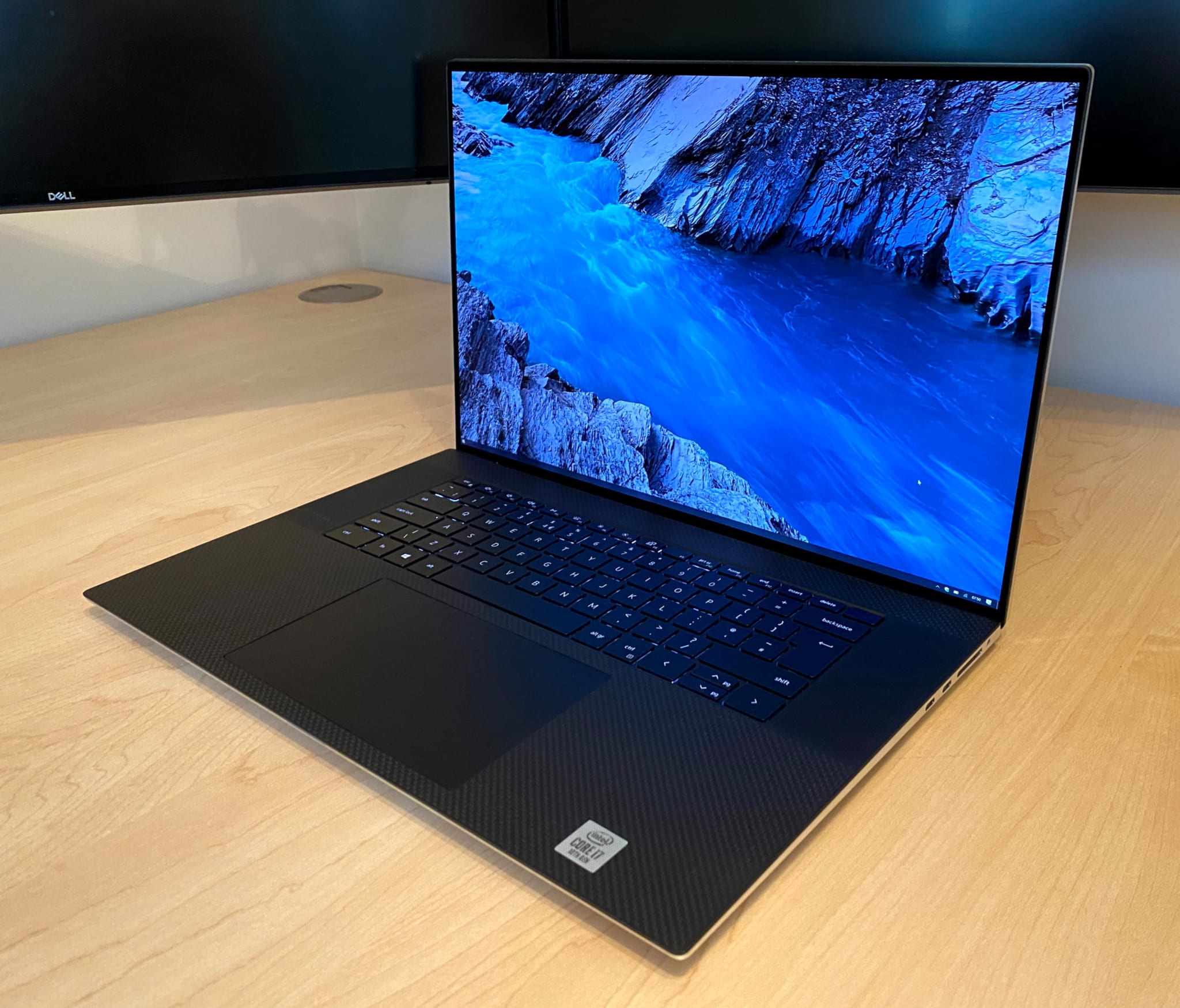 The 16:10 aspect ratio means that the display seamlessly fades into the body, delivering more vertical real estate when compared with most laptops (such as my Razer Blade 15 Advanced).
I selected the UHD+ (3840 x 2400) touch display, which is very good but due to the use of an IPS panel, does not quite deliver the black-level performance and visual punch offered by the Razer Blade 15 Advanced, which uses an OLED panel. With that said, the display is very colour accurate and therefore a pleasure to use for productivity use cases (I will mention gaming later in the article).
Outside of the display, the new Dell design aesthetic (also found on the new XPS 13 and 15) is stunning! The body is dense and rigid, with clean lines and a build-quality that rivals Apple.
The carbon-fibre palm-rests, which have become a consistent feature across the XPS range, continue to act as a design differentiator, whilst also delivering a "softer" feel when compared against aluminium.
Additionally, as someone who wears a steel watch bracelet, I can confirm that the carbon-fibre palm rests are also more durable than aluminium, being more resistant to scratches and discolouration (my Razer Blade 15 Advanced and Apple MacBook Pro both have a thin silver line on the edge of the palm rest).
The photo below shows the Dell XPS 17 (bottom) stacked with an Apple MacBook Pro 16-inch, Lenovo ThinkPad X1 Extreme 15-inch and a Razer Blade 15 Advanced 15-inch (top).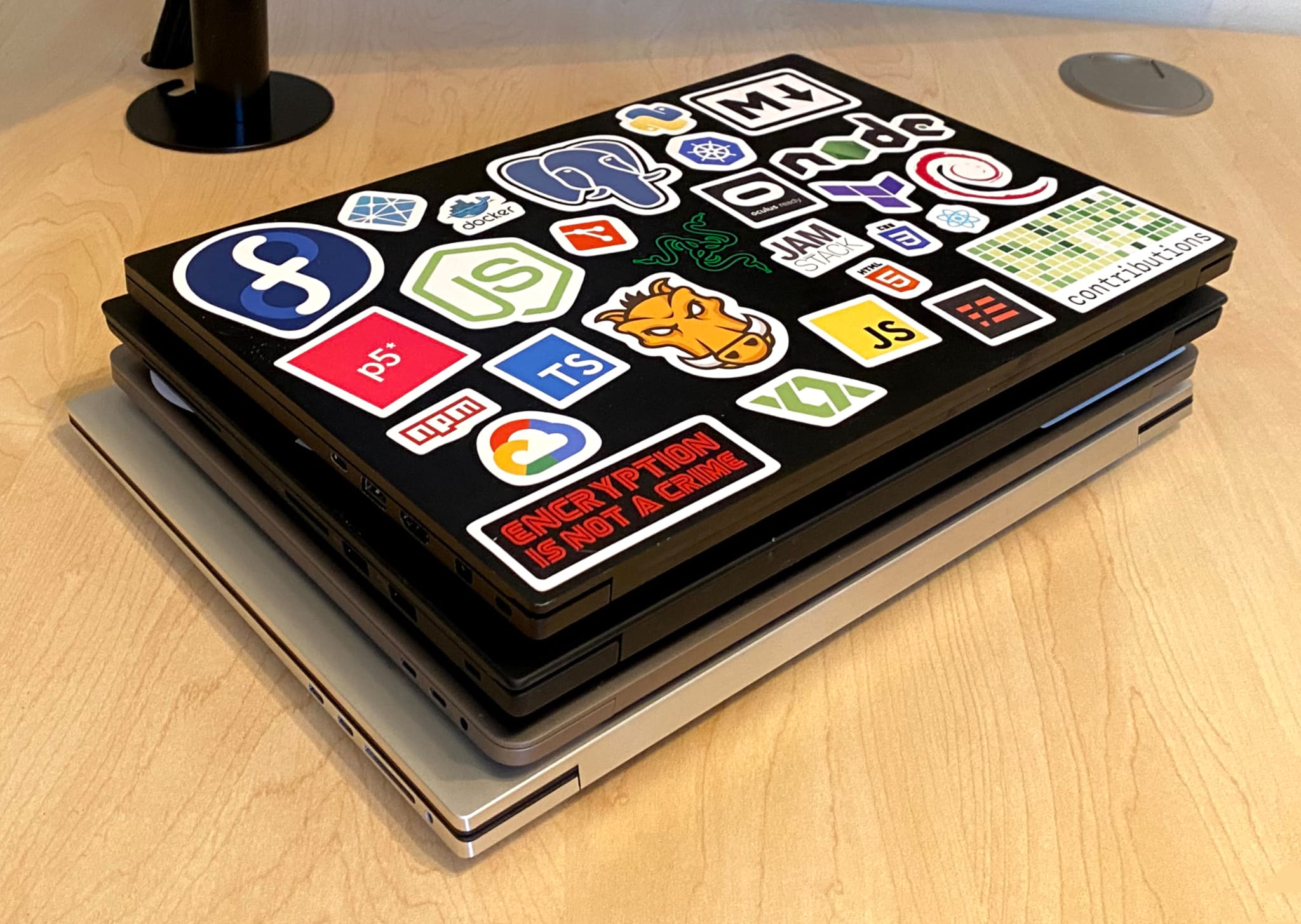 As you can see, Dell has successfully packed a 17-inch display into a body that is only fractionally larger than competing 16-inch and 15-inch laptops. The difference in size is so small that it still comfortably fits into my medium Timbuk2 Messenger Bag, which was designed for a 15-inch laptop.
Although these are impressive dimensions, the Dell XPS 17 is obviously a large laptop. It is also heavy, weighing 2.51kg, compared to 1.9kg of the Apple MacBook Pro 16-inch. I did not find the additional size or weight to be an issue but accept that this will not be the case for everyone.
Finally, the keyboard and trackpad are both excellent, only rivalled by the Apple MacBook Pro and Razer Blade 15 Advanced (Apple are still the king of the trackpad). I did notice some minor "wobble" on the trackpad (also reported in some reviews), but nothing that I would consider a deal-breaker.
In short, I consider the Dell XPS 17 design close to perfect!
Performance
The Dell XPS 17 is available in a range of specifications, starting at £1799. The model I selected was £2899, which included the UHD+ display and NVIDIA GeForce RTX graphics.
Dell XPS 17 (9700)
2.3Hz 8-Core Intel Core i7-10875H (Turbo up to 5.1GHz)
16GB DDR4 2933MHz RAM
1TB M.2 NVMe SSD
Intel UHD Graphics 630
NVIDIA GeForce RTX 2060 with Max-Q 6GB GDDR6
17.0" UHD+ InfinityEdge Touch Display (3840 x 2400, 500nits)
Like the majority of laptops in 2020, the Dell XPS 17 comes equipped with an Intel CPU. Although perfectly adequate, the recent release of the AMD Ryzen 4000 Series Mobile Processors, would have made for a fascinating inclusion. However, similar to the Apple MacBook Pro, the Dell XPS 17 has a heavy reliance on Thunderbolt 3 for I/O (4x ports), which for all intents and purposes, is still Intel technology.
Ideally, I would have configured the laptop with 32GB RAM, however, for some reason, this option was not available in the UK (only the US). Thankfully, the Dell XPS 17 can be easily upgraded, including the RAM (up to 64GB) and SSD (2x M.2 nVME) (assuming you can remove the Torx screws, without stripping them).
The NVIDIA GeForce RTX 2060 with Max-Q offers good performance, making the Dell XPS 17 viable for gaming. However, this is not a gaming laptop, which is emphasised by the fact that Dell pre-install the NVIDIA Studio Driver, which is designed for artists, creators and 3D developers. I proceeded to install the NVIDIA Game Ready Driver (GRD), which generally provides better performance for my workloads.
Overall, performance is solid (in line with what you would expect from this specification). The table below highlights a few benchmark results, comparing the Dell XPS 17 against my Razer Blade 15 Advanced and Lenovo ThinkPad X1 Extreme.

I did not complete detailed testing of the thermals but did not notice any major concerns. The Dell XPS 17 is equipped with a vapour-chamber, covering the CPU and Graphics, which should be adequate for this specification.
Finally, one minor disappointment. Dell has chosen to charge the laptop via the USB-C port, which although is incredibly convenient, does not deliver enough power (maximum 130W) to charge the laptop whilst running at full load. As a result, the laptop will continue to draw power from the battery, even when plugged in (not ideal).
I would have prefered a dedicated charging port with adequate power delivery (like the Razer Blade 15 Advanced), whilst also supporting USB-C charging for added convenience.
Conclusion
In summary, the Dell XPS 17 is a phenomenal laptop!
Dell has nailed the 2020 design aesthetic, with a unique, high-quality unibody aluminium body, paired perfectly with the carbon-fibre palm-rests.
The display is the most impressive part of the laptop, with the 16:10 aspect ratio and 93.7% screen-to-body ratio. Working from the Dell XPS 17 has been a pleasure, especially productivity activities (multiple windows) and software development. The size and aspect ratio of the display delivers almost "desktop" levels of screen real estate, all within a package that is still viable for travel. This is a remarkable accomplishment!
With that said, would I replace my Razer Blade 15 Advanced with the Dell XPS 17? At this point, no. However, only because I favour the OLED display and higher-performance graphics. If the Dell XPS offered these options, alongside a dedicated charging port, I would be very tempted!
In conclusion, I consider the Dell XPS 17 an easy product to recommend, especially for those looking to switch from an Apple MacBook Pro, as I consider the Dell XPS range the closest equivalent to what Apple offers (balancing style and performance).
---