Earlier this month, I upgraded my home office.
This was my first major office upgrade in over six years, prompted by the release of the Secret Lab Magnus Pro XL sit-to-stand desk.
Over the past decade, I have been fortunate enough to have the flexibility to work from home, something that has become increasingly common post-pandemic, supported by the acceptance of hybrid working.
My setup requirements have not changed much over the years, with the desk and monitor being the focal point of the room. I use computers for a wide range of tasks, specifically productivity, collaboration, software development, photo editing, video editing, virtual labs, gaming and game development. Therefore, although I have some gaming-centric peripherals, I try to keep my setup fairly neutral.
I have experimented with different monitor setups, ranging from a single Apple Cinema Display (2010), three Eyefinity configured monitors (2014), and dual 4K 27-inch monitors (2017), resulting in my current setup, a single 49-inch Super Ultrawide.
The photo below highlights my outgoing setup.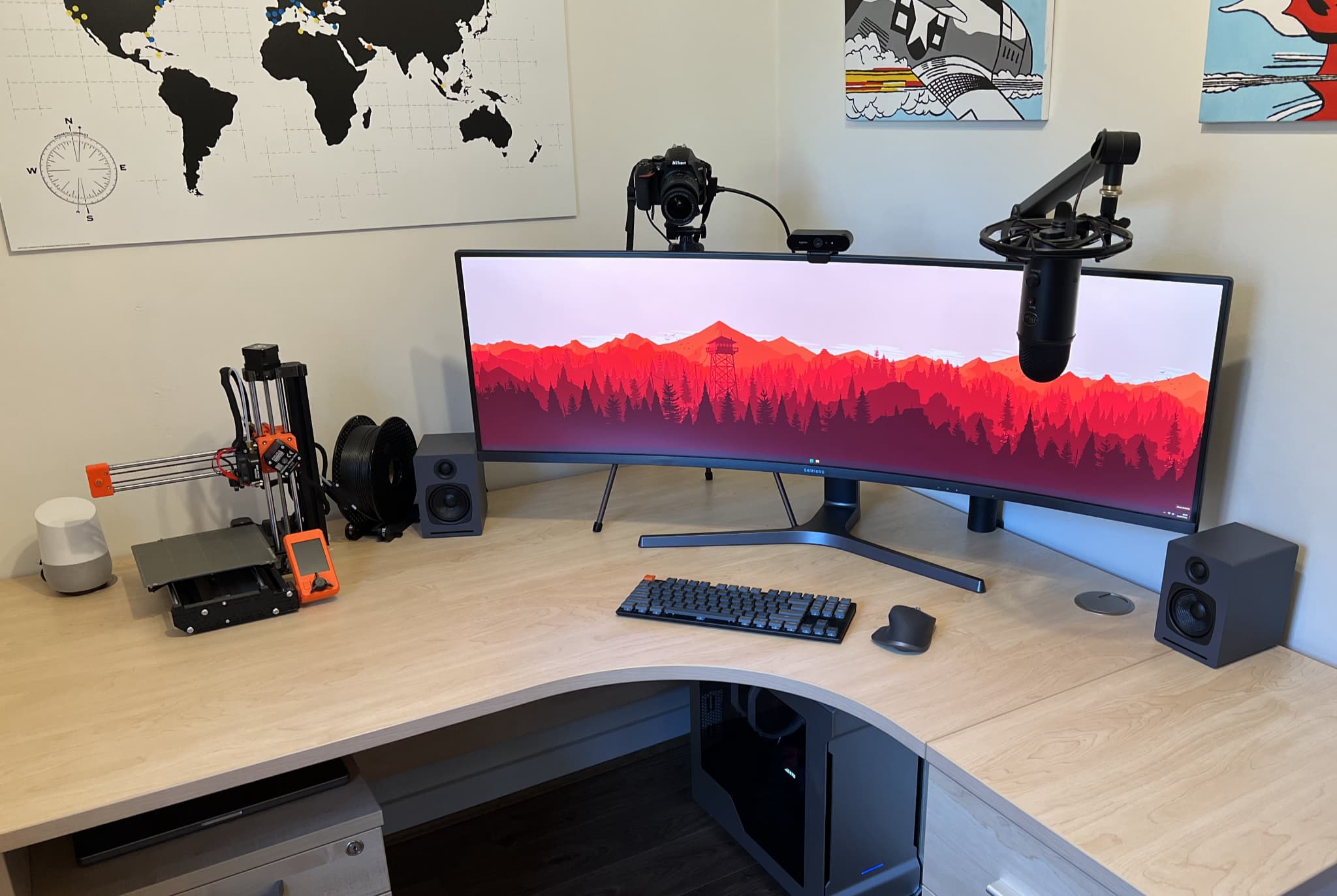 One of my goals was to switch from a corner desk to a straight desk, reducing the overall surface area, and providing more floor space in the office itself. I also hope to reorientate my seating position, as the window facing the monitor can cause distracting glare and reflections.
The Secret Lab Magnus Pro XL
The Secret Lab Magnus Pro XL sit-to-stand desk is a sight to behold.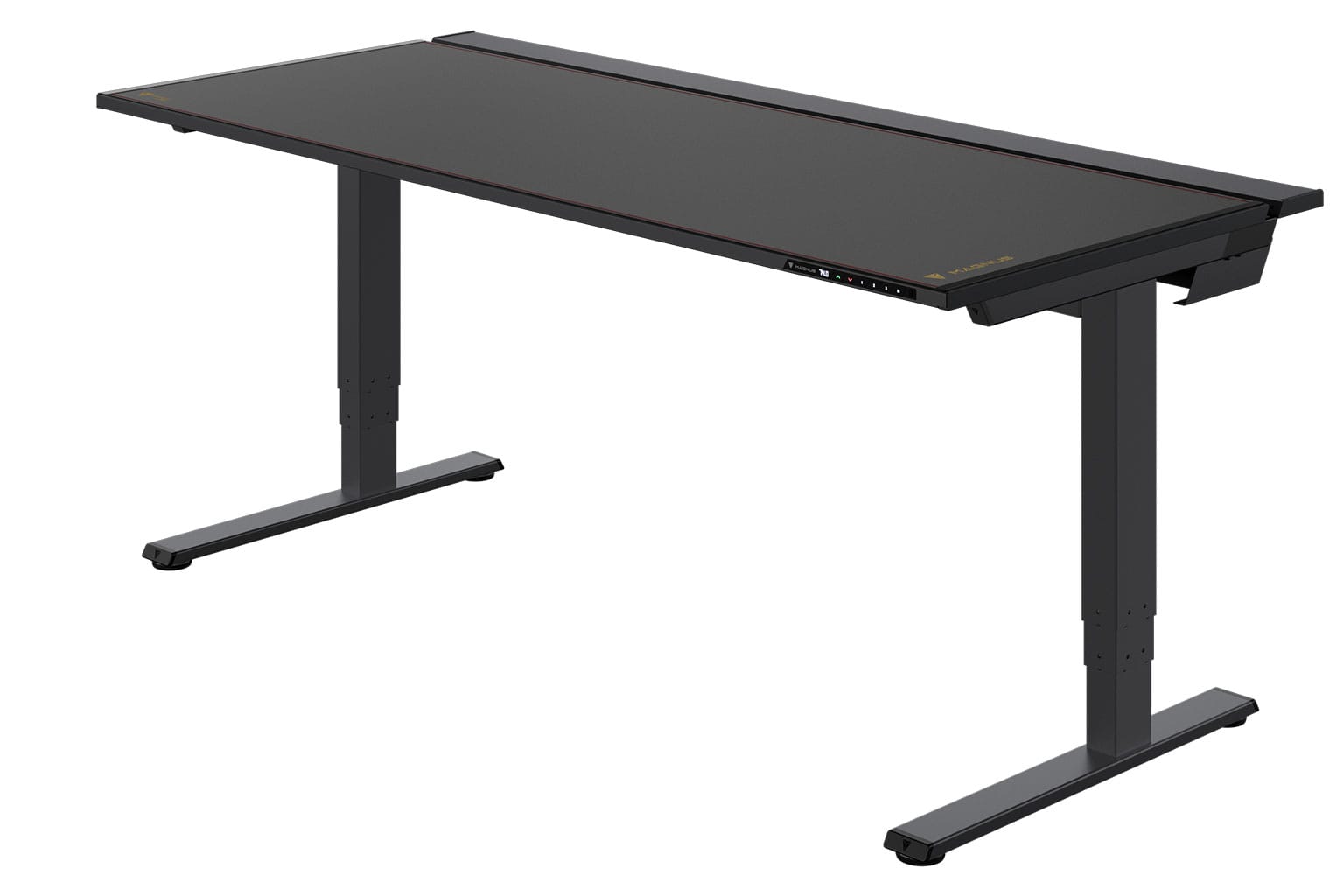 At 177cm in length and 80cm wide, it is a serious desk, with a lot of surface area (although less overall surface area when compared to my previous corner desk).
The all-metal construction is incredibly robust, supporting up to 120kg in weight (twice my body weight) and millimetre-specific height adjustment from 650mm to 1250mm.
Unlike other sit-to-stand desks, the control panel is fully integrated into the desk itself, providing a clean, premium aesthetic. It includes touch-sensitive buttons for manual height control, four customisable pre-sets and a physical lock switch.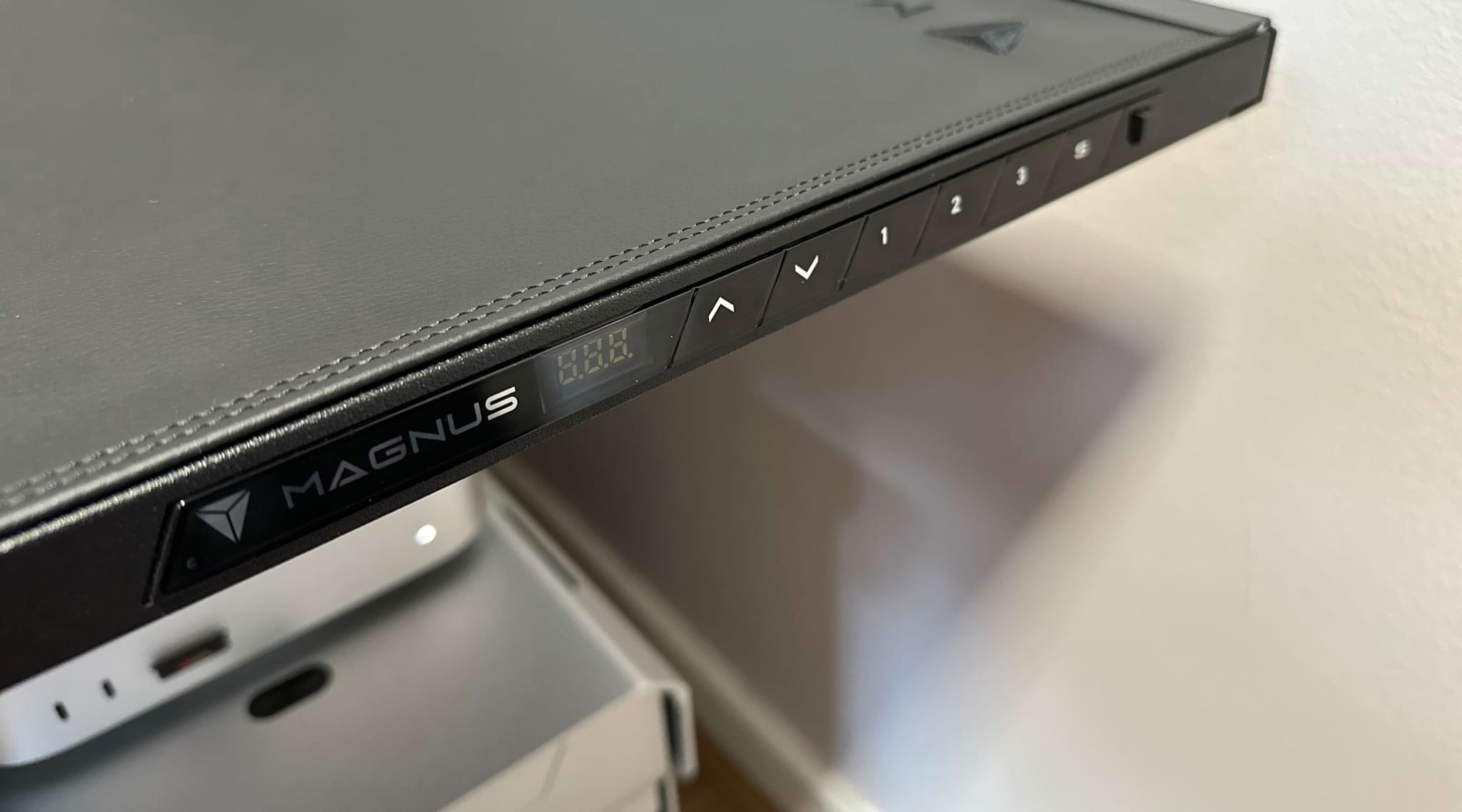 The sit-to-stand motor is also fully-integrated, hidden inside the legs and connected via a single electrical socket on the bottom left leg. This electrical socket not only powers the desk but also connects to a hidden cable that provides an additional electrical socket directly to the large cable management tray.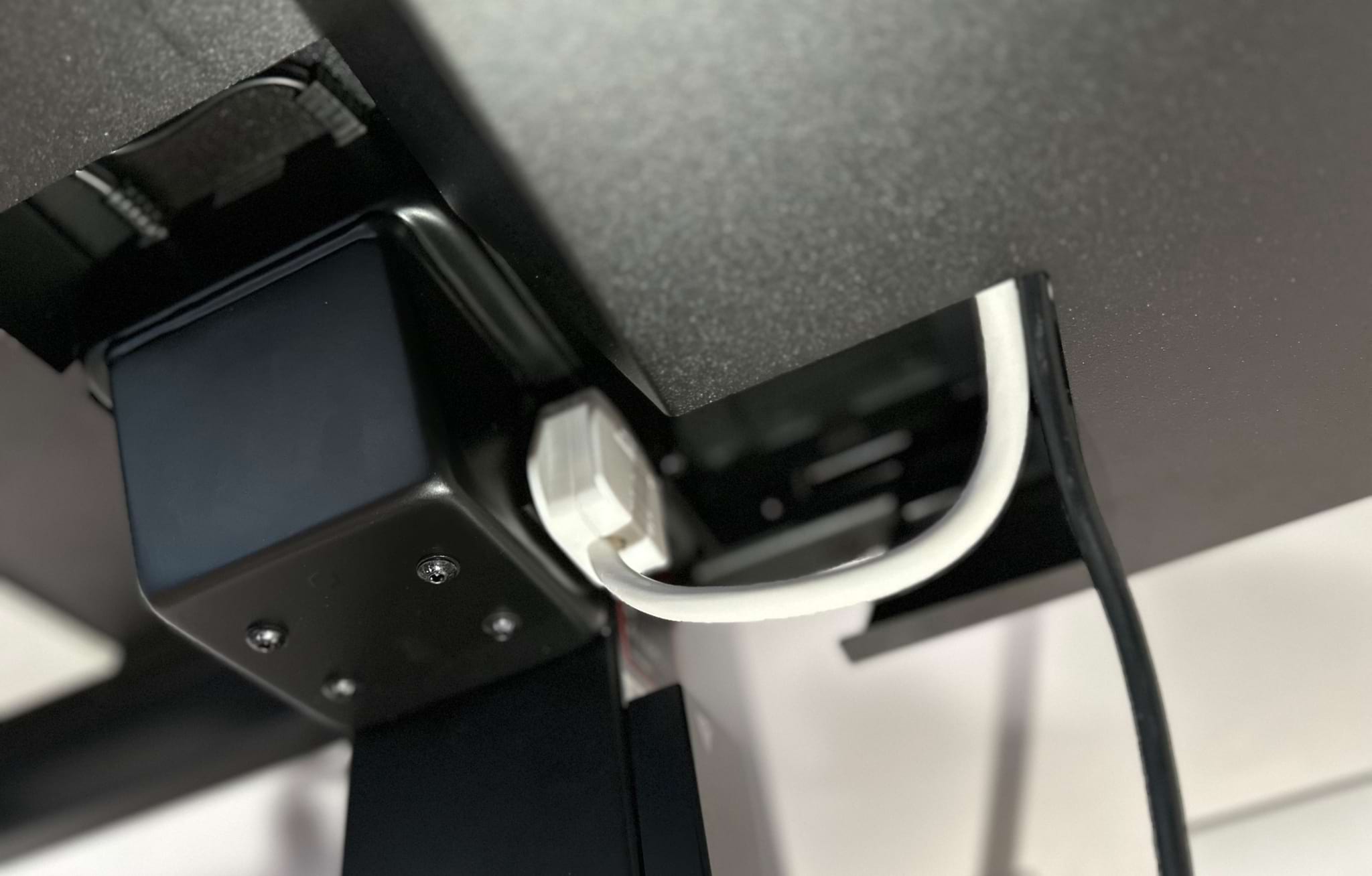 As a result, the cable management tray, which extends the full length of the desk, conceals all cables, with enough room for a large power extension lead. The cable management tray is accessible via an easy-access rear-hinged cover, which provides enough room to route (hide) cables and mount a monitor arm.
Finally, the desk complies with all relevant safety standards and regulatory requirements, including the use of a thermal circuit breaker, insulated 12AWG cables, segmentation and grounding, as well as anti-collision detection.
In summary, the Secret Lab Magnus Pro XL sit-to-stand desk is the "Rolls Royce" of home office desks, with no-expense-spared materials, build quality and features.
Regarding price, it is certainly a premium product, at £829. However, considering the feature set, it compares well against the premium competition.
The Build
I was incredibly impressed by the packaging and documentation of the Secret Lab Magnus Pro XL. Every part was well protected and structured, making the "out of the box" experience a pleasure. My only minor feedback relates to the amount of plastic used to wrap the parts, which could arguably be reduced or replaced by more environmentally friendly materials.
I assembled the desk alone in about 30mins. However, I would recommend at least two people. The desk is heavy and must be flipped as part of the build process.
All required tools and fixings are provided, with each part having a specific installation location and orientation. As a result, it is almost impossible to go wrong.
The team over at ShortCircuit recently reviewed the desk, including the build process. I highly recommend watching their video for more details.
I also purchased the Secret Lab cable management bundle and Secret Lab MAGRGB XL Diffused RGB Strip.
Both products connect via strong magnets, which makes installation and adjustments very simple and highly intuitive.
Conclusion
Overall, I have been incredibly impressed by the Secret Lab Magnus Pro XL sit-to-stand desk, which sets the tone of the room (you are here to work).
Although the desk is the most exciting and impactful change, I did take the opportunity to decorate the room and replace some peripherals/furniture.
Most notably, I purchased an Ergotron HX Desk Monitor Arm with HD Pivot, which is one of the few on the market that can hold a 49-inch Super Ultrawide monitor, like my Samsung C49RG90.
Unsurprisingly, the monitor arm is heavy-duty, with a hinge that can support up to 19.1kg (the Samsung C49RG90 is 11.6kg). It is fully compatible with the Secret Lab Magnus Pro XL, installed using the included clamp.
Unfortunately, the use of premium materials results in a high price of £269.99.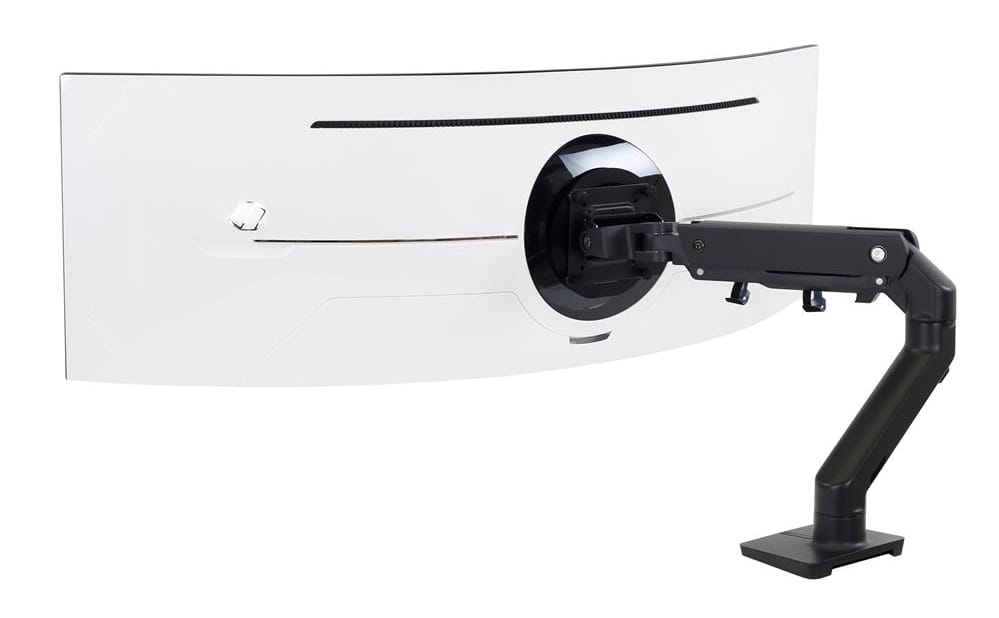 I replaced my previous three-bulb ceiling light with a Phillips Hue Aurelle Square Panel Light. This diffused light reduces the glare on the display and also provides "warm" colour options, ideal for a range of different working scenarios (video conferencing, evening working, etc.)
In addition, I installed a Navaris Magnetic Glass Whiteboard on my door, which faces the desk. This doesn't sound exciting, but when combined with the Insta360 Link 4k webcam, it can be used as an augmented whiteboard whilst video conferencing.
Finally, I continue to use a Herman Miller Mirra 2 chair, which aims to balance comfort and personalised ergonomics in a single design.
The photo below highlights my new setup, including art work from my wife (Whaam!, Roy Lichtenstein).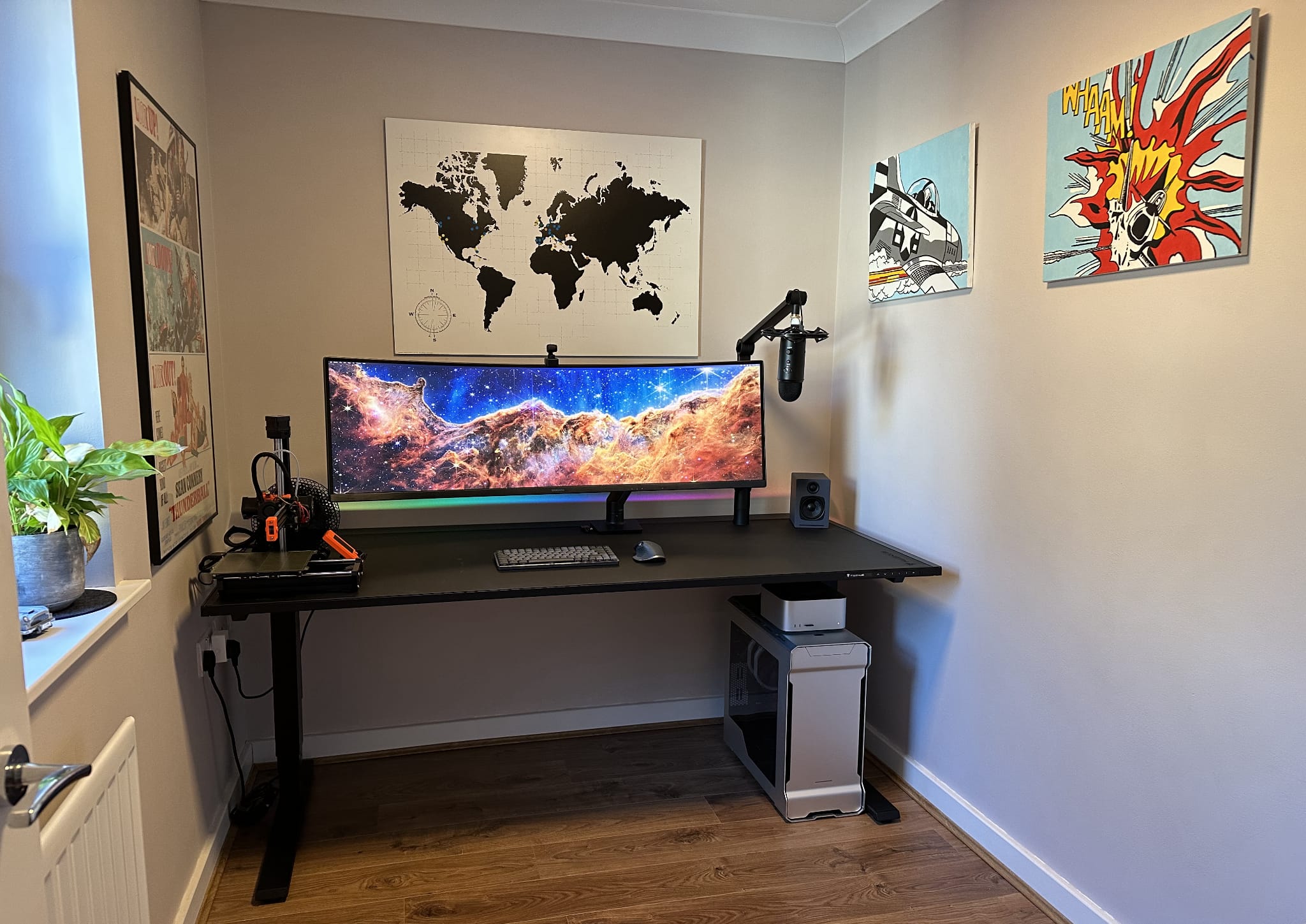 The desk itself is essentially wall-to-wall but provides a lot of space thanks to the monitor arm.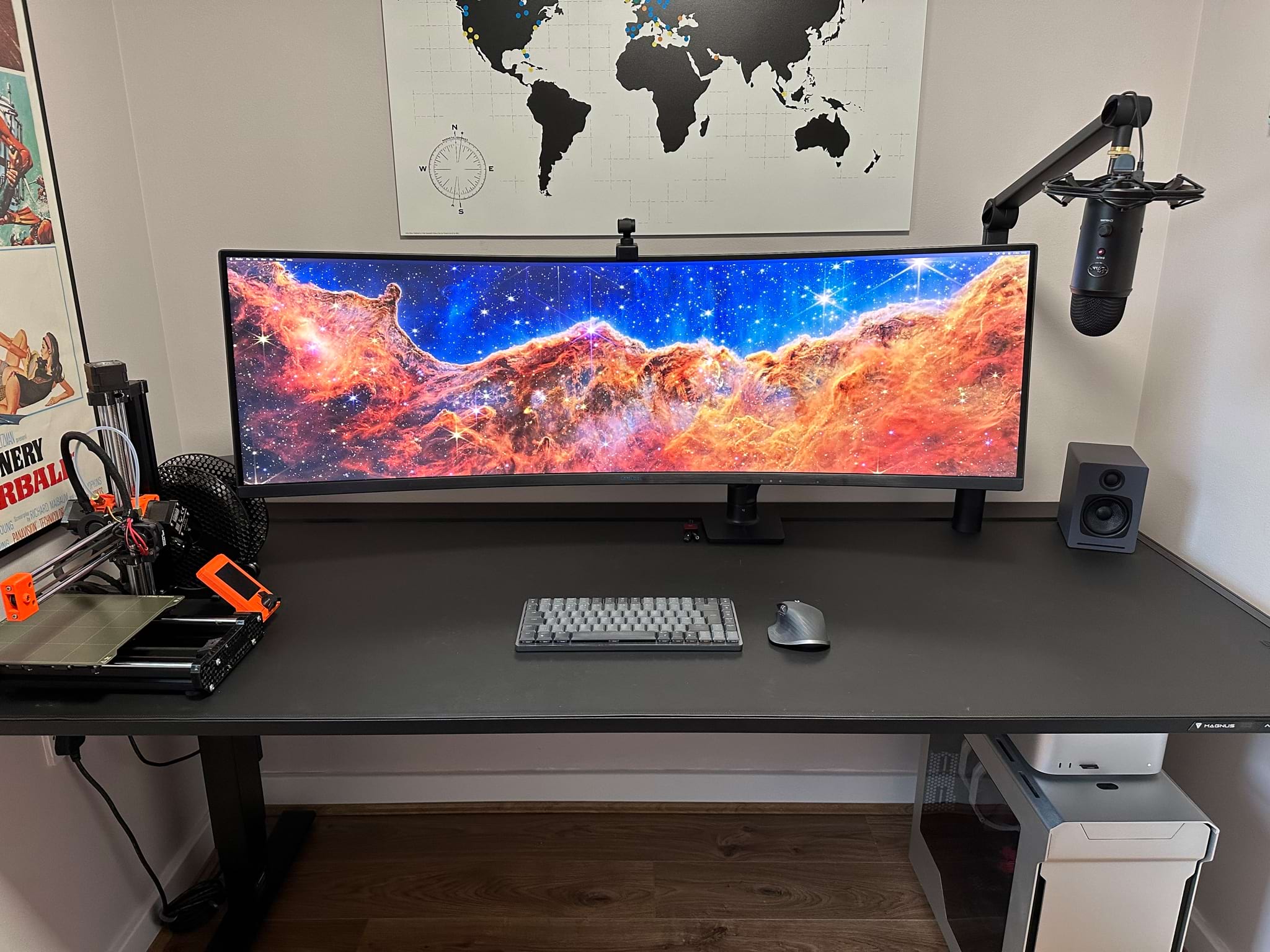 That's it! My new home office setup is complete, hopefully serving me well for the years to come.
---