Update - Please refer to the article "My Setup (Q4 2022)" for a summary of my latest setup.
In 2015, I shared an overview of my setup at home and work.
Over the years, I have made a number of incremental updates, specifically my custom-built PC (November 2015) and MacBook Pro (November 2016).
Recently I made a few additional changes, which I thought were worth sharing.
As part of an unplanned upgrade, my daily driver (15-inch MacBook Pro) was replaced with the latest specification:
15-inch MacBook Pro with Retina Display (Mid 2017)
3.1GHz Quad-Core Intel i7 (Turbo Boost up to 4.1GHz)
16GB 2133MHz LPDDR3 RAM
512GB PCIe SSD
Intel HD Graphics 630 and AMD Radeon Pro 560 4GB GDDR5
The performance difference between the Late 2016 and Mid 2017 MacBook Pro is very minor, with the biggest benefit being improved power efficiency, resulting in slightly better battery life. As a result, my original review still stands.
I did decide to switch from Space Grey to Silver. Although Space Grey looks amazing, I discovered that it was more susceptible to visible wear and tear, specifically on the edges where I noticed minor discolouration. If you only use your Mac at home or in an office, you probably won't experience any issues. However, when traveling, the likelihood of the occasional knock or drop is significantly increased.
Alongside my Mac upgrade, I also replaced my two Dell P2715Q IPS 4K monitors, with two new Dell U2718Q IPS HDR 4K monitors. This was another extravagant upgrade; however, I have privileged access to Dell hardware, which enables me to purchase new models at a very reasonable price.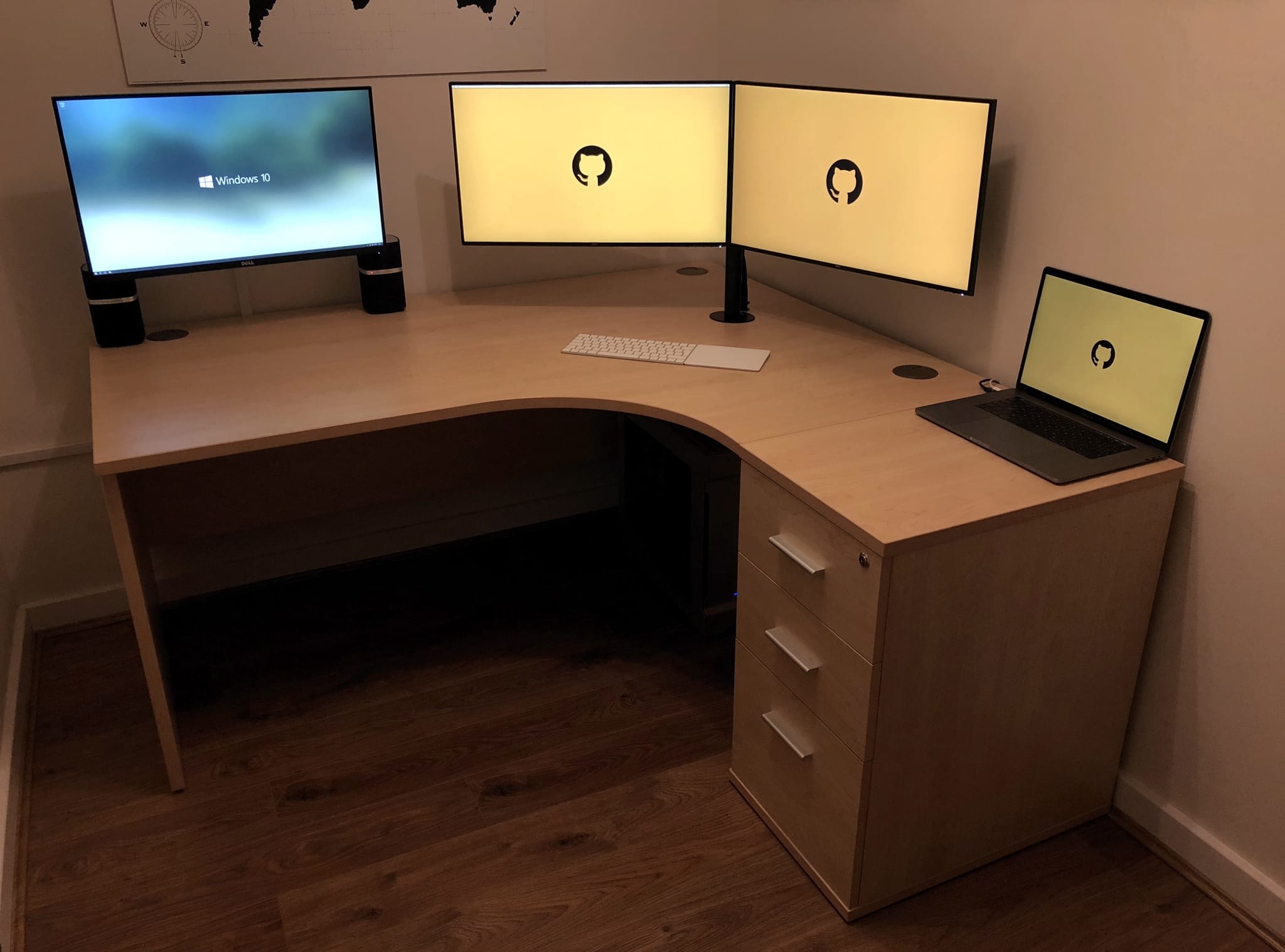 The full specification of the Dell U2718Q can be found below:
Model: Dell U2718Q
Size: 27 inches
Panel: IPS
Resolution: 3840x2160 (163 PPI) @ 60 Hz
HDR: HDR10
Response Time: 5ms
Contract Ratio: 1300:1 (Typical)
Brightness: 350 cd/m2 (Typical)
Connectivity: 1x DP (v1.2), 1x mDP (v1.2), 1x HDMI (v2.0)
Colour Gamut: 99.9% sRGB, 99.9% Rec 709, 80.7% DCI-P3
One of the main selling points of the Dell U2718Q is the "InfinityEdge", which is basically marketing terminology for "reduced bezels". This feature is valuable when using multiple monitors via a VESA mount. As you can see from the image below, the reduction in bezels results in a very immersive experience.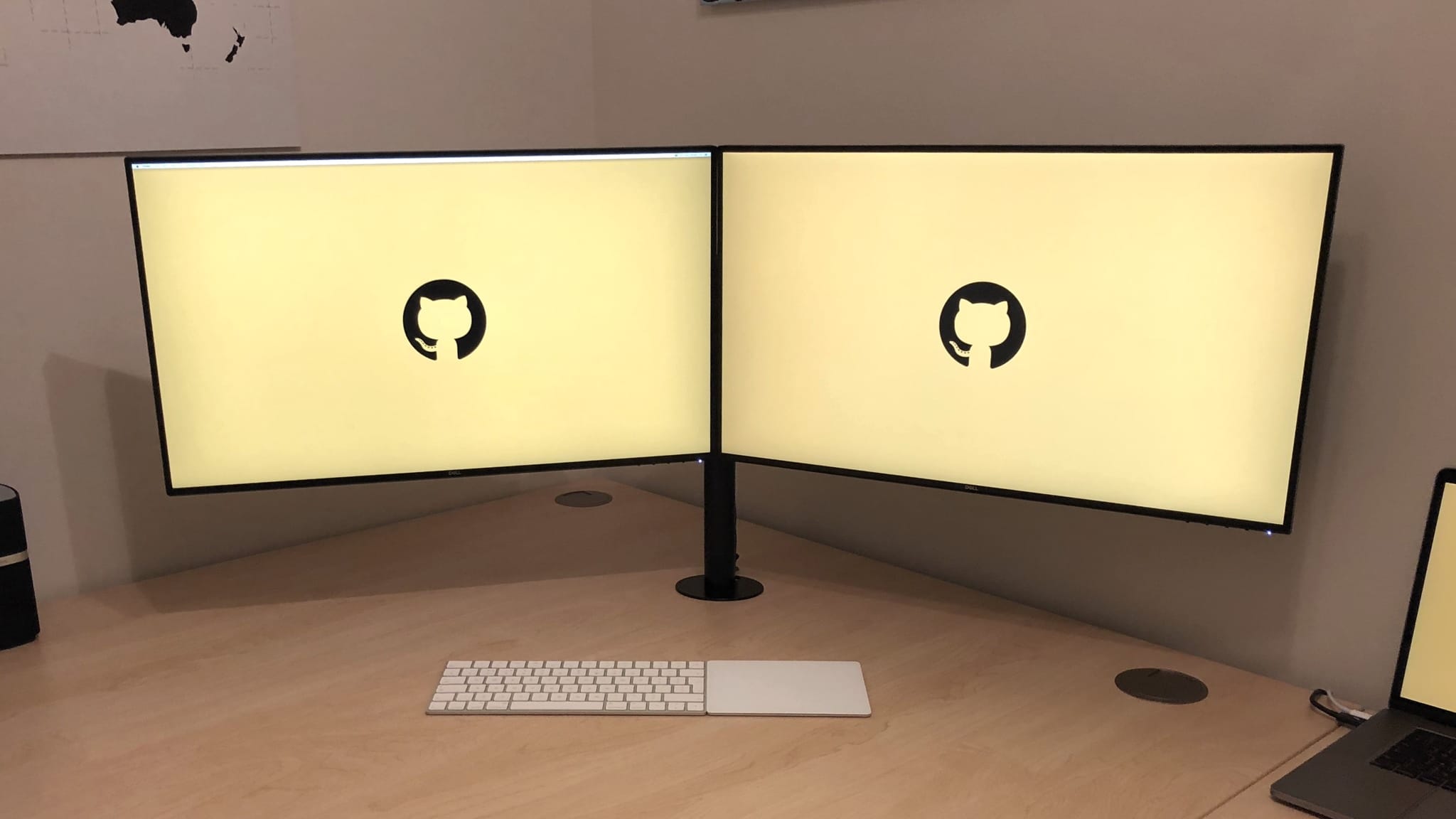 Arguably the other big benefit of the Dell U2718Q is the inclusion of High Dynamic Range (HDR10). Although certainly nice to have, my personal experience has been a little disappointing, primarily due to the modest 350 cd/m2 brightness and lack of mature software support with Windows and macOS. With that said, the monitors are still beautiful and deliver phenomenal 4K image quality (especially for the price).
The rest of my home and work setup remains largely unchanged, which is detailed in my original article.
---