The last time I completed a major upgrade of my primary PC was 2016 when I switched to Intel's Skylake architecture. I documented the build process and subsequent upgrades in the following three articles.
The full specification of my current (soon to be old) PC can be found below:
Asus Maximus VIII Hero Alpha (Intel Z170)
Intel Core i7-6700K 4.0GHz @ 4.6GHz (4C/8T)
Noctua NH-D15 CPU Cooler
32GB Corsair Vengeance LPX DDR4 PC4-24000C15 (15-17-17-35)
1TB Samsung PM981 M.2 PCI-e NVMe SSD
PNY GeForce RTX 2080 Ti 11GB XLR8 Gaming Overclocked Edition
EVGA SuperNova P2 1000W '80 Plus Platinum' PSU
Phanteks Enthoo Evolv ATX Mid Tower Case
Since the launch of Skylake, Intel has provided little incentive to upgrade. For example, the current 11th generation processors are still based on the underlying Skylake architecture. Therefore, I have been playing the long game, waiting for more transformative technologies such as PCI-e 4.0 to become mainstream.
In 2019, with the release of the AMD Zen 2 (Ryzen 3000 Series) architecture, things started to get interesting! For the first time in over two decades, AMD surpassed Intel by delivering an architecture with competitive instructions per clock (IPC) performance, alongside a significant jump in the number of cores and threads available across their consumer range (up to 16 Cores / 32 Threads).
Thanks to the benefits of the 7 nanometer MOSFET node from TSMC, the Zen 2 architecture was also aggressively priced, undercutting the competition by a significant margin.
In 2020, AMD built on the success of Zen 2 with the launch of Zen 3 (Ryzen 5000 Series), which maintained the 7 nanometers process but delivered other optimisations that resulted in an impressive 15% to 19% performance improvement.
With the release of Zen 3, combined with PCI-e 4.0 going mainstream, I felt the time was right to explore an upgrade of my primary PC.
Requirements
Working in IT, I utilise my PC for a wide range of different workloads, including productivity, collaboration, software development, photo editing, video editing, video effects, virtual labs, gaming and game development.
As my primary PC, my goal has always been to build a high-performance system that balances these workloads. For example, if the system was used exclusively for gaming, I would target a lower core-count CPU with a higher clock frequency. However, with video editing and virtual labs, a high core-count can make a big difference.
With these workloads in mind, I have defined the following hardware requirements:
Respectable VRM Thermal Performance
Minimum 12 Core / 24 Thread Processor
Minimum 64GB DDR4 3600MHz Memory
1x PCI-e 4.0 x16 Slot with Three Slot Clearence
2x M.2 Slots (PCI-e 4.0 x4) for Storage
Intel Wireless Controller compatible with Wi-Fi 6 (802.11ax)
Minimum 1x USB 3.2 Gen 2 (10Gb/s) Type-C
Minimum 2x USB 3.2 Gen 2 (10Gb/s) Type-A
Although some of the requirements are fairly self-explanatory, a few require additional context.
VRM thermal performance is important when targeting a processor with a high core-count, especially if overclocked.

The 12 Core / 24 Thread processor guarantees a significant multi-core performance improvement over my current Intel Core i7-6700K (Quad Core / Eight Thread). It also provides head-room for gaming, knowing that the PlayStation 5 and Xbox Series X are both equipped with 8 Core / 16 Thread Zen2 processors.

The three slot clearance for the PCI-e 4.0 x16 slot ensures compatibility with Nvidia 3000 graphics cards (for example, the Nvidia GeForce 3090).

Wi-Fi 6 (802.11ax), ideally integrated into the motherboard, delivers 37% better performance and 75% improved latency over Wi-Fi 5 (802.11ac). My home network is 802.11ax compatible via the Asus RT-AX86U Router.
I am not loyal to any specific hardware manufacture or brand and am not interested in cosmetic features, such as RGB lighting, etc. Therefore, the system can be considered high-performance workhorse, built at the best possible price.
Specification
The specification below highlights my proposed build, with the new components in bold.
MSI MAG X570 Tomahawk WiFi
AMD Ryzen 9 3950X 3.5GHz Base / 4.7GHz Boost (16C/32T)
Noctua NH-D15 CPU Cooler
64GB Patriot Viper Steel DDR4-3600 (18-20-20-38)
1TB Samsung 980 Pro M.2 PCI-e 4.0 NVM-e SSD
1TB Samsung PM981 M.2 PCI-e 3.0 NVM-e SSD
PNY GeForce RTX 2080 Ti 11GB XLR8 Gaming Overclocked Edition
EVGA SuperNova P2 1000W '80 Plus Platinum' PSU
Phanteks Enthoo Evolv ATX Mid Tower Case
Knowing that my current system is built on a strong foundation, I can re-use many components. For example, my 1000W Power Supply Unit (PSU) delivers more than enough power for the new build and the Noctua NH-D15 CPU cooler, which was first released in 2014, remains one of the best air coolers on the market.
Selecting the motherboard was the most difficult part of the build, recognising that there are hundreds of X570 motherboards on the market. Through my analysis, I believe the MSI MAG X570 Tomahawk WiFi delivers the best price to performance, with high-quality components/features at a reasonable £199. The motherboard includes:
4x Memory Slots (Supports 128GB)
1x PCI-e 4.0 x16 Slot
1x PCI-e 4.0 x16 Slot (Supports x4 Mode)
2x PCI-e 3.0 x1 Slots
2x M.2 Slots (PCI-e 4.0 x4) with Heatsinks
6x SATA 6Gb/s Ports
1x Realtek 8125B 2.5Gb/s LAN Controller
Intel Wi-Fi 6 AX200 and Bluetooth 5.1
5x USB 3.2 Gen 2 (10Gb/s) Type-A and Type-C
4x USB 3.2 Gen 1 (5Gb/s) Type-A
6x USB 2.0 Type-A
Looking at the TechSpot X570 VRM analysis, the MSI MAG X570 Tomahawk WiFi consistently delivered top performance. This is an impressive result, but even more so when you consider the competing Gigabyte X570 Aorus Xtreme costs £769.99.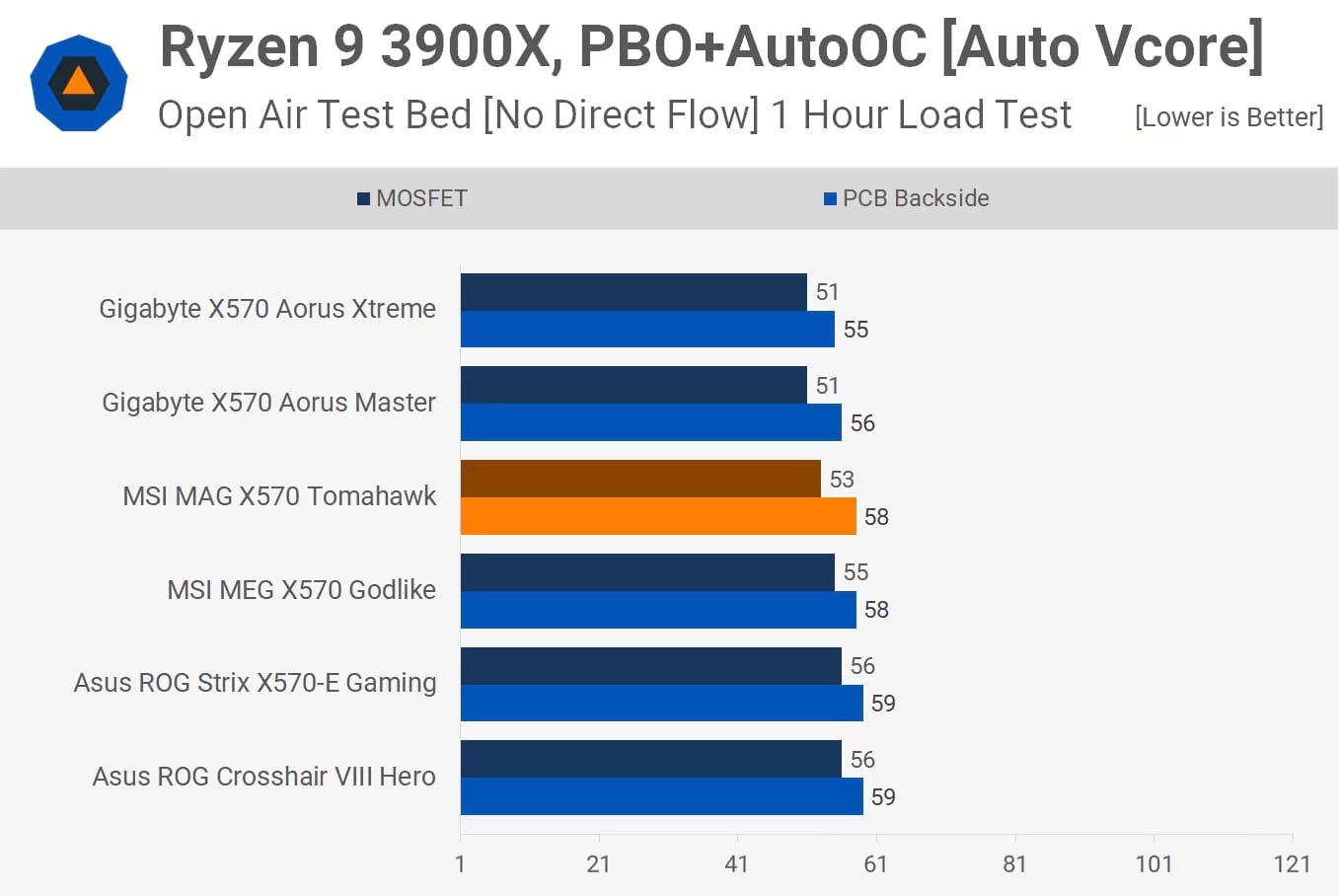 The MSI MAG X570 Tomahawk WiFi is likely a byproduct of the bad press MSI received with their first-generation X570 motherboards, which underperformed, leaving many of their loyal fans disappointed. Therefore, the MSI MAG X570 Tomahawk WiFi can be considered an apology and a gesture of goodwill (which I will gladly accept).
The most controversial part of the build is probably the choice to go with a Ryzen 3950X (Zen 2), instead of the new Ryzen 5000 Series (Zen 3).
This decision was primarily driven by price to performance, as I was able to purchase the Ryzen 3950X for £430, which is nearly half the price of the Ryzen 5950X at £829.99. The performance difference between these two products is between 15% and 19% depending on the workload, making the additional cost difficult to justify.
Regarding the graphics card, I have chosen to retain my Nvidia GeForce RTX 2080 Ti (for now), primarily due to the launch challenges experienced with the Nvidia GeForce RTX 3000 Series, which remain in very short supply and therefore heavily overpriced. The Nvidia GeForce RTX 2080 Ti remains a very powerful graphics card, capable of Ray Tracing, therefore will continue to meet my immediate needs until the market stabilises.
The approximate cost of the upgrade was £1000 (£430 on the CPU), which I feel is reasonable considering the current economic climate. As with all technology investments, the longer you are willing to wait, the more you can save (as new products displace old ones). For example, I could see me waiting for the inevitable Nvidia GeForce RTX 3080 Ti/Super before upgrading my graphics card.
Conclusion
Overall, I am excited to see how my new build will perform!
On paper, the additional twelve cores and twenty-eight threads, alongside 64GB memory and 1TB storage rated at 7000MB/s read should deliver a healthy boost in performance, especially across multi-threaded workloads.
Once the components arrive, I plan to document the build process and share the performance results.
---