Every few years I upgrade my primary Windows PC. My last upgrade was in April 2012, when I migrated to Intel's Ivy Bridge architecture (full specification below).
MSI Z77A-GD65 (Intel Z77)
Intel Core i5 3570K 3.4GHz @ 4.3GHz
Noctua NH-D14 CPU Cooler
Samsung Green 16GB DDR3 PC3-12800C11 (11-11-11-28)
Sapphire HD 7950 OC 3072MB GDDR5 @ 1100MHz
2x SanDisk Extreme SSD 240GB SSD (RAID 0)
Creative Sound Blaster Recon3D PCI-E
Samsung SH-B123L/BSBP Blu-Ray
OCZ ModXStream Pro 700w Modular PSU
Lian Li V1000 Case
Ivy Bridge was an important product for Intel, not only did it achieve a die shrink to 22nm (from 32nm), but it was also the first to leverage Tri-gate (3D) transistors (something Intel had been working on since 2002). In short, Tri-gate transistors reduce leakage and are incredibly power efficient, enabling higher performance and/or lower power consumption.
My new setup is built around Intel's Skylake architecture, which is based on a 14nm manufacturing process and the same Tri-gate transistor fabrication introduced with Ivy Bridge. According to Intel, the Skylake redesign is focused on greater CPU and GPU performance, as well as reduced power consumption. I expect the CPU performance increase to be modest, while the GPU improvements and reduced power consumption offer little value in a desktop PC with a dedicated graphics card.
The full specification of my new setup can be found below:
Asus Maximus VIII Hero Alpha (Intel Z170)
Intel Core i7-6700K 4.0GHz @ 4.6GHz
Noctua NH-D15 CPU Cooler
Corsair Vengeance LPX 32GB DDR4 PC4-24000C15 (15-17-17-35)
Gigabyte GeForce GTX 980 4GB @ 1350MHz / 8000MHz
Samsung 950 Pro 512GB M.2 PCI-e NVMe SSD
EVGA SuperNova P2 1000W '80 Plus Platinum' PSU
Phanteks Enthoo Evolv ATX Mid Tower Case
Arguably more interesting than the Skylake processor itself, is the corresponding Intel Z170 chipset. This new enthusiast chipset includes up to twenty lanes of PCI Express 3.0 originating from the PCH and a massive number of USB ports. It is also highly configurable, meaning motherboard manufacturers can decide how they want to utilize the available IO. For example, the Asus Maximus VIII Hero Alpha includes:
2x PCIe 3.0 16x (CPU)
1x PCIe 3.0 1x (PCH)
1x PCIe 16x (PCH)
1x M.2 (PCIe 3.0 x4)
2x U.2 (M.2 / U.2 NVMe RAID Supported)
6x SATA-III
2x USB 3.1 (Type-A and Type-C)
6x USB 3.0
6x USB 2.0
I was most excited about the support for M.2 (PCIe 3.0 x4), which facilitated my purchase of the Samsung 950 Pro SSD.

My previous setup leveraged two SanDisk Extreme SSDs, running in RAID 0. For the time, this provided impressive sequential read (1057MB/s) and write (300MB/s) speeds. However, it was clear that SATA-III and the Advanced Host Controller Interface (AHCI) was a significant bottleneck for the flash-based storage.
The Samsung 950 Pro is a completely different animal, based on NVM Express (NVMe) and the M.2 connector. NVMe is a logical device interface specification for accessing non-volatile storage media attached via PCI Express (PCIe). In short, it was designed from the ground up to capitalize on the low latency and internal parallelism of SSDs, mirroring the parallelism of modern CPUs, platforms and applications.
As a result, the Samsung 950 Pro can achieve some incredible sequential read (2500MB/s) and write (1500MB/s) speeds, all from a single SSD (no RAID).
The table below highlights a few benchmarks from my new setup. These benchmarks were selected as I had existing data from my previous setups (Conroe - 2006 and Ivy Bridge - 2012), providing a direct comparison.

The numbers are in line with my expectations, demonstrating impressive graphics and storage performance improvements. The PCMark score highlights the more modest improvement I expected from the CPU and memory performance.
The build process itself was a pleasure, thanks to the excellent Phanteks Enthoo Evolv case (which I highly recommended). I have added a few images below.
The case has plenty of room, with the PSU and power cables neatly hidden behind the motherboard panel. The fact that the setup does not include any Optical Media Drives or SATA-based Hard Drives, results in a very clean, minimalistic build.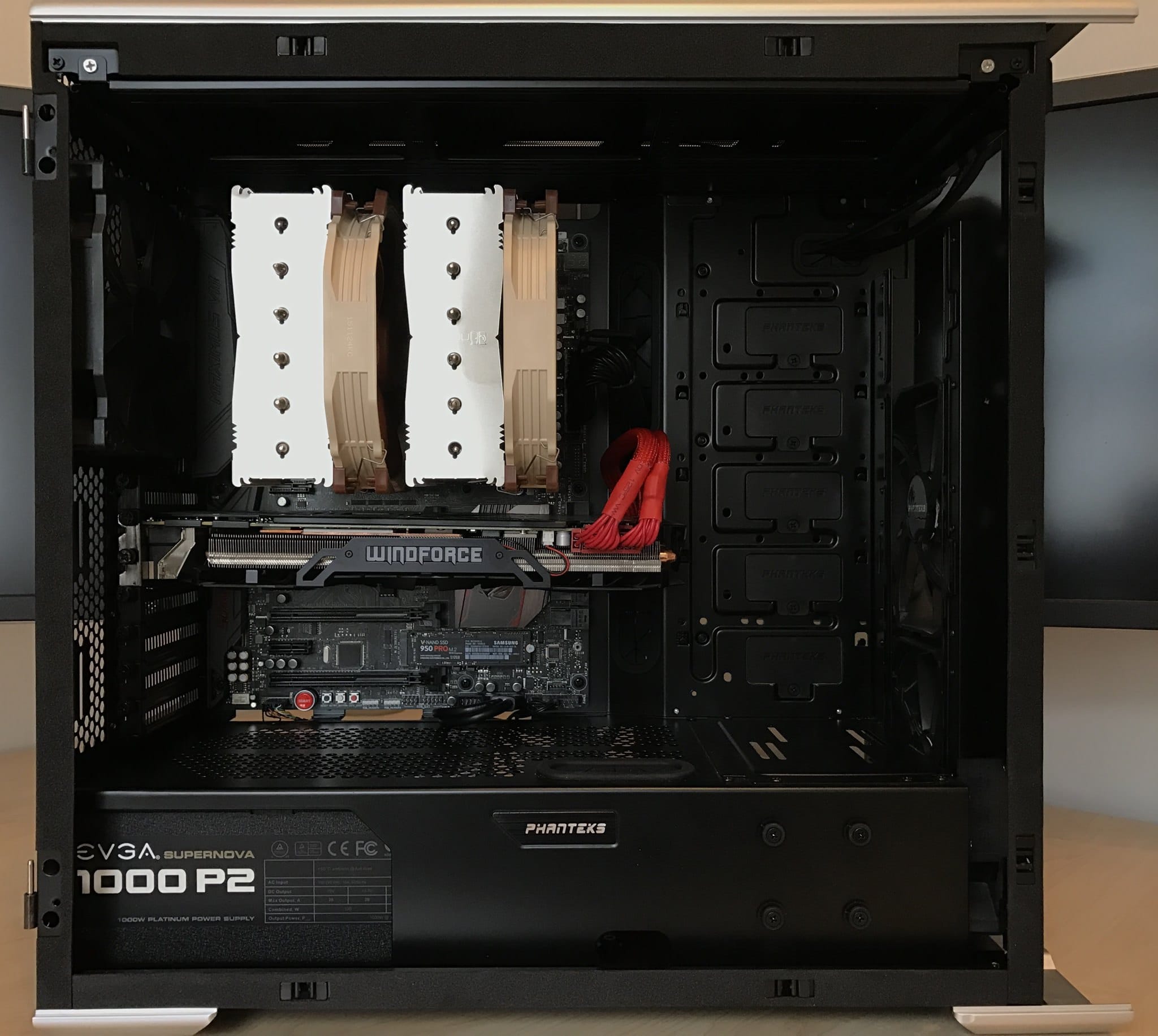 A closer look at the massive Noctua NH-D15 CPU Cooler. I had considered switching to an all-in-one water cooler, but the value proposition simply wasn't strong enough (the NH-D15 performs just as well and can even be quieter when combined with the right fans).
Finally, an image of the build in action, with some simple LED lightning connected to the motherboards integrated RGB header.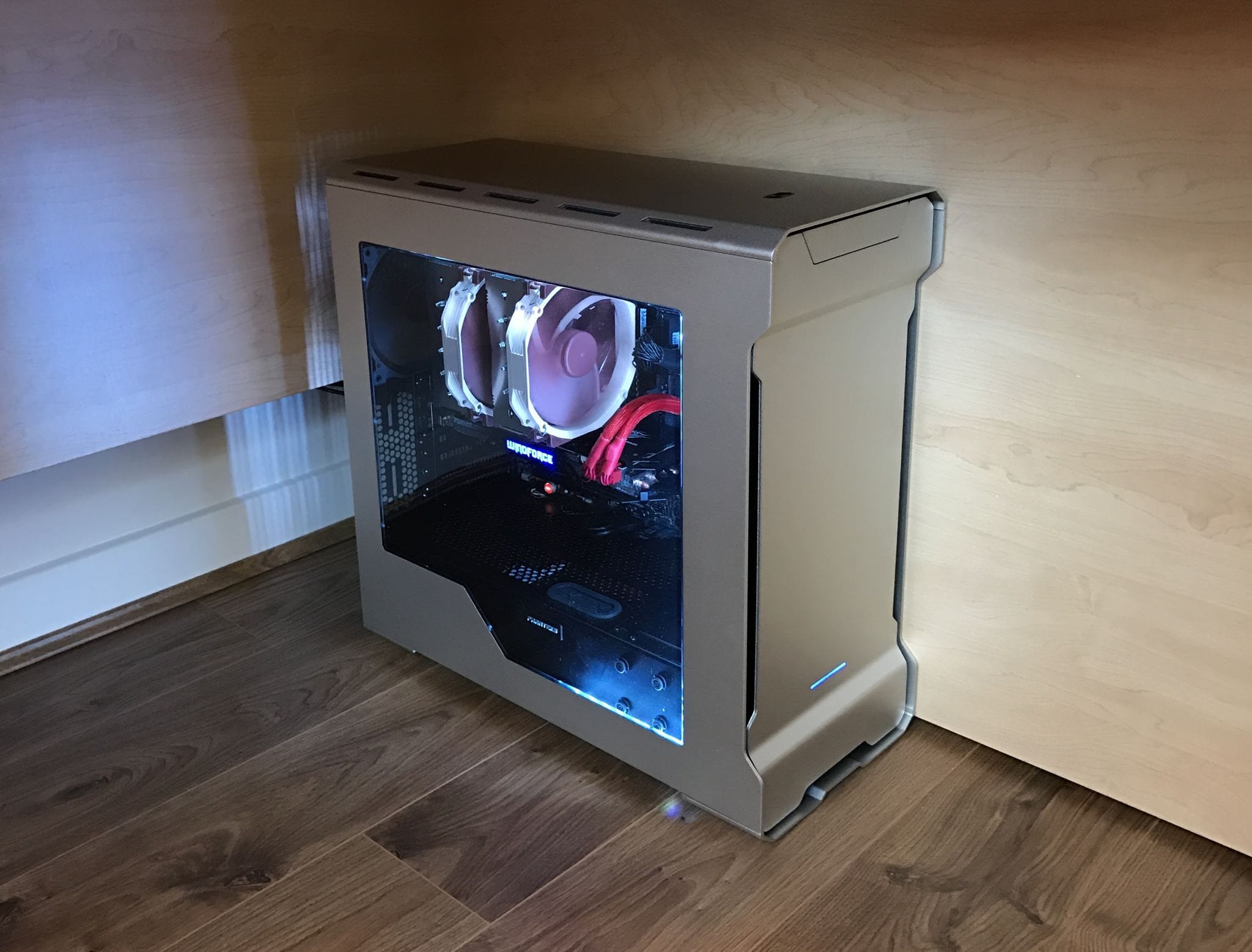 Overall I am very happy with the quality of the build and its performance. In a perfect world, I would have waited for the release of Nvidia's Pascal GPU architecture (expected any time), but I predict availability will be limited and prices will be high. As a result, it probably makes sense to wait for AMD's Polaris GPU architecture (expected in June), which will hopefully help drive down costs.
---