Since August 2020, I have been using a 49-inch super ultrawide monitor, specifically the Samsung C49RG90.
Having switched from dual 27-inch 4K monitors to a super ultrawide, I am confident I will never go back to multiple monitors.
In my opinion, the 32:9 aspect ratio of a super ultrawide delivers the best overall experience when interacting with a desktop operating system (Windows, macOS, Linux). The scale of the working area streamlines most productivity tasks, by avoiding the need to constantly switch windows, whilst allowing for the "focus window" to remain centred.
With this in mind, I recently upgraded to the Samsung G95NC Odyssey Neo G9 240Hz Dual UHD Monitor, which is a colossal 57-inch super ultrawide monitor.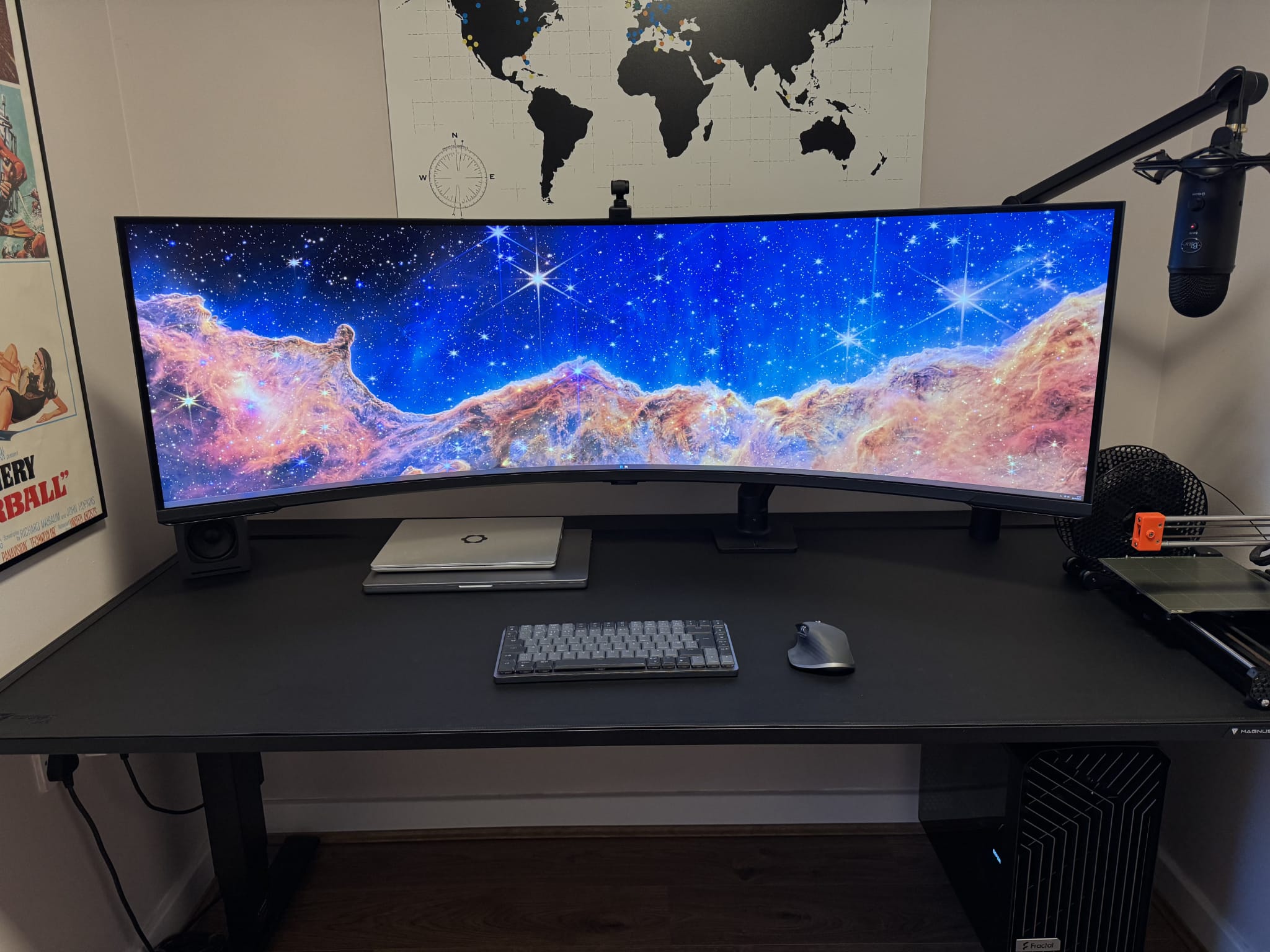 The full specifications of the Samsung G95NC Odyssey Neo G9 can be found below.
Model: Samsung G95NC Odyssey Neo G9
Panel Size: 57-inch
Panel Type: VA (Quantum Mini LED - 2,392 Zones)
Panel Curvature: 1000R
Aspect Ratio: 32:9
Resolution: 7680x2160
Refresh Rate: 240Hz
Variable Refresh Rate: AMD FreeSync Premium Pro
Response Time: 1ms (GTG)
High Dynamic Range: HDR10+ Gaming, VESA DisplayHDR 1000
Brightness: 420cd/㎡ (Typical), 1000cd/m2 (Peak)
Interface: 3x HDMI 2.1 (HDCP 2.2), 1x DisplayPort 2.1 (HDCP 2.2)
I have been researching this monitor for several months as it offers a rare combination of features that I have long desired. Specifically, a 32:9 aspect ratio, high resolution, high refresh rate, variable refresh rate, Mini LED, 1000R curve and "forward-looking" interfaces (HDMI 2.1 and DisplayPort 2.1).
No other monitor on the market today can boast this specification. The best alternative would be the Samsung G95SC Odyssey OLED G9, which on paper has the "benefit" of OLED technology, but is 8-inches smaller, lacks DisplayPort 2.1 and includes the obscure Micro HDMI interface. Although OLED is a superior panel type, I would argue it is less suitable for productivity tasks, where there is a high risk of burn-in.
I had planned to wait until 2024 to purchase the Samsung G95NC Odyssey Neo G9. However, an unfortunate accident accelerated my timeline. While making some changes to my PC, the back panel of the case fell against the display. Thankfully, it didn't crack, but it did leave a frustrating scrape.
This incident, combined with a £300 (13.6%) discount from "All Your Appliances", pushed me over the edge!
The Samsung G95NC
There is no denying it, the Samsung G95NC Odyssey Neo G9 is massive! At 1327.5mm wide and weighing 15.4kg (without the stand), it requires some serious desk space.
Thankfully, I own the exceptional Secret Lab Magnus Pro XL sit-to-stand desk, which is 1770mm wide and can hold up to 120kg.
I have mounted the monitor on the Ergotron HX with HD Pivot, which is a heavy-duty monitor arm that can in theory hold a monitor that weighs 19.1kg. I can confirm that the monitor arm does hold the Samsung G95NC Odyssey Neo G9. However, it is right on the limit, requiring the full tension to be applied to the "HD Pivot".
Thankfully, with the monitor mounted, it feels very sturdy (no wobble) and removes the need to use the included stand (which is very large), delivering a minimal aesthetic and freeing up desk space.
The monitor is connected to two devices, specifically my custom-built PC, which includes an AMD Ryzen 3950X and NVIDIA GeForce RTX 3090FE, as well as my 16-inch Apple MacBook Pro M2 Max. The full specification of each device can be found in the article "My Setup (Q3 2023)".
Both devices are connected via HDMI 2.1, using the included cable and a "3m Stouchi HDMI 2.1 Certified Cable" purchased from Amazon UK. They output the native resolution (7680x2160) with HDR enabled at 120Hz. At the time of writing, neither device can output the full 240Hz at native resolution, although this may become viable for the NVIDIA GeForce RTX 3090FE via a future driver update.
The MacBook Pro scaling is set to "More Space (7680x2160)", although HDR and the 120Hz refresh rate are available at all scaling levels.
It is a little disappointing that 240Hz is not usable. However, in 2023, the value of running a refresh rate above 120Hz at this resolution is questionable. Therefore, simply knowing it is supported as a future option is good enough for now.
One important note, any device that is not HDMI 2.1 or DisplayPort 2.1 compatible will likely fail to output at these settings. This includes any Apple M1 device, covering the Pro, Max and Ultra variants.
Regarding the quality of the display, it is marvellous. The jump from 109 PPI with my old 49-inch Samsung C49RG90 to 140 PPI with the Samsung G95SC Odyssey OLED G9 is immediately noticeable, especially in text-heavy applications, such as the Terminal, Visual Studio Code, etc.
The same can be said for the colours, which certainly feel like a step up from the Samsung C49RG90, likely thanks to the Quantum Mini LED panel. With that said, even with 2,392 dimming zones, it is still possible to see some blooming when displaying light content on a dark background (it is no match for OLED). Thankfully, as I use the monitor for productivity, this criticism is minor and not something I consider a "real-world" issue.
Another point of interest is the heat generated by the monitor, which is certainly above what I experienced with the Samsung C49RG90. Interestingly, as the monitor heats up (first 20 minutes of use), it causes an unusual side effect, specifically a small popping sound as the rear plastic expands. As I use the monitor for 5+ hours per day (usually with headphones on), this is a minor concern, but not something I have experienced before.
There is no evidence to suggest the heat will cause any long-term issues, but it is something to consider if you plan to use the monitor in a small room (which will heat up quickly). On a positive note, it will likely help in winter, avoiding the need for additional heating.
Finally, I am not a heavy gamer, but I did launch the new Cyberpunk 2077 v2.x update and can confirm it looks and runs great with "variable refresh rate" enabled.
Pushing 7680x2160 pixels is a very big ask for any system, even with modern deep learning and upscaling techniques enabled. Therefore, I lowered the resolution to 5120x1440 (equal to my old Samsung C49RG90), which is less pixels per frame than native 4K. Combined with techniques such as NVIDIA DLSS, the game looked and ran perfectly well at high/ultra settings with Ray Tracing.
In conclusion, I am very impressed with the Samsung G95SC Odyssey OLED G9. In my opinion, it is the best monitor on the market, assuming you have the need and are fortunate enough to have the funds and space to support a super ultrawide.
---