I am extremely excited about the future of artificial intelligence (AI). In the context of business, I believe AI is primed to trigger the next wave of digital innovation, unlocking opportunities to disrupt and transform industries.
In November 2022, the OpenAI research laboratory released ChatGPT, an AI chatbot, built on the GPT (Generative Pre-trained Transformer) family of large language models, moving artificial intelligence into the mainstream, capturing the imagination of many around the world.
ChatGPT can be applied to a wide range of use cases, specifically, answering questions, creating and/or reviewing content, generating reports and summaries, accelerating research activities, translations, and much more.
I believe ChatGPT (and equivalent services) have the potential to make Augmented Automation a commodity within the business, sitting alongside (and supporting) traditional IT Automation and Business Automation. The diagram below highlights one example of how I see AI chatbots (backed by a large language model) being positioned to enable new value.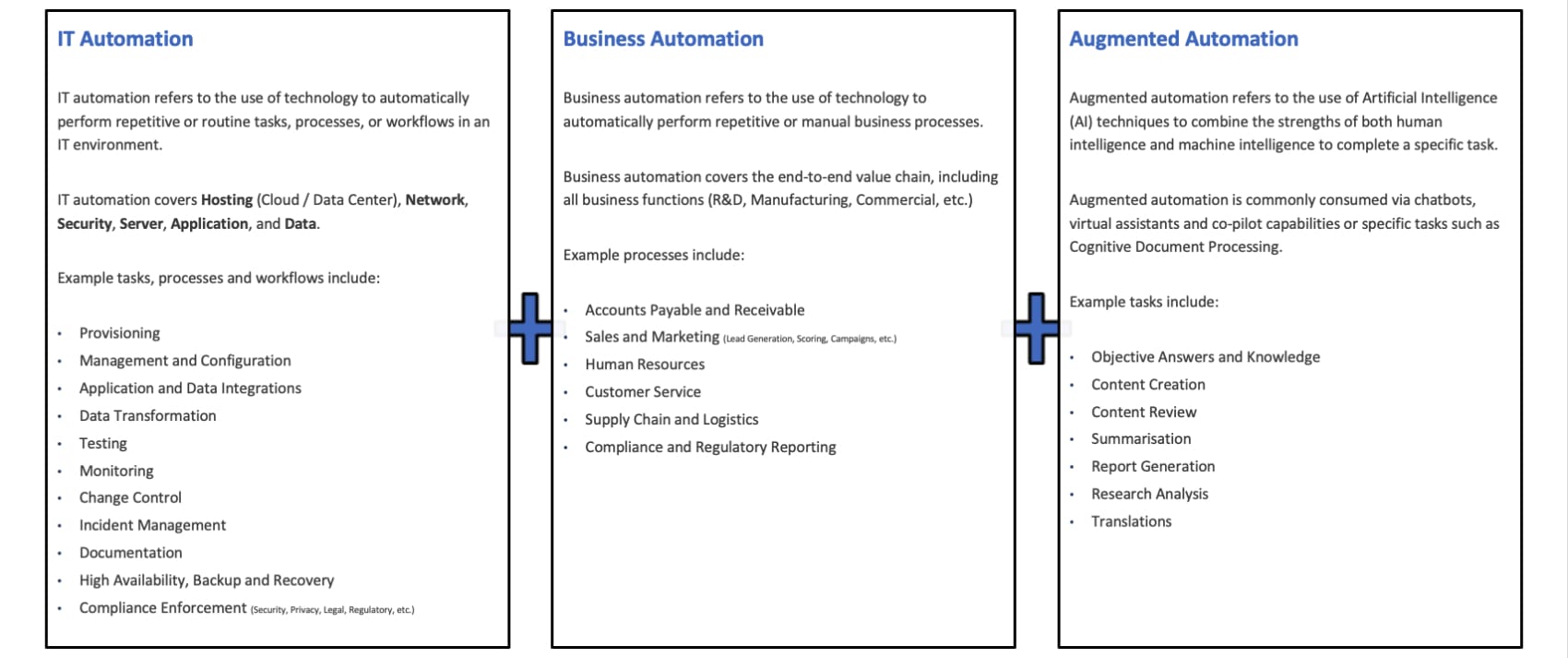 Earlier today, Microsoft revealed their plan (backed by their significant OpenAI investments) to further integrate OpenAI capabilities across their core services, covering search, productivity, collaboration, software development, etc.
I highly recommend watching the interview below with Satya Nadella (Microsoft CEO). He speaks openly about Microsoft's strategy, customer opportunities, legal/privacy concerns and market positioning.
It is interesting to see Microsoft take a leadership position regarding these capabilities, especially recognising the risk of a public relations backlash, considering the immaturity of the privacy, legal and compliance regulations covering AI.
With that said, I commend Microsoft for being aggressive and expect their ambition to further accelerate the rate of innovation. For example, this is a clear opportunity for Microsoft to claim market share from Google across search and advertisement. This is big business, striking at the core of the Google product portfolio. Therefore, I fully expect Google to respond, likely accelerating the public accessibility of their in-house LaMDA conversation technology.
This could lead to a direct (and very public) battle between Microsoft and Google, ultimately shaping the future of computing.
As an individual and business leader, this fierce competition is exciting and should result in positive outcomes. Specifically, rapid innovation, competitive pricing, and additional incentives to adopt.
Although Microsoft has led with Bing, as a Microsoft 365 customer, I am most interested in their plan to integrate these capabilities across their core productivity and collaboration suite (e.g., Office 365 and Teams). This would be similar to what they have started with GitHub Copilot, launched back in 2021.
Assuming the capabilities are not locked behind unreasonable licensing, this could be a powerful way of getting millions of users "hands-on" in a very short period. The question for Microsoft is, how do they scale and remain profitable? I assume this would be achieved through careful product/service placement to drive new advertising revenue.
The response from Google, I assume would be similar (e.g., Google Workspace), with a heavier emphasis placed on Google Search integration, capitalising on their dominant 83% market share.
If you are interested in technology, data or AI, I highly recommend you get hands-on! OpenAI ChatGPT and Microsoft Bing AI are available now, with Google's offering expected in the coming weeks/months.
A word of caution, these technologies are still immature, therefore they may misrepresent information, with responses that appear convincing but are incomplete, inaccurate, or inappropriate. I would also avoid submitting any sensitive information (personal or business) to a public AI service.
In the context of business, I would wait for capabilities such as Microsoft Azure OpenAI Service to mature, which will include the relevant security, privacy, legal and compliance controls.
Exciting times are ahead! I will be watching closely.
---