Over the past year, I have been using the Samsung Galaxy Z Fold2 5G as my primary smartphone.
As a reminder, the Fold2 includes a 7.6-inch 120Hz AMOLED display that folds internally, supported by a complex mechanical hinge. The full specification of the device can be found below:
Samsung Galaxy Z Fold2 5G
Qualcomm SM8250 Snapdragon 865+ (Octa-Core)
6.2-inch HD+ AMOLED Display (2260x816 @ 60Hz)
7.6-inch QXGA+ HDR10+ AMOLED Display (2208x1768 @ 120Hz)
12GB RAM
256GB Storage (UFS 3.1)
2x 10MP Selfie Cameras
3x 12MP Cameras (Ultra Wide, Wide-Angle, Telephoto)
4500mAh Dual Battery
5G, LTE, Wi-Fi 6, Bluetooth v5.0
Finger-Print Reader and Face Unlock
USB-C and Wireless Charging
Although over a year old (and superseded by the Fold3), the specification of the Fold2 is still very impressive. However, this specification also commanded a premium price point, starting at £1799.
This article will act as a short update regarding my experience using the Fold2 throughout 2020/21, reflecting on the durability of the hardware.
Regarding my usage pattern, the Fold2 was my daily driver (no other smartphone), commonly stored in my trouser pocket. I did not use a protective case or skin and removed the internal display protector, as I did not like the "plastic" feel.
Although much of the year was in lockdown, the Fold2 was exposed to the elements, specifically gym, running and multiple trips to the beach. I would also regularly join video conferencing calls whilst walking, often in adverse weather conditions (wind, rain, etc.)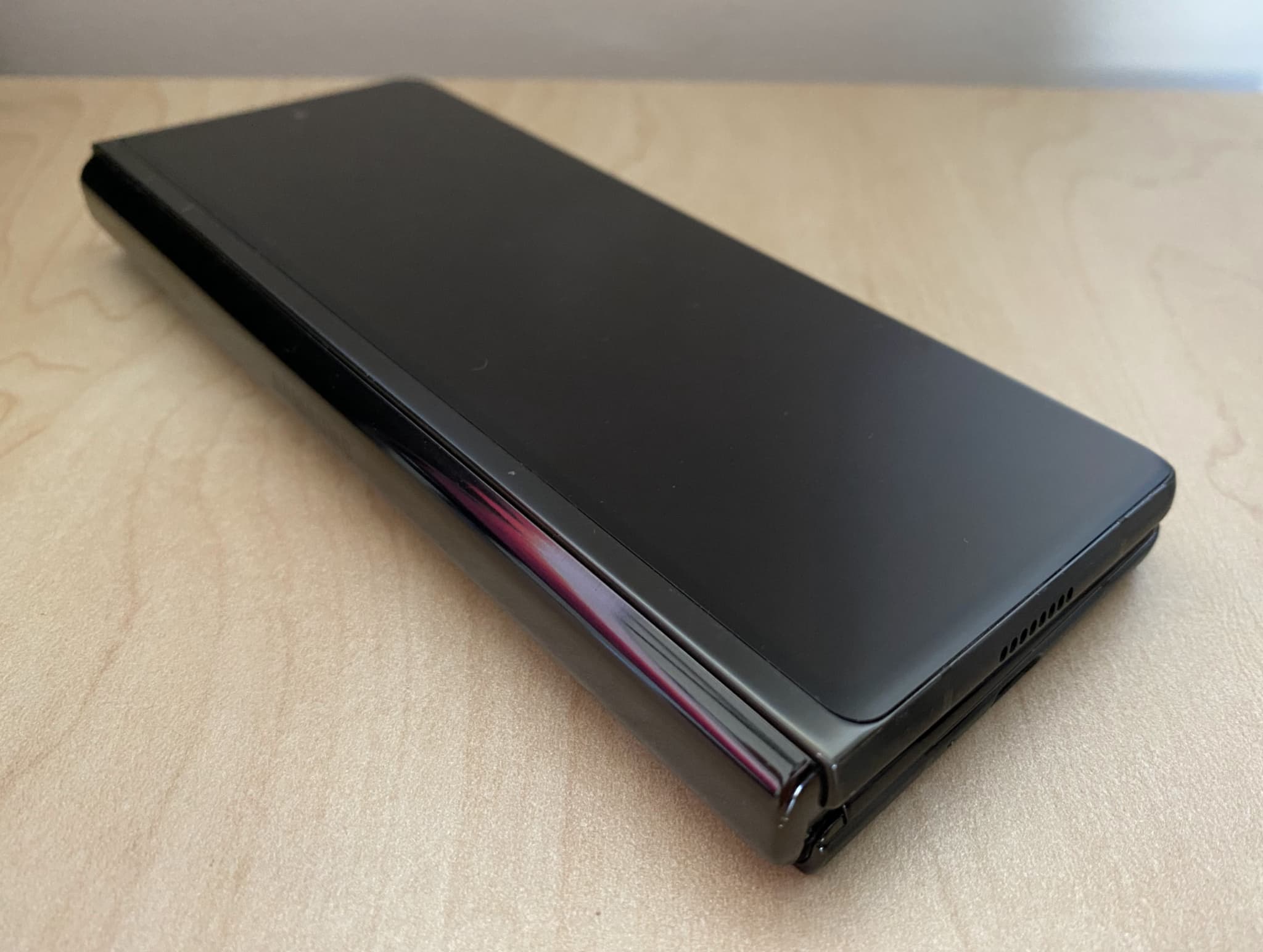 In short, the Fold2 was treated with respect, but not coddled.
Infamously, the first generation Fold, released in 2019, was an unprecedented disaster, due to a fundamental design flaw that resulted in an exceptionally high failure rate.
I am pleased to report that I have had no such issue with the Fold2. I must have unfolded the Fold2 thousands of times over the past year and the hinge feels as good today as it did in October 2020.
The hinge as always felt very robust, with enough pressure to hold the two sides of the display at any angle. I had feared the hinge would weaken over time, potentially becoming loose, but there are no obvious signs of degradation.
This is an impressive accomplishment, especially considering the complexity of the hinge and knowing the challenges faced by the previous generation.
The front display, which is protected by Corning Gorilla Glass Victus, shows signs of micro-scratches, but in line with my experience of other smartphones (e.g. iPhone, etc.)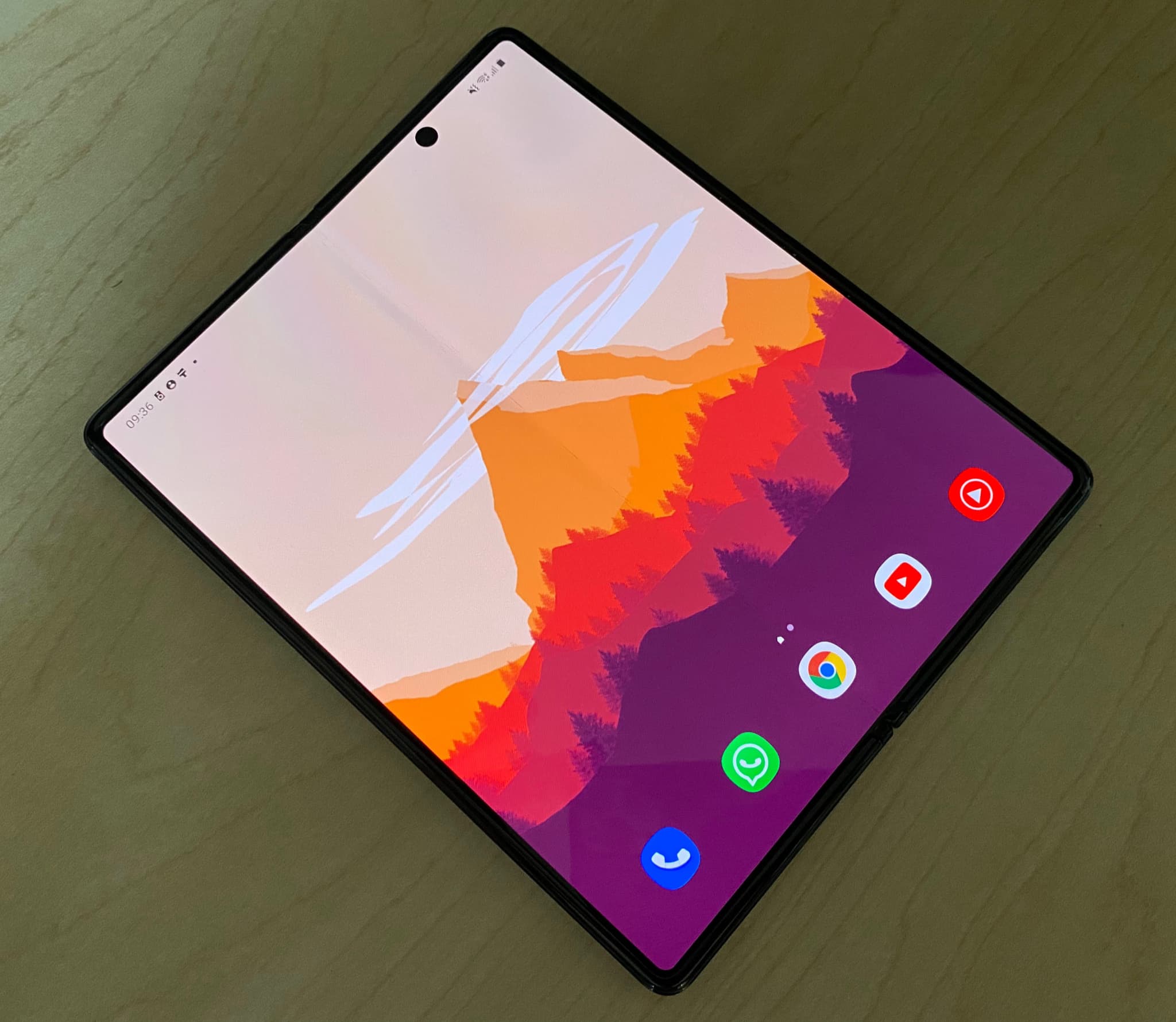 The internal display is more interesting, as it does not have the same level of protection when in use. Thankfully, the display itself has demonstrated great resilience. My only criticism is a series of minor scratches along the fold. It is unclear if these scratches have formed because of the folding mechanism itself or (more likely) the fold continues to be an exposed area (like with the first generation product), which can easily collect particles, such as dust, dirt, sand, etc.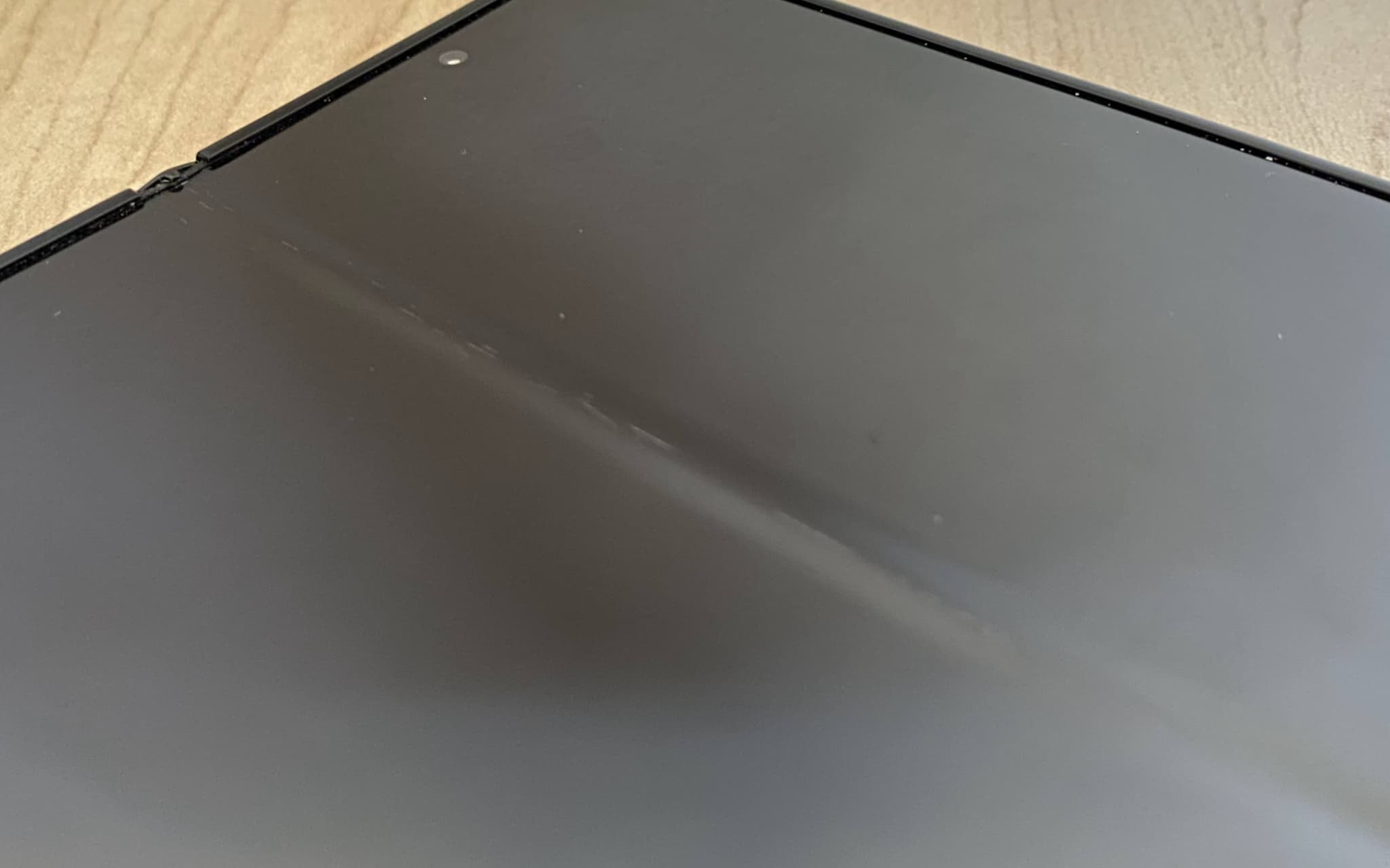 I can feel these scratches when running my finger over them, however, when viewing full-screen content, they essentially fade into the background.
Both displays continue to work as designed, with no loss of touch sensitivity, etc.
This brings me to "the big drop". Unfortunately, last month I missed my pocket and dropped the Fold2 on a stone floor. As soon as it landed I knew I was in trouble.
Surprisingly, the front and internal display survived! However, the rear glass was not so lucky.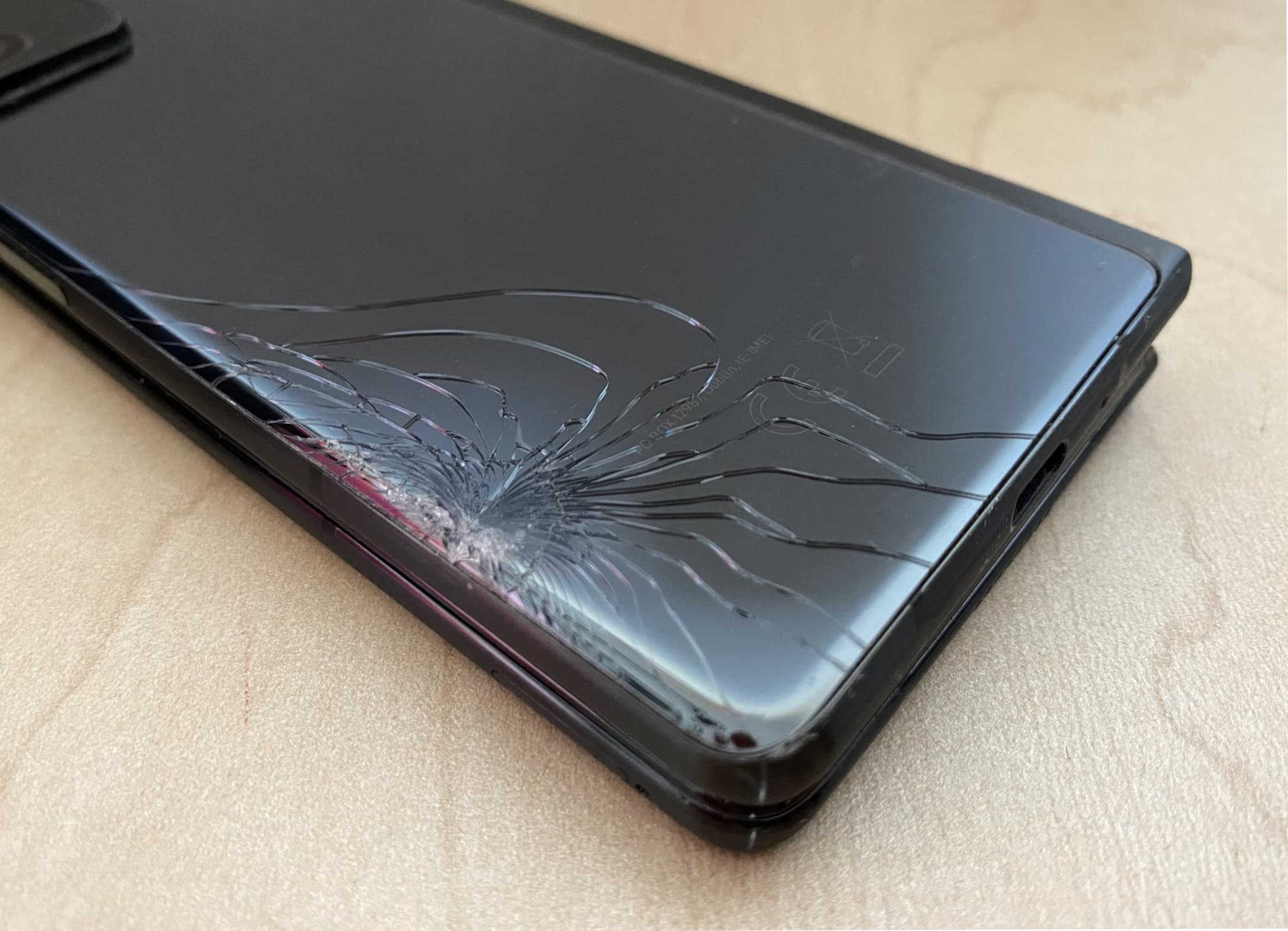 This outcome was not a complete surprise, recognising the rear is protected by Corning Gorilla Glass 6 (not Victus). I would speculate that any glass-backed smartphone would have fallen to the same fate.
Thankfully, the Fold2 itself continues to operate as designed, with no obvious impact on core functionality (touch sensitivity, cameras, etc.)
With that said, I suspect the repair cost would be high, knowing that the repairability of modern smartphones is rarely a priority. Therefore, I might get a dbrand skin to help hide the damage.
Overall, I remain impressed with the Fold2, which has served me admirably over the past year. At no point have I been concerned about the build quality, which has proven to be as robust as any other smartphone I have used.
Considering the complexity of the hinge and folding display, this is a remarkable achievement and a great "real world" demonstration that folding displays are viable for everyday use.
This article has focused on the hardware durability, but it is also worth noting that the software has received steady updates from Samsung.
When I first started using the device I was concerned that most apps would not be optimised for the larger display. Although this is true for some, the majority work very well, arguably offering a better experience than traditional smartphones.
This is especially true for content consumption and multi-tasking, where the Fold2 is in a league of its own.
For example, I would regularly join Microsoft Teams meetings, where one side of the display was populated by the participant videos and/or presentation, with the other available for comments or notes. With picture-in-picture (image below), multi-tasking can be taken to the next level, with three distinct "content windows" displayed simultaneously from a single app.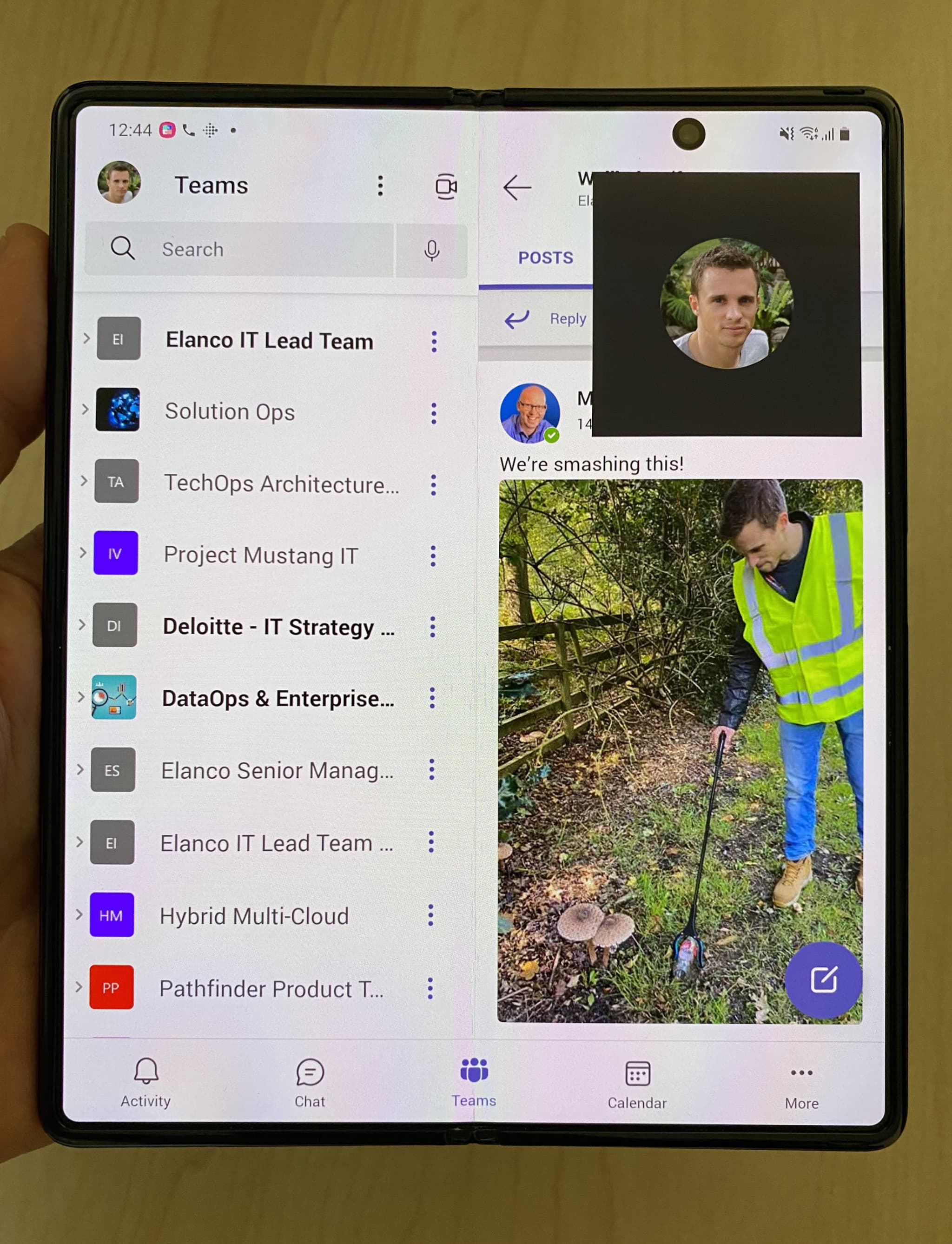 This level of multi-tasking is simply not viable on traditional smartphones, acting as a real differentiator for business users and/or road warriors.
In conclusion, as highlighted by my previous review, I believe the Fold2 is the "real deal", delivering on the promise of a foldable product that could replace a traditional smartphone and a small tablet.
After "battle testing" the Fold2 for over a year, I remain convinced that foldable smartphones are the future, something I expect all the mainstream providers to produce, likely starting with the Google Android ecosystem (maybe a future Pixel product).
---