With the launch of the iPhone in 2007, Apple redefined what it meant to be a smartphone, resulting in a decade of "black mirror" devices that have evolved through a range of sizes but retained the same basic shape and function.
In 2019, Samsung revealed the first foldable smartphone, known as the Samsung Galaxy Fold, which attempted to break the mould, by delivering an innovative new form factor.
The idea was simple, produce a product that could operate as a traditional smartphone, but unfold to deliver a more immersive "tablet-like" experience.
Unfortunately, the product launch was a disaster, with some serious quality assurance issues related to the hinge that resulted in a product recall.
Although a complete failure, Samsung clearly felt the core concept was a winner, as they proceeded to release a follow-up in 2020, known as the Samsung Galaxy Z Fold2 5G.
I have been testing this product, not because I believe it is ready for mainstream consumers, but as a device that I hope will provide an insight into the future of foldable smartphones.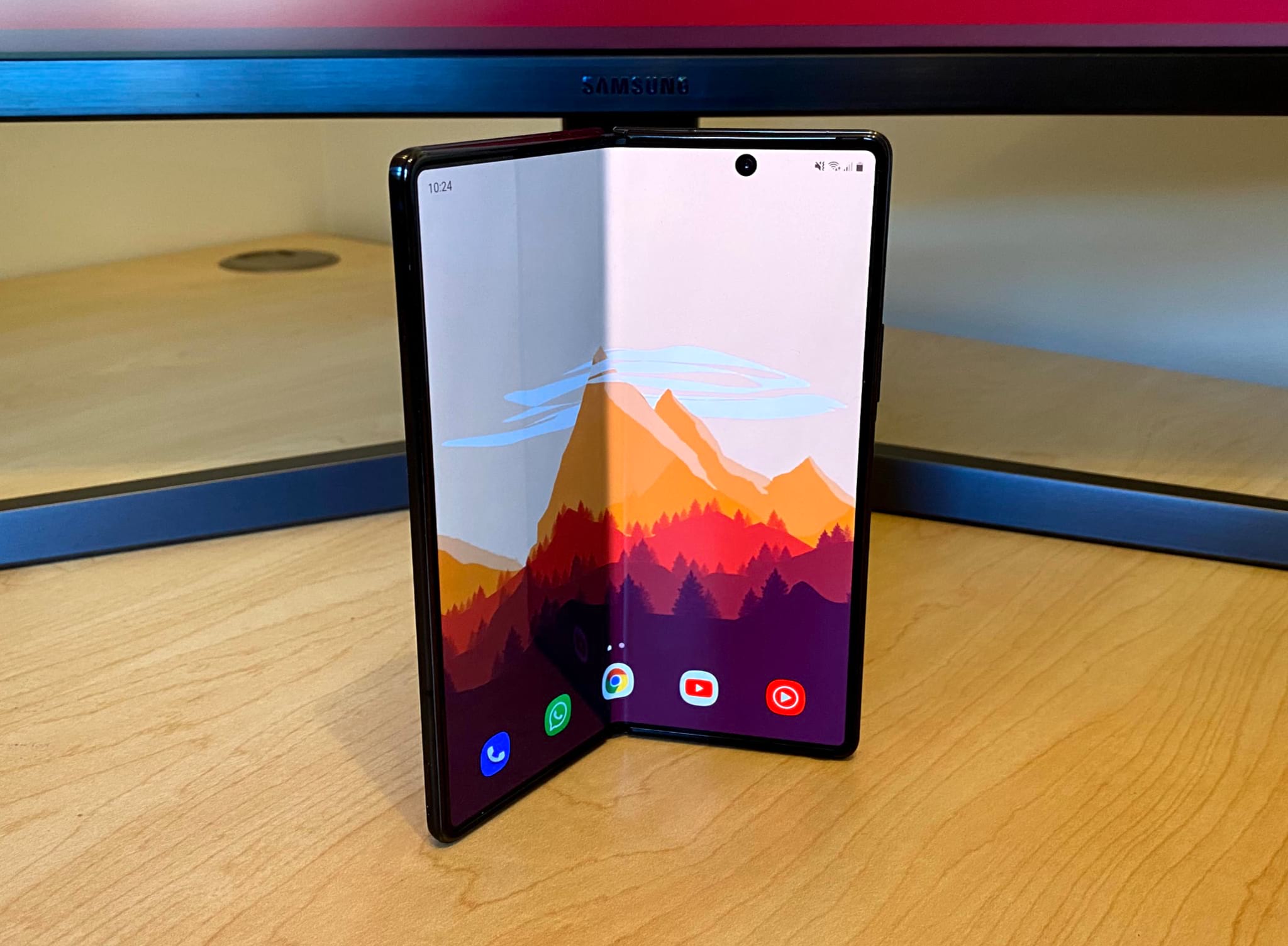 The Fold2 (I refuse to use the full name) is a true flagship, incorporating just about every modern smartphone feature, with the exception of water resistance. The full specification can be found below:
Samsung Galaxy Z Fold2 5G
Qualcomm SM8250 Snapdragon 865+ (Octa-Core)
6.2-inch HD+ AMOLED Display (2260x816 @ 60Hz)
7.6-inch QXGA+ HDR10+ AMOLED Display (2208x1768 @ 120Hz)
12GB RAM
256GB Storage (UFS 3.1)
2x 10MP Selfie Cameras
3x 12MP Cameras (Ultra Wide, Wide-Angle, Telephoto)
4500mAh Dual Battery
5G, LTE, Wi-Fi 6, Bluetooth v5.0
Finger-Print Reader and Face Unlock
USB-C and Wireless Charging
Unsurprisingly, this specification comes at a very premium price point, starting at £1799. This (rediculous) price is the primary reason not to buy the Fold2, recognising that competent smartphones such as the OnePlus Nord can be purchased for £349.
Instead, the Fold2 should be seen as a concept, which happens to be available for purchase for those that have the financial means and desire/need to test future capabilities.
This article will focus on my observations/experience using the Fold2, to understand the viability and practical benefits of a foldable smartphone.
As an example, science fiction has hypothesised this type of technology for many years, as highligted by the image below, which was taken from the popular TV series Westworld.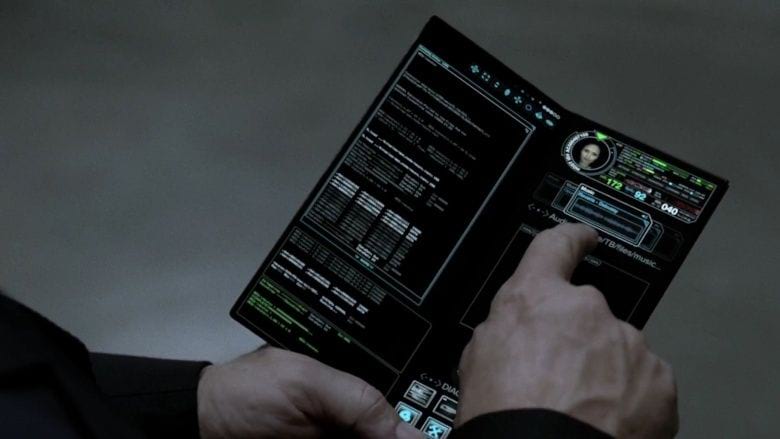 If you are looking for a traditional smartphone review, I would recommend watching the video below from Marques Brownlee.
Before focusing on my specific observations, I want to acknowledge that I believe the Fold2 is the "real deal", delivering on the promise of a foldable product that can replace a traditional smartphone and a small tablet.
It would be easy to see the Fold2 as a niche product or a gimmick, but after using the device for several weeks, I am convinced that foldable smartphones deliver tangible value, even for mainstream consumers.
I am also confident that Samsung has successfully evolved the hinge, delivering a truly innovate solution that appears to mitigate the previous issues.
The video below describes how the new hinge and sweeper technologies work, which have apparently been tested to withstand 200,000 folds (100 folds per day for five years).
With that said, there are a few areas that need additional work (either product evolution or time to mature).
The 22.5:18 aspect ratio of front display on the Fold2 is not ideal, making text input and/or media playback awkward. However, it is a positive step from the first generation, which included a smaller 25:9 display. The display is also limited to 60Hz, which is comparable to the Apple iPhone 12 but noticeably less responsive than the unfolded 120Hz display.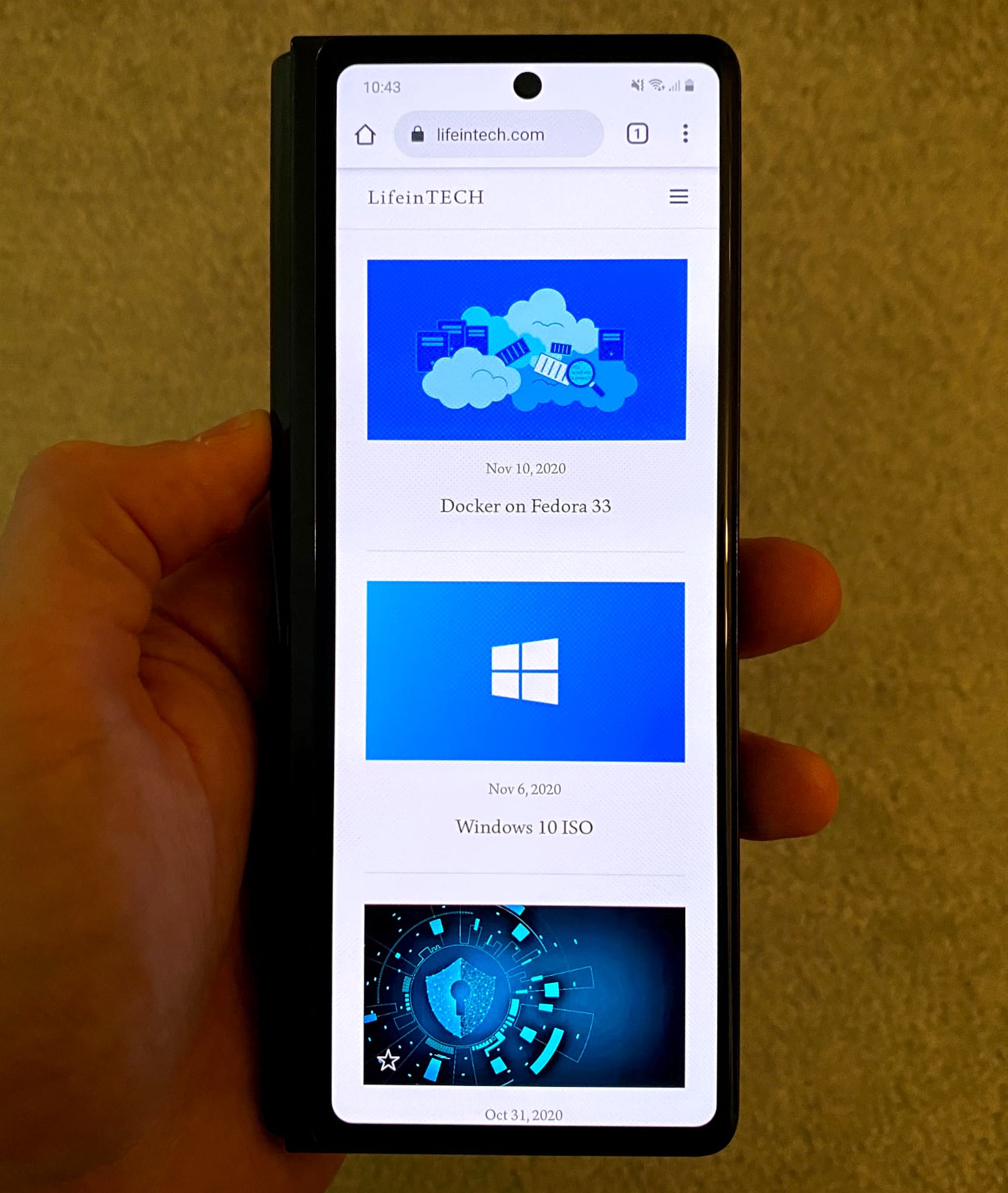 In my opinion, if a future foldable smartphone could deliver a more traditional aspect ratio for the front display, it could successfully achieve "the best of both", operating as a traditional smartphone for day-to-day tasks, as well as a compelling small tablet, similar to the Apple iPad Mini.
As an example, the photo below highlights two iPhone's, each with a 5.8-inch display, which could be "unfolded" into a larger 7.5-inch display. For comparison, I have placed the iPhone's on top of the Fold2, demonstrating that a subtle shift in aspect ratio could deliver a better overall experience.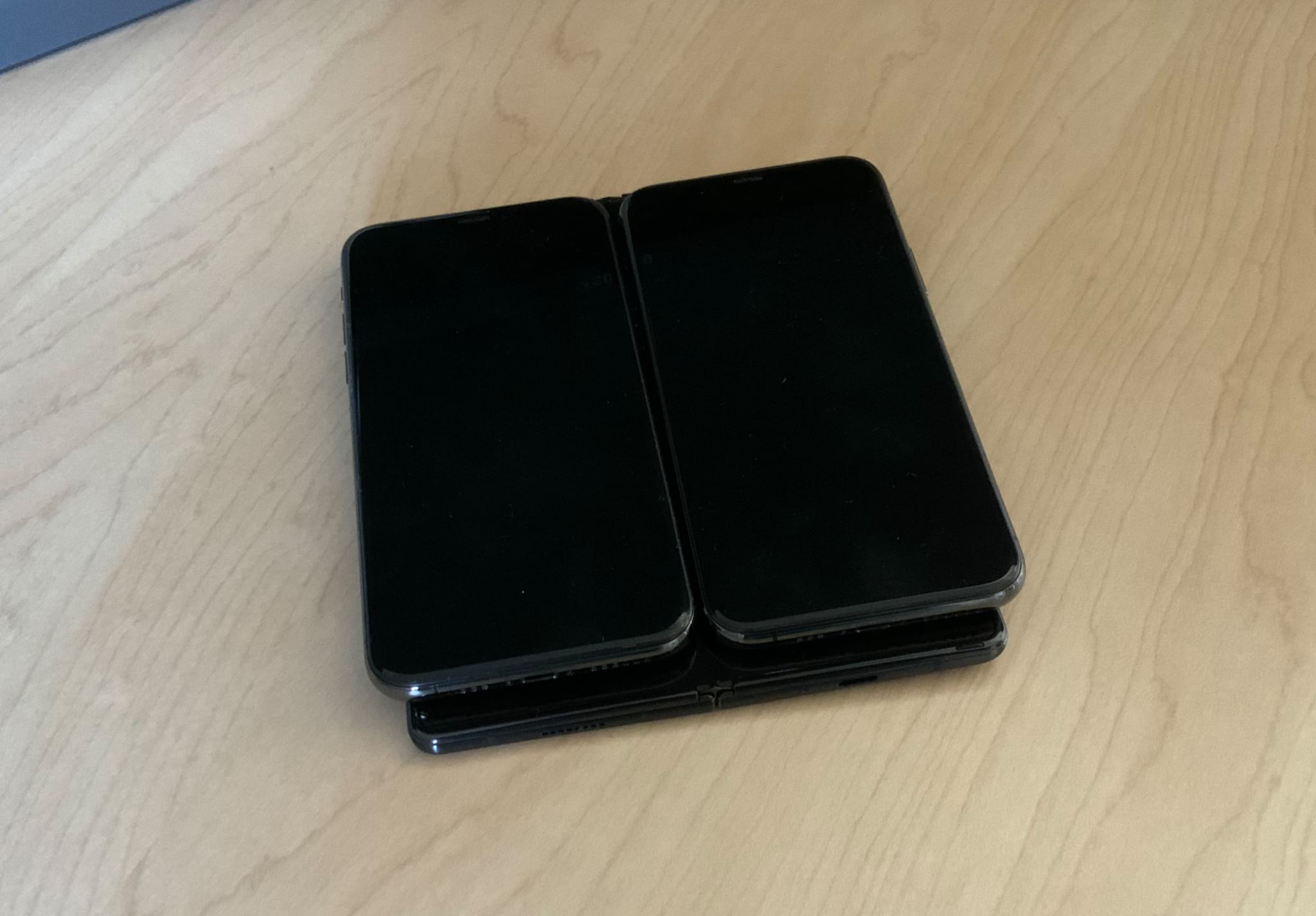 Another minor point of contention is the crease left by the fold itself, which is noticeable via sight and touch when using the unfolded display. However, in my experience, similar to the "notch" on the iPhone, when immersed in content, the crease is rarely a distraction. With that said, I do hope the technology continues to mature, delivering a truly flat display when unfolded.
At 16.8mm the thickness of the Fold2 when folded can be awkward, especially when combined with the "tall" aspect ratio. It is also heavier than an average smartphone at 282g, although the weight was only a minor inconvenience.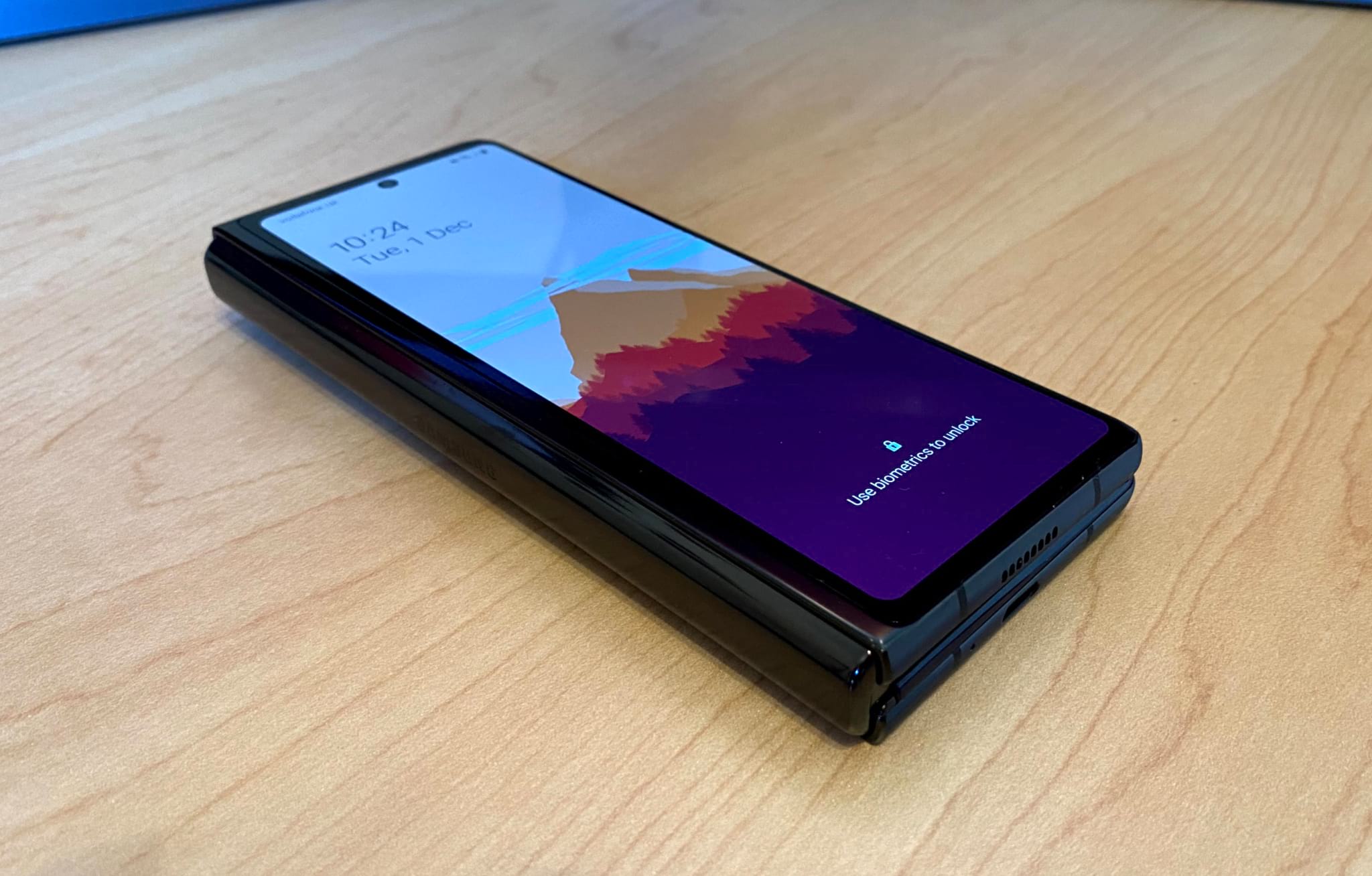 Although not directly comparable, the Microsoft Surface Duo has demonstrated the potential for a thinner foldable device at 9.9mm.
In my opinion, somewhere between the two (12mm) should be viable (minimising trade-offs), delivering an acceptable balance when you consider the technology required to achieve the folding mechanism.
The primary limitation is the need to manage the curvature of the OLED display, meaning it cannot close fully end-to-end. This is a limitation of the current generation OLED displays, which will hopefully improve in the future.
Unsurprisingly, based on the specification, the performance of the Fold2 is excellent, comparable to other Android flagship smartphones such as the OnePlus 8 Pro, etc. Battery life has also been very good, easily lasting a day with a varied workload include streaming video.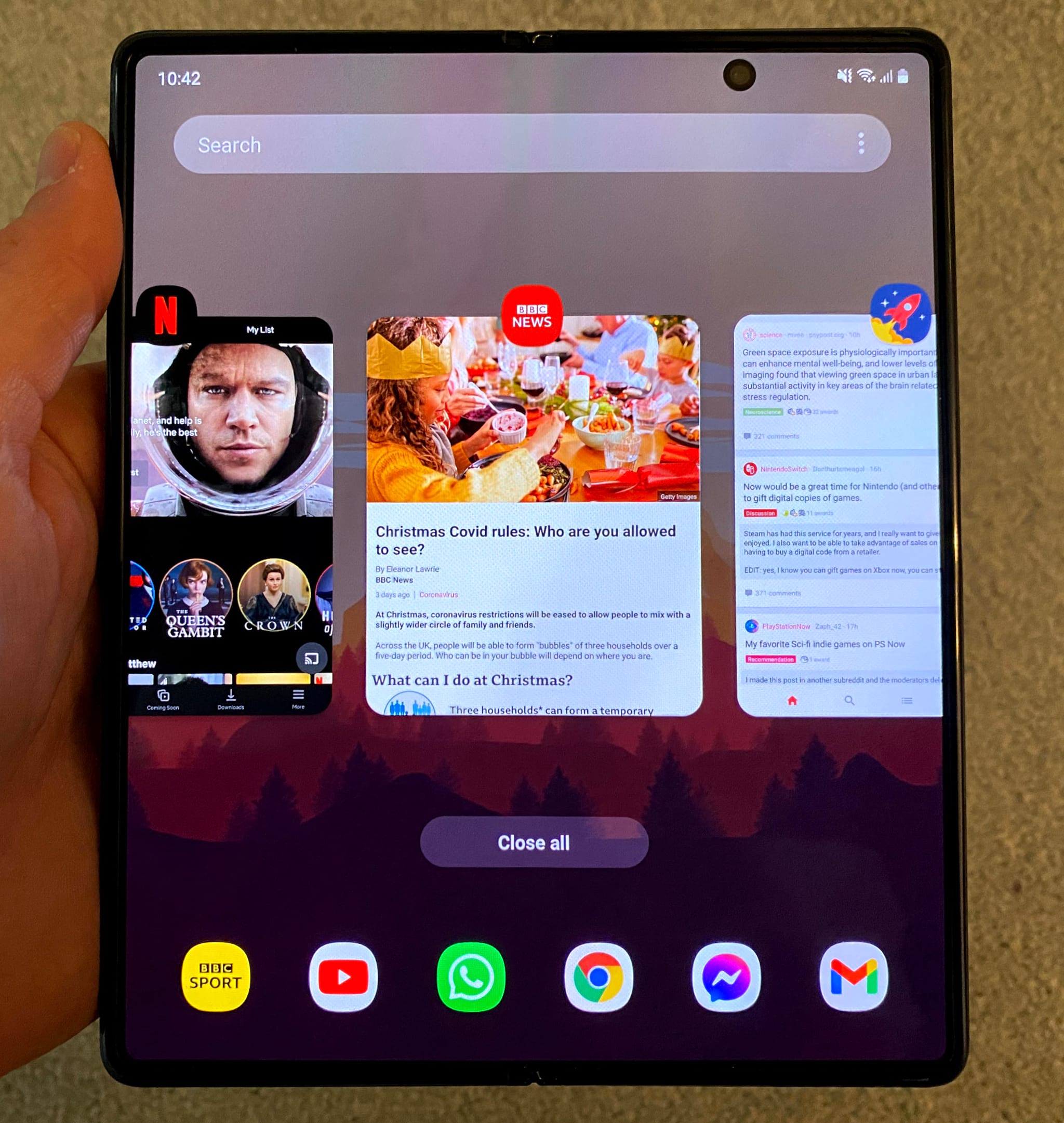 The same can be said for the five (yes, five) cameras, which are all flagship quality, similar to what can be found on the Samsung Galaxy S20 line of smartphones. Assuming "under-display" cameras become viable soon, manufactures could also remove the need for the "punch-hole" cameras, delivering a fully interrupted display.
Application compatibility is good, but not perfect. Due to the lacklustre adoption of Android tablets, developers have less incentive to optimise their apps for larger displays. Therefore, not all apps utilise the additional display real-estate effectively, for example, apps such as Facebook, Instagram, etc.
With that said, the transition between the front and unfolded display is seamless, with most apps delivering a better (if not fully optimised) experience on the larger display. For example, productivity apps such as Microsoft Office 365 and video playback apps such as Netflix work great, demonstrating the potential of a larger display!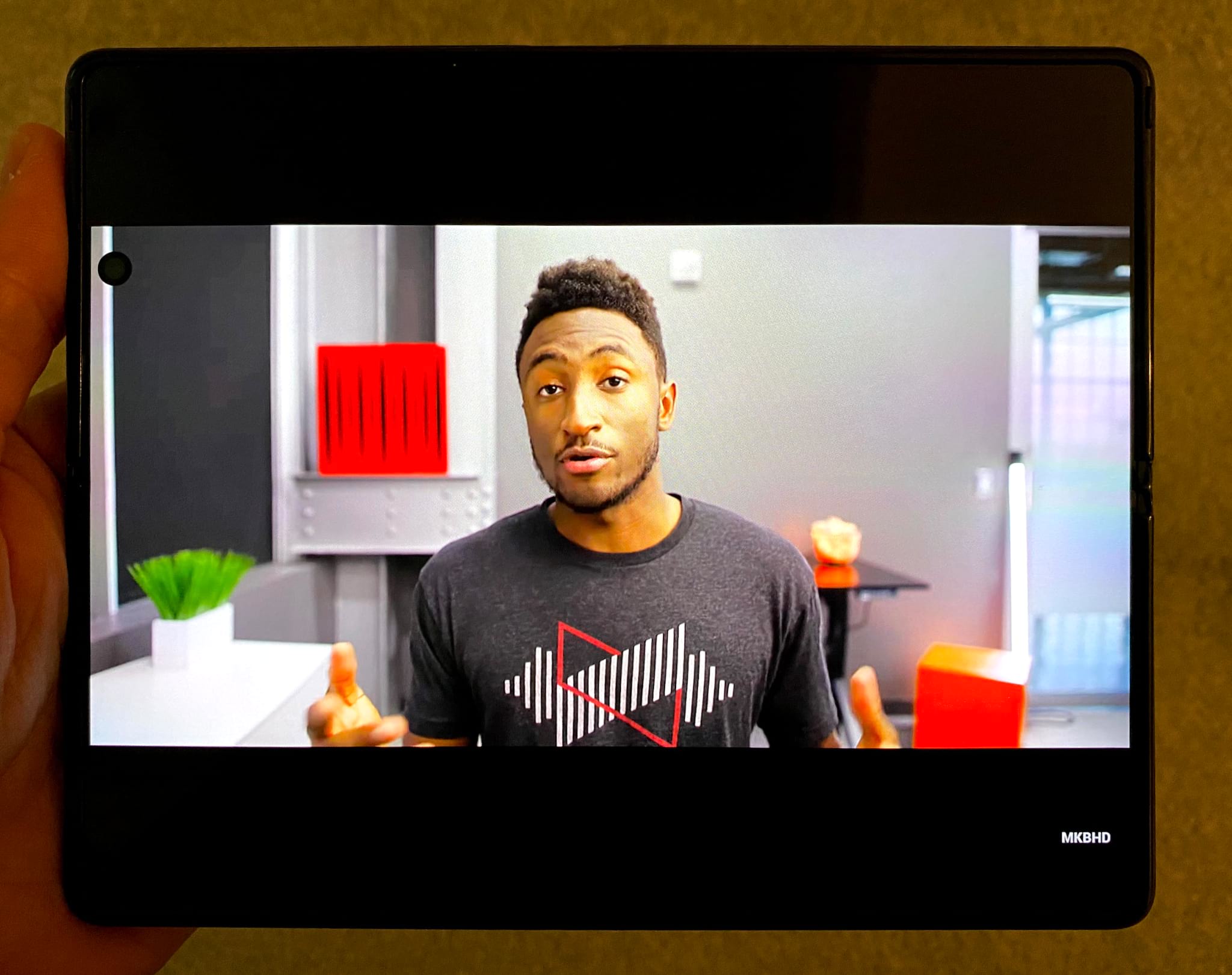 Starting with Android 10, Google has made foldable smartphones a core part of the Android ecosystem. Therefore, I expect compatibility to improve over time, hopefully, incentivising hardware manufacturers and third-party developers to take advantage of the new capabilities.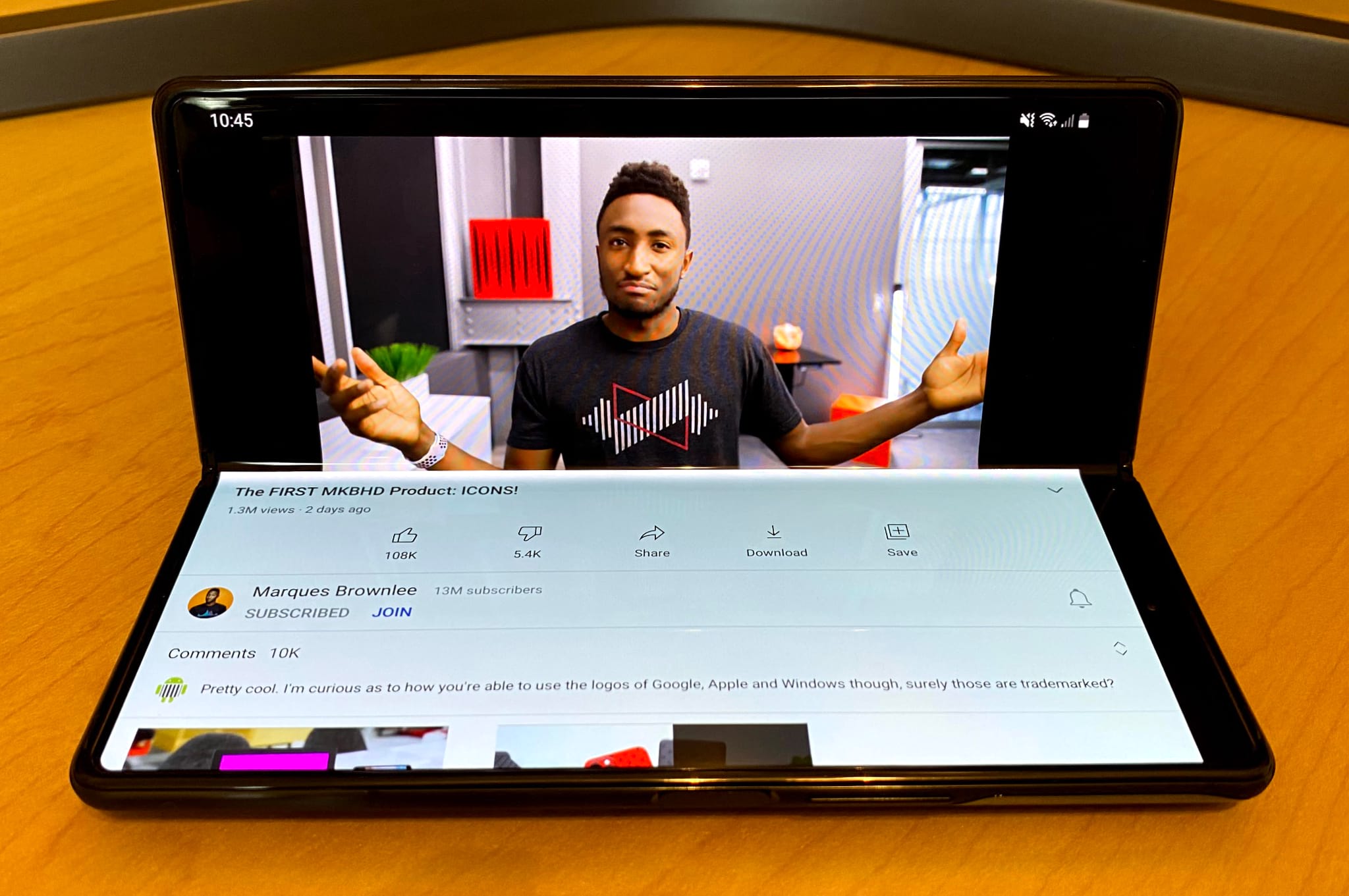 The option to enable "usable" multi-tasking is especially intriguing, which has been a long-running limitation of smartphones that can impact productivity for content creation.
Conclusion
I am convinced foldable (or expandable) smartphones are the future! The ability to seamlessly transform a "traditional" smartphone into a tablet is breathtaking and feels like something straight from science fiction.
Outside of the "wow" factor, the foldable display also offers tangible benefits, potentially removing the need for a user to purchase/carry a smartphone and a tablet.
As smartphones continue to become more performant and feature-rich, it is even possible that a foldable smartphone could become the "one device" for mainstream consumers, even replacing the need for a laptop (assuming compatibility with a monitor and peripherals, etc.)
If I were Google, I would see foldable smartphones as a real opportunity for Android to innovate and differentiate, whilst also reinvigorating the dwindling tablet market. Therefore, I hope to see Google continue to prioritise native foldable capabilities in future versions of Android, especially as I predict Apple will not be far behind.
Overall, based on the constructive feedback outlined in this article, I believe we are two generations (two-years) from achieving a "refined" foldable smartphone that is viable for mainstream consumers. The cost will likely remain high but hopefully normalise to compete with regular Android flagships, which can be purchased for around £1000.
With an additional two generations (total of four-years) the technology should be mature enough to drive economies of scale, resulting in mid-range foldable smartphones that open the door to the mass market.
I am excited by this future, which I believe will signify the next major evolution of the smartphone!
---