In January 2019, I started a series of articles that explored the "art of the possible" if an enterprise business could hypothetically rebuild IT from the ground up, creating a modern IT ecosystem.
The articles predominantly focused on the architecture, technology and positioning of key capabilities, but also (where appropriate) referenced facilitating processes and methodologies.
Recognising that all good IT decisions must include business context, I defined the following hypothetical business characteristics.
Global Business (Americas, EMA, APAC)
Regulated Industry (Food and Drug)
Customers in 90+ Countries
Value Chain includes R&D, Manufacturing, Commercial and Global Services
15,000+ Total Users (Employees and Contractors)
170+ IT Users (Employees and Contractors)
50+ Physical Sites Globally
10+ R&D and Manufacturing Sites (24x7 Operation)
Established Traditional Business Model
Emerging Digital Business Model
$5Billion Revenue
I used these characteristics to inform my proposed architecture, ensuring the content was grounded by a "real-world" scenario, hopefully making it relatable and credible.
Up to now, I have written twelve articles (listed below), covering a wide range of topics. Although each article covers a specific area, they are best reviewed in order, starting with "Modern IT Ecosystem", which provides the required.
This final article (part thirteen) aims to conclude the series (at least for now), providing a summary of the decisions, which contributed to my vision of a Modern IT Ecosystem.
Modern IT Ecosystem
In the article "Modern IT Ecosystem", I shared the following "marchitecture" diagram, which I aimed to highlight my desired end-state.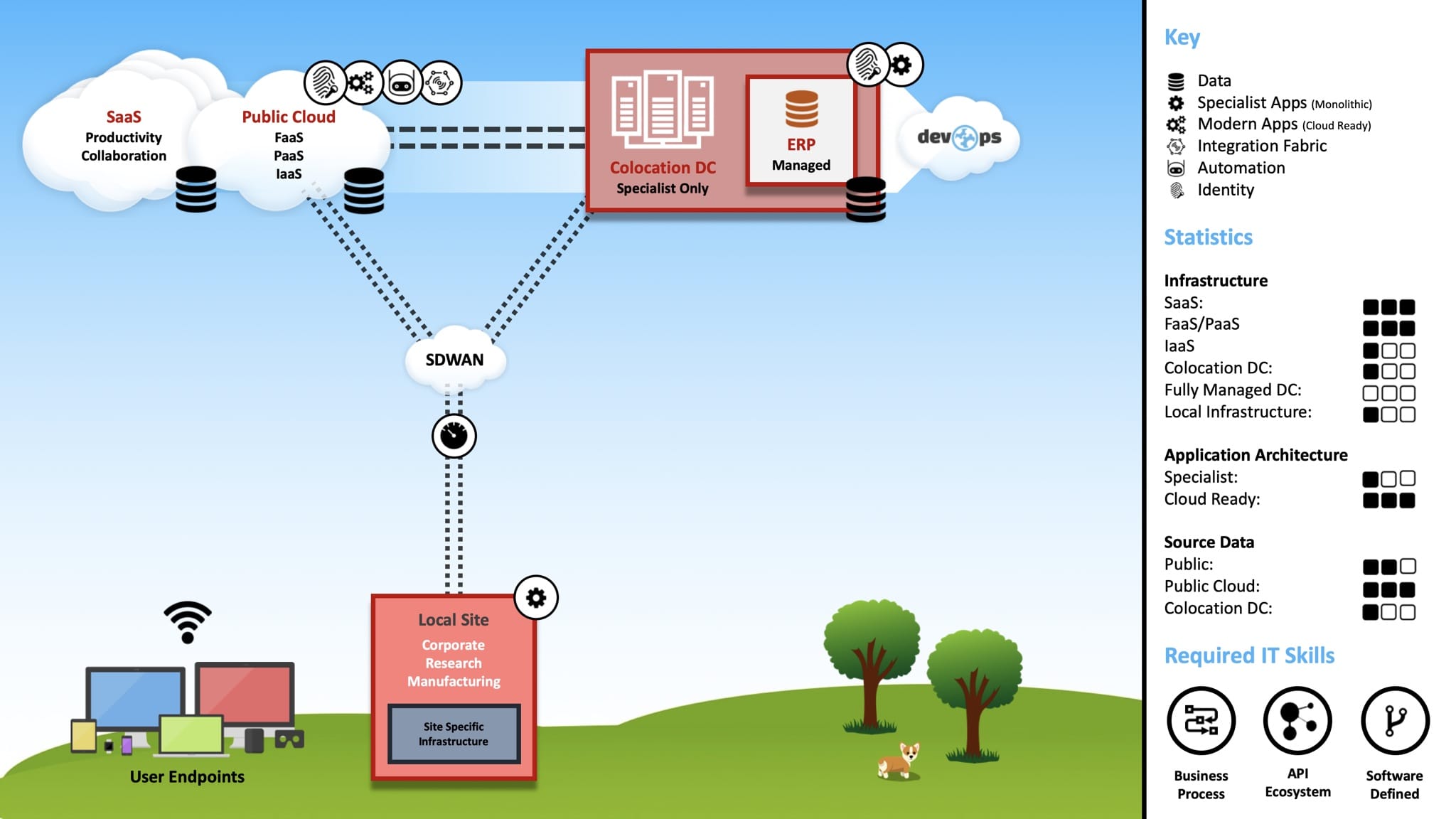 Throughout the past year, I have essentially populated this diagram, detailing the architecture, positioning technologies, as well as highlighting the dependencies and facilitating processes.
The diagram below acts as a conclusion, overlaying the technologies and vendors that I have proposed throughout the series. The details and rationale for each decision can be found within the individual articles.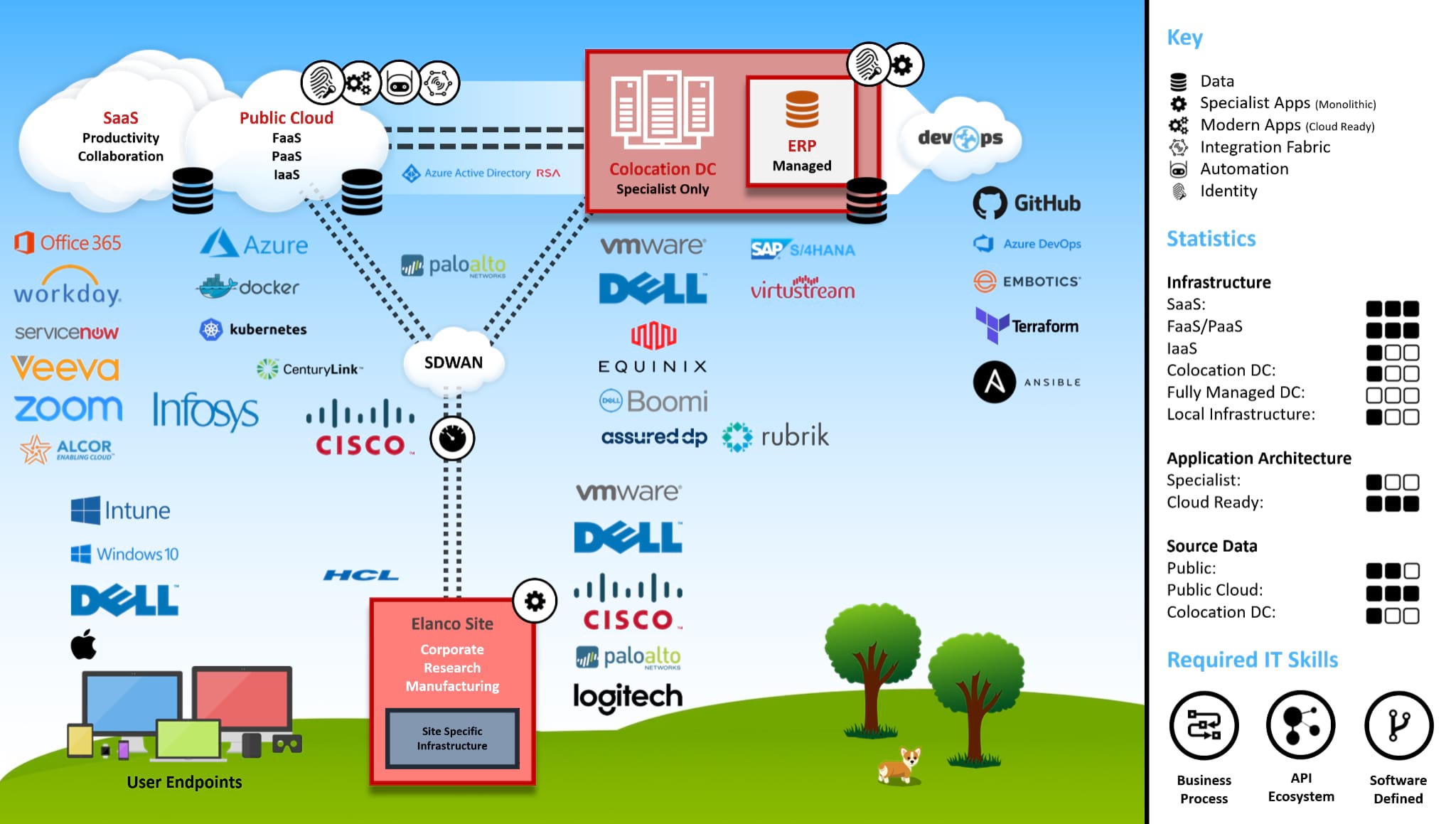 As you can see from the diagram, with my previously described business characteristics in mind, a modern IT ecosystem can quickly become a complex landscape, supported by a wide range of technologies and vendors. With that said, I believe the philosophy, principles and declarations outlined in the article "Modern IT Ecosystem" provided a strong foundation for decision making, helping to drive synergy, improve efficiency and reduce technical debt.
Although I feel confident about my proposed architecture, there are many areas and details I simply did not have the time to document. For example, areas such as Domain Name Service (DNS) provider, Public Key Infrastructure (PKI), Privileged Access Management (PAM), etc. These areas (alongside many others) support critical capabilities that must exist to enable a secure, scalable IT ecosystem.
It is also worth noting that a lot can change within a year, therefore technologies positioned as part of my proposed "modern" IT ecosystem have already been superseded, etc. For example, I had positioned RSA Identity Governance and Access (IGL) as part of my proposed Identity Access Management architecture. Although still a perfectly viable option, part of my decision was driven by the desire to maximise the investment with Dell Technologies. In February 2020, Dell Technologies announced their intent to divest RSA, which would reduce the value proposition associated with my decision.
Cloud is another area that continues to evolve quickly, with new capabilities being added at a furious pace. For example, Microsoft continues to expand and enhance services within Office 365 and Azure, which could potentially be used to replace third-party solutions, enabling a better user experience and reducing costs (especially if bundled under the Microsoft 365 E5 License).
Conclusion
Overall, I hope the "thought experiment" documented throughout this series has provided a useful perspective regarding the creation of a modern IT ecosystem.
I do not claim that my proposed architecture is authoritative (there is an infinite number of options), especially considering all IT decisions must be made in the context of a specific business outcome, with appropriate situational awareness.
With that said, recognising the previously defined business characteristics, I believe this series has accomplished my goal of establishing a robust and highly flexible IT ecosystem for a traditional enterprise business, with emerging digital business opportunities.
For example, prioritising modern technologies and techniques, such as the use of Public Cloud, following an API-Centric Architecture that is Software-Defined and highly automated. This positioning, combined with pragmatic architecture decisions (e.g. Colocation Data Centres) help ensure the proposed IT ecosystem could support almost any workload (legacy or modern).
Finally, it is important to recognise that although this series has predominantly focused on architecture, this is only one piece of the puzzle, with the processes, methodologies and organisation design being critical when looking to unlock the total value proposition. I covered a few of these areas, but would likely need to write a separate series to provide the required level of detail (maybe something for the future).
---