Framework Laptop 13 - AMD
As highlighted in my previous article, we recently launched a pilot focused on sustainable computing within an enterprise business, partnered with Framework.
I am personally passionate about sustainability, which triggered the formal partnership based on my role as Chief Technology Officer (CTO) and Chief Information Security Officer (CISO).
The articles linked below, highlight my journey with Framework.
As it stands, we have approximately 40 laptops (UK and US), covering Intel and AMD configurations.
With the AMD Ryzen series embargo now lifted, I thought I would share a few thoughts regarding our use of the Framework Laptop 13 AMD Ryzen series. This is not intended to be a full review. For that, I would recommend watching the excellent Elevated Systems video.
The specification of my Framework Laptop 13 can be found below:
Framework Laptop DIY Edition
AMD Ryzen 7 7840U (8C/16T)
64GB DDR5-5600 RAM
4TB Western Digital Black SN850X NVMe (7.3GB/s Read)
13.5-inch LCD Display (2256x1504 @ 60Hz)
2x USB4 (USB-C), 1x USB 3.2 G2 (USB-A), 1x HDMI 2.0b
This is the "high-end" configuration, representing the best available performance.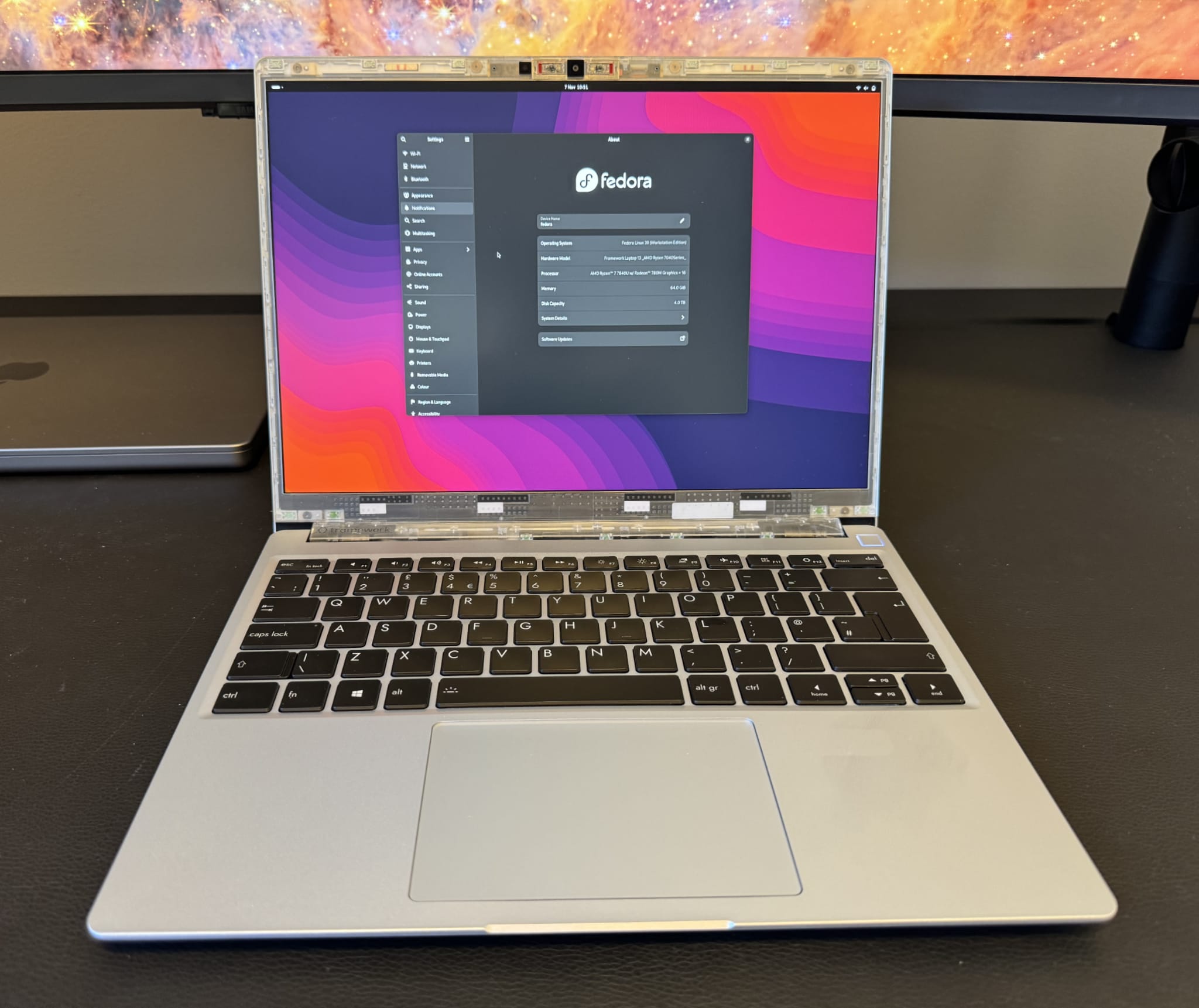 I am a Linux user (specifically Red Hat Fedora). However, our business standard is Microsoft Windows 11.
Therefore, I will split my thoughts into three parts, general (applies to both Linux and Windows) and then some specific observations for each operating system.
General
I have used every version of the Framework Laptop 13, specifically the Intel 11th Generation, Intel 12th Generation, Intel 13th Generation and AMD Ryzen series.
Although the form factor and build quality have remained consistent, I can state without question that the performance and power consumption (e.g., battery life) have improved with each upgrade. Therefore, comparing the Intel 11th Generation (2022) with the AMD Ryzen series (2023) is "night and day", with the AMD Ryzen series delivering more than double the performance when running any application that is multi-thread dependent and/or graphics intensive.
However, it is the heat, noise and battery life where the AMD Ryzen series shines, delivering upwards of four hours of improved battery life over the equivalent Intel configuration. In my opinion, this is the first Framework Laptop 13 with "all day" battery life, removing the need to consistently carry a power supply.
The AMD Ryzen series can still get hot and loud, just like the Intel configurations. However, this appears to be far less common when executing daily tasks, such as productivity, collaboration, web browsing, media consumption, etc. Instead, the AMD Ryzen series only becomes noticeably hot and loud when under sustained load, which is far more acceptable.
A few additional observations that I have not seen as commonly discussed in the public reviews.
The Framework Laptop 13 AMD Ryzen series leverages DDR5 memory (unlike the Intel series, which still uses DDR4). The first boot after building the Framework Laptop 13 AMD Ryzen series was painfully slow, to the point where I questioned if there was an issue. I later discovered, that this was likely due to the memory "training" requirement of DDR5, which can seemingly take up to 15 minutes (depending on the amount of memory installed). Therefore, prepare to be patient with the first boot and do not immediately assume there is a hardware issue.
Another unique aspect of the AMD Ryzen series is the expansion card configuration. Unlike the Intel series, only certain ports support specific expansion cards, with the wrong configuration potentially impacting usability and/or power consumption. The diagram below outlines the Framework certified port configuraiotn.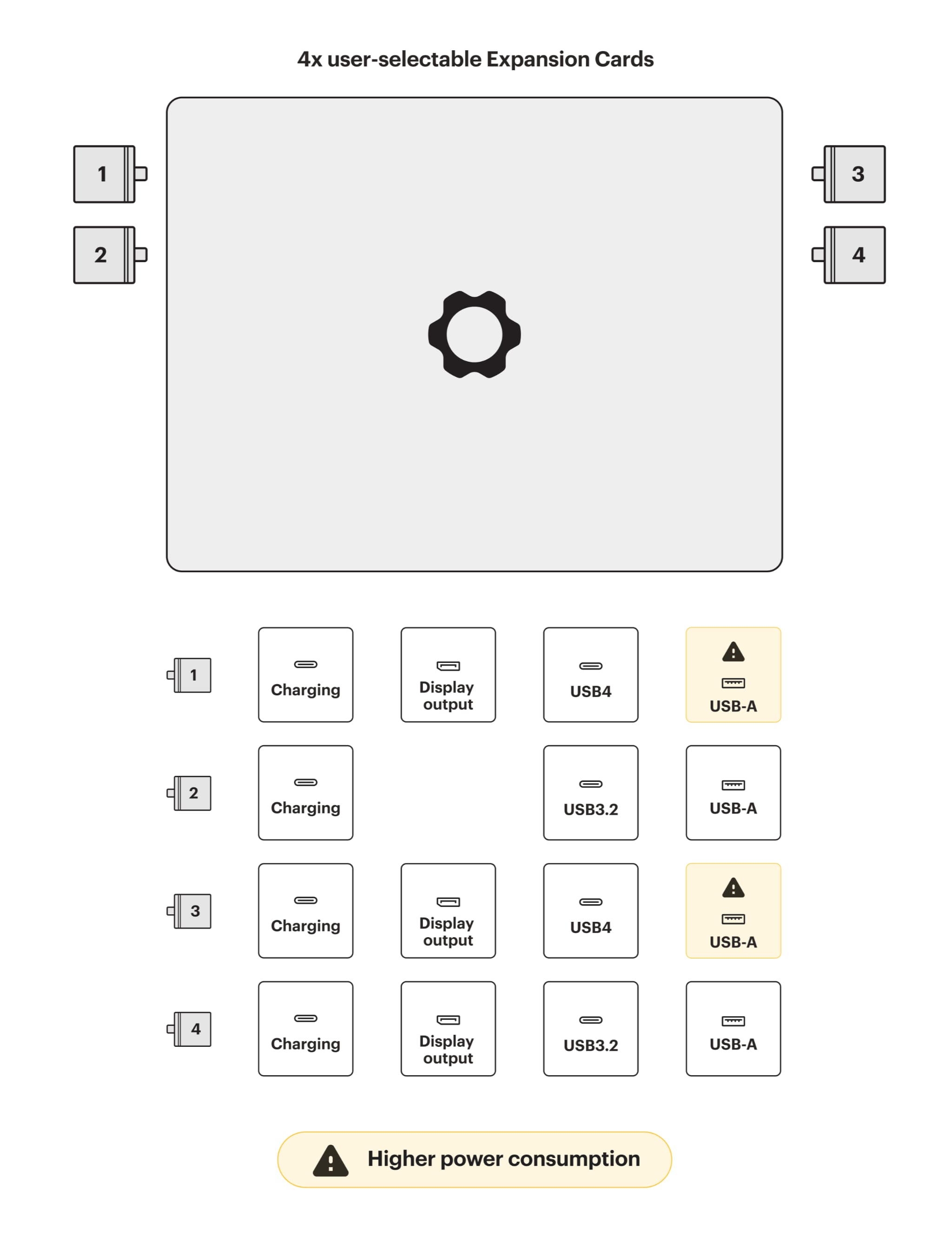 Finally, although I am confident the AMD Ryzen hardware is a positive step forward compared to Intel 13th Generation, it would appear the software is less mature, resulting in some reliability issues.
For example, inconsistent behaviour when connecting monitors and using external peripherals via USB and/or Bluetooth. Nothing is fundamentally broken. However, it can sometimes take several attempts for everything to work as designed.
Although I cannot be sure, I suspect these issues are software (firmware/driver) related, something that I have reported to Framework for investigation.
Linux (Red Hat Fedora)
At the time of writing, Fedora 39 is not generally available. Therefore, my testing was with a near-final beta using the 3.03 BIOS for AMD Ryzen.
Fedora 39 beta was installed without error, including native drivers for all components. The only issue I had related to the fingerprint reader, which required me to manually install a driver package, as outlined in the Framework Fingerprint Reader guide on the help center.
The benchmarks below are not perfect (due to the software differences). However, it does highlight the strengths of the AMD Ryzen 7 7840U vs. the equivalent Intel i7-1370P.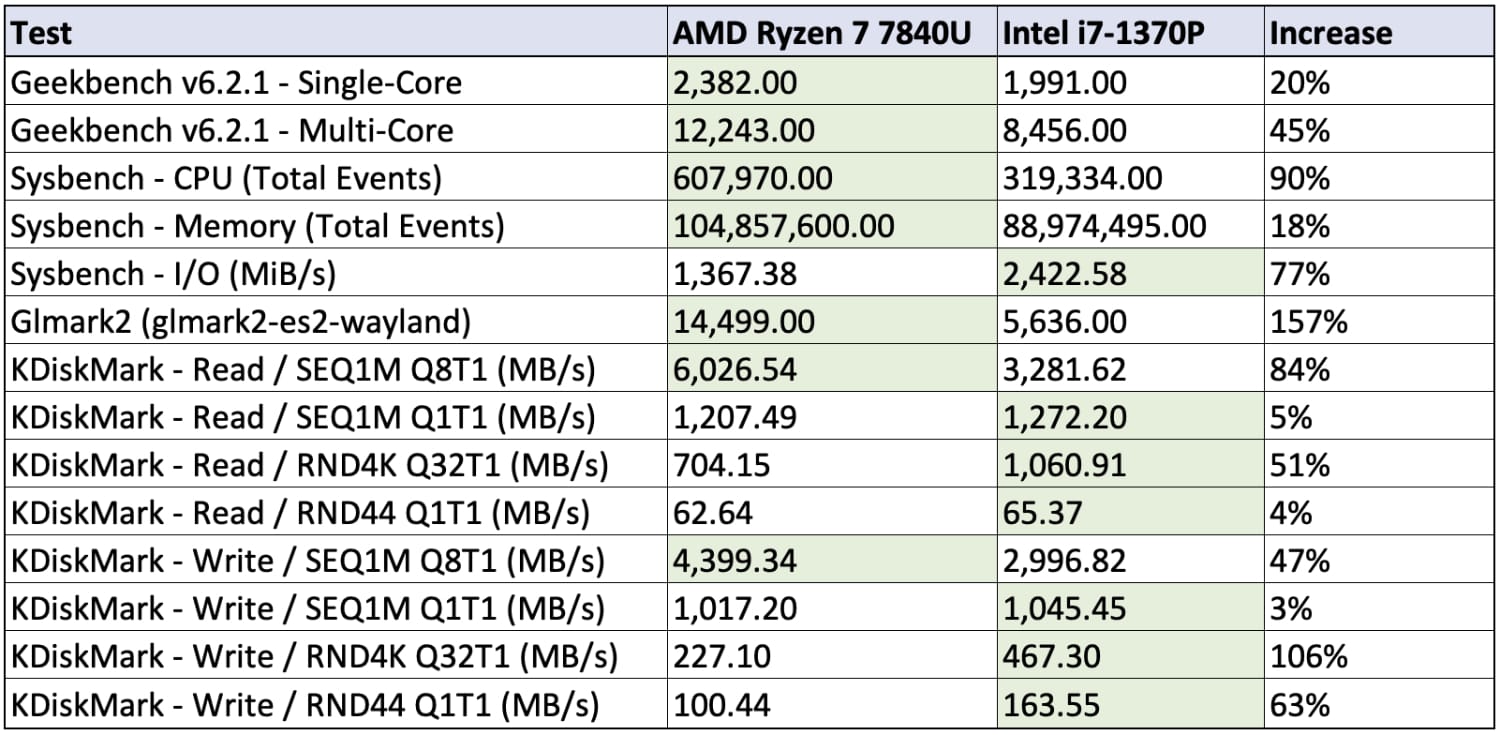 As the results show, the AMD Ryzen easily outperforms Intel in all CPU, GPU and memory tests. Interestingly, the Intel does deliver better I/O performance. However, my testing could not confirm if this is due to the underlying architecture or differences in the SSD configuration (AMD = 4TB WD Black SN850X NVMe / Intel = 1TB WD Black SN850X NVMe).
Windows 11
The testing with Windows 11 has also been positive. It should be noted that the AMD Ryzen 7040 series is built for Windows 11. Therefore, may not install/run correctly with any prior version of Windows (including Windows 10).
Outside of the general observations (listed above), the performance on Windows appears to match the results shown for Linux.
The only Windows-specific issue identified relates to the Trusted Platform Module (TPM) and Microsoft Intune, which is only a problem for businesses using Microsoft endpoint management.
In short, Microsoft Intune does not think the laptop has Secure Boot and Encryption enabled, even though Windows 11 confirms that they are. It is our belief this has to do with the TPM failing attestation, which Microsoft Intune requires to ensure the TPM is valid and certified. It could also be a BIOS maturity issue, specifically related to the use of Microsoft Pluton.
This very specific issue should not impact consumer usage and can be mitigated in a business environment through a custom Microsoft Intune policy. This issue has also been reported to Framework for investigation.
Conclusion
Overall, the AMD Ryzen series is without question the best version of the Framework Laptop 13. It is highly perfomant (Windows and Linux) with excellent battery life. The software does not appear to be as mature. However, I would expect this to improve quickly over the coming weeks/months.
As a result, if you are in the market for a Framework Laptop 13 and do not have a specific reason to select an Intel configuration, I would recommend the AMD Ryzen series.
---