Update - Hardware specification updated to include the Samsung G95NC.
I switch between three devices (one desktop and two notebooks), which are primarily used for productivity, collaboration, software development, photo editing, video editing, virtual labs, gaming and game development.
My daily driver is a custom-built desktop PC. The full specification can be found below:
MSI MAG X570 Tomahawk WiFi
AMD Ryzen 9 3950X 3.5GHz Base / 4.7GHz Boost (16C/32T)
Noctua NH-D15 CPU Cooler
64GB Corsair Vengeance LPX DDR4 PC4-28800C18 3600MHz RAM
1TB Samsung 980 Pro M.2 PCI-e 4.0 NVM-e SSD
1TB Samsung PM981 M.2 PCI-e 3.0 NVM-e SSD
NVIDIA GeForce RTX 3090 FE 24GB GDDR6X
EVGA SuperNova P2 1000W '80 Plus Platinum' PSU
Fractal Torrent Compact
The AMD Ryzen 3950X, Samsung 980 Pro and Nvidia GeForce RTX 3090 are several years old, but still considered premium components, delivering high-performance across a range of workloads (e.g., multi-threading, ray-tracing gaming, machine learning, video editing, etc.)
When remote or travelling, my daily driver is an Apple MacBook Pro 16-inch (JAN-2023). This notebook is also used to run Apple-specific software, such as Xcode and Final Cut Pro.
The full specification can be found below:
Apple MacBook Pro 16-inch (JAN-2023)
Apple M2 Max (12-core - 8 Performance / 4 Efficiency)
38-core GPU (13.6 Teraflops)
16-core Neural Engine
96GB Unified Memory (400GB/s Memory Bandwidth)
2TB SSD (7.4GB/s Read)
3x Thunderbolt 4, HDMI 2.1, 3.5mm Headphone, SDXC Card Reader, MagSafe 3
16.2-inch Liquid Retina XDR Display (3456x2234 @ 120Hz, 1600nits)
Finally, I use a Framework Laptop running (Fedora) for Linux-specific workloads (e.g., Linux Containers, Ethical Hacking, etc.) I am a believer in the "right to repair" and, therefore eager to support companies promoting this cause.
The full specification can be found below:
Framework Laptop DIY Edition
AMD Ryzen 7 7840U (8C/16T)
64GB DDR5-5600 RAM
4TB Western Digital Black SN850X NVMe (7.3GB/s Read)
13.5-inch LCD Display (2256x1504 @ 60Hz)
2x USB4 (USB-C), 1x USB 3.2 G2 (USB-A), 1x HDMI 2.0b
At home, the desktop PC and Apple Mac Studio connect to a 57-inch Super Ultra-Wide monitor, specifically the Samsung G95NC Odyssey Neo G9 240Hz Dual UHD Monitor.
The full specification of this massive monitor can be found below.
Model: Samsung G95NC Odyssey Neo G9
Panel Size: 57-inch
Panel Type: VA (Quantum Mini LED - 2,392 Zones)
Panel Curvature: 1000R
Aspect Ratio: 32:9
Resolution: 7680x2160
Refresh Rate: 240Hz
Variable Refresh Rate: AMD FreeSync Premium Pro
Response Time: 1ms (GTG)
High Dynamic Range: HDR10+ Gaming, VESA DisplayHDR 1000
Brightness: 420cd/㎡ (Typical), 1000cd/m2 (Peak)
Interface: 3x HDMI 2.1 (HDCP 2.2), 1x DisplayPort 2.1 (HDCP 2.2)
My workspace is kept fairly minimal, thanks to the exceptional Secret Lab Magnus Pro XL sit-to-stand desk. The monitor is mounted on an Ergotron HX with HD Pivot, which is a heavy duty monitor arm that can (just about) support the 15.4 kg weight of the Samsung G95NC Odyssey Neo G9.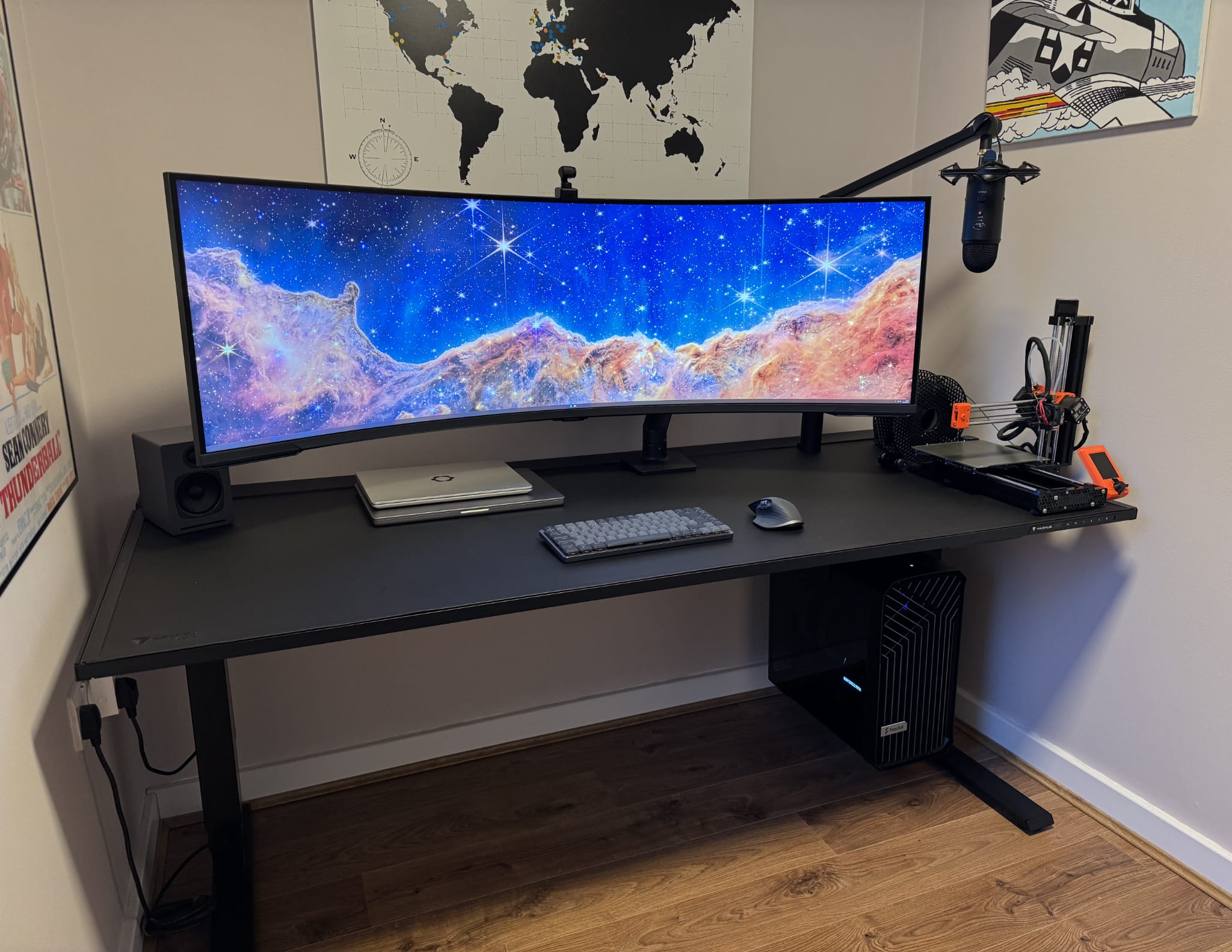 As you can see, for peripherals, I primarily use the Logitech MX Mechanical Mini, Logitech MX Master 3S and Insta360 Link. The keyboard and mouse were selected as they include "easy switch", which makes it simple to toggle between multiple devices.
The photo also highlights my microphone setup, which is a Blue Yeti connected to the Blue Yeticaster that includes the Compass Boom Arm and Radius III Custom Shockmount. The microphone is primarily used for video conferencing, screencasting, webinars and podcasts.
Additional peripherals include speakers (AudioEngine A1), headphones (Razer BlackShark V2 and Bang & Olufsen BeoPlay H8), controller (Microsoft Xbox Elite Series 2), flight controller (Saitek X-55), steering wheel (Logitech G29) and virtual reality headset (Meta Quest Pro).
As highlighted in the photo below, my desktop PC is mounted to the desk using the Secret Lab Premium PC Mount, with the PC case door exposed providing easy access to the components.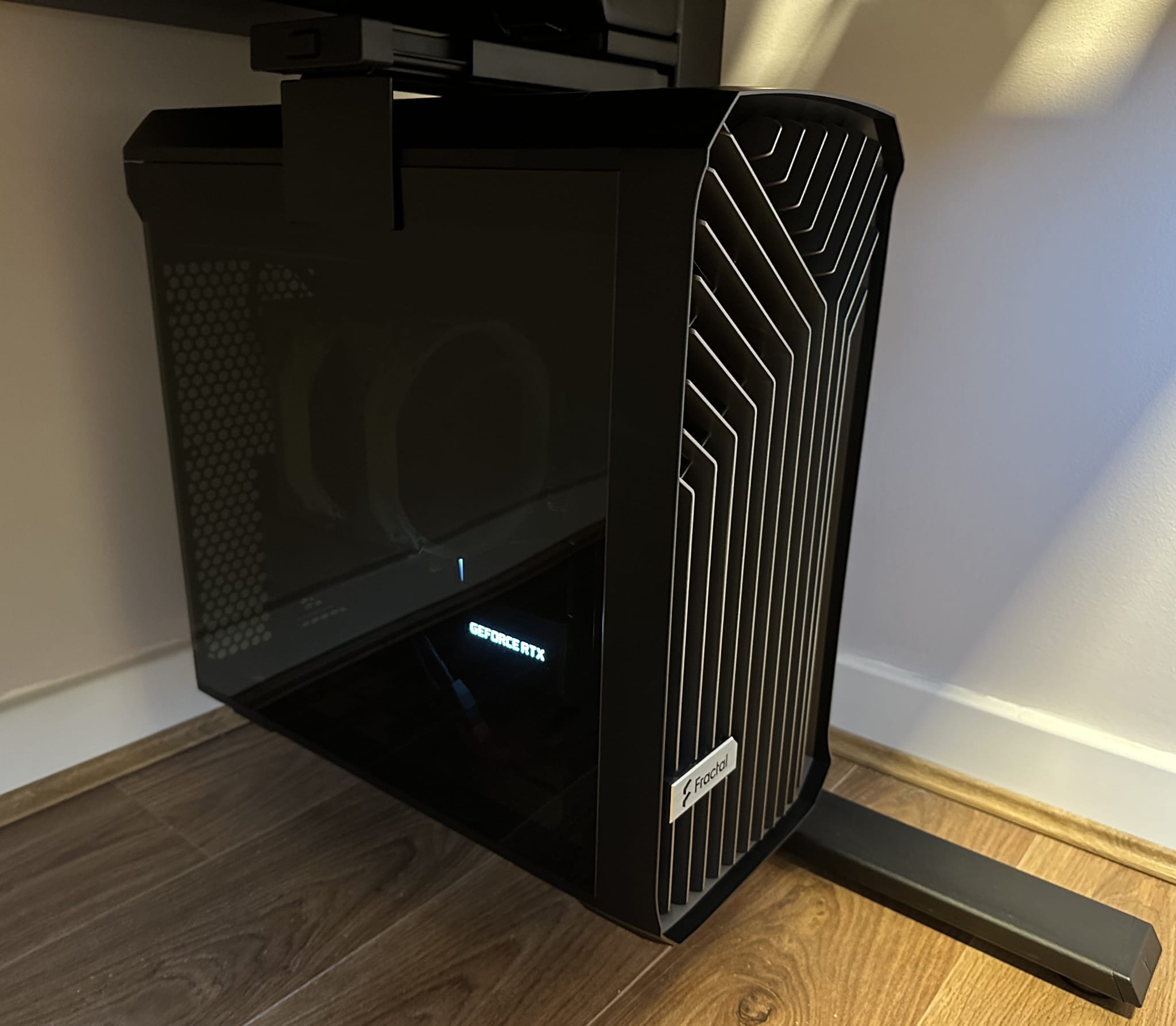 Accompanying the desktop PC and monitor is an Original Prusa MINI+, which is an open-source 3D printer.
Finally, I use a Herman Miller Mirra 2 chair, which balances comfort and personalised ergonomics.
Home Server
Alongside my desktops and notebooks, I have a small home server, which is connected to my Samsung S95B OLED TV (65-inch). The server manages local and cloud backups, server-side workloads, media streaming, and collaboration (video conferencing).
I selected an Apple Mac mini (NOV-2018) for the server, thanks to its excellent power efficiency (150W), high-performance I/O and small form factor. The Mac Studio also offers flexible video conferencing capabilities covering Apple FaceTime, Zoom, Microsoft Teams, Google Meet, Cisco WebEx, WhatsApp Video, etc.
Apple Mac mini (NOV-2018)
Intel Core i5-8500B 3.0GHz Base / 4.1GHz Boost (6C/6T)
64GB Corsair Vengeance Series 2666MHz DDR4 RAM
256GB PCI-e SSD
Intel UHD Graphics 630
2x 500GB Samsung Portable T5 SSD (USB 3.1 Gen2)
The 1256GB of local SSD storage is split across multiple drives for resilience, with automated backups being completed by Carbon Copy Cloner and Cloud Storage via Microsoft OneDrive.
The 1TB of local storage is replicated to a local SD Card for resilience, with automated backups being completed by Carbon Copy Cloner and Cloud Storage via Microsoft OneDrive.
The only peripheral connected directly to the Mac mini is a Logitech Brio Ultra HD Pro webcam, which delivers phenomenal video quality (4K/30fps - HDR), a wide viewing angle (90-degree dFoV) and a surprisingly good stereo, dual omnidirectional integrated microphone.
To support my minimal (hidden-wire) entertainment setup, all of my AV equipment (Sony STR-DN1050 AV Receiver, Sony PlayStation 5, Logitech Harmony Hub) is located in a cupboard under the stairs, with the required cables fed through the wall to the TV. This can be a little inconvenient when looking to insert/change physical media, but thankfully the cupboard offers plenty of space and ventilation.
---