Do we need another desktop web browser? If you had asked me at the start of the year, I would have said no… With Chrome, Firefox, Safari, Edge, Opera, Brave, LibreWolf and hundreds of Chomiumum-based variants, I would have argued there is something already available for everyone and every requirement.
Therefore, I was highly sceptical when I received an invitation to try Arc, a Chromium-based desktop web browser from a start-up known as "The Browser Company of New York" (AKA The Browser Company).
Although I have jumped between browsers over the years, I have always found myself (for better or worse) returning to Google Chrome. However, it has now been several weeks and I have not intentionally opened Google Chrome once on my Mac. Arc has become my primary browser and, as a result, my most used macOS desktop application.
In my opinion, Arc has succeeded where so many others have failed. For example, when Microsoft announced the Chromimum-based version of Edge, I felt there was an opportunity to build a streamlined desktop web browser, with an aggressive focus on user experience. Instead, just like Google, they delivered a vehicle to deliver ads and attempt to up-sell Microsoft services, without offering any tangible user experience improvements over Google Chrome.
At its core, Arc is a Chromisum-based web browser. That means it is secure, performant (or performant enough) and highly compatible (responds just like Google Chrome). It also has perfect interoperability with all existing Chrome extensions.
The decision to build on a Chromisum-base was a wise choice, helping to ensure Arc did not start life at an immediate disadvantage. In short, all of your favourite websites, web apps and extensions (e.g., developer tools, password managers, spelling/grammar checkers) will work exactly as designed.
So why is Ark better than Google Chrome? In my opinion, the primary differentiator is user experience.
Ark moves the traditional tab bar from the top of the browser window to a sidebar. This sounds like a trivial change, but in a world of widescreen displays, it better utilises the screen real estate, whilst also opening the door to a new workflow paradigm.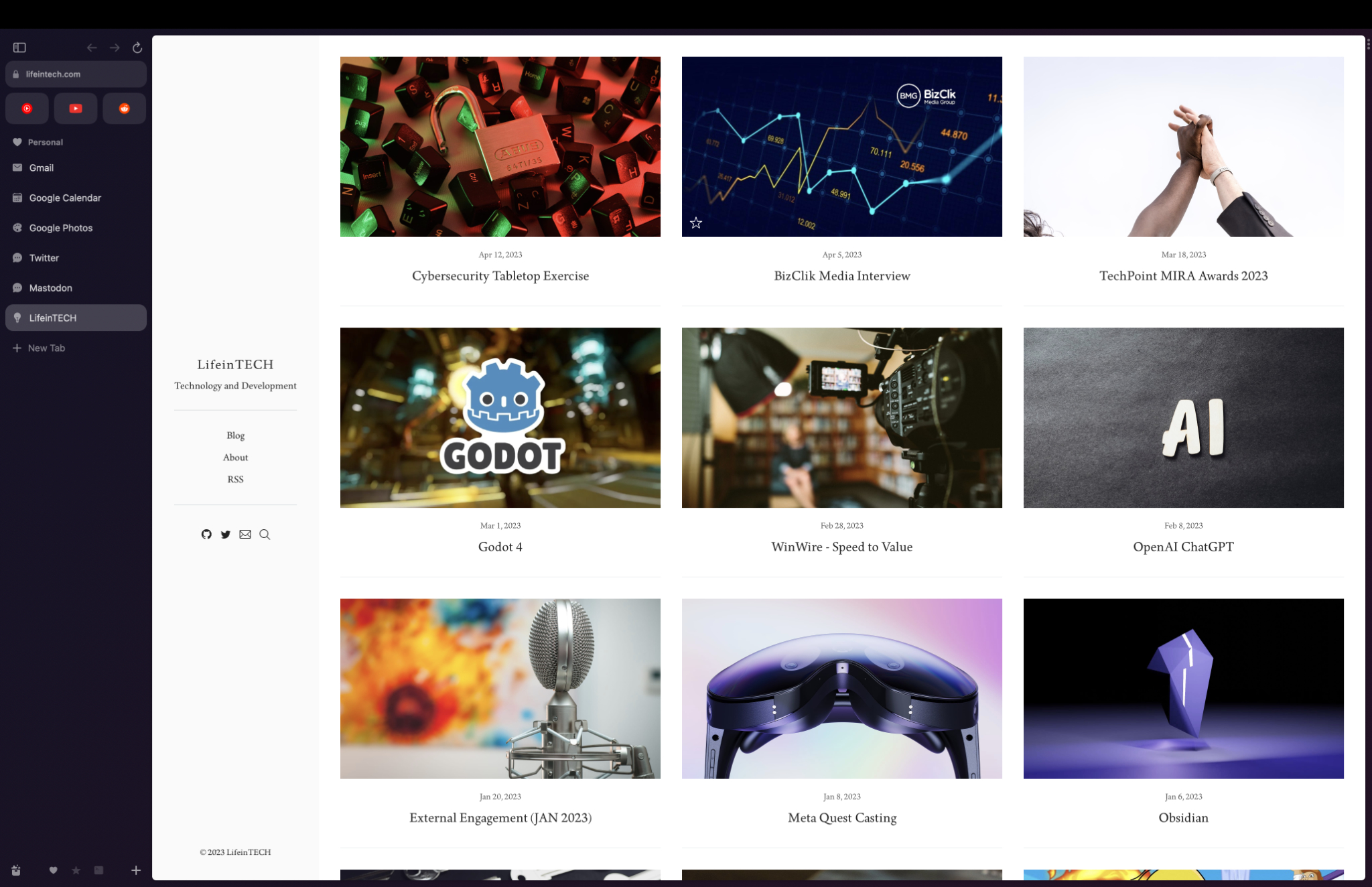 The sidebar is split into "spaces", which are personally customisable groups. For example, I have "Personal", "Work" and "Development" spaces. Spaces can be accessed by swiping horizontally within the sidebar or by clicking the relevant icon (bottom of the sidebar). Spaces can also be isolated (if required), meaning, if you have a personal and work account for the same website or web app, you can log into both simultaneously (no tedious account switching required).
Within each space, traditional tabs are split into three types, "favourites", "pinned" and "today".
Favourites appear at the top of the sidebar and persist across spaces. They are great for websites or web apps that you frequently use regardless of your current workflow. For example, I have favourited YouTube, YouTube Music and Reddit. What is even better, Arc includes an excellent media control centre and picture-in-picture mode, meaning I can watch a YouTube video, whilst still navigating other spaces, websites and web apps.
Below favourites are pinned tabs, which can be individual websites, web apps or grouped into folders. Anything that is pinned is persistent for the space and will always be available, with a quick way to return to the default location. Certain pinned websites (e.g., Google Mail, Google Calendar, Microsoft Outlook) also include special features, such as notifications and quick views. For example, within my "Work" space, I pin business websites such as Outlook Email, Outlook Calendar, Monday.com, Workday, ChatGPT, etc.
Finally, today tabs are any tabs you opwned that day. They can be easily pinned (if required). However, will automatically be moved to "Archived Tabs" at the end of each day. This archive is always available and can be searched or filtered, so nothing is ever lost.
These relatively simple changes have revolutionised my web browsing workflow. Instead of having a long, horizontal row of illegible, co-mingled tabs, covering personal, work and development. I now have structured spaces, which can be switched instantly and always retain the relevant context.
Arc comes pre-configured with robust security and privacy controls (including the ad-blocker uBlock Origin), as well as a few unique features such as Split View, Easels, Notes, and Screen Capture, which further facilitate multitasking and collaboration. To be honest, I have not taken advantage of these capabilities (yet), but as far as I can tell, they are very well-integrated and are not overly obtrusive.
In summary, Arc is the first browser since Firefox was first released in 2004 that has turned my head and retained my attention. It takes all the best parts of Google Chrome and restructures the user experience to better suit modern web workflows. It is not rocket science and I am honestly a little confused about how others (I am looking at you Microsoft) did not see and/or seize this opportunity. However, I am grateful for this outcome, as I would personally prefer to see an operating system independent browser become successful.
Additional information regarding The Browser Company and Arc can be found linked below. I recommend their YouTube channel, which offers great insight into the team, values, priorities and progress.
My one concern would be how well The Browser Company can scale Arc, whilst retaining what makes it great. The team will undeniably be under pressure to monetize the application, which is a necessary, but dangerous path, frequently leading to shareholder-centric features vs. user-centric features.
It is also worth reiterating that what makes Arc great could be fairly easily copied by one of the other big players (Google, Microsoft, Mozilla), potentially killing Arc before it has a chance to gain meaningful market share.
Finally, Arc is currently only available for Apple macOS, with Microsoft Windows and Linux versions promised. There is also talk of a companion mobile app for Apple iOS, which will be interesting considering the inherent browser limitations of that platform.
If you spend a lot of time using a web browser for disparate workflows (personal, work) I highly recommend you check out Arc. It is currently in beta (invite only).
---