I have been the global Chief Technology Officer (CTO) at an enterprise business since 2018.
Earlier this year, my role was expanded to become the combined global Chief Technology Officer (CTO) and Chief Information Security Officer (CISO).
With approximately six months in the role, I thought I would provide an update regarding the day in the life as a combined CTO / CISO.
Morning
My day starts between 05:30 and 06:30. I aim to wake naturally, without an alarm. As a morning person, this is rarely an issue.
I usually spend the first 30mins of my day reviewing any updates that occurred overnight. This includes direct messages, as well as news and social channels, with a focus on World Events, Information Technology, Cybersecurity, Business, and Sports.
Once I have myself ready, I reset the house for the day ahead. This includes tidying anything left out from the night before and preparing my kid's school bags.
My kids wake at around 07:00. My son (seven years old) is a morning person (like me) and is fairly self-sufficient. My daughter (four years old) usually requires more "encouragement", including help getting ready for school (e.g., clothes, teeth, etc.)
I prepare breakfast for my kids and make myself a PhD Synergy All-In-One Protein shake (247kcal, 38g Protein, 15g Carb, 5mg Creatine) and take a Centrum Advance Multivitamin. I rarely eat breakfast, as time is fairly limited.
With breakfast complete, my kids have approximately 45mins to play before school. I use this time to complete any "quick wins", which could be personal or work-related. This includes a review of my emails, targeting anything that can be instantly actioned.
At 08:20, I drop my kids at school, before heading directly to the office or back home (depending on the day). I usually work from the office on Tuesdays and Thursdays, with a focus on in-person meetings and collaboration.
The Working Day
My work day is usually back-to-back, with a combination of meetings and focused time.
Throughout my career as an IT professional, I have worked in operations as an analyst and delivery as an engineer, across Infrastructure, Global Services, Commercial, and Research & Development (R&D).
In these roles, the majority of my time was spent as an individual contributor, supporting requirements as part of a wider team, therefore focused time was the priority (getting stuff done).
As I progressed into leadership roles, either as an architect or a director, the balance shifted towards meetings. Defining and communicating strategy, steering, influencing, coaching, etc.
My team are predominately based in India, Poland, UK and the US (Eastern Time). As a result, I usually connect with the India/Poland/UK team in the morning, with the afternoon dominated by the US.
The global nature of the team can make time zone alignment a challenge (+5:30 to -5:00). Therefore, I accept the traditional 9-to-5 hours are not viable, instead I structure my week knowing that the start and finish times will vary, whilst ensuring time is protected to promote a healthy work / life balance.
For example, I will usually find 50mins during the day to exercise (usually over the UK lunchtime). I am lucky enough to have a gym at my house, where I focus on stretching and weights (compound movements) or a metcon workout. I may also go for a run (or a ruck run), depending on how much time I have available.
Where possible, I combine my exercise with an opportunity to listen to a podcast (usually technology related) or listen / watch a pre-recorded sprint demo. The goal is to maximise the working hours, whilst still breaking away from my desk and ensuring I achieve some physical activity each day.
I find being able to exercise in the middle of the day very refreshing, reducing stress and allowing me to hit the afternoon with renewed energy and motivation.
Regarding Lunch, I eat at my desk while working (not ideal, but a necessary evil). I usually eat a MuscleFood Prepped Pot, which tastes great, can be prepared very quickly (4-7mins heating time), as well as relatively healthy and cost-effective (< £3.59 per pot). For example, the Caribana Chicken Pot (358kcal, 34g Protein, 33g Carbs).
I do not drink coffee, therefore I am fueled on tea and the occasional PhD Nutrition Diet Whey Protein shake (91kcal, 17g Protein, 2.8g Carb). I won't eat much outside of lunch/dinner, usually some fruit and a cereal bar (e.g., Nature Valley) if I am feeling drained.
To help provide insight into the structure of my day, I have analysed my schedule over one month. The results can be found below, highlighting where I spend my time.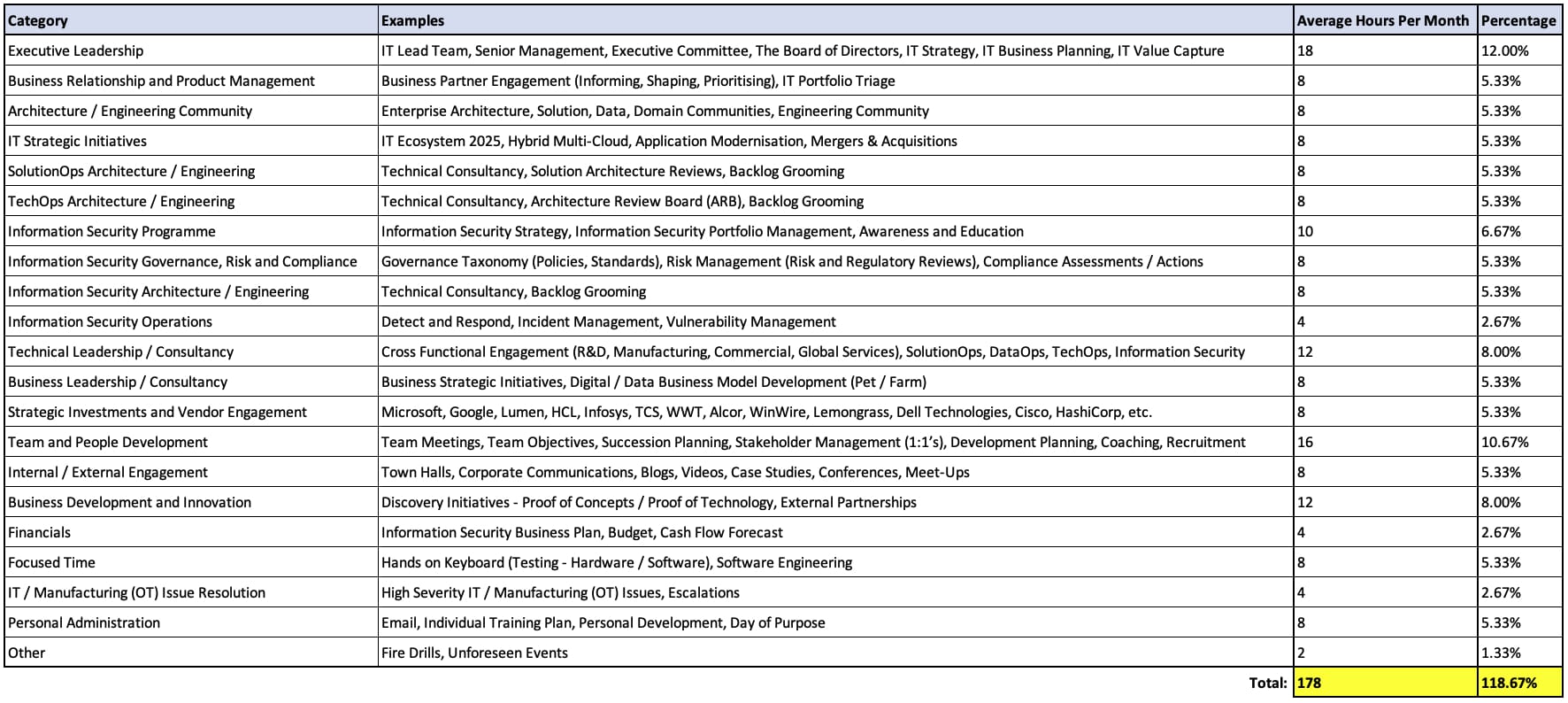 I have split my work across twenty-one categories, with a few examples provided for each (not exhaustive).
On average, I work 178h per month, which is approximately 119% of my contracted time. The fact that this is above 100% is not ideal, but not unexpected or unmanageable considering my role. My company and industry are very relationship-based, therefore I do have a lot of meetings, up to 8 per day, 160 per month (many of which are 30mins in length).
Knowing this dataset is an average, captured over a single month, I acknowledge the balance of these categories and time consumed varies, influenced by many variables (e.g., Priorities, Workshops, Personal Commitments, etc.)
Looking at the data in more detail, my top five categories are:
Executive Leadership (12%)
Team and People Development (11%)
Technical Leadership / Consultancy (8%)
Business Development and Innovation (8%)
Information Security Programme (7%)
However, it should be noted that specific themes, such as Architecture / Engineering and Information Security are represented across multiple categories. For example:
Combined Architecture / Engineering categories consume a total of 19% of my time, covering Enterprise, Solution, Data and Domain architecture and engineering.
Combined Information Security categories consume a total of 16% of my time, covering Governance, Risk and Compliance, Architecture and Operations.
Finally, I look for opportunities each day to step away from my desk. For example, if I have a scheduled 1:1 (in-person or virtual) I will check to see if we (or I) can walk + talk. If I am working from home, I also look for small windows of opportunity to complete some house chores (load/empty the dishwasher, washing machine, etc.) These are small tasks that left unchecked can contribute to stress.
Evening
Except for Monday, when I collect my kids from their afterschool club and take my son to football, I usually finish work at around 17:00. I ensure that 17:00 to 19:30 is protected in my calendar, spent with my family having dinner and usually playing a game before the bedtime routine (homework, bath, stories, etc.)
My wife also has a hectic work schedule as Head of Marketing at the Winchster Science Centre, therefore I am fortunate that she can coordinate after-school clubs (e.g., swimming, etc.) and prepares the evening meal (we subscribe to Gousto).
With the kids in bed (hopefully asleep), I occasionally need to jump back on another work meeting or if I am training for a specific event (e.g., Ultra Event, Marathon, Obstacle Course Race, Hyrox, etc.) I squeeze in an additional exercise session.
As a general rule, I try to avoid using my smartphone from 20:00 onwards, removing the temptation for work or unintentional "doomscrolling". The only exception is a personal emergency or work major incident.
I wear Fitbit Charge 5 lifestyle tracker and average 7000 steps (I would like that to be more) and 55 Active Zone Minutes per day. Considering I have a "desk job" I feel these numbers are respectable.
To wind down before bed, my wife and I usually watch TV. I aim to be in bed around 22:30. I occasionally read before bed, although I do not always have the energy.
Conclusion
That's it! This structure represents a fairly accurate view of my working week, with weekends dedicated to family and friends.
My wife and I do not have family that live close, therefore with two demanding jobs and two young kids, the working week is fairly intense (which can become a touch stressful).
However, with a supportive wife, happy kids and great friends. Combined with a family-orientated employer, I feel incredibly fortunate and thankful.
---