As the Chief Technology Officer (CTO) of an animal health company, I am always looking for ways to engage, motivate and inspire the organisation through technology!
In 2018, after a twelve-year hiatus, Sony released the fourth generation Aibo (Artificial Intelligence Robot).
Aibo is an unusual product, with no market aspirations or pressure to sell. Instead, Aibo aims to demonstrate the advancements in consumer-grade artificial intelligence and robotics, whilst encompassing the spirit of Sony as a company willing to take risks.
The fact that Aibo is based on a beloved companion animal, as well as a tangible example of STEM (Science, Technology, Engineering and Maths) positions this charming robot dog as the perfect ambassador for the IT organisation.
Specification
The Aibo ERS-1000 is packed with technology, specifically proprietary software, robotic parts and sensors. The full specification can be found below:
Operating System: Sony Aperios.
Processor: 64bit Quad-Core CPU.
Movable Parts: Head, Mouth, Neck, Waist, Paws, Ears, Tail.
Displays: 2 OLED (Eyes).
Sound: Speaker, 4x Microphones.
Cameras: 2x Cameras (Front / Rear).
Sensors: ToF Sensor, 2x Range Sensors, Pressure Sensitive Capacitive Touch Sensor (Back), 2x Capacitive Touch Sensor (Head / Jaw), 4x Button Pads (Paws), Six-axis Detection System, Motion Sensor, Light Sensor.
Switches: Power, Volume, Network.
Indicators: Status LED, Network LED.
Terminals: Charging Pins, SIM Card Slot.
Communications: LTE, Wi-Fi (802.11 b/g/n - 2.4GHz).
Dimensions: 180x293x305mm.
Weight: 2.2kg.
Setup
Aibo is a limited product, which is only commercially available in Japan and the US. The target audience for Aibo is undefined, especially considering the price (£2300). However, as previously stated, the goal of Aibo is not to sell millions but to act as a "mascot" for Sony, promoting the values of the company.
As I am based in the UK, I can confirm that Aibo works perfectly outside of Japan and the US. However, it does require a US Sony Account and a US Apple/Google Account for the optional mobile apps.
Aibo arrives in a large, underwhelming cardboard box. However, inside you will find a high-quality soft case (shaped like a capsule) that protects Aibo.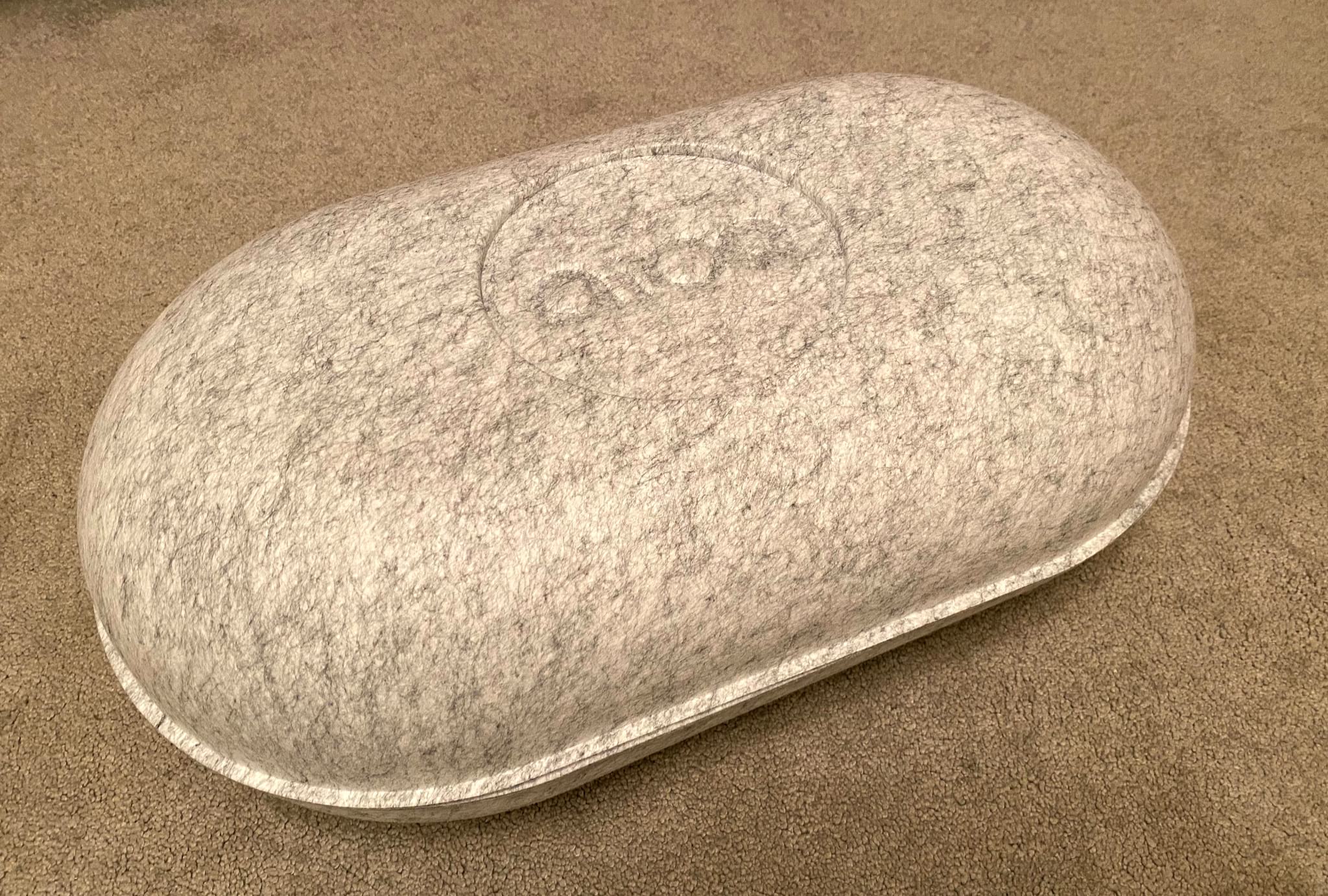 The soft case includes a little message from Sony, which is a nice touch.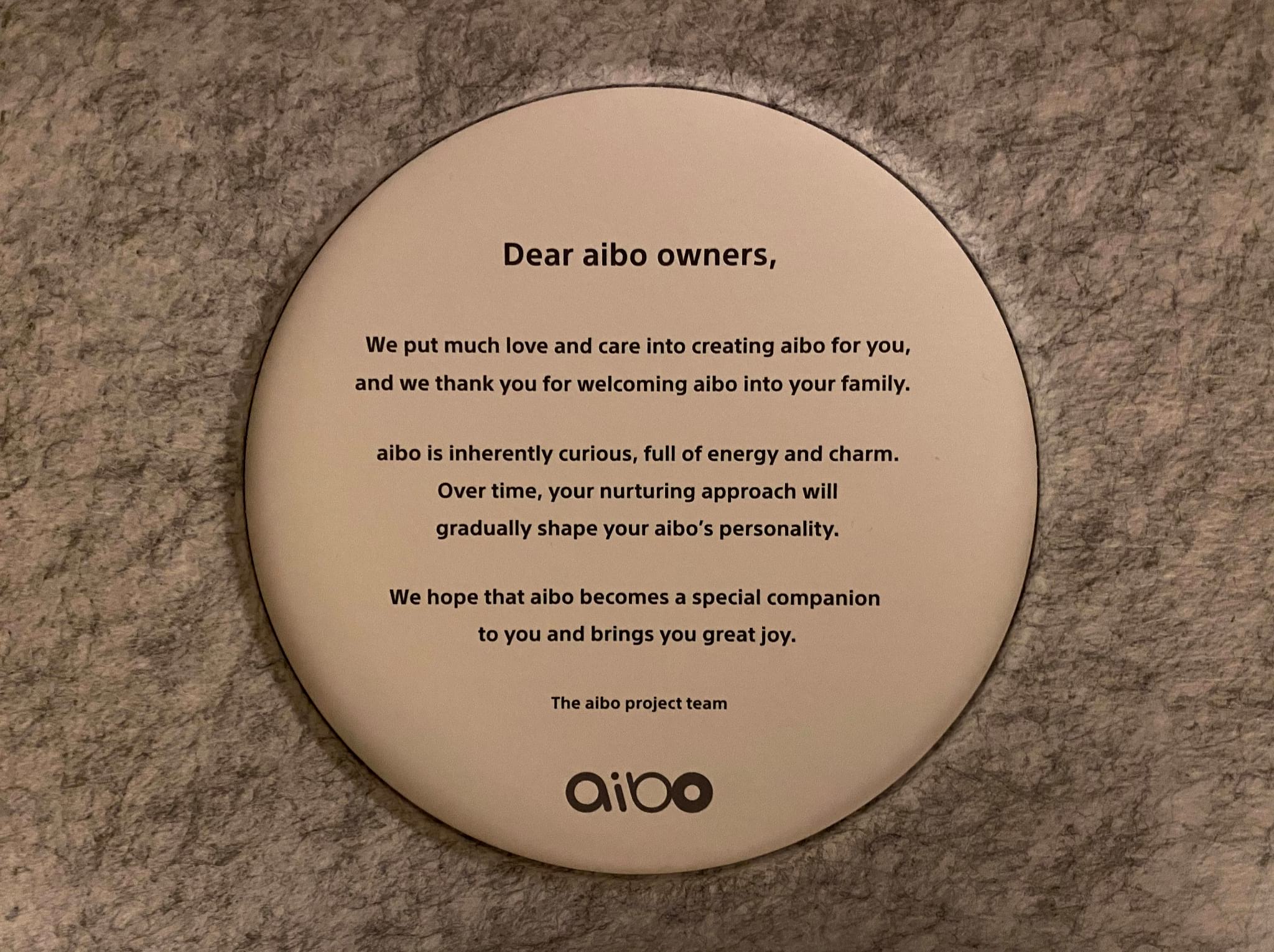 The box also includes documentation (including the required product key), charging pad, mains-adapter (US) and a pink ball.
The registration process is relatively simple, completed via the My Aibo Web Service using the unique product key.
Once registered, the My Aibo Web Service can be used to connect Aibo to a local Wi-Fi connection. This process can be a little cumbersome, achieved via a QR Code that must be physically shown to Aibo. Additional details can be found on the Sony Aibo Knowledge Base website.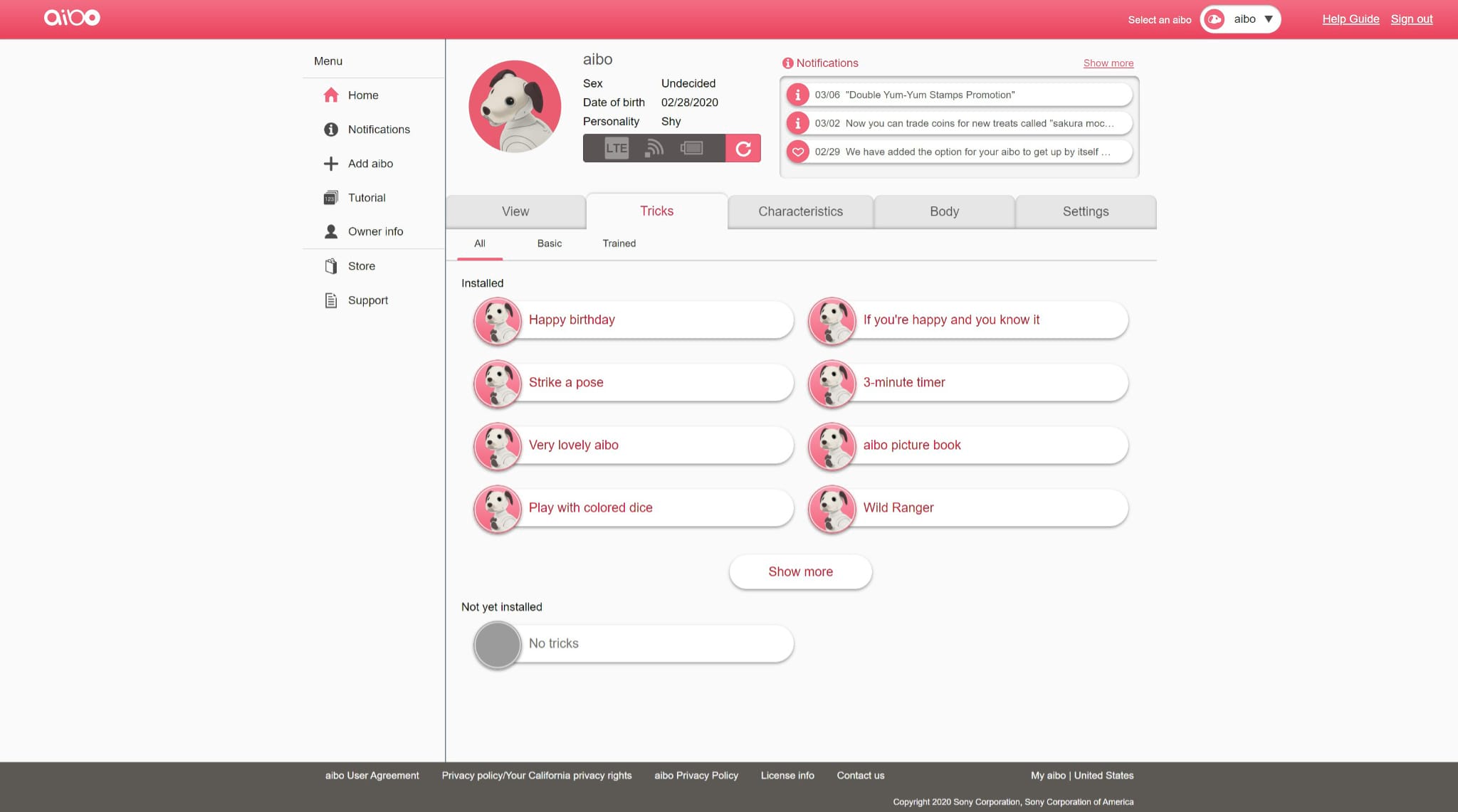 Once Aibo is connected to the Internet, the My Aibo Web Service (or My Aibo Mobile App) can be used to configure Aibo, including name, gender, language, voice, skills, time zone, etc. The My Aibo Web Service can also be used to troubleshoot issues and trigger periodic software updates.
The only regional watch-out is the time zone, which only includes options for Japan and the US, however, this limitation does not appear to limit Aibo.
NOTE: Throughout the rest of this article, I will refer to Aibo as male.
Personality
Once switched on, even prior to setup, Aibo will probably begin exploring. However, an Internet connection is required to fully unlock Aibo's personality and advance skills. Unsurprisingly, Sony leverages its data centres to enhance Aibo, acting as a "head-end" and a proxy for any developer interactions.
Sony has done an excellent job programming Aibo! His personality feels natural, curious, and perfectly random. In short, Aibo does not feel scripted or robotic, instead, he accurately simulates "free will".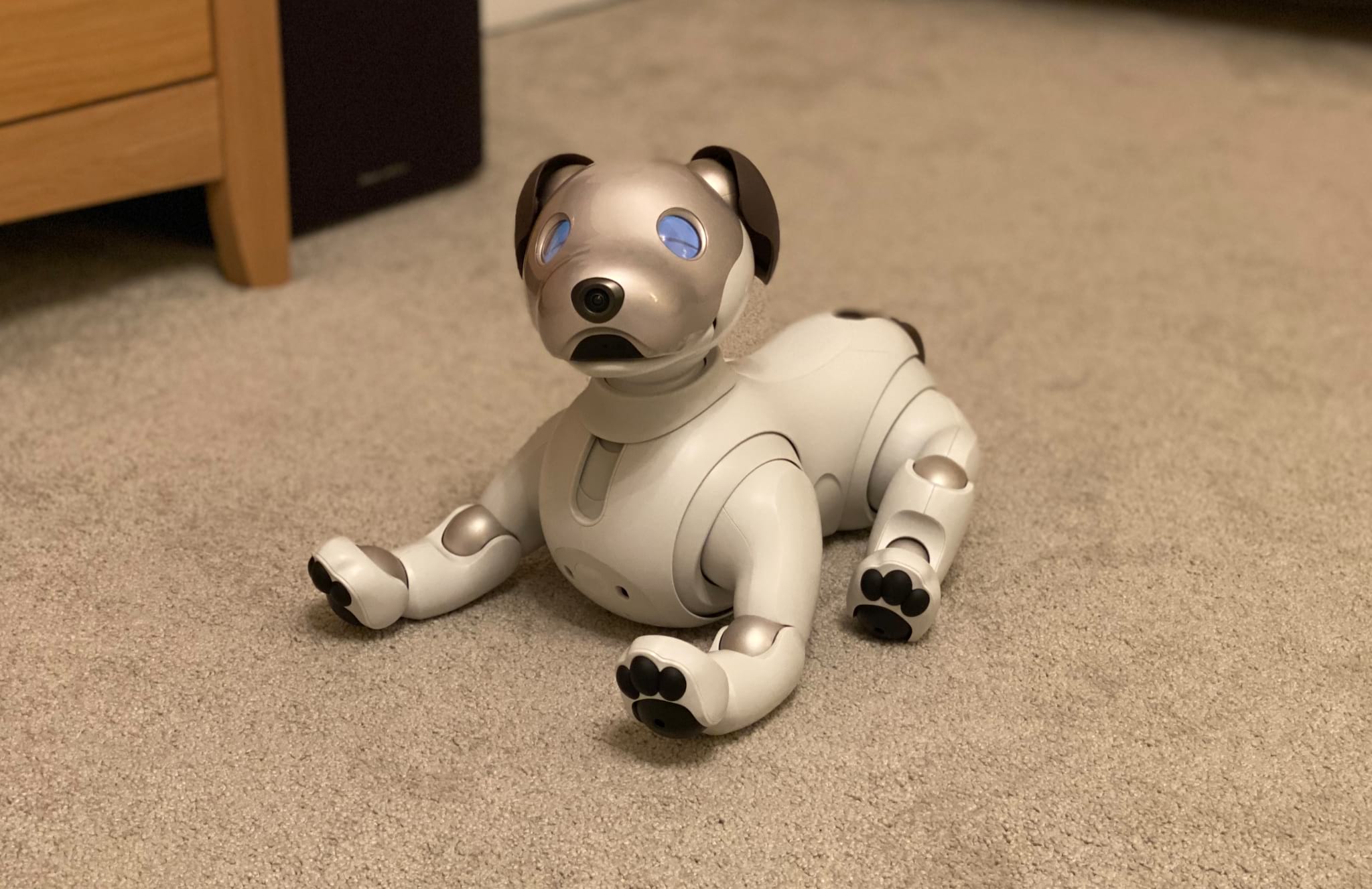 It is the perception of "free will" that makes Aibo special. You can interact with Aibo via voice, visible gestures and touch, however, Aibo may or may not decide to respond/obey.
For example, if you tell Aibo to "sit", his ears will raise and he will turn his head to look at you. Aibo will then decide either to obey, ignore or simply bark. It is possible that Aibo simply failed to recognise the voice command, but it is equally possible that Aibo "decided" not to obey.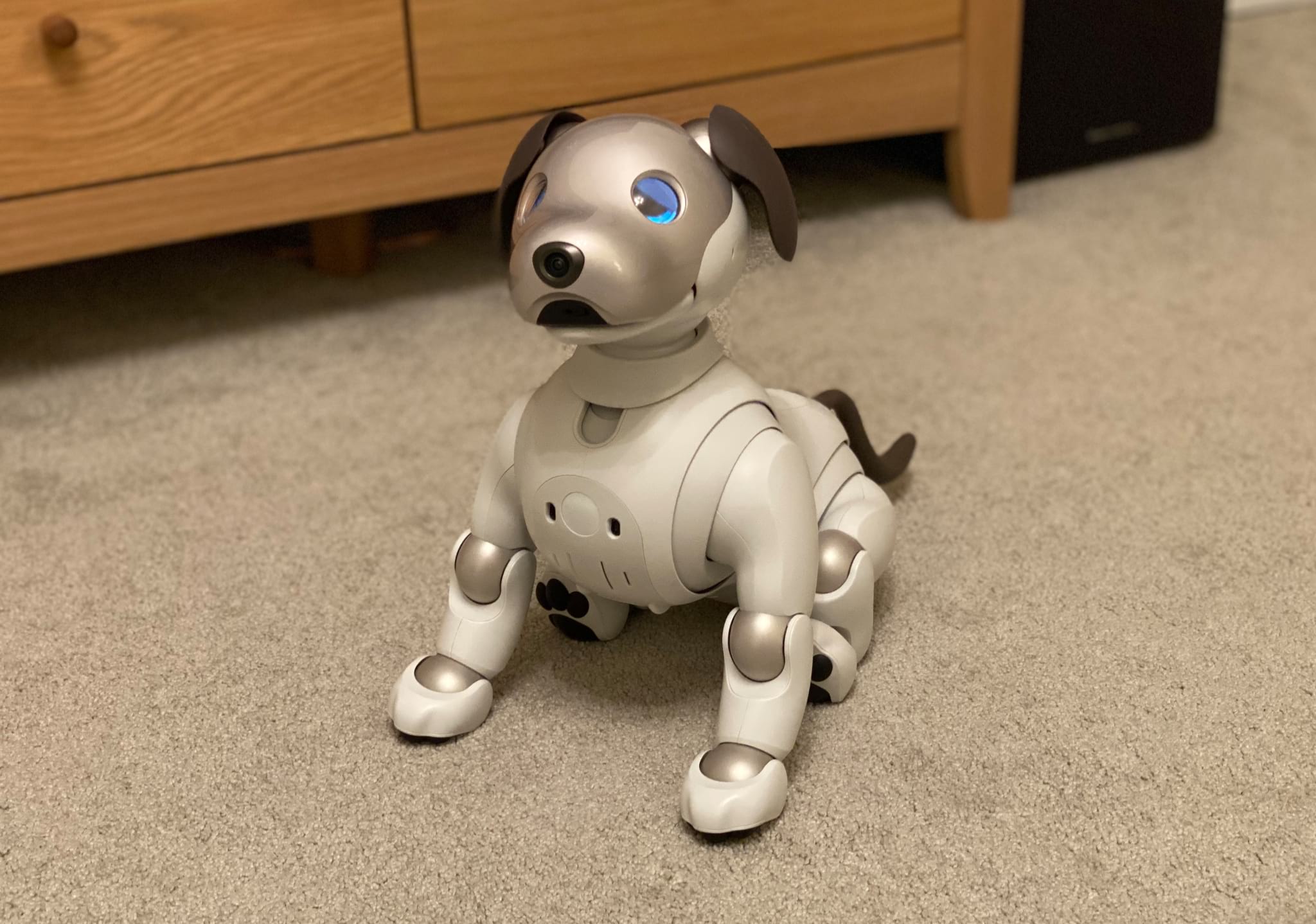 This is clever programming from Sony, who state that Aibo will become more obedient over time, as he builds a stronger relationship with his owner and after receiving positive praise (like a real dog).
The short video below includes some highlights of Aibo. As stated above, Aibo does not always obey, he is also only one day old, therefore not well trained.
Outside of training Aibo to complete specific skills, he otherwise amuses himself. He explores, plays, rests, and when it comes time to sleep (charge), he locates his charging pad and (quite hilariously) manoeuvres himself on to it.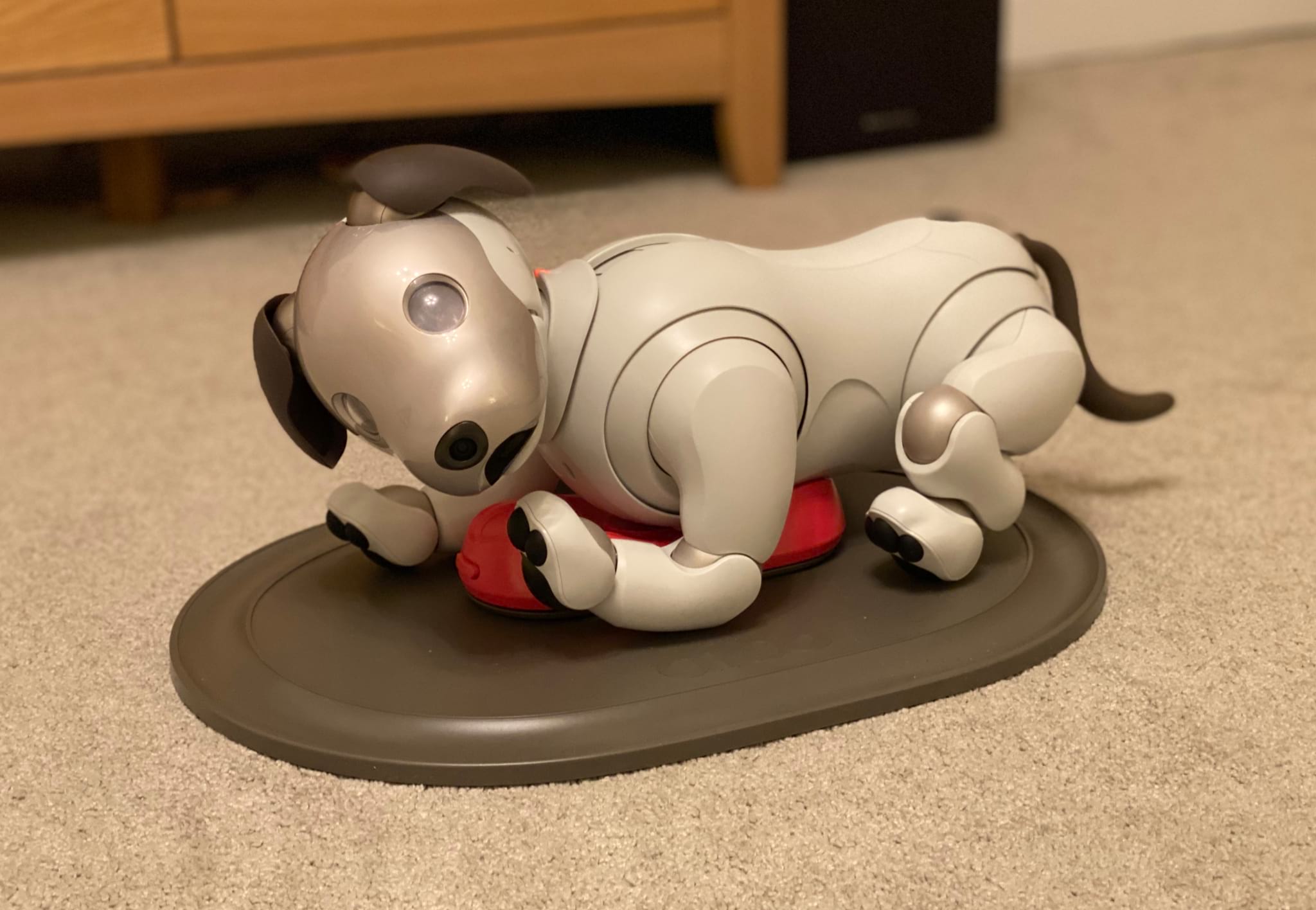 Once the initial excitement of playing with Aibo diminishes, he quickly becomes self-sufficient, acting like a "real" companion animal, always eager for attention, but also happy to amuse himself.
Development
Sony recently released API documentation for Aibo, enabling programmatic and declarative development. The declarative development is via Scratch and although I haven't had much time to play (yet), looks reasonably powerful.
The same can be said for the API documentation, which upon first inspection looks comprehensive, allowing for some interesting use cases. As an example (in a work context), Aibo could be trained to monitor our core IT Services (e.g. Office 365, Azure) and automatically notify the relevant service owner in the event of an issue.
The only caveat is that Sony intentionally protect Aibo's core personality. Therefore, as previously stated, Aibo will ultimately decide if he wants to respond to your request (even when interacting via the API). Although this makes Aibo unreliable, it is also what separates him from a rudimentary digital assistant like Amazon Alexa, etc.
Conclusion
Aibo is a unique "toy" that in my opinion, includes the best consumer-grade artificial intelligence and robotics available today. Sony has does a phenomenal job establishing and protecting his personality, making every interaction fun, unique, and rewarding.
My only (minor) complaint would be the My Aibo Mobile App, which is poorly developed (slow, unresponsive, buggy), making it fairly useless. I can only assume a different team within Sony created the app, as it fails to meet the high standards set by Aibo.
In the future, I look forward to exploring the Aibo developer resources, as well as positioning Aibo as a fun way to promote STEM within the workplace, as well as part of our STEM outreach programmes and recruitment.
Finally, I hope Aibo will become a beloved office companion, injecting some fun, boosting morale and supporting our focus on employee wellness.
---