Update - Since writing this article I have upgraded to the 16-inch MacBook Pro (NOV-2019). As a result, this article has been updated to reflect the changes.
Final Update - Please refer to the article "My Setup (Q3 2020)" for the latest details of my setup.
Home Setup
At home, I switch between three devices. My daily driver is a 16-inch MacBook Pro with Retina Display (NOV-2019). It's primarily used for productivity tasks, software development, and photo editing. The full specification can be found below:
16-inch MacBook Pro with Retina Display (NOV-2019)
2.4GHz 8-Core Intel i9-9980HK (Turbo up to 5.0GHz)
32GB 2666MHz DDR4 RAM
1TB PCIe SSD
Intel UHD Graphics 630
AMD Radeon Pro 5500M 8GB GDDR6
16-inch IPS P3 Display (3072x1920, 500nits)
I also have a 15-inch Lenovo ThinkPad X1 Extreme, which is a secondary device and primarily used for work, allowing me to natively interact with the Windows eco-system. I have previously shared my experience using the ThinkPad X1 Extreme, as well as techniques I use to co-exist across macOS and Windows. The full specification can be found below:
Lenovo ThinkPad X1 Extreme
2.6GHz 6-Core Intel Core i7-8850H (Turbo up to 4.30GHz)
32GB DDR4 2666MHz RAM
1TB M.2 NVMe SSD
Intel UHD Graphics 630
NVIDIA GeForce GTX 1050 Ti Max-Q 4GB GDDR5
15.6" 4K UHD Touch IPS Display (3840x2160, 400nits)
Alongside my notebooks, I have a custom-built PC. The specification (listed below) is a couple of years old but still provides excellent overall performance. It is used for gaming (including VR), game development (GameMaker Studio 2), video editing, after effects and virtual labs.
Asus Maximus VIII Hero Alpha (Intel Z170)
Intel Core i7-6700K 4.0GHz @ 4.6GHz
Noctua NH-D15 CPU Cooler
32GB Corsair Vengeance LPX DDR4 PC4-24000C15 (15-17-17-35)
512GB Samsung 950 Pro M.2 PCI-e NVMe SSD
PNY GeForce RTX 2080 Ti 11GB XLR8 Gaming Overclocked Edition
EVGA SuperNova P2 1000W '80 Plus Platinum' PSU
Phanteks Enthoo Evolv ATX Mid Tower Case
Bowers & Wilkins MM-1 Speakers
In total I have three displays, two 27-inch Dell U2718Q IPS HDR 4K monitors used for productivity and colour accurate work, as well as one 27-inch Dell 144Hz G-Sync monitor used for gaming. The exact model numbers are highlighted below:
2x Dell U2718Q IPS HDR 4K (3840x2160 / 60Hz / 5ms / HDR10)
1x Dell S2716DG TN G-Sync (2560x1440 / 144Hz / 1ms)
My workspace is kept fairly minimal, with all monitors mounted on third-party stands to help maximise desk space. The MacBook Pro and Lenovo ThinkPad X1 Extreme connect to the monitors via a SoNNeT Technologies Dual-DisplayPort to ThunderBolt 3 Adapter, which provides a single-cable solution.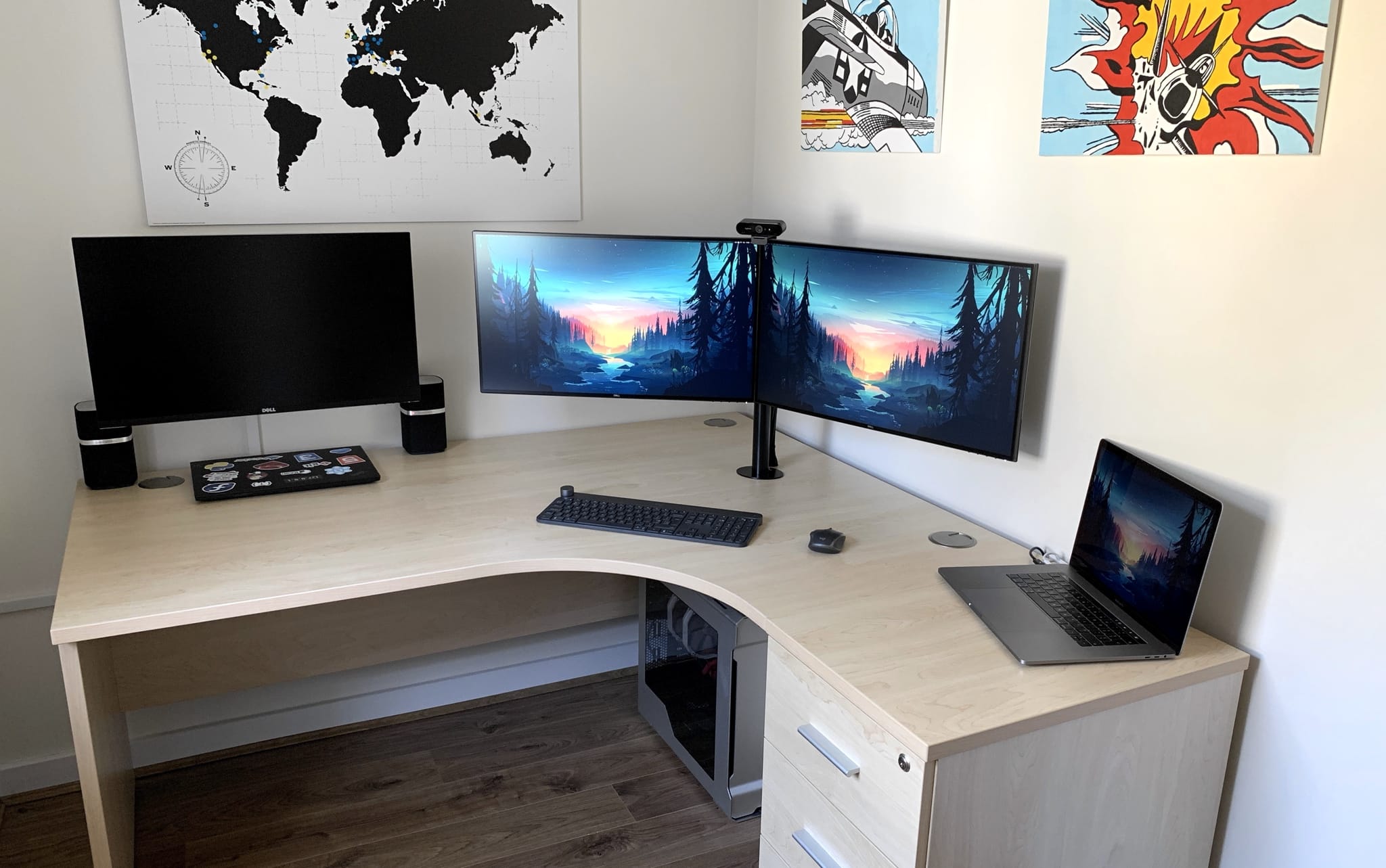 As you can see, for peripherals, I primarily use the Logitech Craft, Logitech MX Anywhere 2S and Logitech Brio Ultra HD Pro. The keyboard and mouse were selected as they include "Easy-Switch", which makes it simple to toggle between multiple Bluetooth devices.
The image below provides a closer look at the two Dell U2718Q IPS HDR 4K monitors and peripherals.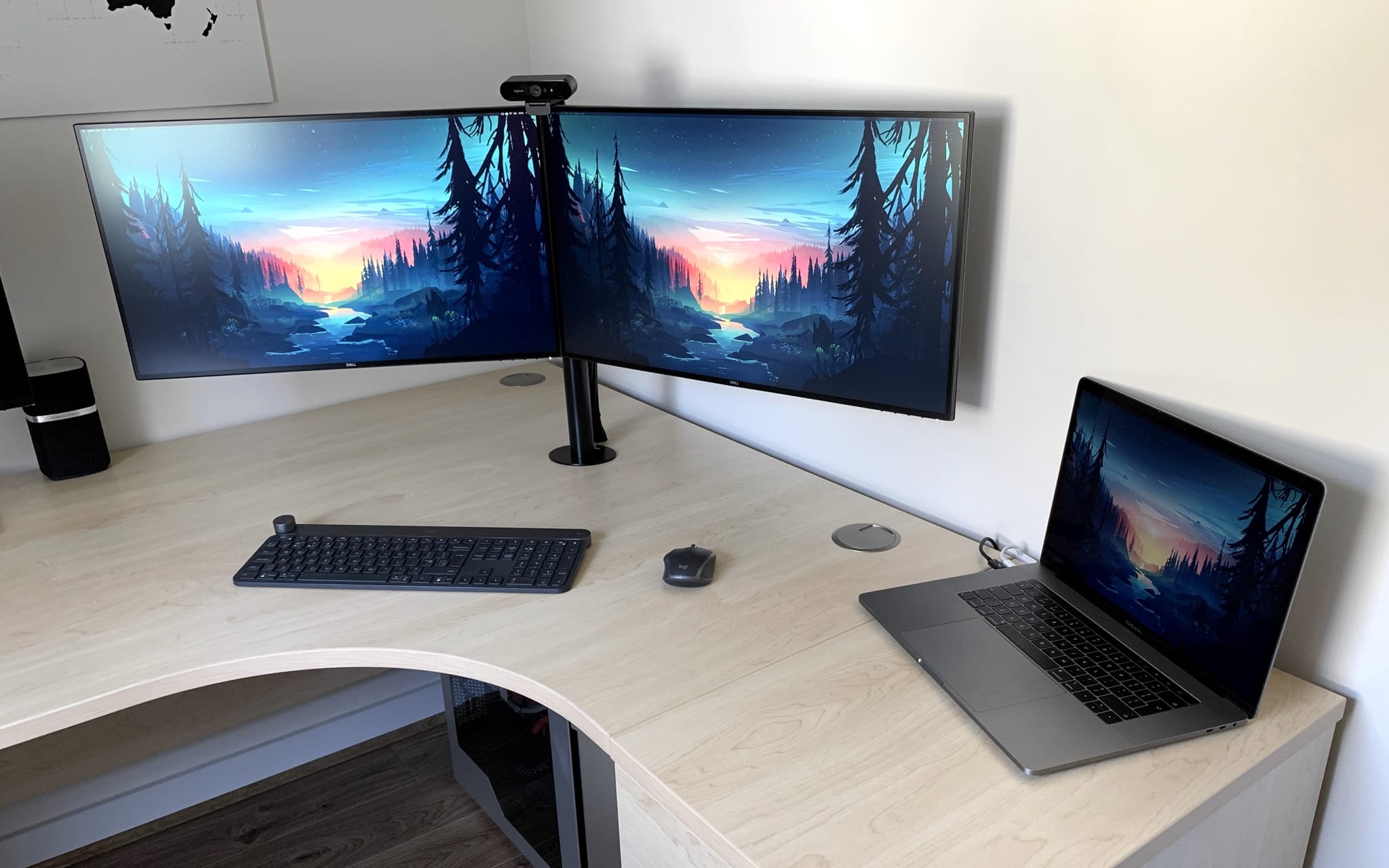 The far end of the desk provides access to the Dell S2716DG G-Sync monitor, which can be pushed flush against the wall. You can also see the Bowers & Wilkins MM-1 Speakers, which are connected to the PC and Mac. The flat desk edge provides a clean surface for additional peripherals, such as my flight controller (Saitek X-55) and steering wheel (Logitech G29).
As highlighted in the image below, the PC is hidden under the desk, with the case door exposed providing easy access to the components.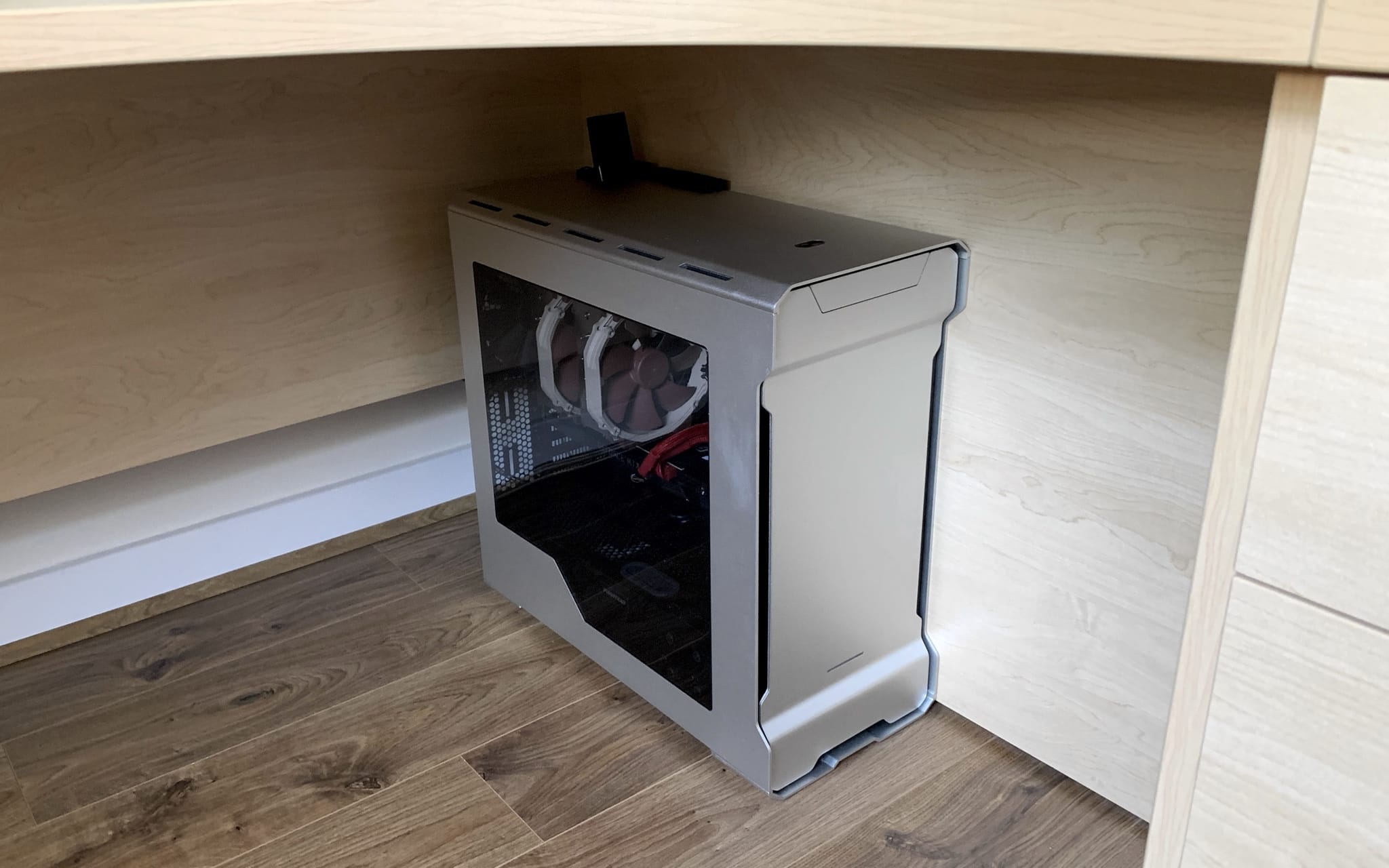 The desk itself and matching pedestal is from Three Counties Office Furniture. They are both designed for corporate use, therefore are hard-wearing and include integrated cable management.
Finally, I use a Herman Miller Setu chair, which includes the Kinematic Spine to control resistance and automatically support your weight as you recline.
Work Setup
At work, I use the MacBook Pro and Lenovo ThinkPad X1 Extreme (depending on the workload). To provide consistency with home, I leverage the same monitors (Dell U2718Q IPS HDR 4K), display adapter, and peripherals (e.g. Mouse, Keyboard, and Webcam).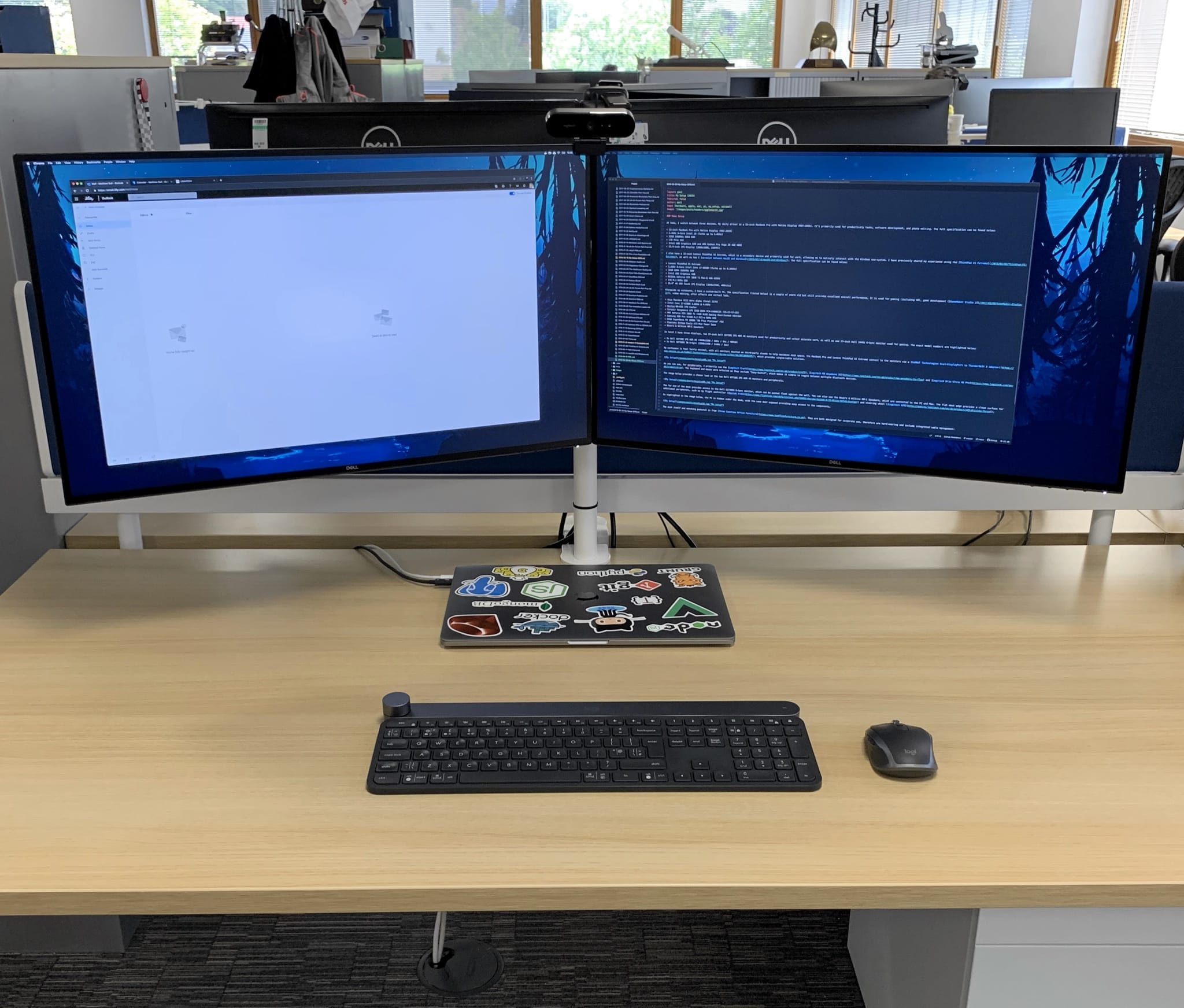 The desk is very basic, with a simple dual-monitor stand. Similar to at home, I use a Herman Miller chair at work, however, due to the extended hours, it is the more robust Mirra 2. This chair includes a phenomenal amount of adjustment, ensuring all-day comfort.
---