Alongside tech, health, and fitness, I am passionate about motorsport.
I was recently in the market for a new car, replacing a Mercedes C-Class that had served me well for the past three years. The C-Class was purchased after the arrival of my first child, which replaced a less practical BMW 1-Series M-Sport Coupe (E82). There was nothing inherently wrong with the C-Class, but it lacked poise and was not very exciting to drive.
I now have two children under the age of five, therefore my goal was to find a car that would be fun to drive, reasonably economical, as well as practical for daily use with a young family (must fit two car seats and one pushchair). My previous two cars were purchased from new, but I am always open to other options, including second-hand (anything to reduce the depreciation impact).
My research led me to the BMW 335d xDrive M-Sport. Specifically, the 2016 F30 model, which can be found for around £22,000 (RRP £42,000). Recognising the age of my target vehicle, I would be purchasing second-hand, which can be a time-consuming and frustrating process.
To reduce the burden, I engaged Prestige Diesels and Sports Limited, based in Portsmouth. I discussed my desired specification with the team, who used their network (and industry knowledge) to locate a viable option. Once found, they completed a thorough inspection (internal, external and mechanical), before purchasing the vehicle. At which point, I was contacted for a test drive (I had not made any commitment up to this point).
Needless to say, the team had done a great job and the following week I purchased a 2016 BMW 335d xDrive M-Sport Plus in Black Sapphire. It should be noted that Prestige Diesels and Sports only target specific vehicles, usually with "fully-loaded" and/or a rare specification.
I won't claim to be a photographer, but I have included a few photos below.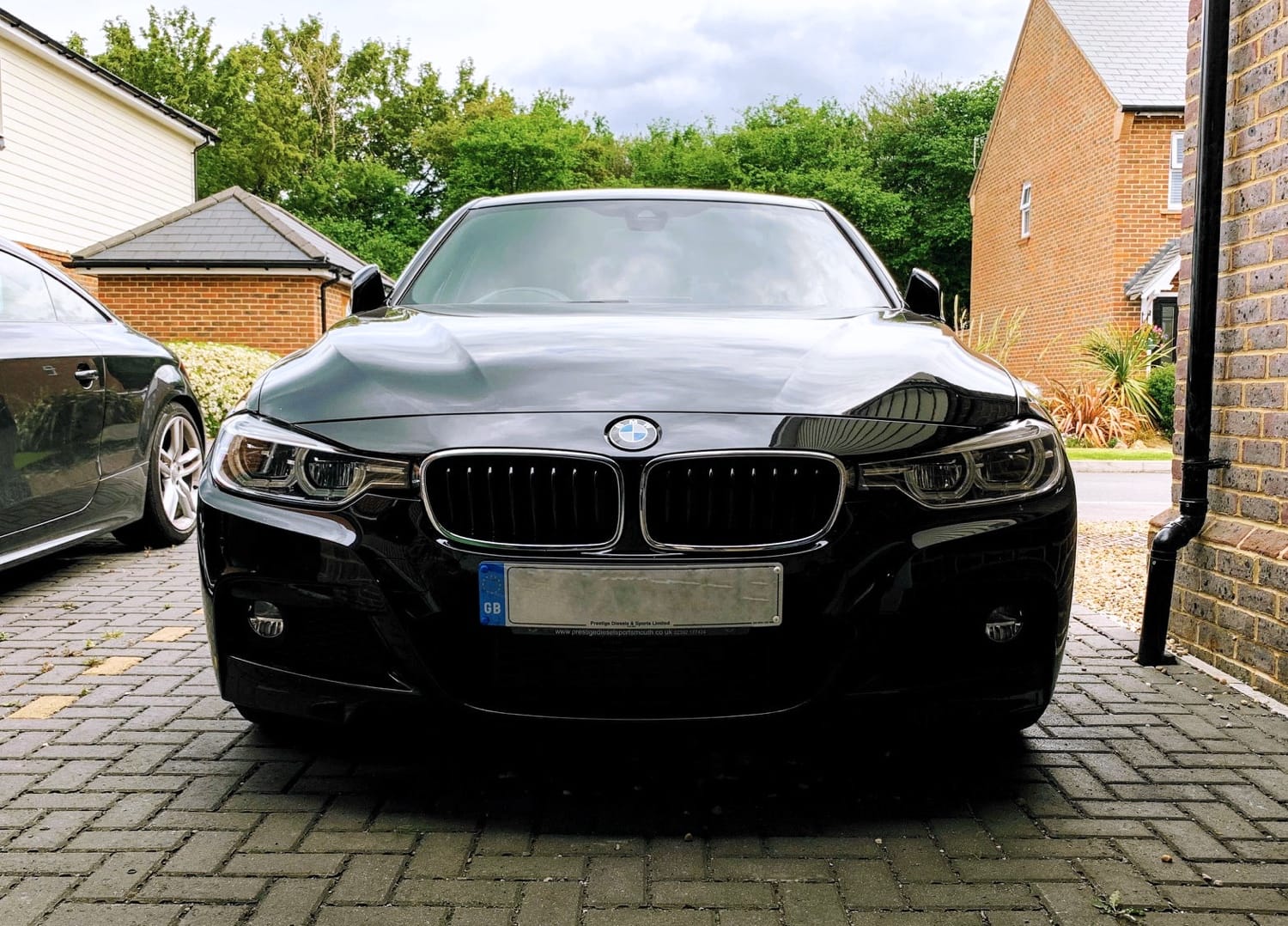 The 335d is a four-door saloon, with a reasonable size boot/trunk (480 litres), which is comparable to the C-Class it replaced.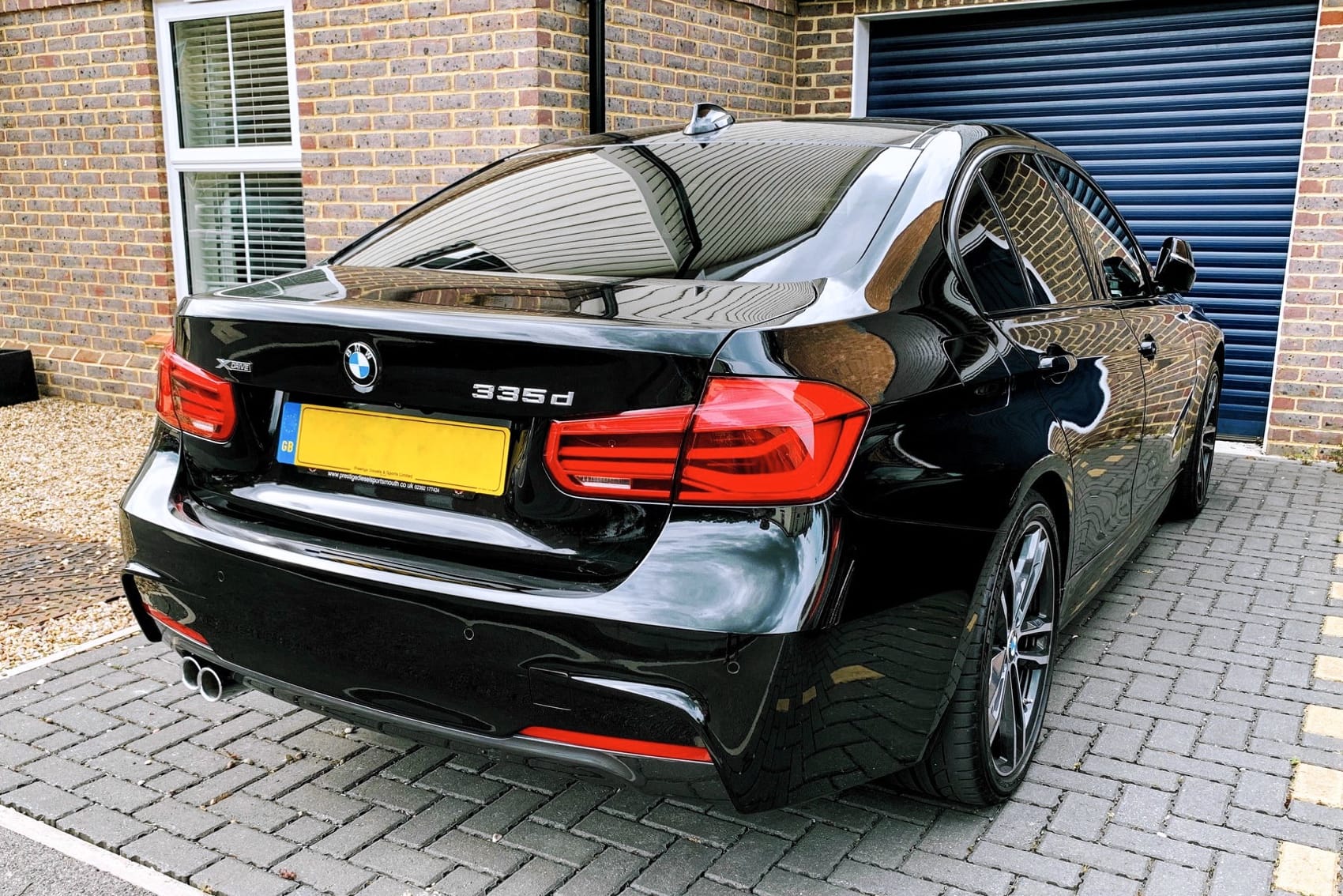 Taken from the "Shadow Edition", the 335d includes 19-inch Bicolour Orbit Grey 704 M alloy wheels, as well as Bridgestone Potenza S001 run-flat tyres. It should be noted, run-flat tyres can be expensive, costing up to £240 per tyre (including fitting).
The specification of the BMW 335d xDrive M-Sport can be found below.
Layout: Front Engine, All Wheel Drive
Transmission: Eight Speed-Sport Automatic
Engine: N57D30T1 6-cylinder Turbo
The BMW N57 is a family of aluminium, twin-turbocharged straight-6 common rail diesel engines. The engines utilise variable geometry turbochargers and Bosch piezo-electric injectors, producing the following performance results.
Power: 308BHP
Torque: 630 Nm
0 - 60MPH: 4.6 Seconds
Top Speed: 155MPH (Electronically Limited)
Economy: 42MPG (BMW Reference: 52.3MPG)
It was the car's performance characteristics that intrigued me the most, specifically the compelling performance vs. fuel economy. For example, the table below compares the 335d against the 340i (F30) and M3 (F80).

In short, I believe the 335d hits the sweet spot, offering close to M3 levels of performance, whilst being far more practical (fuel economy, running costs, etc.) Recognising that the 335d is xDrive (all-wheel drive), it is also comparatively easier to drive is varied weather conditions, allowing a less experienced driver to maximise the performance.
The standard "M-Sport" model includes a reasonable base specification. The "Plus" package aims to improve the value by adding Xenon Headlights, Harman/Kardon Speaker System, M-Sport Braking System, etc. My car also includes the "Premium", "Technology", and "Media (Professional)" packages. Noteworthy equipment includes:
Active Cruise Control
Auto Stop/Start
Brake Energy Regeneration
Heads-up Display
Speed Limit Display
Lane Assist
Collision Warning
Rain Sensor
Automatic Headlight Activation
Park Distance Control (Front/Rear)
Reversing Assist Camera (Rear)
Professional Multimedia Navigation System
Harman/Kardon Speaker System
Enhanced Bluetooth with Wireless Charging
Wireless Apple CarPlay
Electric Seats and Driver Memory (Front)
Lumbar Support (Front)
Seat Heating (Front)
Split-Folding Seat (Rear)
19-inch Bicolour Orbit Grey 704 M Allow Wheels
This is the first car I have owned to include wireless Apple CarPlay.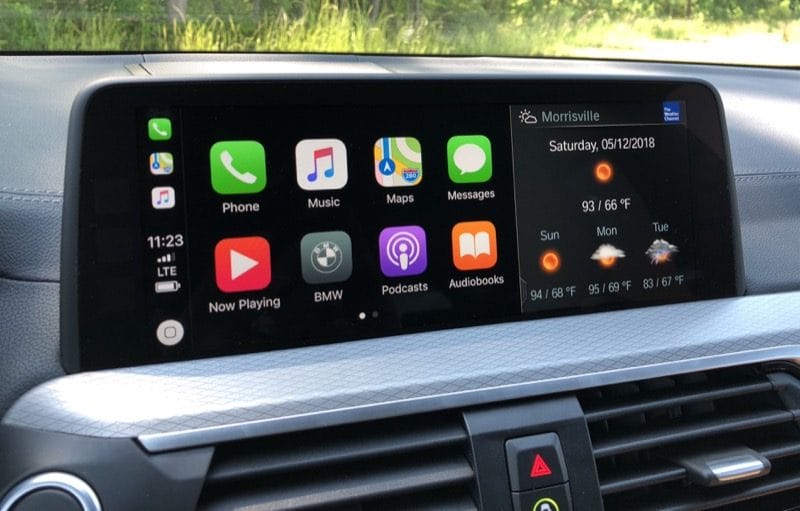 The ability to connect and charge wirelessly is a nice benefit. For short journeys, my iPhone never leaves my pocket, connecting automatically a few seconds after starting the car. Once connected, CarPlay is available from the BMW Multimedia system, including access to applications such as Contacts, Messages, Waze, Spotify, YouTube Music, etc. Conveniently, CarPlay applications can also be viewed and controlled from the Heads-up Display. In my opinion, this is the future of in-car entertainment.
Overall the 335d is everything I had hoped it would be! However, as with all things in life, there are a few considerations…
The BMW 3-Series has always been known for its legendary handling. However, the F30 includes electronic (not hydraulic) power steering, which in "comfort" mode can feel a little soft and artificial. Thankfully, "sport" mode is much better, delivering a harder, more connected feel that is closer to what I would expect from a BMW.
Regarding looks, the 335d (even the M-Sport model) is very understated. If de-badged, it would be difficult to identify it against any other F30 3-Series. In general, I like the default style, but feel the duel exhaust design is a little lacklustre. In a perfect world, I would have liked for BMW to take inspiration from the M3 (F80), delivering a duel exhaust design that highlights the cars performance. Another very minor criticism is the height of the car, which (due to the xDrive) rides a little higher than a standard M-Sport 3-Series.
Finally, the Bridgestone Potenza S001 tyres have received mixed reviews online. Although I have not had any major issues with the grip, I have experienced pressure drops, noise and tramlining (which is possibly compounded by the electronic power steering). Replacing all four tyres is a fairly expensive process, but likely a requirement to ensure comparable tread depths (within 2mm) between the front and rear.
In conclusion, I have been incredibly impressed with the BMW 335d xDrive M-Sport Plus. It offers lively performance, whilst still being practical as a family car. Targeting better performance would likely enter "supercar" territory and/or compromise fuel economy, space, etc.
---