Update - At the 30-OCT media event, Apple quietly announced an updated MacBook Pro with AMD Radeon Pro Vega graphics. This is a positive update (mitigating the concern I highlighted in this article), however, it was a little disappointing to see this update just three-months after the initial release of the 2018 model.
This article is a summary of my initial impressions using the 2018 15-inch MacBook Pro. The article is not intended to be a review, for that please refer to The Verge.
As previously highlighted, this device is my daily driver, supporting a diverse workload.
Recognising the demands of software development (Docker, Kubernetes), as well as the need to run multiple virtual machines, I always target a high-performance processor, dedicated graphics and the maximum amount of supported memory. The full specification of my device can be found below:
15-inch MacBook Pro with Retina Display (2018)
2.9GHz 6-Core Intel i9 (Turbo up to 4.8GHz)
32GB 2400MHz DDR4 RAM
1TB PCIe SSD
Intel UHD Graphics 630 and AMD Radeon Pro 560X 4GB GDDR5
15.4-inch IPS Display (2880x1800, 220PPI)
I have split this article into four parts: hardware, performance, thermals and a conclusion.
Hardware
On the surface, the 2018 15-inch MacBook Pro is largely unchanged from previous generations (2016/2017), with four Thunderbolt 3 ports and a 3.5mm headphone jack.
The controversial butterfly mechanism keyboard has been upgraded to version three, which includes a new membrane (image below) to help prevent debris from impacting the long-term usability.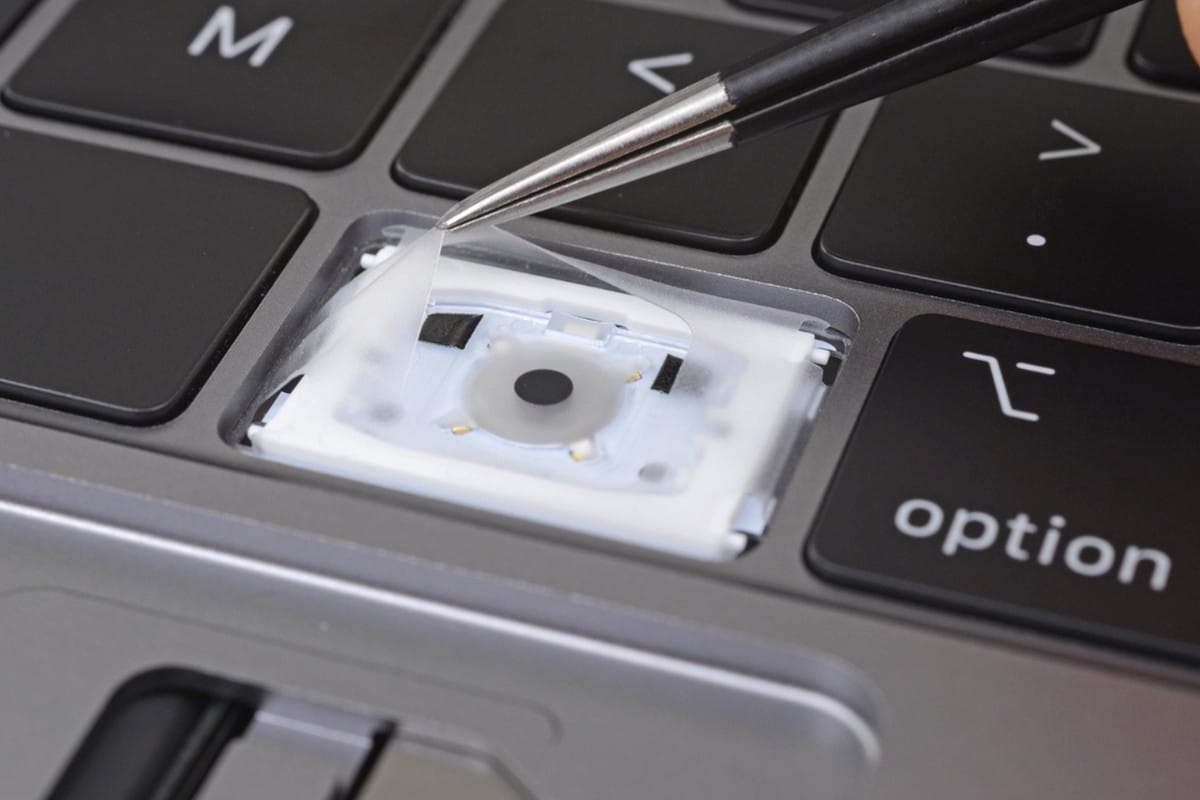 I have personally experienced multiple issues with previous versions of the butterfly mechanism, including unresponsive keys and double typing. As a result, I am hopeful that the new membrane will improve the reliability.
Regarding the actual typing experience, I would state that it feels very similar to previous versions, with a slight reduction in the noise. Although many people dislike the butterfly mechanism due to the short key travel, I have never found it to be an issue.
Alongside the keyboard, Apple also updated the Thunderbolt 3 controller, which now uses the new Intel JHL7540 chip, known as Titan Ridge.
This brings support for High-Bit-Rate 3 (HBR3), which is the signal standard for both DisplayPort 1.3 and DisplayPort 1.4. Therefore, the Radeon Pro 560X can drive up to two 5K displays at 60Hz (single stream) and theoretically supports an 8K display over a single cable.
Finally, Apple added the T2 chip, which was first introduced with the iMac Pro. The T2 chip consolidates a number of system components, specifically the System Management Controller (SMC), Touch ID, Image Signal Processor, Ambient Light Sensor, Audio Controller and the Mass Storage Controller.
The inclusion of T2 chip brings performance and security benefits, specifically a secure enclave that provides the foundation for encrypted storage (AES) and secure boot capabilities. It also adds native support for "Hey, Siri", similar to what is found on the iPhone.
Performance
Unsurprisingly, performance is excellent. The upgrade from a 4-Core to 6-Core processor provides a healthy jump in performance for any software that can utilise multi-threading. This is validated by the impressive Geekbench scores.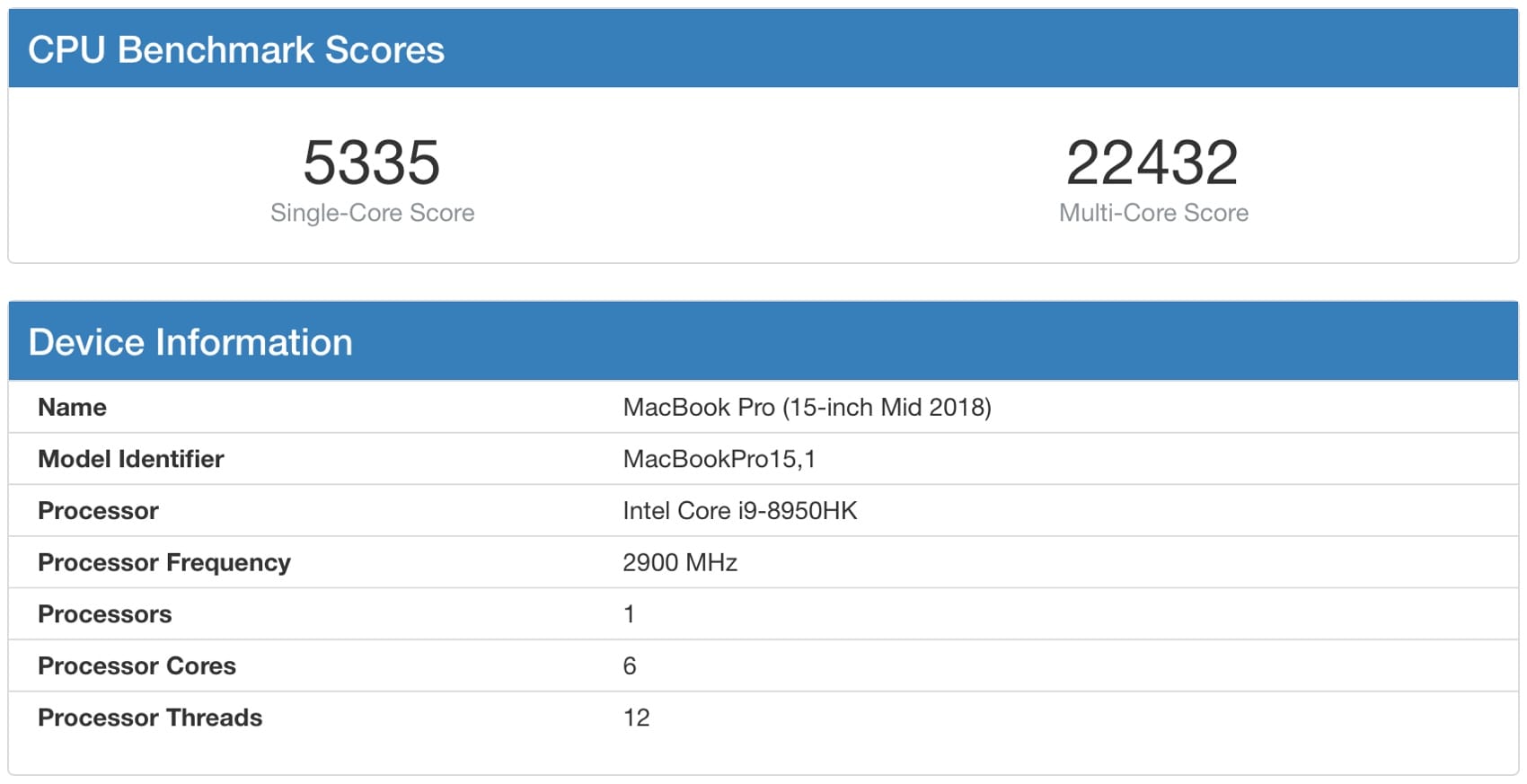 Regarding memory, Apple has finally upgraded to DDR4, enabling a custom configuration up to 32GB. Knowing that DDR4 is more power hungry, Apple has also increased the battery capacity to ensure they still achieve a ten-hour estimate. In daily usage, I rarely utilise more than 16GB, however, I am pleased to see a 32GB option, as I occasionally work with multiple virtual machines for lab testing, etc. As an early observation, I have not seen a significant impact on the battery life, therefore I believe Apple has successfully offset the impact of the higher performance components.
Finally, it is worth highlighting the storage performance, which continues to be market leading. This is often an overlooked area, with devices like the Microsoft Surface Book 2 delivering dismal performance (600MB/s write). As a general rule, the overall performance of a computer is only as good as its slowest component (CPU, Memory, Storage, etc.)
As highlighted by the Blackmagic Disk Speed Test, the MacBook Pro storage performance is incredible, hitting 2700MB/s read and write (an increase of 500MB/s over the previous generation). I suspect this improvement is achieved through the T2 chip, which includes a new integrated Mass Storage Controller.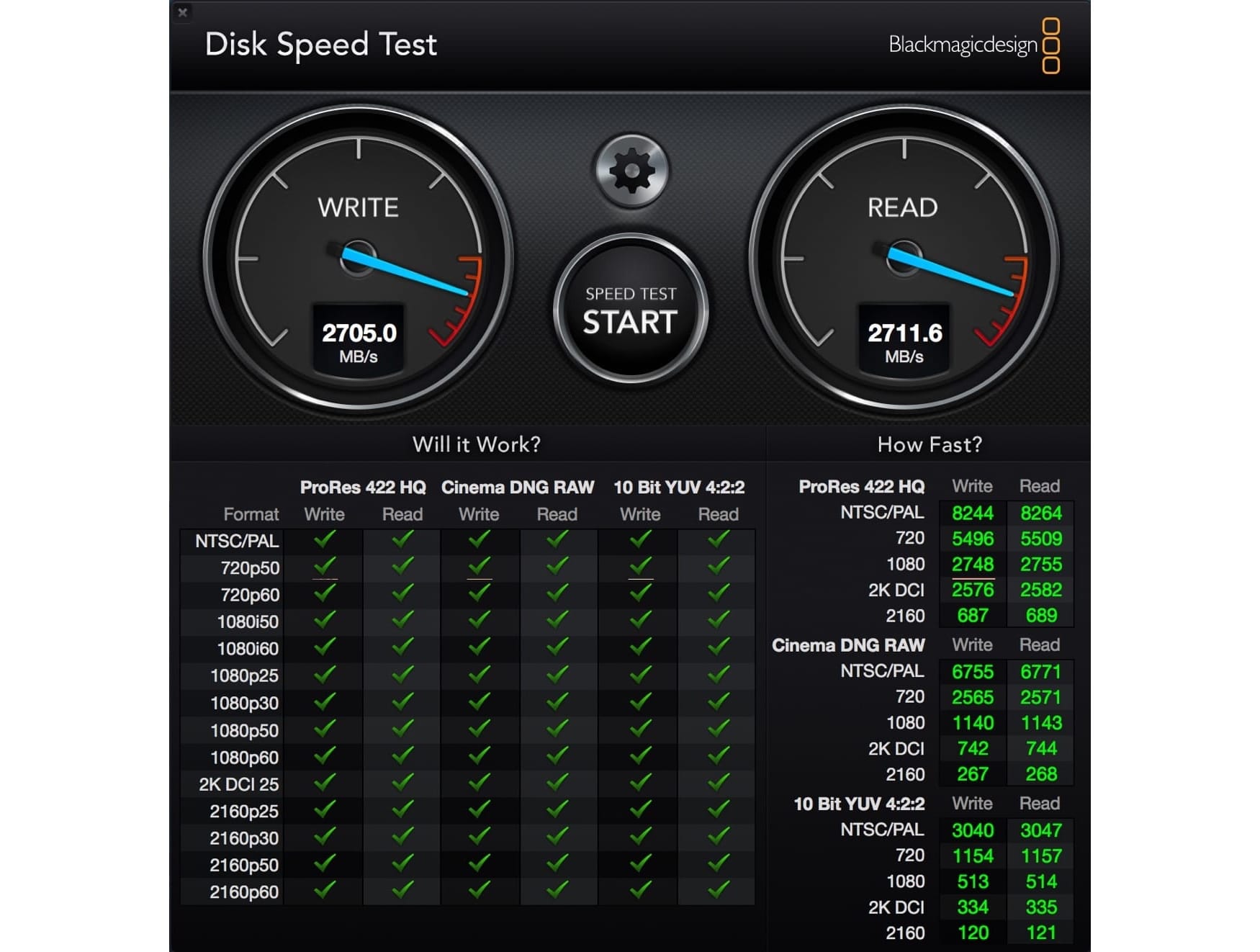 Overall, the 2018 15-inch MacBook Pro provides a healthy performance increase over previous generations. The one area that is a little disappointing is the dedicated graphics, which has not seen a significant upgrade since 2016. They have managed to deliver a minor performance increase through an improved 14nm FinFET process, however, the underlying architecture (Polaris) remains unchanged.
Thermals
Upon release, there was some controversy regarding the thermal performance of the Intel i9 processor. In short, it was unable to sustain base clock speeds (2.9GHz) under certain workloads. This issue was originally discovered by the Dave Lee (DAVE2D), who posted the following video:
Thankfully, Apple responded quickly and pushed a software patch to resolve the issue. Dave Lee posted a follow-up video (below), highlighting the improvements.
Thankfully, I received my MacBook Pro post-patch, therefore I did not personally experience the issue. However, it is worth recognising that Apple has always prioritised "thin and light" over raw performance. Therefore, high-performance components such as the Intel i9 processor will likely never operate to their maximum potential. Many people find this frustrating and even describe it as a design flaw. In my opinion, this is not a design flaw, it is a design decision.
As a result, if you plan to buy Apple hardware (specifically the MacBook range) you must accept that design will probably always be prioritised over raw performance.
Conclusion
Overall, I have been impressed with the 2018 15-inch MacBook Pro. The hardware feels more refined (third generation keyboard) and the inclusion of a 6-core processor, as well as a 32GB option, helps support the "Pro" designation.
Arguably, this is the device I had hoped would be released in 2016, when Apple first introduced the MacBook Pro with Touch Bar.
Finally, it is worth mentioning that the MacBook Pro remains a very expensive notebook. Therefore, I would argue that the "low end" MacBook Pro (2.2GHz i7, 16GB, Radeon 555X), with a 512GB Storage upgrade, would be the sweet spot for most people.
---