Over the past couple of months, I have been using the Surface Book 2 alongside my MacBook Pro. Although I have no intention of giving up my Mac, I do occasionally require a device that allows me to natively interact with the Windows eco-system.
With this in mind, I thought I would share a few observations, specifically focused on Performance and Build Quality.
Please note, this article is not designed to be a detailed review, for that, I would recommend PC Perspective, The Verge and/or TechRadar.
Performance
On paper, the Surface Book 2 is impressive, especially when compared to the MacBook Pro. The specification of my device can be found below, costing £2499.
13-inch Surface Book 2
1.90GHz Quad-Core Intel i7-8650U (Turbo up to 4.2GHz)
16GB 1866MHz LPDDR3 RAM
512GB PCIe SSD (Samsung PM961)
Intel UHD Graphics 620 and NVIDIA GTX 1050 2GB GDDR5
13.5-inch PixelSense Display (3000x2000, 267PPI)
Having access to a quad-core processor in a 13-inch device is great, especially when combined with dedicated graphics from NVIDIA.
This combination is made possible by the unique design of the Surface Book 2, where the CPU, Memory, and Storage are located in the display, leaving plenty of room for the dedicated graphics and additional battery in the base.
As a result, it is possible to detach the display and use it as a standalone tablet (sacrificing battery life and graphics performance). Although this 2-in-1 feature acts as a good differentiator, I have not found a practical use for the standalone tablet mode. It is simply too large and heavy when compared to a dedicated tablet, such as the Apple iPad.
Overall performance is good, especially from the CPU and GPU, which is validated by the strong PCMark 10 results.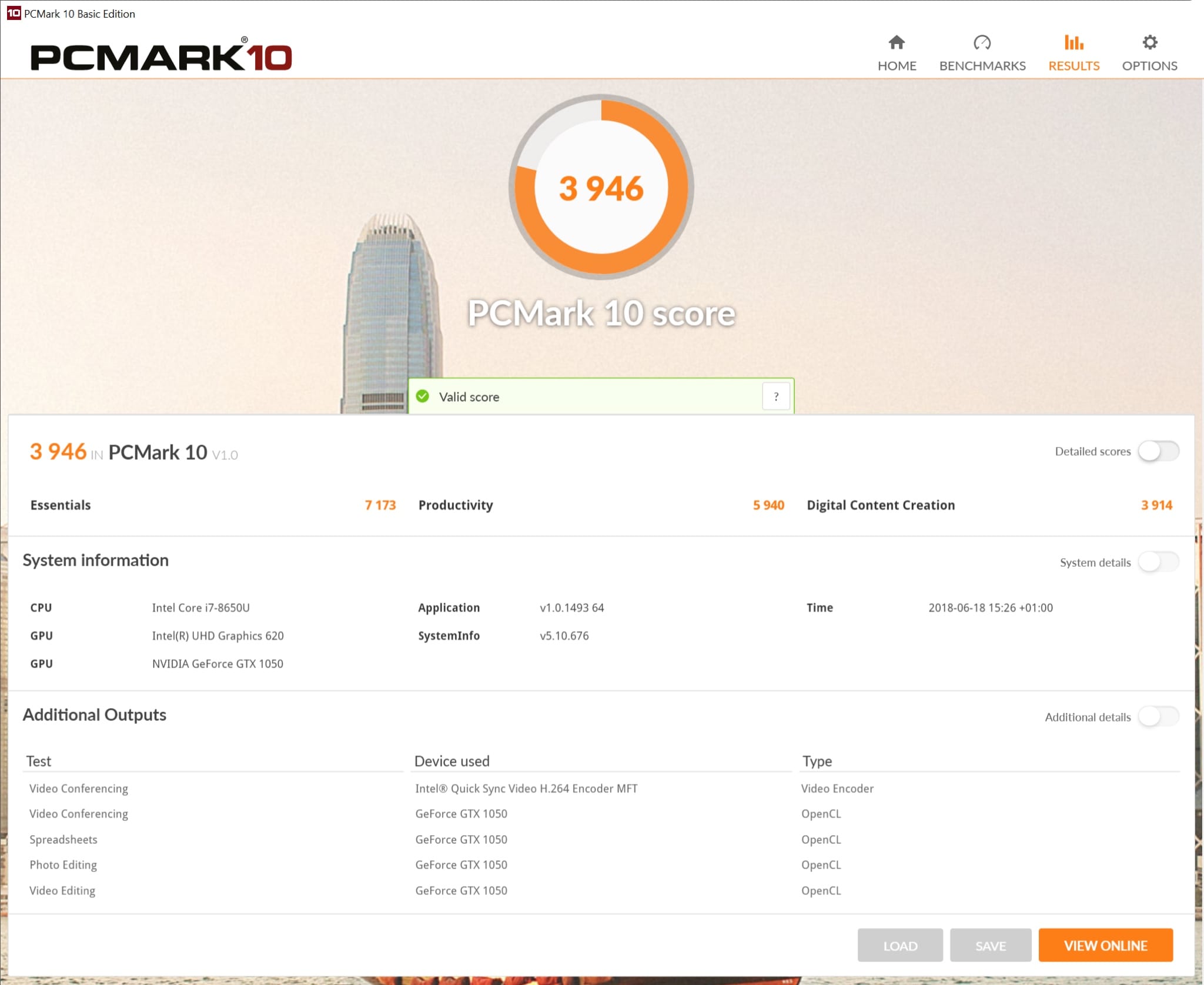 However, like so many Windows devices, there are a few frustrating limitations.
For example, storage performance is disappointing. As highlighted below, the maximum write performance of the Surface Book 2 is 600MB/s, compared to 2200MB/s on my MacBook Pro.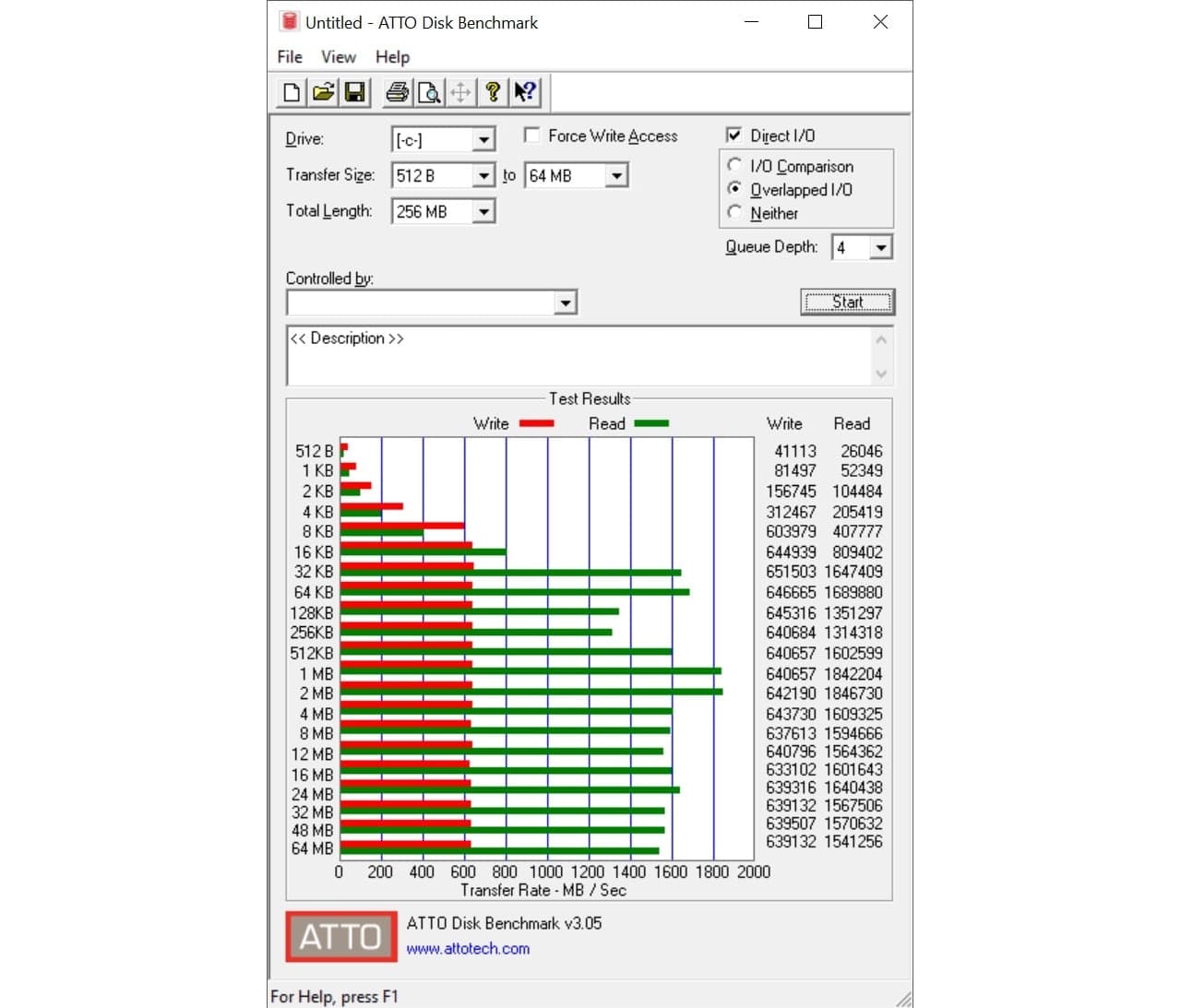 I suspect this limitation is artificially imposed by Microsoft to protect battery life. The evidence being that performance has actually improved dramatically since launch through firmware updates, as a previous review from PC Perspective reported a write performance of just 300MB/s.
It is interesting that Microsoft has chosen to compromise in this area, recognising that storage performance is not generally disclosed as part of the marketing material, but does play a key role in overall device performance.
Another disappointing area is I/O, where Microsoft has decided not to include Thunderbolt 3. They have at least added USB-C, but this is limited to 5Gb/s and therefore can not be used to add an external GPU, etc.
You could argue that Thunderbolt 3 is not critical, however, on a device that costs £2499, I would expect to have modern I/O options, especially as the equivalent MacBook Pro includes four Thunderbolt 3 ports.
Build Quality
The build quality of the Surface Book 2 is excellent. In 2016, I made the following statement about the MacBook Pro.
"The chassis is both rigid and dense, whilst at the same time feeling incredibly refined. I honestly believe this is the best-manufactured notebook ever, delivering an unparalleled level of precision."
Although not quite to the same extent, I believe the Surface Book 2 achieves a similar level of precision. One area where I would commend Microsoft is the keyboard, which is without question more durable than the MacBook Pro.
Other nice touches include the reassuring mechanical click that occurs when detaching the display and the subtle keyboard curve, which is designed to improve ergonomics. These small details provide a feeling of quality and I have seen no evidence (yet) that the hardware will degrade over time.
The controversial "hinge" is certainly unique and I would personally prefer the device to close fully, without leaving a gap.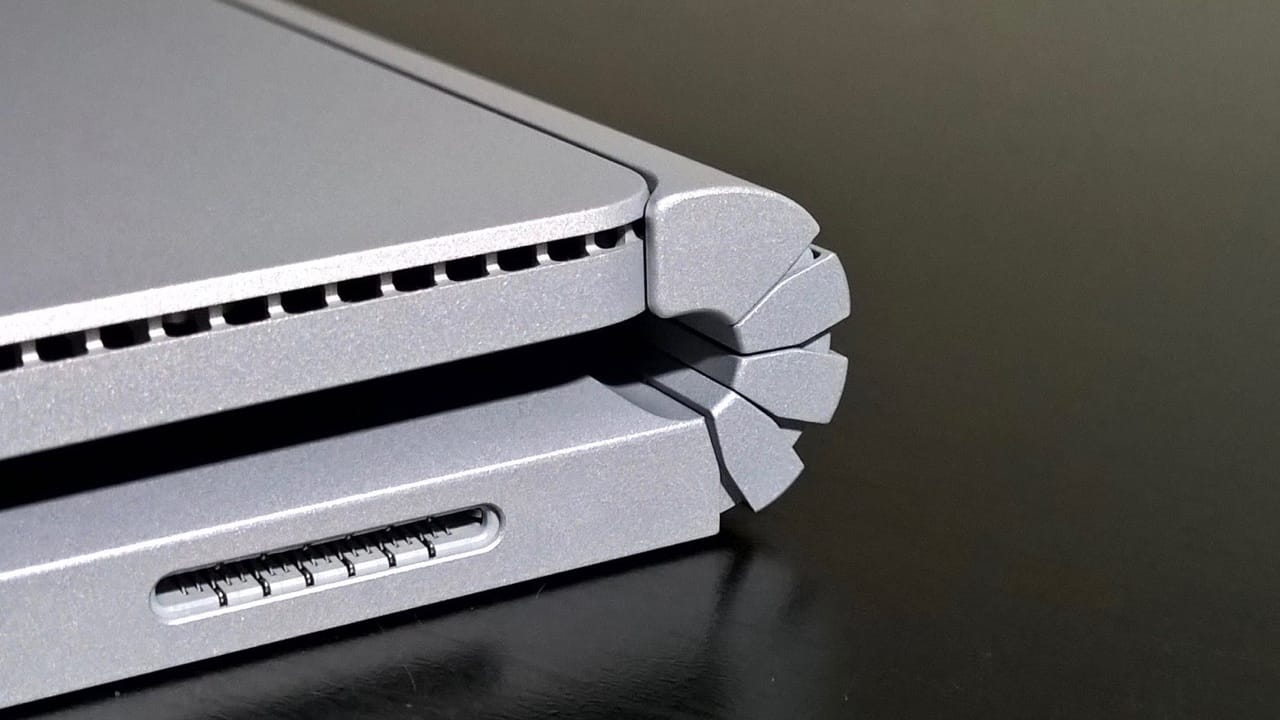 However, I can not fault the functionality and it does give the device character, helping it stand out from the massive number of Windows laptops on the market.
My only criticism would be the top-heavy nature of the device, due to the majority of the hardware (CPU, Memory, Storage) being located in the display. This can result in a slight wobble when using the device on an uneven surface or when interacting with the touch-screen in laptop mode.
Conclusion
Overall, the Surface Book 2 is a good device, that could be great, if not for a few frustrating limitations.
Depending on your usage, you might be able to forgive the disappointing storage performance and lack of Thunderbolt 3, however, when combined with the £2499 price, it becomes a difficult device to recommend.
With that said, if you are looking for a true 2-in-1, the Surface Book 2 remains one of your only options and therefore you might be able to better justify the price premium. I, however, urge you to use the device as a 2-in-1 before purchasing, as I was unimpressed with the standalone tablet mode.
In conclusion, if you have any interest in the Surface Book 2, I would first explore the Lenovo ThinkPad X1 Carbon, Dell XPS 13, or even a MacBook Pro.
---