Update - In 2018 I updated my TV. This article has not been updated. Please refer to the article "Samsung Q7FN" for additional details.
I am occasionally asked questions about my home entertainment setup. As a result, I thought I would share a quick overview.
The centre piece of my setup is the Samsung UE55KS8000 SUHD 4K TV, which includes the following specification:
Samsung UE55KS8000 (55-inch)
3840×2160 Resolution
240Hz Refresh Rate (120Hz Measured)
1000nits Peak Brightness (1400nits Once Calibrated)
10bit Colour Support
HDR10 Compatible
96% DCI-P3 Coverage
21ms Response Time (Game Mode)
Edge LED Backlight
I originally purchased the 65-inch model (UE65KS8000), in the belief that bigger is always better. However, upon reflection, the screen was simply too large for my living room. It did provide an incredibly immersive experience when watching movies or playing games, but when off, the black screen dominated the wall.
As a result, I swapped it for the 55-inch model. I actually believe 60-inch is the sweet spot for my living room, but unfortunately this size is not available in the KS8000 series.
Although 4K and HDR were both key requirements when selecting this TV, the real differentiator for the KS8000 series was the One Connect box, with two satellite inputs. To my knowledge, no other TV on the market has this specific configuration.
The One Connect box essentially decouples all input / output connections (HDMI, etc.) from the TV itself. Therefore, instead of having multiple cables connecting directly to the TV, you only have one.

This was critical for my setup, as all of my AV equipment and entertainment devices are located in a cupboard under the stairs, which happens to be directly behind the wall where the TV is mounted. As a result, I send the one cable through the wall into the cupboard, at which point it connects to my AV Receiver. As highlighted by the image below, this setup delivers a very clean, minimal look in the living room (something that I always strive to achieve).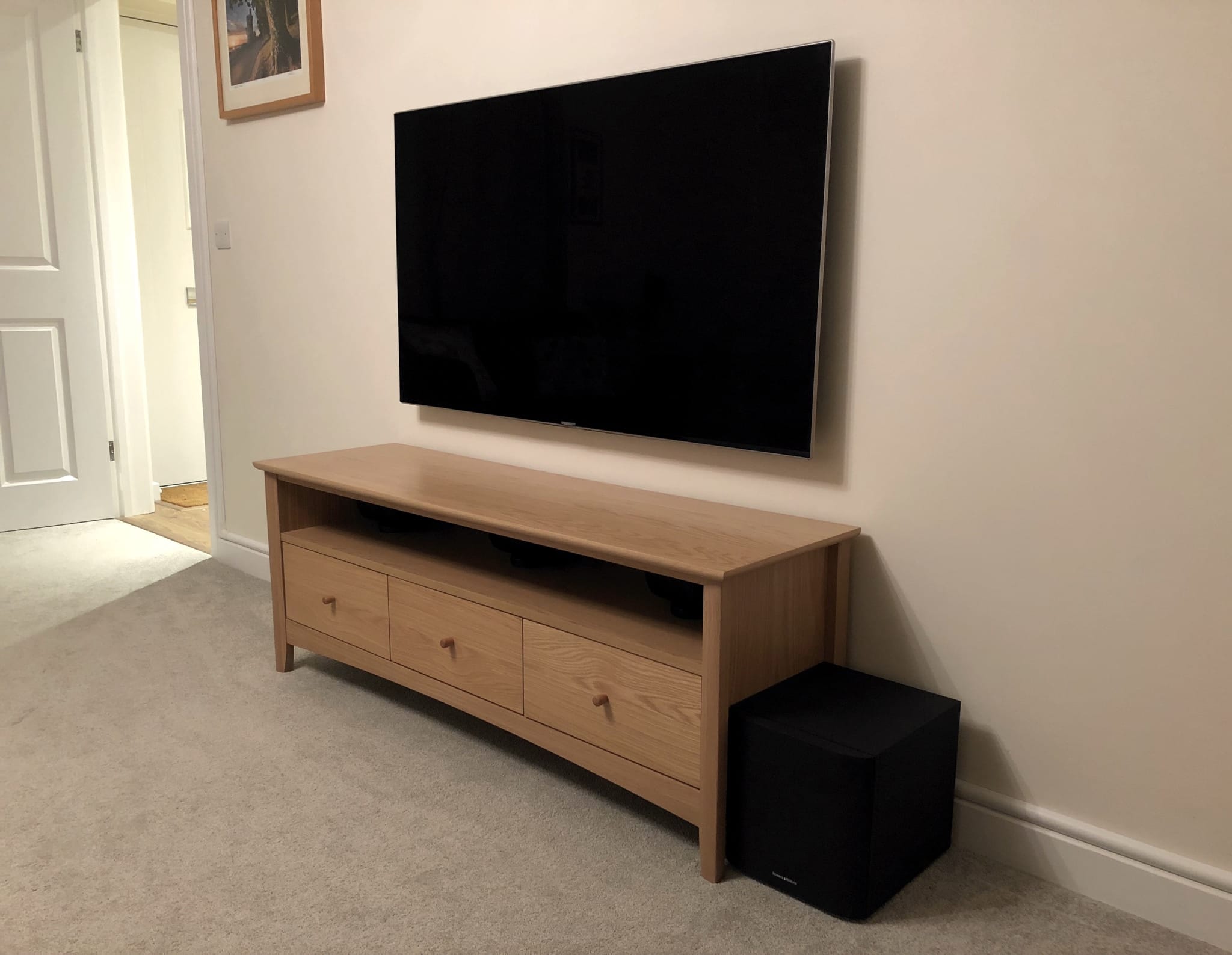 Overall, the Samsung UE55KS8000 is a phenomenal TV, with stunning picture quality and great HDR performance.
To compliment the TV, I have the Bowers & Wilkins MT-50, which is 5.1 Mini Theatre setup. It includes five M-1 speakers and the ASW608 subwoofer (shown in the previous image).
Each M-1 speaker includes a nautilus tube and aluminium dome tweeter, as well as a woven fibre glass cone for bass and midrange. Considering their modest size, they produce incredible sound and are universally well rated. Complementing the M-1 speakers, the ASW608 subwoofer includes a bass driver constructed from paper pulp, Kevlar fibre and resin.
Overall, I cannot fault Bowers & Wilkins MT-50 Mini Theatre, which in my opinion is the perfect blend of style and unbelievable surround sound performance.
The TV and Mini Theatre are connected to the Sony STR-DN1050 AV Receiver, which supports 165W 7.2 audio output, DTS-HD, Dolby TrueHD, Wi-Fi and Bluetooth connectivity, as well as 6x HDMI inputs and 3x outputs. The image below highlights the sheer number of connectivity options.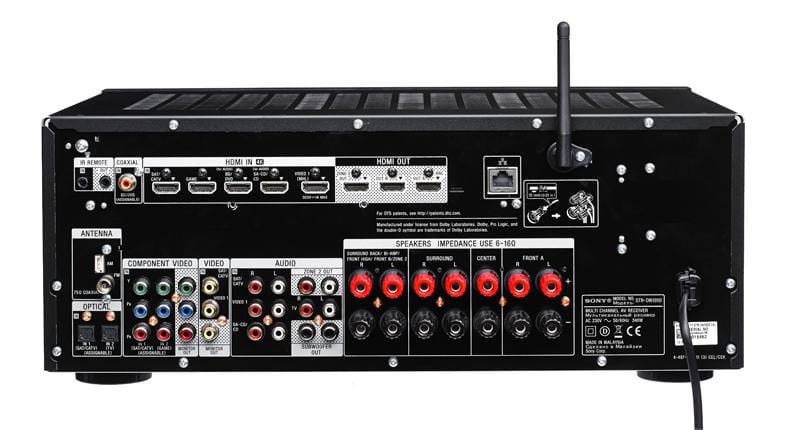 Considering the relatively low price (RRP £500), the Sony STR-DN1050 is a strong performer, which really acts as the central hub for my other entertainment devices, such as multiple games consoles, Apple TV, etc.
Finally, the entire setup is controlled using the Logitech Harmony Companion remote, which is simple and elegant, but also very powerful, connecting to devices via Wi-Fi, Bluetooth and Infrared.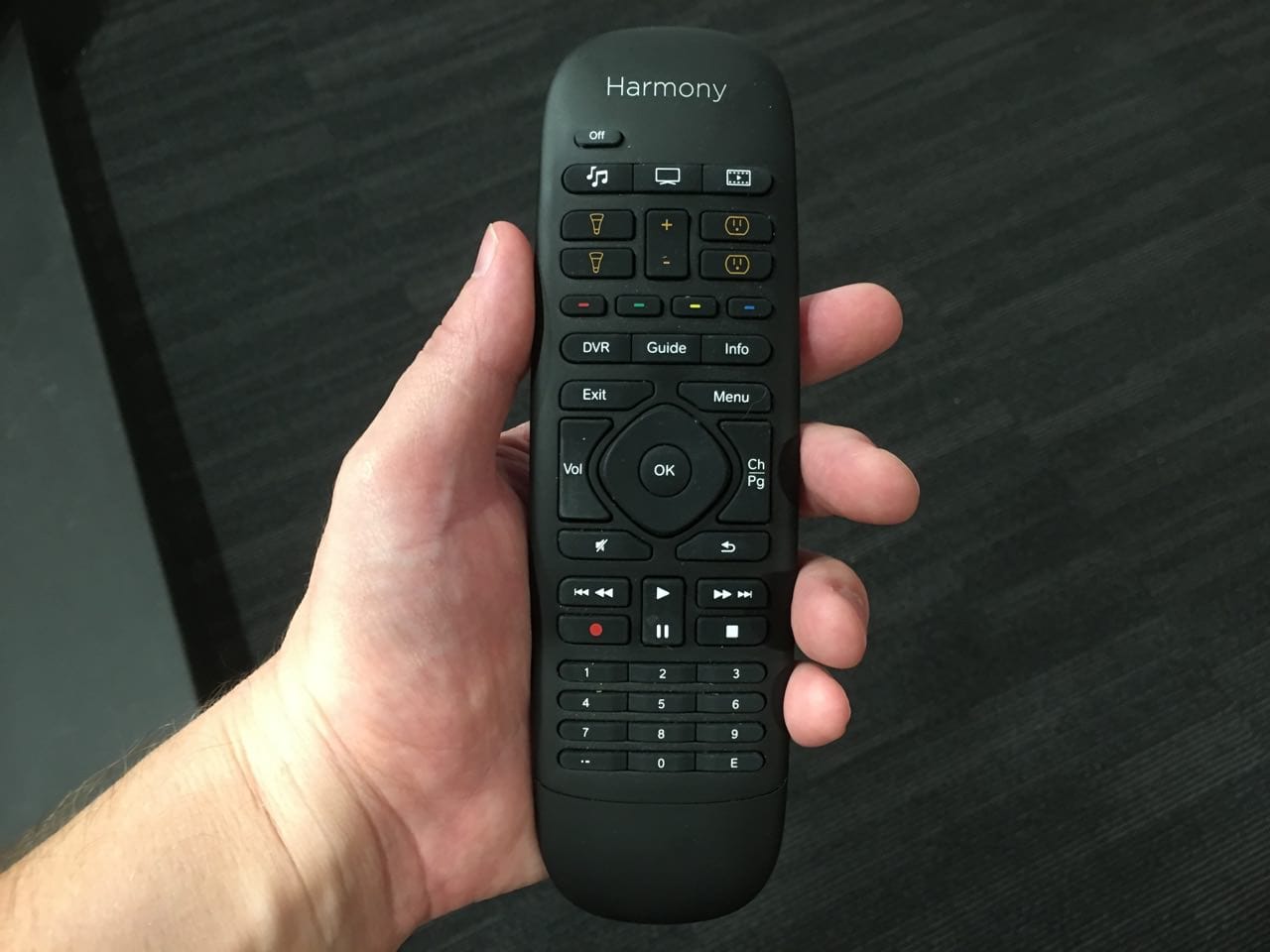 The Logitech Harmony Companion remote brings the entire setup together, with pre-defined profiles, enabling multiple devices to be switched-on and configured in a single click. It also supports Amazon Alexa, providing a host of voice controls to manage the entire setup.
Overall, I am pleased with my entertainment setup. I have tried to keep things "minimal", whilst still delivering high performance and quality. I suspect my next major upgrade will be the jump to an OLED TV (once the price comes down a bit) and maybe a new AV Receiver, as the Sony STR-DN1050 is already several years old.
---