Over the past three years the Apple iPad has triggered a revolution for consumer computing. However, due to the "Consumerization of IT", it has also had a broad impact on how technology is utilised within business, especially for sales teams.
Historically sales utilised traditional PC's or hybrid tablets, which almost exclusively ran a version of Windows (normally XP Tablet Edition). Unfortunately these devices were not particularly popular as they were often bogged down by corporate policy and security software, as well as difficult to use when attempting to engage a customer.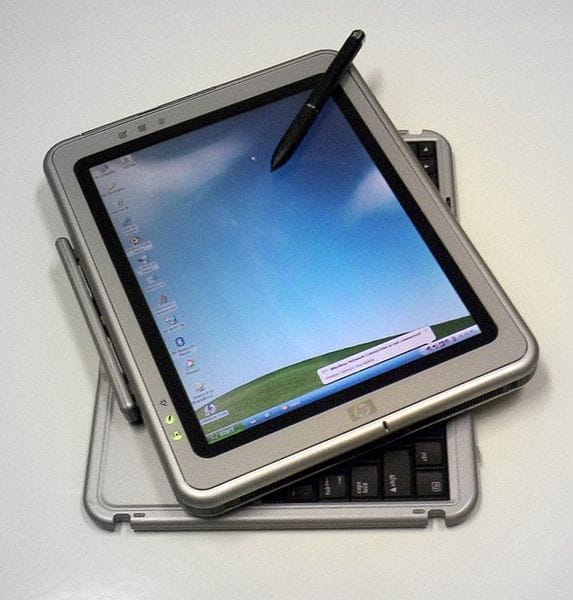 The iPad changed everything, hitting the top ten major requirements to make a successful sales tool:
Instant On
Simple to Use
High Resolution Display for Presentations
Lightweight
Durable
Elegant Design
Secure
All Day Battery Life
Network Connectivity (3G / 4G)
Reduced Support Challenges
Although the iPad excels in the majority of these areas, it does come with its own set of challenges:
Closed Eco-System
Consumer Centric Development
Rapid Product Life Cycle
Unpredictable Hardware and Software Roadmap
Incompatible with Existing Enterprise Software and Services
Limited Security and Support Options
Limited Input / Output Options
No Support for Cross Platform Tools
Above all, the fact that the iPad is consumer focused device, from a consumer focused company, means that there is little to no support for traditional business software and services. For example, Microsoft Office, SharePoint and Lync, as well as traditional identity and end point management tools such as Active Directory and Symantec Endpoint Management.
This has resulted in businesses having to bend their existing services to work with the iPad. In many cases this involves investing in a new mobile device management (MDM) platform (e.g. MobileIron) and compatibility software (e.g. SharePlus), as well as focusing a lot of resource time to re-write any "in house" applications (e.g. expense management, etc.)
Any smart business will have looked at this revolution as a stepping stone towards true platform independence and taken the opportunity to re-position their overall end point strategy to ensure they are ready for a future industry disruptor (e.g. Android, etc.)
Introducing the Microsoft Surface Pro, could this be the device sales (and business) have been waiting for?
The Surface Pro is a follow-up tablet that is positioned alongside the Surface RT (released late last year). However the one big different is that the Surface Pro does not run Windows RT, but instead a full unrestricted copy of Windows 8 Pro x64. This means that it is instantly compatible with all existing x86 Windows software and services, as well as retaining compatibility for future "Metro Style" apps. In theory this is the true "no compromise" device that Microsoft promised as part of their "re-imagining Windows" branding.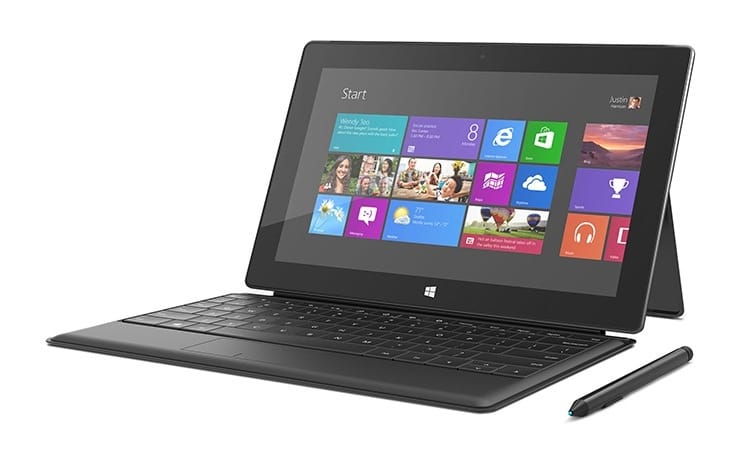 The other significant selling point is that the Surface Pro is essentially an UltraBook under the hood. It runs a full Intel "Ivy Bridge" i5 processor, 4GB RAM, up to 128GB of true SSD storage and a USB 3.0 port. What this means is that not only can the Surface Pro be used like a tablet, but also as a full laptop replacement, allowing you to connect a monitor, keyboard and mouse, just like you would today.
When you break down the specification against the iPad 4 (business focused) it already looks compelling: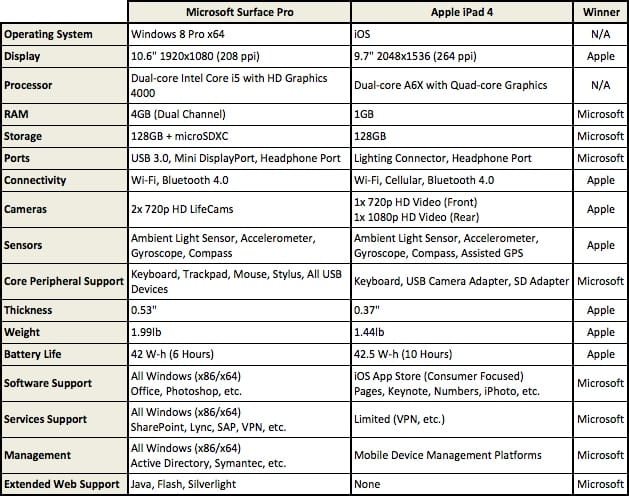 The only real disappointment is the battery life. At only six hours this falls very short of the iPad and could be a show stopper for true "road warrior" sales teams. It is however worth noting that this is one area I expect to improve with the second revision, which we expect to utilise the new ultra power efficient Intel "Haswell" architecture.
Historically the iPad was a clear winner due to its obvious hardware advantages. Even the business challenges, such as support and management were worth overlooking due to the overall user experience improvements. However, with Surface Pro I think Microsoft have successfully closed the hardware gap and retain their existing advantage with legacy software, services and management support. When you also consider the Surface Pro can act as both a tablet and traditional PC offers broader advantages, meaning that sales teams no longer need to own two separate devices or have to compromise with a single device (e.g. the iPad).
Overall, if I was pushed to select the best consumer tablet today, I would still pick the iPad (due to the hardware and consumer focused iOS App Store), but I honestly believe we have now hit a tipping point for business use, where the Surface Pro feels like a better overall fit. It will now be interesting to see if Microsoft can capitalise on these advantages and make the Surface Pro a real success!
Finally, based on the imminent availabilty of the Surface Pro (February 2013) I would recommend that any company that has not yet begun a broad scale iPad deployment, hold fire! Unless of course your strategy is positioned to support "any device", in which case you are already prepared to take advantage of the Surface Pro.
---