VMware Fusion vs Parallels Desktop, which is better? On paper both of these platforms offer a very similar set of features and both claim to be the easiest and fastest way to run Windows on the Mac.
The aim of this article is to dive deeper into these claims, hopefully discovering whether VMware Fusion 4 or Parallels Desktop 7 is the king of client virtualisation.
The Test Platform:
I downloaded the latest versions of VMware Fusion 4 (4.0.1 - 474597) and Parallels Desktop 7 (7.0 14922) and both applications were installed on an 11" MacBook Air, with the following specification:
MacBookAir3,1 (Late 2010)
Intel Core 2 Duo 1.6GHz (3MB L2 Cache)
4GB DDR3 1066MHz Memory
NVIDIA GeForce 320M 256MB
Apple SSD TS128C 128GB
The Mac was running a fully updated version of Mac OS X Lion 10.7.1 (11B26).
Both Fusion and Parallels had a clean install of Windows 7 Ultimate SP1 x64 installed (downloaded from Microsoft TechNet) with the following identical virtual configuration:
1 Processor
2048MB Memory
40GB Storage (Not Split)
Virtual Machine Tools Installed
All other virtual machine settings were left default.
Installing the Virtual Machine:
Fusion and Parallels both offer "Easy Install" features (as shown in the image below for Fusion). This allows for a simplified, automated installation process, which sets up your account details, product key and the installation of the virtual machine tools (required for optimal performance).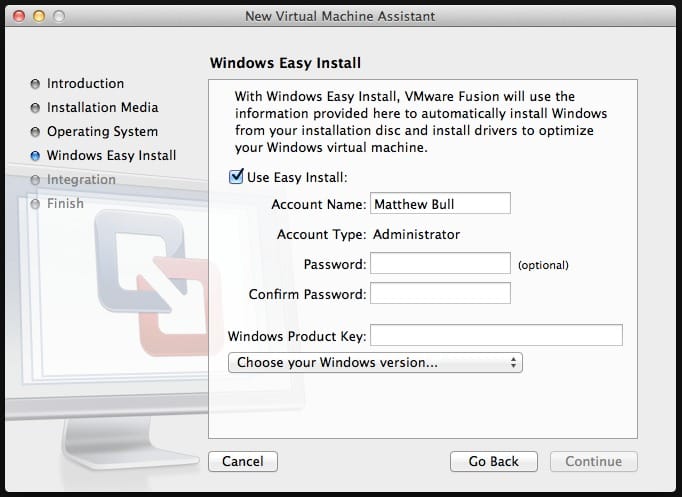 I ran the easy install option for both Fusion and Parallels, which I'm pleased to report completed successfully and was simple and painless for both products. As the first reference point I timed how long it took for the installation to complete (from first starting the virtual machine to the moment the virtual machine tools were finished installing). The results can be seen below:
VMware Fusion 4 = 17mins 20seconds
Parallels Desktop 7 = 16mins 50seconds
As you can see, from an install timing perspective Parallels beat Fusion by approximately 30 seconds. However as both platforms provide a fully automated installation process I feel that both Fusion and Parallels provide an acceptable experience. The only time this could have an impact is if you were installing a large number of virtual machines regularly (possibly for testing purposes).
Performance:
Now it's time for the main event, as stated in my previous article I have used both platforms in the past and found it very difficult to identify any real world performance differences. If forced I would probably state that Parallels felt slightly smoother when running Windows 7 Aero effects, but this would be purely conjecture. As a result I have run a number of popular benchmarks on each platform, in an attempt to give us some numbers to quantify. The results can be seen below:
Windows Experience Index
The Windows Experience Index has been built into Windows since Vista. It includes a number of simple benchmarks to help users understand their system performance. It then takes the lowest individual score as the base result.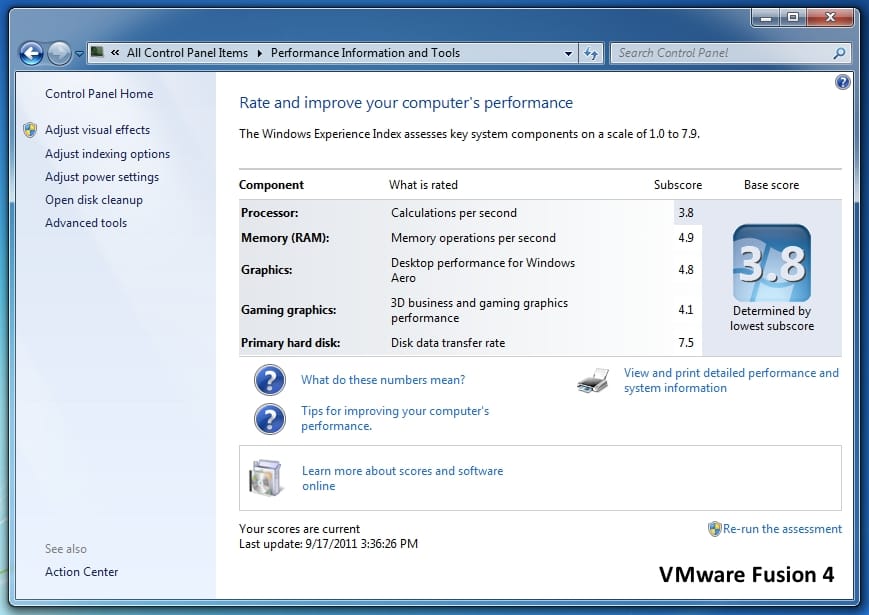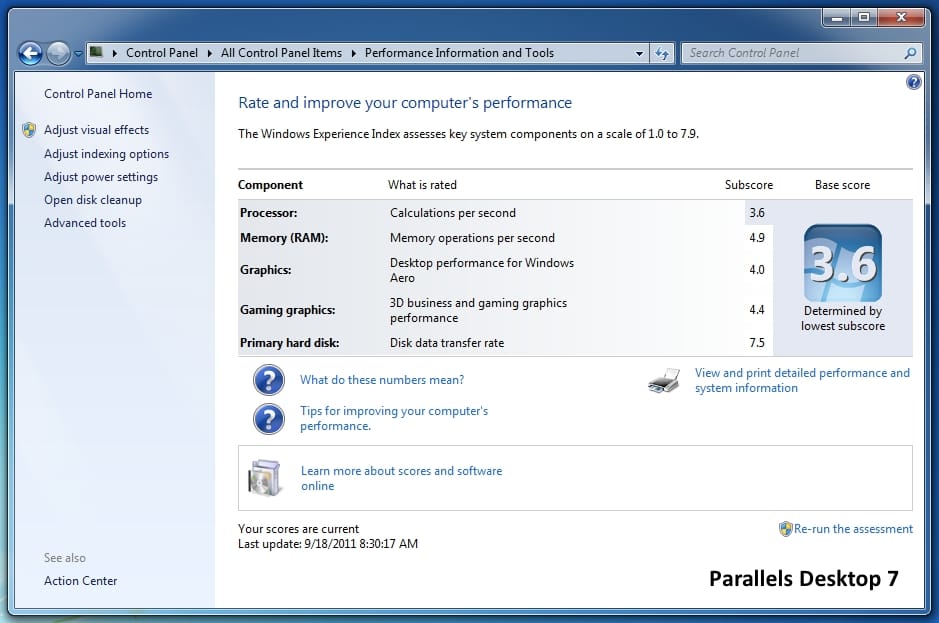 As you can see from the above results, round one goes to Fusion (but not by much). It produced a higher Processor and Graphics score, although fell short of Parallels on Gaming Graphics. The Memory and Primary Hard Disk scores were the same for both platforms. Interestingly, even though I felt Parallels was slightly smoother when using Windows Aero effects, it actually produced a lower score, showing how difficult it is to separate these two platforms in real world usage.
Super Pi
Super Pi is a computer program that calculates pi to a specified number of digits after the decimal point-up to a maximum of 32 million. It is used by many overclockers to test the performance and stability of their computers.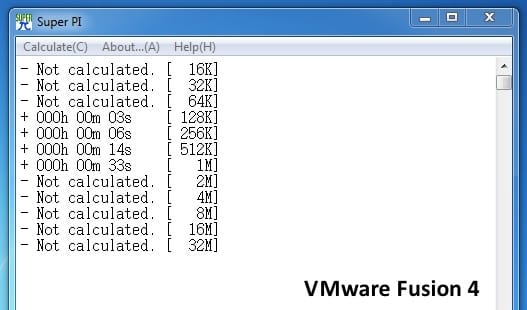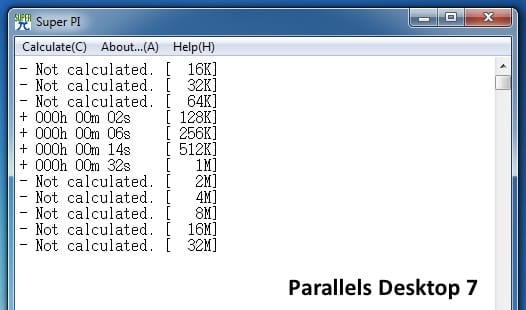 Round two proves to be even tighter then round one, with Parallels edging out Fusion by the narrowest of margins. In fact this benchmark is so tight (less then a second in favor of Parallels) that I am certain that this would not result in any real world difference between the two platforms.
Futuremark PCMark 7
PCMark 7 includes 7 PC tests for Windows 7, combining more than 25 individual workloads covering storage, computation, image and video manipulation, web browsing and gaming. It has been specifically designed to cover the full range of PC hardware from netbooks and tablets to notebooks and desktops.


As you can see the PCMark 7 scores are also incredibly tight. From the detailed scores (found here) you can see that every result (Video Playback, DirectX, Web Browsing, etc) is almost identical, with Fusion just fractionally ahead of Parallels, which resulted in the slightly better overall score.
Conclusion:
I have always come to the conclusion that there was very little between Fusion and Parallels in terms of performance, usability and reliability, and it would appear, based on the benchmark results, that this trend continues with the latest versions of each product.
Overall the benchmarks have shown in favor of Fusion, however it was by such a small margin that I don't believe any real world differences could be identified. As a result I would have no concerns recommending either product. In fact, as there is so little between them, I think the logical approach would be to make your choice based on price, which at the moment falls in favor of Fusion which is available for £32.85, compared to Parallels £64.99.
---