Today I attended a Microsoft Conference on Cloud Development in London. The main attraction at the event was that Steve Ballmer gave the introduction keynote and answered questions from the audience.
The agenda for the event was as follows:
Steve Ballmer Introduction Keynote
Windows Phone 7
Windows Azure
Internet Explorer 9
Windows 7
Let's jump straight to the hot topic; Steve Ballmer confirmed that Windows Phone 7 will be launched in the UK, and I quote, "in the next two weeks". He did not provide any specifics on carriers or hardware, however he commented that the reason developers have not been provided test hardware prior to the official launch, was to help drive consumer excitement (see videos below for more details).
Before I provide additional details on Windows Phone 7, I did manage to capture some of Steve's opening keynote on Microsoft's vision of cloud computing. I apologise for the shaky camera work and poor angles, however I was very aware that I was holding up an iPhone only a few meters in front of Microsoft's CEO.
Unfortunately I don't have Steve on camera confirming the Windows Phone 7 launch date, however I do have an interesting video of him discussing Microsoft's mobile vision and how it compares to their main competitors. His comments regarding Google Android are especially interesting.
The next video is Steve answering a question about the Windows Phone 7 launch strategy. I look at this answer as "classic Steve Ballmer", watch the video to see what I mean.
Steve went on to speak about slate devices (as he calls them) and joked that he believes the iPad does not offer a good user experience. He confirmed that Microsoft have no plans at this time to develop a slate specific operating system or to port the Windows Phone 7 OS. Like at previous events, he spoke about hybrid tablets and how he believes these devices running Windows 7 offer a better end user experience. Personally I don't agree with this statement and I'm not convinced he truly believes his own words, I think the real challenge is that Microsoft simply don't currently have a product that can compete in this space. I suspect that over time, with the continued success of the iPad and other slate devices, we will eventually see Microsoft offer a better solution (although I think it will more likely be a custom version of Windows, instead of the Microsoft Courier).
Finally, Steve also spoke briefly about other key Microsoft products. He referenced the success of Windows 7 and stated that "Microsoft were back on track" when it comes to scheduled operating system releases, hinting that Windows 8 may not be too far away. He also talked about Office, SharePoint and Windows Azure as key Microsoft products.
This was the first time I have had the opportunity to listen to Steve Ballmer live and to ask him questions. To my surprise I found him to be an engaging speaker, as well as open to answer any question thrown at him. His presentation style is a little crazy (as shown in the videos) and I don't always agree with his views on the future of technology, however he didn't seem to take himself too seriously, almost playing off the persona that the media have created for him. Therefore, if Steve is ever giving a speech in your area, I would highly recommend that anyone interested in IT (or business) head along to check it out.
Now that covers the Steve Ballmer keynote, let me give some additional details on the other topics covered at the event.
Although all the agenda items were interesting I think the reason most people attended was to better understand development for Windows Phone 7 and how this relates to the cloud. The demonstrator ran through a number of scenarios, from coding through to deployment. I managed to grab a short video of him demonstrating the geo-location features and a weather application that pushes different types of notifications to the device.
I also managed to grab an image of the final hardware requirements for Windows Phone 7 (shown below), and to be honest I don't think anything has changed since MIX10, but it's nice to see confirmation.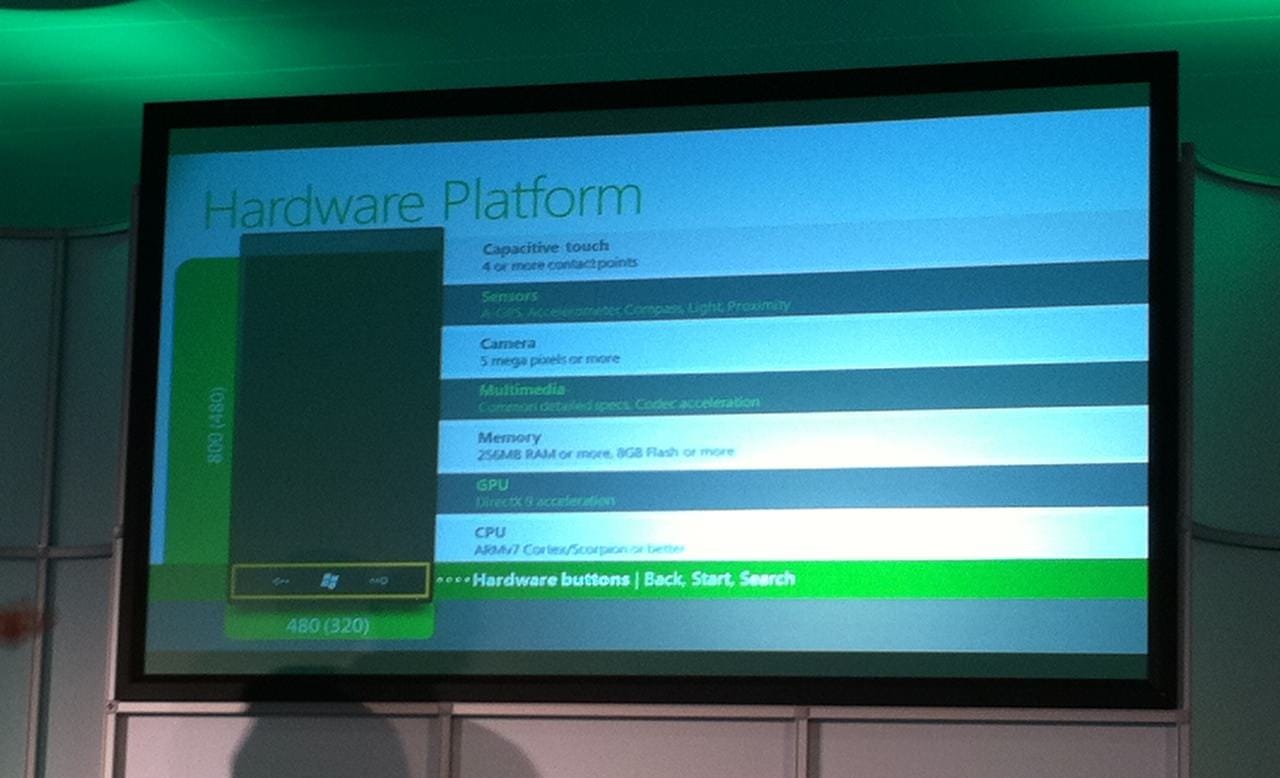 An area that was interesting was deployment through the Application MarketPlace. Like Apple, Microsoft are only offering two methods of distributing applications. This is either to a limited number of devices through their development licence (you register your device with the development portal) or through the Application MarketPlace (AppStore). It is the MarketPlace where you should be deploying your applications and of course it gives you the ability to sell them, where Microsoft have promised that the developer will always receive a 70% split of the profit (any country specific charges will be absorbed by the 30%).
Like with Apple, before you can start deploying your applications for Windows Phone 7 you need to sign up to be a developer. This will set you back £67, as shown in the image below.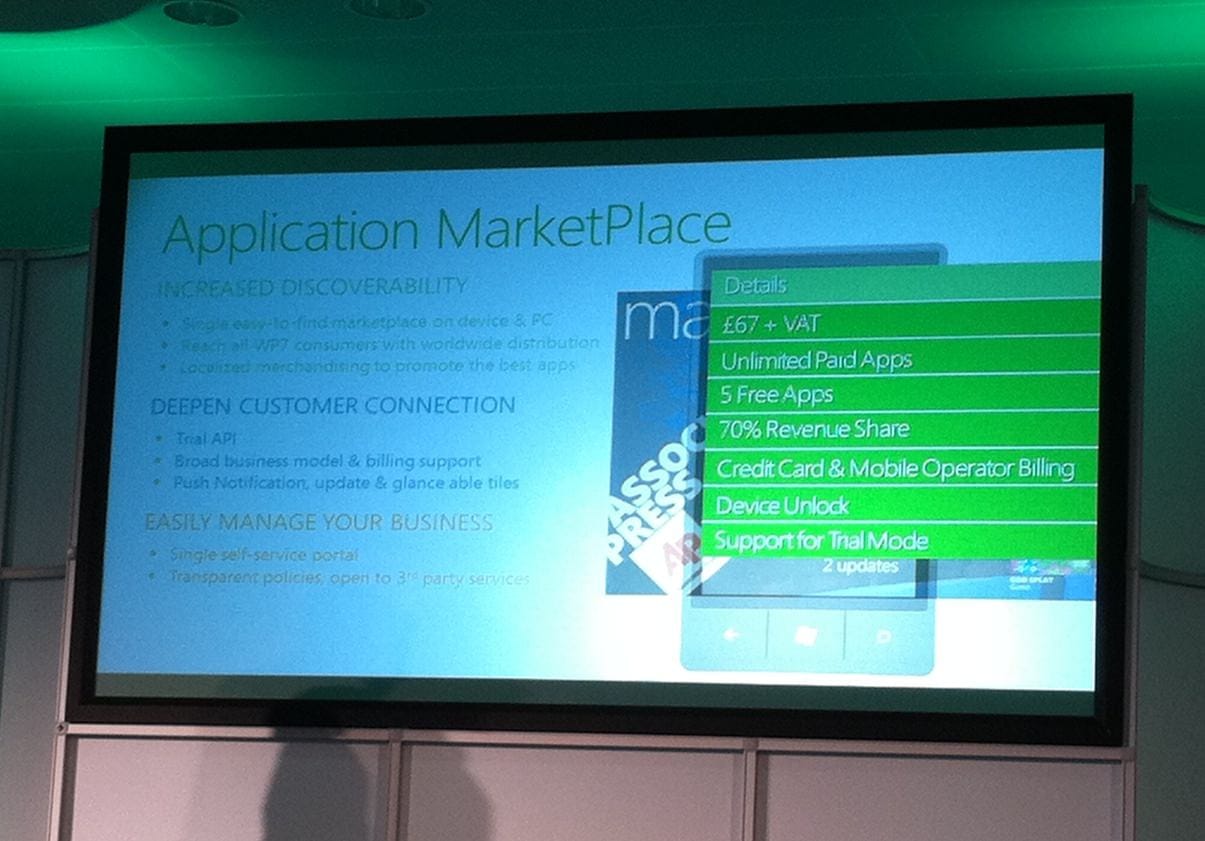 Finally there were some interesting details on multi-tasking and the Microsoft Push Notification Service (shown in the image below). Again I was surprised by the similarities with the Apple iOS platform. It would appear that Microsoft and Apple are aligned in their vision of how a mobile device should operate, with performance, ease of use and battery life being key components.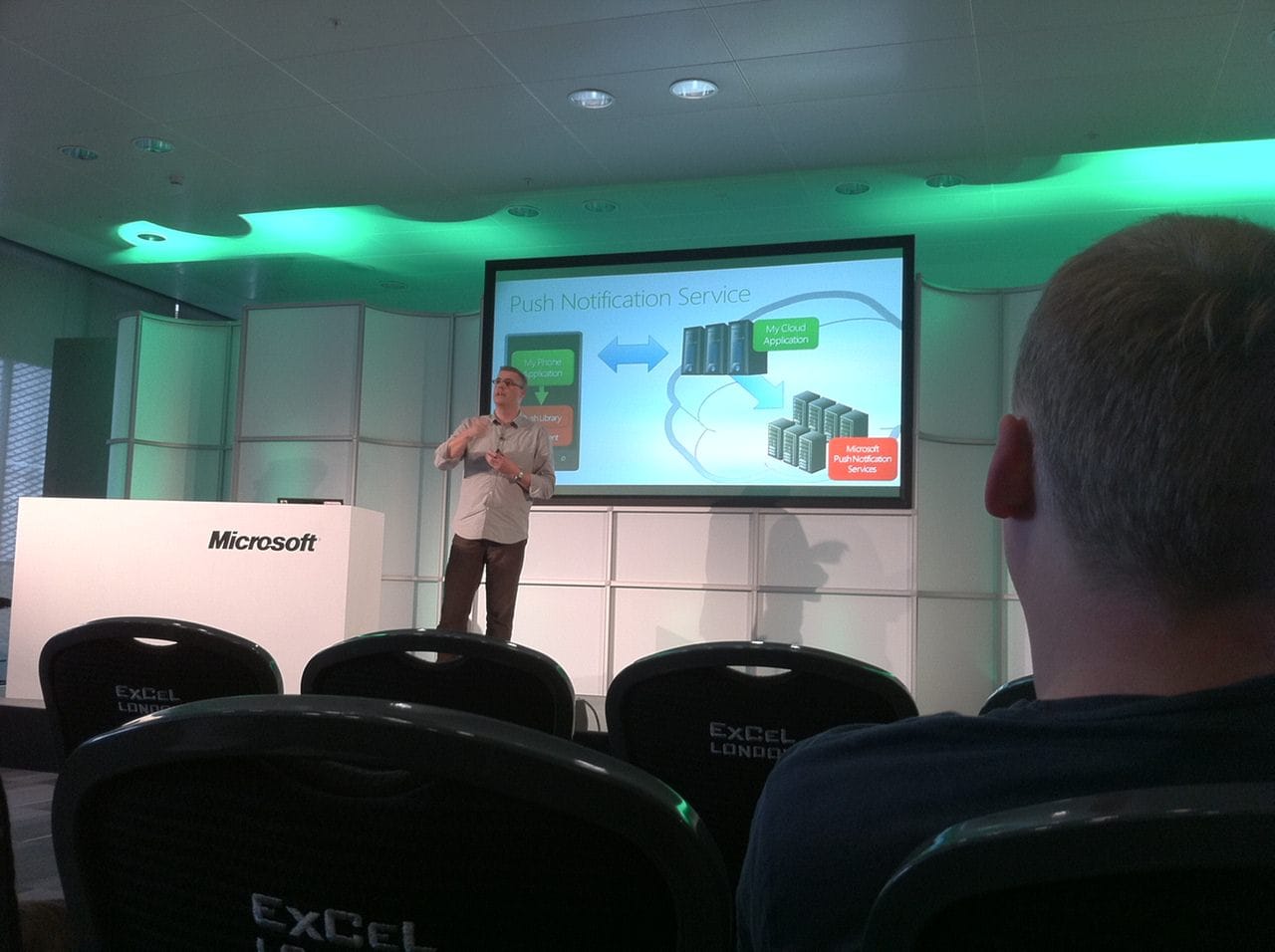 The other areas covered, Windows Azure, IE9 and Windows 7 were more developer specific and less unveiling of new features. As a result I will archive this information until I write an article on the individual topics (watch this space). If you can't wait, then I suggest you head over the Microsoft UK Tech Days website for details on how to get hold of the content (and videos).
That brings me to and end of my overview of the Microsoft Cloud Development Conference. Hopefully you found the information useful. I also urge anyone who has the opportunity to head along to a Microsoft UK Tech Days event (as they are free), they are very well ran (lunch included) and offer an opportunity for you to get some inside information and ask any questions you might have. To find out when the next event is I suggest you follow UKTechDays on Twitter.
---