"A magical and revolutionary product", but is it for the enterprise?
In my opinion the iPad is the first tablet computer that actually has some promise. It combines quality custom built hardware with an operating system that was designed from the ground up to be controlled with your finger. This combination is critical to guarantee a great user experience and is something that no other tablet before the iPad has been able to deliver.
I can think of many examples of enterprise users (sales reps, execs, road worriers, etc) that have been searching for an ultra portable, simple to use, robust device, that has enough battery power to last all day. Up to now many have attempted to use small form factor laptops or netbooks to fill this gap, but unfortunately these devices have many limitations, such as poor build quality, poor performance, poor battery life and low resolution screens. Also, almost all of these devices run Windows XP/7 which no matter how Microsoft try and spin it, was simply not designed to be used on this type of device, resulting in constant frustration for the user. As a result you could argue that the iPad is the device everyone has been waiting for.
Unfortunately for all of the iPad's strengths, it does have some weaknesses. The majority of enterprises today are still heavily reliant on Microsoft products, such as Windows (Client & Server), Internet Explorer, Office and OCS. Out of the box, the iPad has support for Exchange, allowing users to access Microsoft's email, calendaring and address book services, however there is no official version of Microsoft Office or Internet Explorer available. There are plenty of third party applications that do offer support for these products, such as Pages, Keynote and Numbers for Office and Atomic Browser which has an Internet Explorer compatibility mode, however these applications lack power features and are not guaranteed to be 100% compatible.
The second big issue is Adobe Flash. It is well known that Apple do not believe in Flash and would prefer the world to make the jump to HTML5. Unfortunately it can take large organisations a long time to move to new technologies and as a result, I expect Flash to be be around for quite a while. There are currently no third party applications that provide true Flash support and there is little hope that Apple will ever allow an official solution.
So, with the lack of enterprise application support, it may seem like the iPad simply isn't up to the challenge. However, thanks to the advances in Desktop Virtualisation there may be a way to get the best of both worlds.
Desktop Virtualisation works by separating the desktop environment from the end users physical machine. As a result the virtual desktop is actually running on a remote central server, instead of locally on the client. The user can work with the virtual desktop like normal, with the only difference being that all the applications, processes and data is stored and run centrally (normally in a data centre). This type of technology has many advantages when it comes to support, management and security, as all the user's data is stored in a secure central location that can easily be accessed by administrators 24x7. Another major positive is that just about any device with a browser can be used to access the virtual desktop, including desktops, laptops, phones, tablets, etc. The only real downside is that a persistent connection must be maintained with the central server, which is fine if you are locally connected (on the LAN), however is more challenging when connecting remotely. Thankfully with 3G and 4G technologies being built into most modern devices (including the iPad) this is becoming less of an issue.
So now that we know what a virtual desktop is, let's see how they could be used on the iPad to remove some of the limitations highlighted earlier. The key players (in my opinion) in virtualisation are VMware and Citrix. Although both companies offer solutions for you to connect to a virtual desktop directly from a browser, due to the closed nature of Safari on the iPad this will not work. As a result you need to rely on specific applications downloaded from the Apple AppStore.
Wyse PocketCloud
VMware have not yet created an official application for the iPad to be able to connect to their virtual environments. However, due to the popularity of VMware products (both consumer and corporate) multiple third party developers have stepped up to the challenge. In my opinion, the best application on the market at the moment (that lets you connect to VMware View 3/4 infrastructure), is Wyse PocketCloud. This application allows you to easily configure (under 5 mins) your VMware View connection and then kick off your virtual session. Once the connection is established you are presented with a full virtual desktop with support for a virtual keyboard (on-screen) or bluetooth keyboard (obviously much easier to type on).
I have already done some testing with Wyse PocketCloud and have been very impressed with the results. Below are some screen grabs of the connection process.
Once you have configured your connection it will be displayed on the "My Computers" page. During my testing I have been connecting over VPN on a 8Mb/s DSL circuit. The loading process takes approximately 20 seconds on average.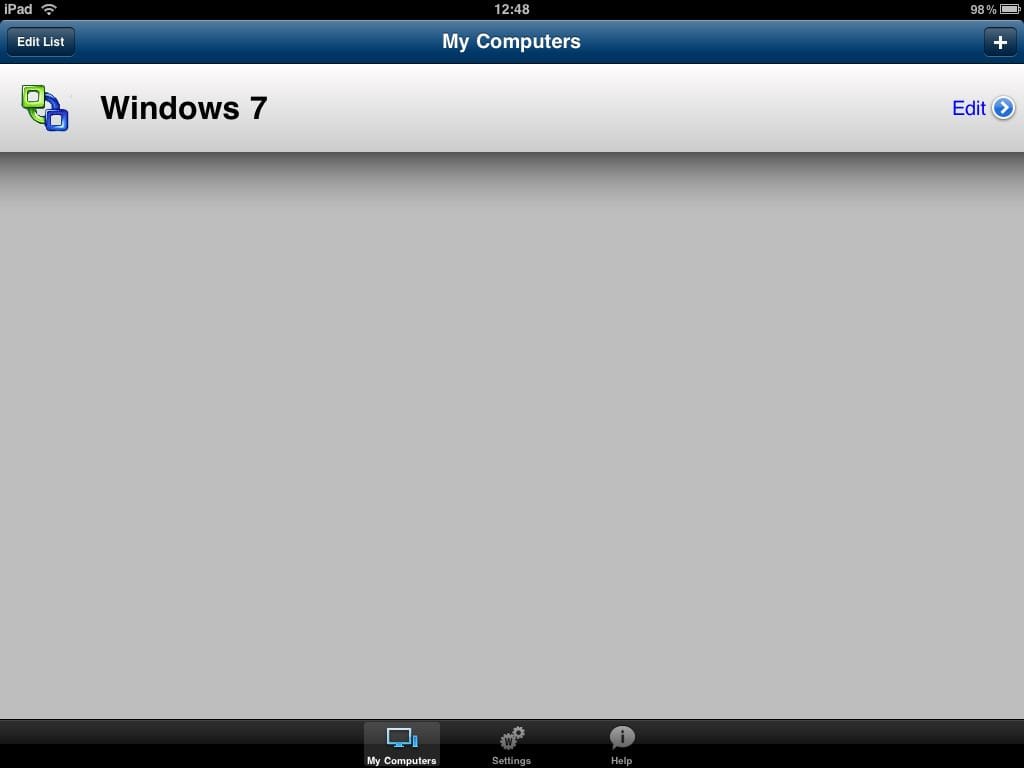 Once loaded you are presented with your standard Windows desktop. You can simply tap to click or bring up the full navigation bar by tapping the arrow in the bottom right corner. You can also use multi-touch gestures to pan and zoom.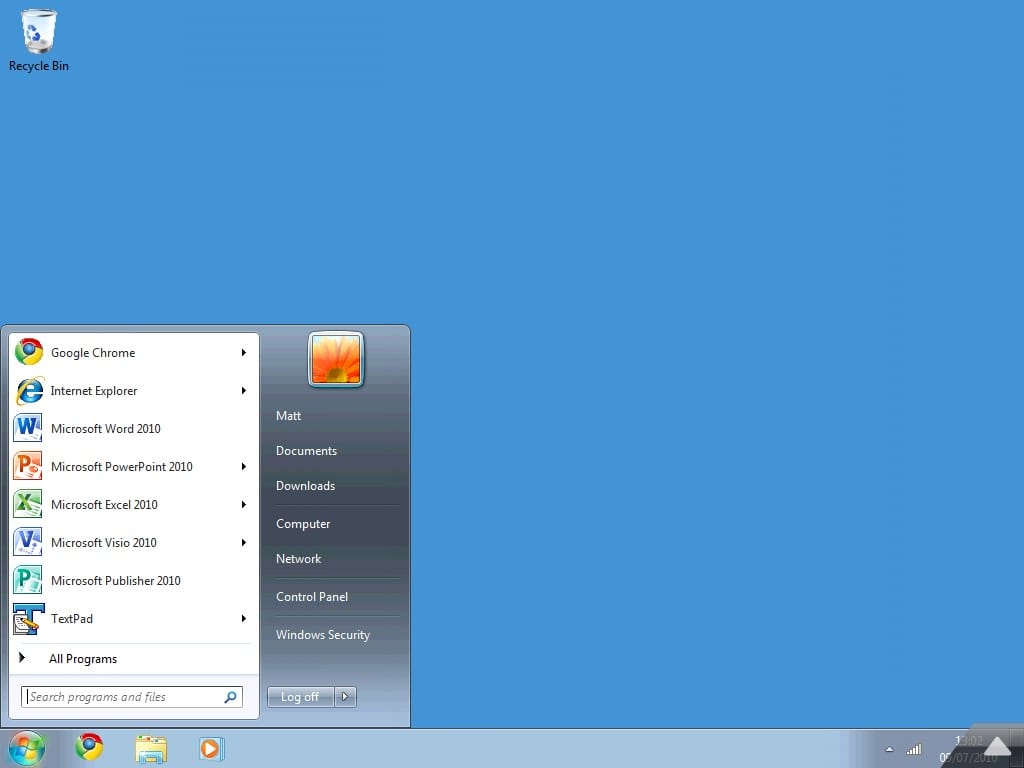 The navigation bar gives you access to settings, fine pointer, virtual keyboard, right click and return to full screen.

As this is a full virtual environment, all standard Windows applications are available. This image below shows Word 2010 running.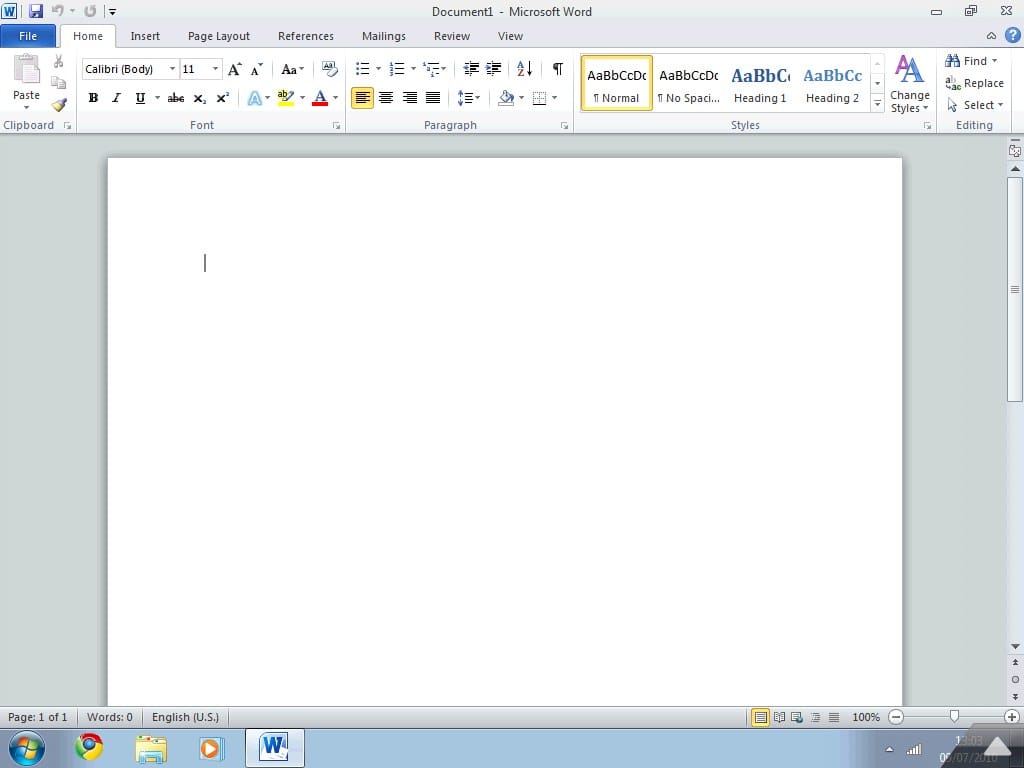 Finally you can see the virtual keyboard, this clearly takes up a lot of screen real estate, however it is surprisingly usable when working on a flat surface. I would still recommend connecting a bluetooth keyboard if you are going to use the virtual environment for a prolonged period.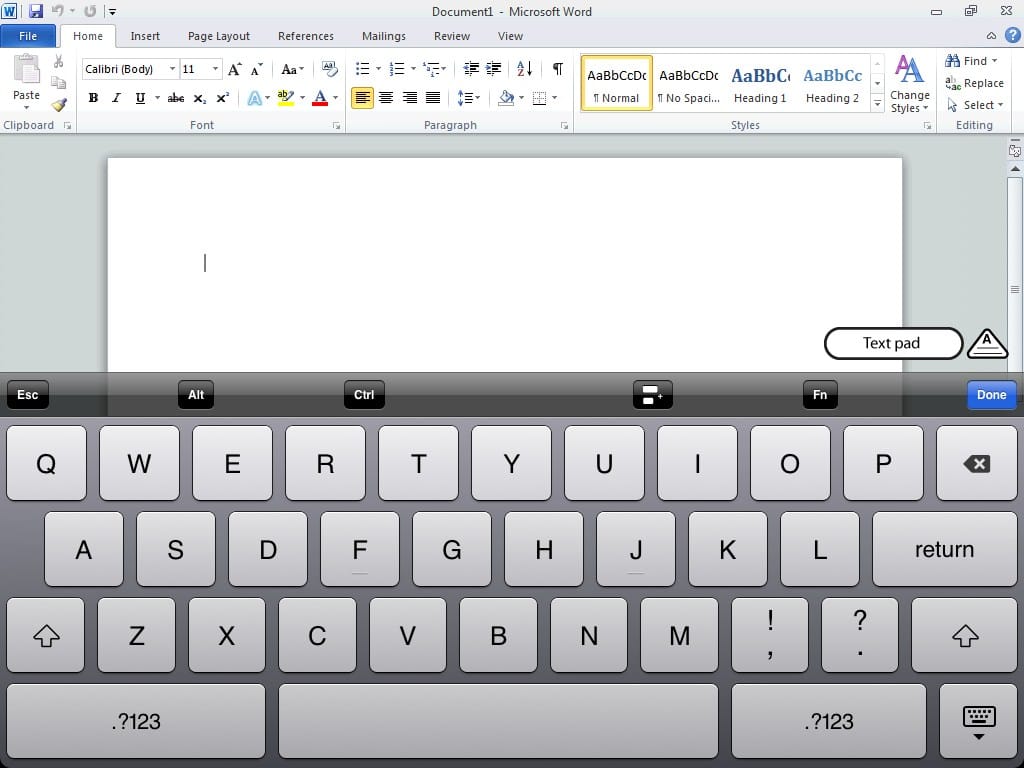 Keep an eye out for my full video demonstration in the next couple of weeks.
Citrix Receiver for iPad
The second application is official from Citrix, known as Receiver for the iPad. Instead of just offering you a full virtual desktop (like Wyse PocketCloud) it also allows you to customise the experience by granting access to specific applications such as Word, etc, directly from the Citrix workspace. This custom access feels right at home on the iPad, with an intuitive and easy to user navigation system, as well as powerful connection features. The video demo from Citrix below shows the application in action:
In my opinion Citrix receiver feels more polished then Wyse PocketCloud and is very quick and easy to use when accessing any virtual application or document. The application also has some nice iPad specific touches, like being able to use your iPhone or iPod Touch as a track pad whilst connected to the virtual environment. I plan to do some extended testing of the Citrix Receiver over the next few weeks to better understand its strengths and weaknesses. As soon as I have more I will post a follow-up article.
This concludes my first roundup of iPad for the enterprise. So far I have been very impressed with the results, as it would appear the combination of iPad and virtual machine delivers all the strengths of the iPad and iOS platforms, while still providing easy access to the full enterprise environment. As previously mentioned, over the next few weeks I intend to do a deeper dive into both the technologies detailed above and will hopefully post video demonstrations of them both in action.
---