I get though quite a lot of PC hardware and I often sell or give away my old components. When I give away hard disks I want to make sure that no data is left accessible.
Many people believe that a drive format will do the job. Unfortunately it is relatively simple to recover data from a disk that has been recently formatted and therefore any secure data such as bank details, personal information, etc, is at risk and open to identity theft.
As a result I use Darik's Boot And Nuke (DBAN). DBAN is a self-contained boot image that securely wipes your hard disks. Using DBAN is as simple as burning the software to a CD or installing it on a USB drive and setting your BIOS to boot from that media. Once loaded you will be presented with six options on how you would like to wipe your data. These options range from a quick erase to military grade data wiping. The higher the level, the more aggressive the data wipe will be, however the higher methods can involve up to seven passes making the processes very lengthy. I would recommend "DoD Short" which completes three passes and should ensure your data is near impossible to recover. It should also be noted that DBAN prevents, or thoroughly hinders, all known techniques of hard disk forensic analysis.
The screenshot below, courtesy of dban.org, shows the simple GUI that is displayed once DBAN is loaded.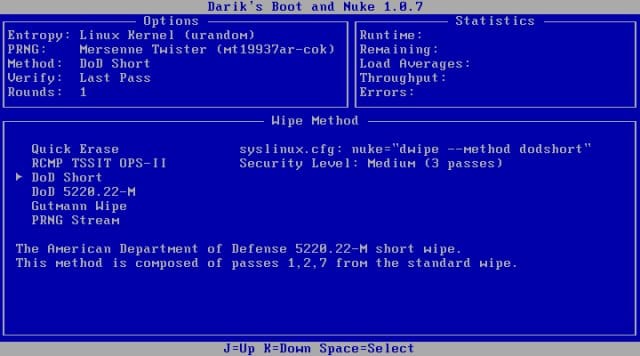 To download DBAN for free head over to dban.org.
---